Take back KBR bonuses, senators urge Pentagon
* Story Highlights
* Military contractor has been awarded $83.4 million for its electrical work in Iraq
* Dems ask to reclaim bonuses in light of report blaming KBR in part for death
* Report says KBR failed to ground water pump, leading to soldier's electrocution
* KBR defends its performance, says safety and security is its "top priority"
From Abbie Boudreau and Scott Bronstein
CNN Special Investigations Unit
WASHINGTON (CNN) -- Two Democratic senators called on the Pentagon to take back more than $83 million in bonuses paid to military contractor KBR after a Defense Department report criticized its electrical work on U.S. bases overseas.
"I want them to tell us on what basis can they possibly continue to justify having paid $83 million of the taxpayers' money for shoddy work that resulted in risk to our soldiers," Sen. Byron Dorgan of North Dakota told reporters Friday.
Dorgan said he and Sen. Bob Casey of Pennsylvania are pressing Defense Department officials to reclaim $83.4 million in bonus payments it awarded KBR for its work in Iraq.
Based on the findings of a report issued Monday by the Defense Department's inspector general on the electrocution deaths of U.S. troops in Iraq, Casey said the Pentagon should fine KBR and "make it hurt and make it count."
"These are just absolutely stunning conclusions about failures by KBR as well as failures by our government," Casey said.
The Houston,Texas-based military contractor defended its performance, saying Friday that Dorgan and Casey "are wrong in their assertion that we have been derelict in our duties to protect the troops."
"The safety and security of all employees and those the company serves remains KBR's top priority," KBR spokeswoman Sarah Engdahl said in a statement.
The Pentagon report concluded that the death of Staff Sgt. Ryan Maseth, a decorated Green Beret from Pennsylvania, stemmed from failures both by the U.S. military and by KBR. The company did not properly ground and inspect electrical equipment, the report found, while Maseth's commanders failed to ensure renovations to the building where he was quartered had been properly done and the Army did not set electrical standards for jobs or contractors.

Halliburton Board Approves Increased Share Buyback

NEW YORK, July 11, 2007 (Reuters) - Oil services company Halliburton (HAL.N: Quote, Profile, Research) said on Wednesday its board has increased its share repurchase authorization by an additional $2 billion.
In February last year, Houston-based Halliburton had announced a $1 billion share buyback, and the company raised the buyback by an additional $2 billion in September.
The new approval brings the aggregate authorization to $5 billion. Thus far, the company has repurchased about 65.9 million shares for $2.2 billion under existing authorizations.
Halliburton also declared a third-quarter dividend of 9 cents a share, according to a statement. The dividend is payable Sept. 25, to shareholders of record at the close of business on Sept. 3.

Halliburton probes possible illegal payments-filing
By Matt Daily
NEW YORK, Feb 28 (Reuters) - Workers at a company bought by Halliburton Co. (HAL.N: Quote, Profile, Research) may have sought to make illegal payments to officials of undisclosed governments to win projects in the 1990s, Halliburton said in a U.S. regulatory filing on Wednesday.
Halliburton found documents in the summer of 2006 showing that employees of M.W. Kellogg Co. may have planned such payments, the company said in its annual 10-K filing to the Securities and Exchange Commission.
Halliburton also said in the SEC filing that the U.S. Army had withheld $20 million in payments related to its subcontractors' use of private security forces in Iraq.
Halliburton said it believed the Army's decision was incorrect, but that if the company was not able to prove the costs were allowed under its contracts, it could lose up to $400 million in reimbursements.
M.W. Kellogg was acquired by Halliburton as part of its 1998 purchase of Dresser Industries during Vice President Dick Cheney's tenure as Halliburton's chief executive. The business was later folded into existing units to form Kellogg Brown & Root and later renamed KBR.
Halliburton, which expects to split off its KBR (KBR.N: Quote, Profile, Research) unit in the coming weeks, has been investigating payments made to Nigerian government officials during the 1990s by a consortium of which M.W. Kellogg was a member.
Halliburton said in the filing that the documents found last summer indicated payments may have been planned for government officials outside of Nigeria.
Halliburton's ongoing internal investigation covers activities before and after it purchased Dresser.
"We are reviewing a number of recently discovered documents related to KBR activities in countries outside of Nigeria with respect to agents for projects after 1998," the company said in the filing.
The company did not respond immediately to a call and an e-mail for comment.
Halliburton said in the filing that it had stopped using the services of two unnamed agents who may have made "wrongful payments" to help win projects in Nigeria and other countries.
In 2004, Halliburton said it severed ties with A. Jack Stanley, former KBR chairman who was working as a consultant for the company, for violations of Halliburton's code of business conduct that included allegedly receiving "improper personal benefits" linked to KBR's Bonny Island natural gas liquefaction plant project.
That case is being investigated in Nigeria, France, Switzerland and by the U.S. Department of Justice and the SEC.
If Halliburton is found guilty of violating the U.S. Foreign Corrupt Practices Act it could face fines of up to $500,000 per violation.
The Justice Department is also investigating whether Stanley and other former employees engaged in bid rigging practices on construction projects outside the United States as far back as the mid-1980s.

Army withholds from Halliburton $19.6 million in payments
By Philip Shenon
The New York Times
Denver Post
Washington - The Army announced during a House oversight committee hearing Wed nesday it would withhold $19.6 million from Halliburton Co. after recently discovering that the contractor had hired Blackwater USA to provide armed security guards in Iraq, a potential breach of its government contract.
Also Wednesday, three U.S. Army Reserve officers were indicted, accused of taking part in a bid-rigging scam that steered millions of dollars for Iraq reconstruction projects to a contractor in exchange for cash, luxury cars and jewelry.
The Army has said its contracts with Halliburton, which has a five-year, $16 billion deal to support American military operations in Iraq, generally barred the company and its subcontractors from using private armed guards. But in a statement, Halliburton disagreed with that interpretation and suggested there was nothing to prohibit Halliburton's subcontractors from hiring such guards.
The announcement came during a hearing of the House Government Oversight Committee that included emotional testimony about the killing of four Blackwater employees in Fallujah, Iraq, in 2004.
In an e-mail message made public in the hearing and written only hours before the four were killed, another Blackwater worker told the company to end the "smoke and mirror show" and provide its employees in the war zone with adequate weapons and armored vehicles.
"I need ammo," the worker, Tom Powell, said in an e-mail message dated March 30, 2004, to supervisors at Blackwater.
"I need Glocks and M4s - all the client body armor you got," he wrote. "Guys are in the field with borrowed stuff and in harm's way."
The next day, a mob in Fallujah attacked a supply convoy that was being guarded by Blackwater and killed the four security guards, later stringing up two of the mutilated, charred bodies from a bridge. The men were riding in vehicles that were only lightly armored, and their families have claimed in a lawsuit against Blackwater that the company failed to provide basic protective equipment.
Blackwater's general counsel, Andrew Howell, told the House panel, "We have not skimped on equipment - no, sir."
The committee also heard from family members of the four security guards.
"Why did Blackwater choose to make a profit over the safety of our loved ones?" asked Kathryn Helvenston-Wettengel, the mother of one of the men. "Blackwater gets paid for the number of warm bodies it can put on the ground in certain locations throughout the world. If some are killed, it replaces them at a moment's notice."
In the bid-rigging scam, Seymour Morris Jr., an American businessman in Romania, was charged as the go-between for the military officers and the contractor, American construction mogul Philip H. Bloom. The husband of one of the reservists was accused of helping smuggle tens of thousands of dollars into the U.S. that the couple used to pay for a deck and a hot tub at their New Jersey house.
Together, the five used the $26 billion Iraqi rebuilding fund "as their own personal ATM machines," Deputy Attorney General Paul McNulty said. "These defendants actually took bricks of stolen cash ... and smuggled them out of Iraq and back to the United States for their own personal use."
The 25-count indictment, filed in U.S. District Court in New Jersey, marks the latest development in an investigation of $8.6 million in Iraq contracts awarded to Bloom. He has admitted to laundering at least $2 million stolen from Iraq reconstruction funds and awaits sentencing.
McNulty said the five people indicted Wednesday stole or otherwise misused $3.6 million from the reconstruction fund.
The three reservists - Col. Curtis G. Whiteford of Utah, Lt. Col. Debra M. Harrison of New Jersey and Lt. Col. Michael B. Wheeler of Wisconsin - were responsible for helping supervise the funding and progress of contracts in Hillah, Iraq.
In return for steering contracts to Bloom between 2003 and 2005, prosecutors said, the military reservists and their accomplices shared an estimated $1 million in cash and were showered with Porsche and Nissan sports cars, a Cadillac SUV, real estate, a Breitling watch, business-class plane tickets, computers and other items.
Harrison's husband, William Driver, was charged with helping smuggle more than $300,000 into the U.S. Morris allegedly wired the money and secured the goods. He is a U.S. citizen who lives in Romania and owns a Cyprus-based financial-services business.
Charges against the five include bribery, conspiracy, wire fraud, money laundering and transporting stolen property.

Halliburton adds $100M Russian deal
Houston Business Journal
Halliburton Co. has been awarded a $100 million multi-services contract in Russia.
The three-year deal between the Houston-based provider of oilfield services and Russia-based TNK-BP includes work in the Tyumen region. In addition, the contract stipulates the option of three additional one-year periods.
TNK-BP, formed in 2003, is a result of a merger between United Kingdom-based BP PLC's Russian oil and gas assets and the oil and gas assets of Alfa Access Renova group.
The two companies have worked on projects for a number of years, with the last major deal announced being a $33 million contract for Halliburton to provide TNK-BP with services for its Ust-Vakh field development in Western Siberia in early 2006.
Halliburton (NYSE: HAL) will handle drilling fluid and waste management services, and logging-while-drilling services for the Uvat development, located 800 kilometers northeast of the city of Tyumen.
Halliburton is scheduled to begin the project later this year.

HALLIBURTON SNAGS MULTIMILLION-DOLLAR CONTRACTS
Halliburton's Energy Services Group has been awarded multimillion-dollar contracts for drilling, cementing, mud logging and cuttings injection services for a development project in Alaska.
Pioneer Natural Resources Co. of Dallas is hiring Houston-based Halliburton (NYSE: HAL) and its two divisions - Drilling, Evaluation and Digital Solutions, along with Fluid Systems - to do the work, enabling the operator to drill 39 horizontal wells on the man-made, gravel island constructed this past winter approximately 6 miles off the coast of Alaska's North Slope.
Halliburton's work on the project, scheduled to last approximately three years, will begin late this year when ice roads to the island will allow the company to begin staging its equipment, materials and services. Drilling operations will begin in the summer of 2007.
Web sites: www.halliburton.com and pxd.com

Congress rejects proposal to investigate Iraq's war profiteers
WASHINGTON, (HalliburtonWatch.org) -- A U.S. Senate committee approved a proposal last night from President Bush for an additional $80.5 billion to fund the war in Iraq. At the same time, it voted against a proposal from Sen. Byron Dorgan (D-ND) to investigate the numerous allegations of fraud and profiteering by military contactors in the war-ravaged nation.

The U.S. Senate Appropriations Committee approved the new spending package without significant debate. The full Senate is expected to approve it within a month.

At least ten military audits have criticized Halliburton's Iraq spending. At one point, Pentagon auditors reported that 43 percent of the company's expenditures could not be verified by normal accounting procedures. Nevertheless, the Pentagon ignored the auditors' complaints and agreed to pay all the costs to Halliburton anyway. Moreover, the FBI is investigating complaints by a senior Pentagon official who said the Army illegally favors Halliburton's KBR subsidiary during the bidding process for Iraq contracts.

The additional spending pushes military costs for Iraq and Afghanistan to more than $100 billion for the 2005 fiscal year. The money is the fourth supplemental request approved outside the regular budget for Iraq and Afghanistan and would bring total emergency spending approved since 2003 to about $280 billion, Bloomberg News reported.

"I'm pleased to support the funding, but I'm increasingly concerned about how it is spent," Sen. Dorgan said. The amendment he offered, which was voted down, would have created an oversight committee modeled after the highly-regarded "Truman Committee," established during World War II to protect taxpayers from unscrupulous war profiteers and flawed contracting procedures that artificially inflate costs. According to the nonprofit Taxpayers for Common Sense, the Truman Committee was launched with just $15,000, but may have saved in excess of $15 billion during the wars with Germany and Japan. The Truman Committee is often described as the most successful government investigation effort in U.S. history because of the billions of dollars it saved.

As of December 31, the Pentagon has spent $117 billion on Iraq since the March 2003 invasion, according to Bloomberg, or an average of $4.1 billion a month. About $42 billion has been spent on Afghanistan operations, with another $22 billion on U.S. military homeland security patrols since the Sept. 11 attacks.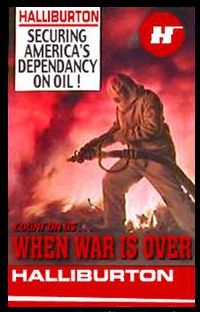 Cheney's History of Employment at Halliburton
Vice President Dick Cheney was CEO of Halliburton from 1995-2000.

Halliburton's board of directors voted to give Cheney a $20 million retirement package when he resigned, in addition to providing him with a massive salary and a bonus for just eight months of work in 2000.

Following his departure from Halliburton, Cheney retained possession of 433,333 options of Halliburton stock.

Although Cheney insisted that he severed his financial ties to Halliburton, the Congressional Research Service recently released a report saying that federal ethics laws consider both Cheney's deferred compensation and his stock options as lingering financial interest in the company.
Halliburton's Contract with the Federal Government
The Pentagon knew it would need help after the war rebuilding Iraqi oil fields and putting out oil field fires. Rather than following normal procedure and asking companies to bid on the job, the Pentagon turned the entire project over to Cheney's former firm, Halliburton. The Army Corps of Engineers said that Halliburton's compensation for rejuvenating Iraq's oil industry could be up to $7 billion. In postwar Iraq, Halliburton is the largest private contractor, with potential deals totaling over $11 billion.

Last September, Cheney said that he did not influence the decision to award Halliburton a no-bid contract: "I have absolutely no influence of, involvement of, knowledge of in any way, shape or form of contracts led by the [Army] Corps of Engineers or anybody else in the federal government." Since then, we have learned that:

Cheney's chief of staff, I. Lewis "Scooter" Libby, received a Pentagon briefing in October 2002, one month prior to directing Halliburton to develop a secret plan for restoring and operating Iraq's oil infrastructure. The vice president's office was also made aware of a second contract worth up to $7 billion awarded to Halliburton four months later for implementing this plan.

Time Magazine uncovered an e-mail indicating that the $7 billion contract awarded to Halliburton was "coordinated" with Cheney's office.
Halliburton's Waste
Waste Due to Bush Administration's Lack of Oversight. David M. Walker, head of the General Accounting Office, testified that Defense Department planners had failed to adequately determine the needs of U.S. soldiers in Iraq and to effectively oversee the billions of dollars' worth of contracts issued. [Los Angeles Times, 6/16/04]
Halliburton Wasted $186 Million on Meals Never Delivered. Halliburton billed the government for 36 percent more meals than were served, overcharging $186 million. [Detroit Free Press, 6/16/04]
Lavish Hotels, Abandoned Trucks, Inflated Gas Prices. A Halliburton's subsidiary was also criticized for abandoning $85,000 trucks with flat tires, housing company officials in a five-star Kuwaiti hotel, overcharging for gas it imported into Iraq from Kuwait, and ordering empty trucks to crisscross the country. [Detroit Free Press, 6/16/04]
Halliburton Reaped Profits While Forcing Troops To Eat In Filthy Conditions. According to NBC News, "Pentagon inspections of mess halls run by KBR are finding a mess in some of them... In the main Baghdad dining facility where President Bush surprised the troops on Thanksgiving, inspectors found filthy kitchen conditions in each of the three previous months. Complaints filed in August, September and again October report problems. Blood all over the floor of the refrigerators, dirty pans, dirty grills, dirty salad bars, rotting meats and vegetables. In October, the inspector writes that Halliburton's previous promises to fix the problems have not been followed through and warns the company serious repercussions may result, due to improper handling and serving of food." [NBC News, 12/12/03]
Last week reports confirmed, once again, that the Bush administration has not been telling us the truth about how Halliburton has spent our tax dollars. A House Committee found that Halliburton has wasted at least $1 billion in tax payer money on military contracts in Iraq, due to poor planning and oversight. [Detroit Free Press, 6/16/04]