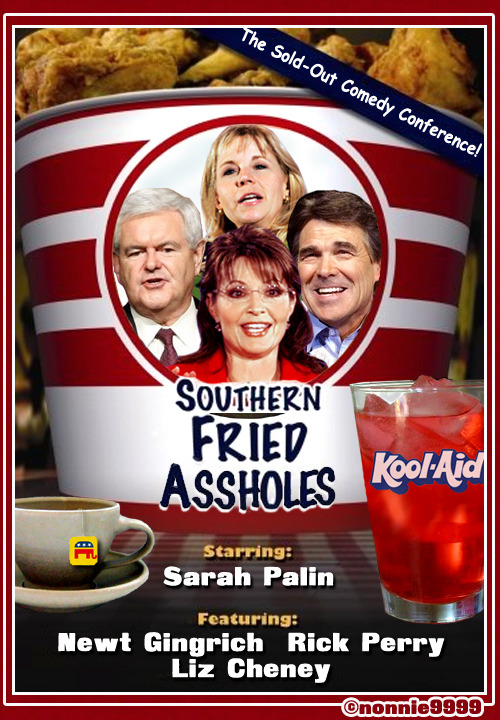 This Past weekend way down in New Orleans, the Southern Republican Leadership Conference took place.
Everyone from Sarah "barracuda" Palin to Gary "who's that" Johnson were in attendece.
You can read, watch and see some of the festivities that took place in the article linked here.
SRLC

Governor Jim Gibbons (R-NV) channels his inner Palin
By: David Phillips
Las Vegas Democrat Examiner 

Governor Jim Gibbons (R-NV) has reached deep into his inner self being to find his Sarah Palin persona in a recent fundraising letter to supporters. He's got her "hopey…changey" thing almost perfect, including some misspelled words of his own.

Governor Gibbons has never been known as a wordsmith, and the same is true of Sarah Palin, but at least she looks cute when she winks at you as she says, "hopey…changey". The next time Gibbons is on TV see if he winks at the camera, and you might as well as check for crib notes written on his hand since he has choose Palin to mimic.

The
fund raising letter
posted on the Las Vegas Sun website is funny, full of right wing talking points along with half-truths and lies, and Governor Gibbon's reproduction of Sarah Palin is pretty close.

 

Dear Fellow Nevadans and 1864 Club Members,

Rasmussen Polls Show We Have Pushed Ahead of Rory Reid

as Nevada Voters Realize...We Were Right!

We've all seen where this "hopey...changey...feely...and now "believey" kind of stuff" has gotten our great Country...to the Socialist World of Big Government and of Higher Taxes...and to a Government Takeover of the Banks...of the Insurance Industry...of the Car Companies...and now...of the Peoples' Health Care and their Right to make Personal Decisions with their doctors.

These "hopey...changey...feely...and now "believey" kinda of things will bring our entire country that much closer to a "European Socialist State"...nothing that our Forefathers have Envisioned and nothing close to my Vision for A Nevada Government which is...For the People and By the People."

The hopey changey stuff I've heard before of critisism by Palin of Obama et al...the believey stuff focuses on bs [Brian Sandoval]'s current theme...the feely accentuates this ploy bs is using, like a song which was cool, but over time gets old/boring/drops off the charts, and it loses its credibility which I believe is dangerous for bs as it puts bs too close to areas of our President's administration. That polls suggest people have had enough. As the polls are showing, Nevadan Voters Say No to Large Government and are Saying Yes to Lower Taxes...Yes to Smaller Government...Yes to Real Jobs...and Yes to the Vision that The Gibbons Administration has been pursuing!

We've Stayed on Track...and remain Locked on Target...and many Nevada Voters are now saying...Yes, Governor Gibbons, You Were Right!

And I say...As Your Governor of Nevada, Battle Born and There for You...We Were Right!

I urge you and your friends to join our growing 1864 Club of Real Nevadans for a Strong and Real Government, By the People and For the People.
Join the Our 1864 Club Now
!

For $18.64 you can Join the
Stampede of Freedom for Nevada
...One Click for Nevada...One Click for Freedom...One Click for Lower Taxes and One Click to Join Our Surge for Individual Freedom in Nevada.

Come on board and be part of the charge towards Freedom...For Nevada Families...For All of Us...For Real.

Warmest Regards,

Governor Jim Gibbons

PS – I cannot do this alone.
Please show your support for our economic prosperity by contributing $25, $50, $100 or $500 to my re-election campaign
.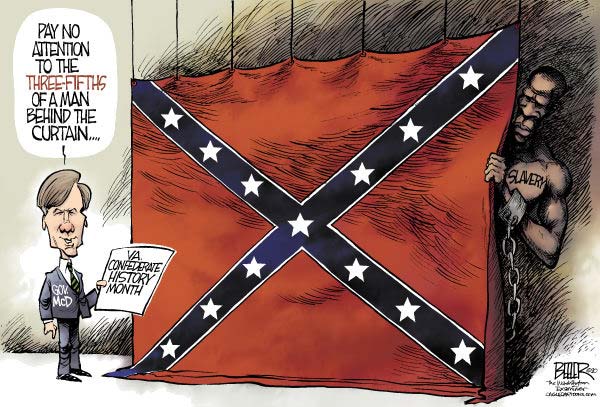 Obama: Virginia governor's slavery omission 'unacceptable'
(CNN) – Virginia's proclamation of Confederate History Month without any reference to slavery was unacceptable, President Obama said in an interview broadcast Friday.
"Well, you know, I'm a big history buff. And I think that understanding the history of the Confederacy and understanding the history of the Civil War is something that every American and every young American should, should be a part of," he told ABC in an interview taped Thursday. "Now, I don't think you can understand the Confederacy and the Civil War unless you understand slavery. And so, I think that was a - an unacceptable omission. I think the governor's now acknowledged that."
Obama was referring to Virginia Gov. Bob McDonnell, who apologized Wednesday for leaving out any reference to slavery in his recent proclamation designating April as Confederate History Month, calling it a "major omission." McDonnell also said he would amend the proclamation.
Asked by ABC to weigh in on the dispute, the nation's first African-American president said, "I think it's just a reminder that when we talk about issues like slavery that are so fraught with pain and emotion, that, you know, we, we'd better do so thinking through how this is going to affect a lot of people. And their sense of whether they're part of a commonwealth or part of our broader society."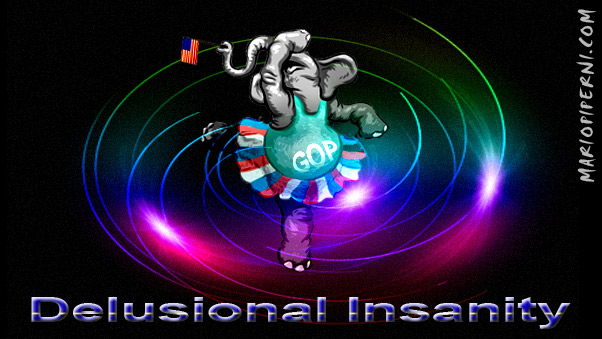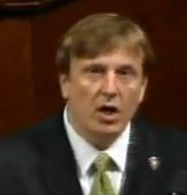 Rep. John Fleming
Inflammatory Fleming
By: Mad Kane
April 11th, 2010
It's bad enough to write an anti-Obama column packed with falsehoods about President Obama's national security policy. But Rep. John Fleming of Louisiana has managed to go way beyond that. He essentially and casually accuses Obama of being a traitor:
Simply put, President Obama is disadvantaging the United States one step at a time and undermining this country's national defense on purpose.
Rep. Fleming, you've earned yourself a limerick:
Inflammatory Fleming
By Madeleine Begun Kane
Dear Rep. Fleming, your piece packed with lies
About nukes and Obama — unwise!
For political reason
You charge him with treason.
The traitor is you, I surmise.

Letterman's Top 10 Thoughts That Go Through Every Accountant's Mind On April 15
10. 'If I see one more tax return, I'm gonna jam a No. 2 pencil through my eye'
9. 'I think my calculator is talking to me'
8. 'If I screw up, they go to jail, not me'
7. 'Why didn't I become something exciting like a claims adjuster?'
6. 'Should I wear the navy blue suit or the navy blue suit?'
5. 'Get through today and then a 364-day weekend'
4. 'Who knew the bright-eyed little boy I once was would grow into such a bitter man with a soul crushing job'
3. 'Time to fake my death and move to the Cayman Islands'
2. 'Why did I waste time doing a stupid Top Ten at Letterman?'
1. 'This would be a lot easier if I was sober'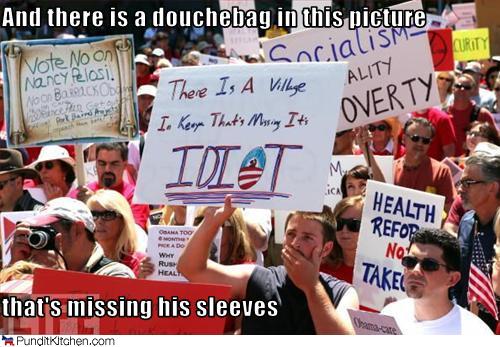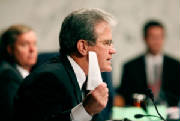 Sen. Tom Coburn
GOP: the unemployed are insignificant "small amount of people"
By: David Phillips
Las Vegas Democrat Examiner 
Why are so many republicans so quick to kick a man or women whose down on their luck because they lost their job? Why do so many republicans find it so easy to target this group by continuously voting against Job Bills and unemployment extension?
Maybe its because demographically the unemployed voter block is small. Maybe that's why Senator Tom Coburn (R-OK) in an
interview
with The Hill yesterday classified the unemployed as being "the relatively small amount of people who will be affected by this delay", referring to the current $9 billion unemployment extension that he has so proudly said he will block along with all future unemployment extensions because he wants it to be paid for with money from the Troubled Assets Relief Program (TARP), the $700 Billion that former President Bush used for bailouts for Wall St.

Senator Coburn said, "The easiest thing in the world is to pass this bill unpaid for, but consider the millions of Americans whose financial futures would be damaged, versus the relatively small amount of people who will be affected by this delay," Coburn went on to say, "Now you tell me which vote takes the most courage."

No Senator, now you tell me which voter needs your help, not your so-called courage. You and your Party show NO courage when you vote
No on everything
, what you do show is your disloyalty to our nation by putting your Party first.

According to Coburn the "financial futures" of Americans will be in jeopardy if another $9 billion is spent on an extension, and the money will only affect an insignificant and "relatively small amount of people" or in GOP political speak, a small block of voters who will most likely not vote.

Senator Tom Coburn's actions will cause at least 200,000 Americans to have their benefits "interrupted" this week. Coburn's fellow republicans have also said they support his action. Surprise, surprise.

Why else would republicans, even those here in Nevada, such as Senator John " man have I got ethics problems" Ensign (R-NV) and Rep. Dean Heller (R-NV) vote "No" on every Bill that helps to create jobs both for Nevada and our nation along with Bills to help the Unemployed and help with COBRA subsidies.

Even the American Recovery and Reinvestment Act, aka the Obama Stimulus Bill, which helped save our country from financial ruin and prevented another Great Depression, each and every republican voted NO. Then back in their home States at least 114 Republicans praised the Obama Stimulus Bill for creating jobs and paying for worthy projects in their districts. But the republican leadership claims that the American Recovery and Reinvestment Act did not create any jobs,
Senate Minority Leader Mitch McConnell (R-KY)
and
Rep. Eric Cantor
(R-VA) are some of those
114 republicans who praised the Obama Stimulus Bill to their local media and at ribbon cuttings
.

The republicans have said they want to see President Obama Fail, Senator Jim DeMint (R-SC) said that the Health Care Reform Bill was suppose to be President Obama's "Waterloo". What they don't say is that they want to see President Obama Fail, even if that means we have to watch America Fail. And they are doing just that, watching. Their actions and their words clearly show that they put their Party above you, your family and our country.

Republicans find the unemployed insignificant and merely a "relatively small amount of people' because they think that that voting block is merely a "relatively small amount of people" so why bother trying to help them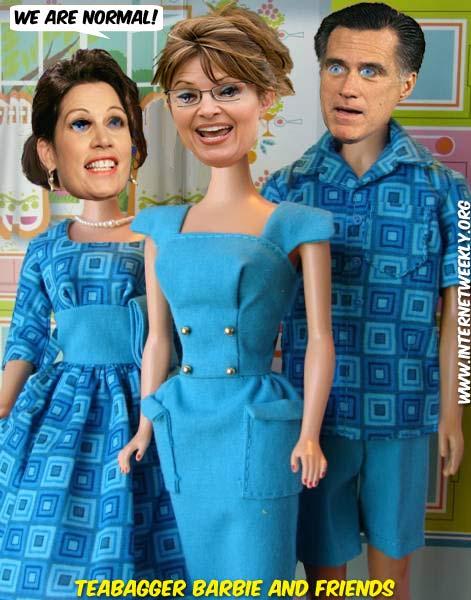 Tea Party of Nevada candidate Scott Ashjian media reports are "inaccurate"
By: David Phillips
Las Vegas Democrat Examiner 
Last week it was reported that an arrest warrant was issued for Scott Ashjian the Tea Party of Nevada candidate for U.S. Senate, the fact is there was no warrant issued because Ashjian simply paid restitution for the check which ended the matter right there.
Scott Ashjian said in a press release this past Friday that he put a stop payment on a check to a contractor he had discovered was not legal to do business in the state. Ashjian said that there was no "bounced check" as reported by the media, and that the media reports are "inaccurate" and "defamatory."
Elizabeth Crum of the Nevada News Bureau is
reporting
that while Ashjian's claim that no arrest warrant was ever issued is in fact true, one was requested then recalled after Ashjian covered the check and court fee's.

Elizabeth Crum posted an update from Deputy DA Bernie Zadrowski:
"A warrant for Ashjian was requested by our office. We requested a warrant for his arrest on 1 count of D&P Checks and 1 count of Theft. The judge was scheduled to sign the arrest warrant on or about Wednesday the 31st or Thursday April 1st."

"However, Ashjian's lawyer contacted me on Wednesday and said Ashjian wished simply to pay the full amount of restitution. I agreed to accept it. With bad checks, it is the common practice of the Bad Check Unit to agree to dismiss criminal charges if the defendant is willing to pay all of the fees, costs, and restitution."

"We did not treat Ashjian any differently than we treat any other bad check case."

"There was no special treatment and no extra attention given to this matter because Ashjian was a politician."

And:

"When the cashier's check for restitution was sent to our office on Wednesday or Thursday (I don't remember exactly) I subsequently wrote a motion to recall the arrest warrant and dismiss the case, and then filed the motion. The judge agreed to forego signing the arrest warrant and granted the State's motion to dismiss the case."

"While it was technically inaccurate to say that an arrest warrant was issued for Ashjian, it is accurate to say the affidavit in support of the warrant and warrant request was sent to the court. This occurred once the State had filed the criminal complaint in justice court. But for the State agreeing to put the case on calendar to recall and dismiss, the signing and issuing of the warrant would have happened on Thursday April 1st."
It does appear that the media was wrong saying that an arrest warrant was issued, but one was requested. As
reported yesterday
, Scott Ashjian is still in the running for the U.S. Senate seat currently held by Senate Majority Leader Harry Reid along with 21 others.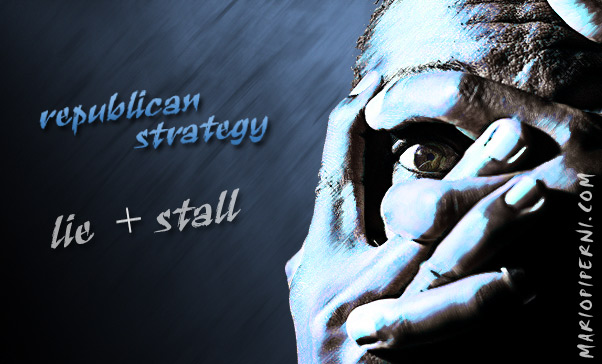 Sean Hannity - Oliver North
Complaints filed with IRS on Hannity and North charity
By: David Phillips
Las Vegas Democrat Examiner 
Two weeks ago conservative blogger Debbie Schlussel
alleged
that Sean Hannity's Freedom Concerts were "a huge scam," then Sean Hannity and the
Freedom Alliance
quickly and quietly dismissed her as a kook who was trying to make a name for herself, and the Main Stream Media never picked it up.

But they will now.

It appears that there is merit to her accusations and Debbie Schlussel may get the last word.

Today
CREW
(Citizens for Responsibility and Ethics in Washington) filed complaints with both the Internal Revenue Service (IRS) and the Federal Trade Commission (FTC) against Sean Hannity, his Freedom Concerts, the Freedom Alliance and Lt. Col. Oliver North.

The Freedom Alliance was founded by Col. Oliver North Ret. (Fox News Host) to raise money to support the troops and their children through Freedom Concerts along with private donations, have raised millions over the last several years.

"FTC complaint alleges Hannity and Freedom Concerts have engaged in illegal and deceptive marketing practices by suggesting that all money generated by ticket sales for the Freedom Concerts he sponsors each summer goes to scholarships for children of killed and wounded service members. In fact, the concerts are staged by Premiere Marketing, which is headed by Duane Ward – also the head of Premiere Speakers Bureau, which exclusively represents Mr. Hannity and Lt. Col. North. After staging the concerts, Premiere donates an unknown portion of the concert proceeds to the Freedom Alliance."

"IRS complaint against Freedom Alliance asks the IRS to consider revoking its charitable tax status because the organization has engaged in prohibited political activities. When Freedom Alliance first formed in 1999, the IRS conditioned its charitable tax status on the organization removing politically partisan materials from its website and warned it not to intervene in political campaigns. Despite those warnings, Freedom Alliance's website includes links to Lt. Col. North's columns, which are largely political, rents its mailing list to a communications firm that works for organizations that "seek to reach Republicans and conservatives across the United States," and hosts an annual "Freedom Cruise" with Republican politicians such as former House Speaker Newt Gingrich and Republican National Committee Chairman Michael Steele. In addition, Freedom Alliance appears to have a relationship with Team America, a PAC formed by Rep. Tom Tancredo (R-CO), dedicated to anti-immigration efforts and supporting conservative candidates."

When Hannity promotes the Freedom Concerts on his TV and Radio shows he says, "Every penny, 100 percent of the donations are applied to the Freedom Alliance scholarship fund."

The
2006 tax returns
for the Freedom Alliance proves that Sean Hannity is lying about "every penny, 100 percent" going to the Freedom Alliance scholarship fund". (See more tax returns covering other years for the Freedom Alliance in the related documents below)

Sean Hannity has said very little about this other than to say "its not true", conservative websites such as
Newsbusters
have posted their support of Hannity and a statement from the president of the Freedom Alliance, Thomas P. Kilgannon who surprisingly also says its not true.

While Sean Hannity and Col. Oliver North may wish these allegations would go away, they will not being going away any time soon since the complaints have been filed with the IRS and the FTC.

More to follow in the coming weeks and months.

 

Related Documents

* 3/29/10 - Freedom Alliance
FTC Complaint
- Citations // 14.3 mb

* 3/29/10 - Freedom Alliance
FTC Complaint and Exhibits
// 5 mb

* 3/29/10 - Freedom Alliance
IRS Complaint - Citations
// 9.5 mb

* 3/29/10 - Freedom Alliance
IRS Complaint
// 2.2 mb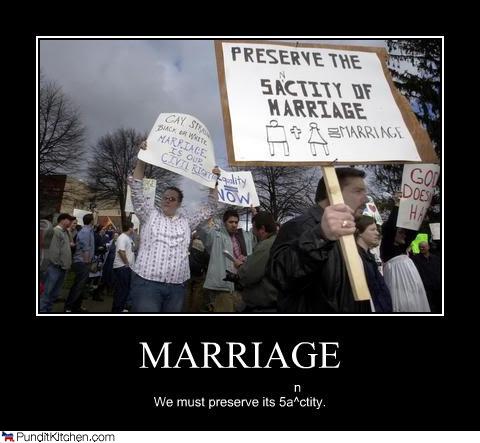 The Sarah Palin Network (Video)
By: David Phillips
Las Vegas Democrat Examiner
Saturday Night Lives' (SNL) Tina Fey returned to the show to reprise her caricature role of former Governor Sarah Palin in a skit that will having you rolling on the floor laughing. The skit is titled
"The Sarah Palin Network".
As you may recall Tina Fey and SNL have spoofed Palin in the past, and even Sarah Palin, the real Sarah Palin, has gone on the show to spoof herself with some self-deprecating humor.
Video below: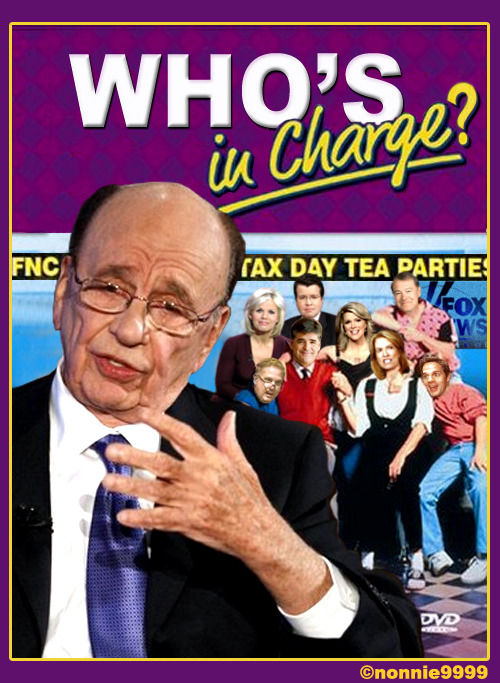 The Big Bang Treaty... Jon Stewart rips Fox on another LIE!!!

THIS WEEKS FEATURED MUSIC VIDEO



VARIOUS LATE NIGHT QUOTES
"Well, earlier this week, President Obama kicked off the baseball season by throwing out the ceremonial first pitch. They said President Bush did a better job throwing out the first pitch. But on the other hand, President Obama can talk." –Jay Leno
"Next week, the president of China will be at the White House. And good news — he has no plans to foreclose." –Jay Leno
"Well, give you an idea how important this visit is from the Chinese president, I understand Joe Biden is busy learning some Chinese curse words." –Jay Leno
"And in a major reversal of U.S. policy, President Obama has narrowed the conditions under which we would use nuclear weapons. He said we'd only use them against Iran, North Korea or Fox News." –Jay Leno
"The government says the economy is bouncing back. So now we can go back to making cars nobody wants. That will be good." –David Letterman
"People were standing in line around the block all weekend to get an iPad. Out in Arizona, John McCain was waiting in line for an IBM Selectric." –David Letterman
"And they've been talking about the iPad for months, maybe years. I'm telling you, it took longer for the iPad to come out than it did Ricky Martin." –David Letterman
"Experts believe the iPad will revolutionize the way people procrastinate." –David Letterman
"Michelle Obama held a town hall meeting on C-SPAN to answer questions from kids about her anti-obesity campaign. The most popular question from kids was, 'Why are you doing this to us, lady?'" –Jimmy Fallon
"Tiger Woods will play his first golf tournament in five months, and his first tournament in six years without lipstick on his lucky underwear." –Jimmy Kimmel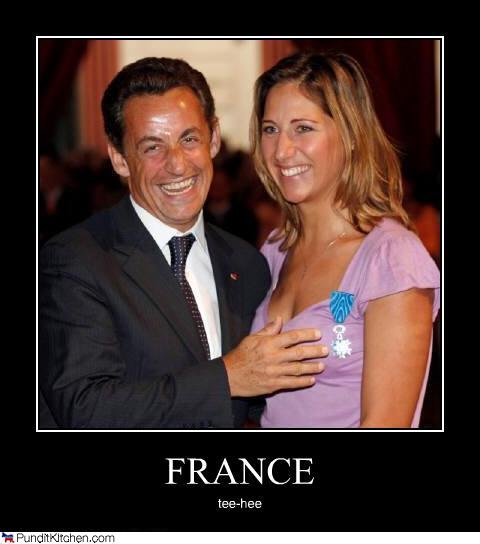 This Week in God!!!
Every Sperm is Sacred...Monty Python


YodasWorld.org is updated each Monday. Some of the items from the previous week are added to the various topic links on the left side of the main page. Links embedded should be good for at least the date posted. After the posting date, link reliability depends on the policy of the linked sites. Some sites require visitors to register before allowing access to articles. Material presented on this page represent the opinion's of YodasWorld.org.
Copyright 2000-2010 YodasWorld.org. All rights reserved on original works. Material copyrighted by others is used either with permission or under a claim of "fair use."