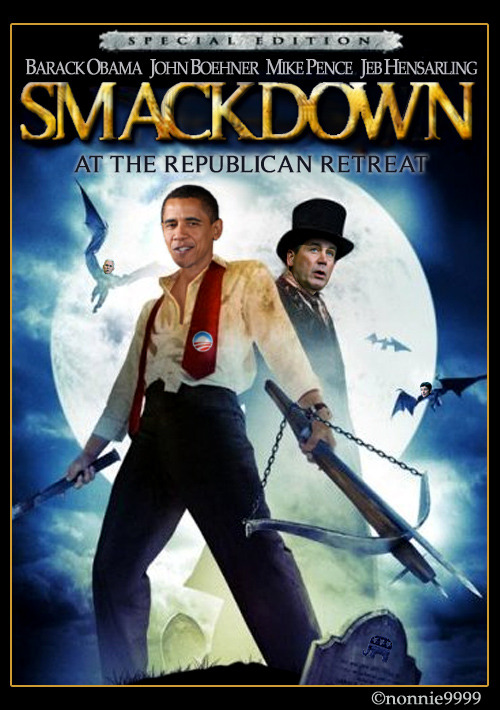 President Obama Schools the GOP
By: David Phillips
Las Vegas Democrat Examiner
The President takes questions from Republican members of the House of Representatives at the GOP House Issues Conference in Baltimore, MD. January 29, 2010.
Obama shows that he knows his issues inside and out and FULLY understands the GOP tactics and spin. I think that if President Obama were to meet with the GOP twice a month like this meeting and air everything, the Republicans in order to avoid more egg on their faces would have to work with the democrats instead of not doing their jobs by saying no to everything. But the GOP won't be airing anything like this again.
Watch it:
Justice Roberts and co are unbound,
Driving precedents precious aground.
Yet Republicans cheer,
And the sobs that we hear
Are the sounds of democracy drowned.
Tea Party redesign's American flag
By: David Phillips
Las Vegas Democrat Examiner
You may or may not have notice it, but at the Tea Party rallies all across the country a New redesigned American flag (
seen here
) has shown up. Seems the current American flag the one with 50 Stars representing our 50 States is no longer good enough for this group.

Millions have fought in Wars to protect our flag and the Republic for which it stands, we are currently fighting in two wars for the same reason, to protect our flag and our Republic.

Who do these people think they are to dishonor millions who swore an oath to protect our flag?

They call their flag; "New Flag of the Second American Revolution".

The website
ResistNet.com
started the push to have this new flag (
seen here
) shown in every state and their website says that a portion of the proceeds go to fund candidates who represent the Tea Party, which is great, but what was wrong with selling the Flag of the United States of America instead? You saw at their rallies last year that they hate the US Government, do they also hate the US flag as well?

The
Mission
statement gives their reasoning for the redesign American flag:
"Get the flag spreading across the country so no politician can travel the US without seeing the flag and being reminded they work for us."

"Get the flag selling virally, so we can set-up a trust and use 95% of profits to support patriot candidates."

"To achieve these missions, we hope you will tell your family and friends about our flag, as we continue to promote the flag nationally."
Why couldn't they sell the real American flag and use the proceeds to fund candidates? And why didn't they design something that would tell the politicians that they "work for us" that did not dishonor millions who fought to protect our flag?
The Tea Party flag was even front and center at Senator elect Scott Brown's (R-MA) victory speech the other night (
seen here
).

Maybe its just me, but when I think of patriots and flags, there is only one flag that comes to mind here in America, and that the flag of the United States of America.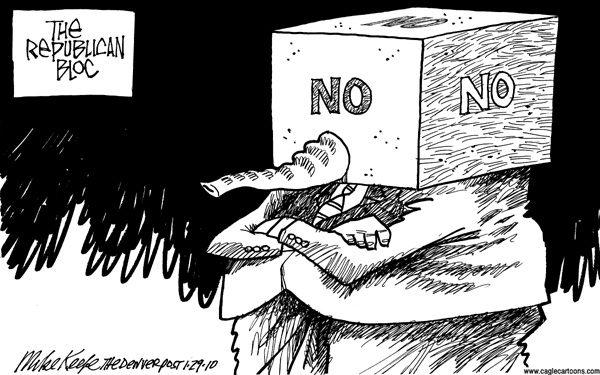 Thinkprogress.org
Justice Department officials John Yoo and Jay Bybee were two of the main architects of the Bush administration's torture program. As Bybee's deputy, Yoo "was the author of much of the legal rationale for using waterboarding and other severe interrogation techniques." He argued that interrogators who harm a prisoner would be protected "national and international version of the right to self-defense," and illegal conduct must "shock the conscience." Bybee headed the DOJ's Office of Legal Counsel and signed off on the infamous 2002 torture memo. Newsweek now reports that a senior DOJ official has essentially cleared the two men of misconduct in an upcoming office of Professional Responsibility report:
While the probe is sharply critical of the legal reasoning used to justify waterboarding and other "enhanced" interrogation techniques, NEWSWEEK has learned that a senior Justice official who did the final review of the report softened an earlier OPR finding. Previously, the report concluded that two key authors — Jay Bybee, now a federal appellate court judge, and John Yoo, now a law professor — violated their professional obligations as lawyers when they crafted a crucial 2002 memo approving the use of harsh tactics, say two Justice sources who asked for anonymity discussing an internal matter. But the reviewer, career veteran David Margolis, downgraded that assessment to say they showed "poor judgment," say the sources. (Under department rules, poor judgment does not constitute professional misconduct.) The shift is significant: the original finding would have triggered a referral to state bar associations for potential disciplinary action — which, in Bybee's case, could have led to an impeachment inquiry.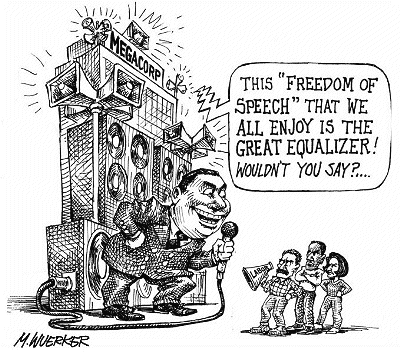 Last week, "all five of the [Supreme] Court's conservatives joined together…to invalidate a sixty-three year-old ban on corporate money in federal elections," a move that Rep. Alan Grayson (D-FL) said "opens the floodgates for the purchases and sale of the law" by big corporations. While progressives were outraged by the court's judicial activism, many Republican politicians applauded the decision, with RNC Chairman Michael Steele even calling the ruling nothing more than "an affirmation of the constitutional rights provided to Americans under the first amendment."
The progressive PR firm Murray Hill Inc. has announced that it plans to satirically run for Congress in the Republican primary in Maryland's 8th congressional district to protest the Supreme Court's disastrous decision. A press release on its website says that the company wants to "eliminate the middle man" and run for Congress directly, rather than influencing it with corporate dollars:
"Until now," Murray Hill Inc. said in a statement, "corporate interests had to rely on campaign contributions and influence peddling to achieve their goals in Washington. But thanks to an enlightened Supreme Court, now we can eliminate the middle-man and run for office ourselves."

"The strength of America," Murray Hill Inc. says, "is in the boardrooms, country clubs and Lear jets of America's great corporations. We're saying to Wal-Mart, AIG and Pfizer, if not you, who? If not now, when?" [...]

Campaign Manager William Klein promises an aggressive, historic campaign that "puts people second" or even third. "The business of America is business, as we all know," Klein says. "But now, it's the business of democracy too." Klein plans to use automated robo-calls, "Astroturf" lobbying and computer-generated avatars to get out the vote.

Murray Hill Inc. plans on spending "top dollar" to protect its investment. "It's our democracy," Murray Hill Inc. says, "We bought it, we paid for it, and we're going to keep it."
Murray Hill Inc. released its first campaign video Monday. A narrator in the video explains, "The way we see it, corporate America has been the driving force behind Congress for years. But now it's time we got behind the wheel ourselves." Watch it: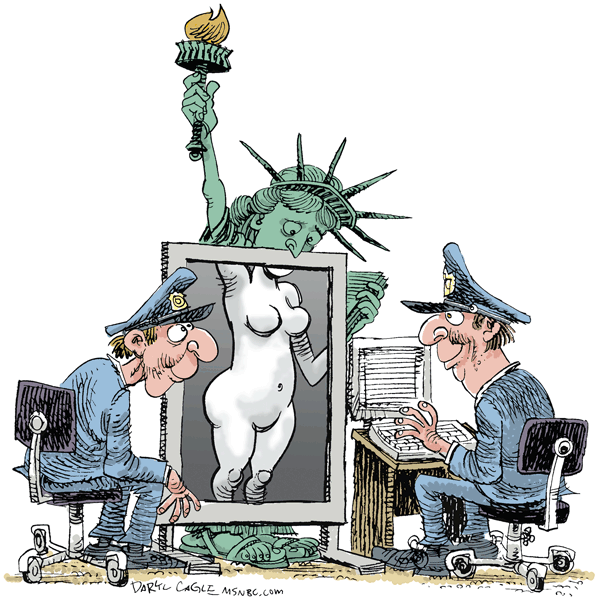 Senator Jim DeMint may have allowed suicide bomber on plane
By: David Phillips
Could this past Christmas day attempted bombing by a terrorist have been avoided if Senator Jim DeMint (R-SC) would have allowed President Obama's pick for Transportation Security Administration (TSA) administrator to be voted on? Did this suicide bomber manage to get on a plane with a bomb simply because DeMint was playing politics with our national security?

This past September President Obama nominated Errol Southers to be the administrator of the TSA and because DeMint fears that Southers might allow TSA workers to form a Union (DeMint really doesn't know for sure), Senator DeMint won't allow the Senate to vote for his confirmation.

The Republican party and their right winged media opinion echo outlets such as Fox News, have been quick to blame President Barack Obama for allowing Umar Farouk Abdulmutallab, 23, of Nigeria to get on Northwest Flight 253 on Christmas day.

They echo their reasoning that because President Obama announced that he was closing the detainee facilities in Guantanamo Bay, trying them in US Federal courts, putting them in Federal prisons and ending the Bush/Cheney era of torture, we are less safe and that is why this man was able to get on the plane in the first place.

The republicans and their right wing spin machine won't ever mention the FACT that Senator Jim DeMint may very well be responsible for allowing the bomber on the plane. They will NEVER mention what DeMint had done. All because they are against unionized labor in the United States, and they favor corporations over employees.

Right now you are thinking how could Senator Jim DeMint a Republican from South Carolina be responsible simply by blocking Errol Southers from being the TSA administrator.

Here's why. Last month the father of Umar Farouk Abdulmutallab, went to the U.S. embassy in Abuja, Nigeria to let them know that his son is mixed up with radicals and should be watched, but he had no specifics according to congressional sources speaking to the Boston Globe. In the same article in the Boston Globe it also says; "congressional official said Umar Farouk Abdulmutallab, a 23-year-old Nigerian, popped up in U.S. intelligence reports about four weeks ago as having a connection to both al-Qaeda and Yemen."

So why wasn't he put on the "No Fly List", intelligence reports linked him to al-Qaeda.

Because Senator DeMint held up President Obama's pick who would administrate and enact security changes and updates to the "No Fly List".

The current airport security and the TSA policies were all placed into action by former President Bush.

For years now we have known about problems with the "no fly list", peoples names going on the list that shouldn't be there in the first place, like Senator Edward Kennedy who was stopped because his name appeared on the "no fly list". We have heard similar stories about others

There are currently four different lists that suspected terrorists names appear on;

"Terror Identities Datamart Environment" (TIDE) has 550,000 names
"Terrorist Screening Data Base" (TSDB) has 400,000 names
"Selectee List" has 14,000 names
"No Fly List" has 3,400 names

Umar Farouk Abdulmutallab's name appears on the TIDE list, if Senator Jim DeMint hadn't stopped the vote for President Barack Obama's nominee, the flow of intelligence and the administration of the problems that are well known with the lists might have prevented the suicide bomber from getting on the plane in the first place.

Leslie Phillips, a spokeswomen for Senator Joe Lieberman's (I-CT) Homeland Security Committee said that Lieberman believes the hold is "contrary to the public interest." Phillips went on to say, "The head of TSA is a key player in the government's efforts to safeguard the American people from terrorism."

And on top off all of this, Republicans also opposed funding for the TSA, including money for screening operations and explosives detection systems.

Senator Reid said that he will call for a Roll Call vote on the President's nominee as soon as the Senate reconvenes in January.

Have a safe flight, and don't forget to buckle up the seat belts.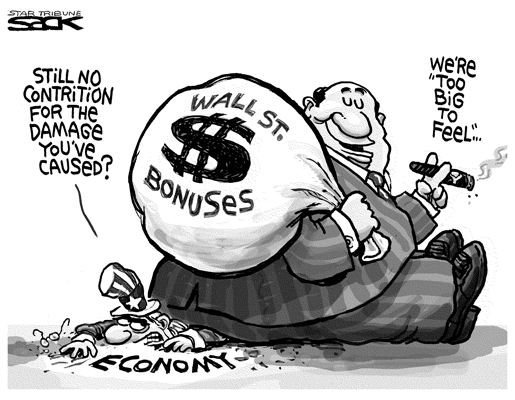 Obama's $3.8 trillion budget heading to Congress
Press Writers Andrew Taylor And Martin Crutsinger
Associated Press Writers 20 mins ago
WASHINGTON – President Barack Obama's proposed budget predicts the national deficit will crest at a record-breaking almost $1.6 trillion in the current fiscal year, then start to recede in 2011 to just below $1.3 trillion.
Still, the administration's new budget to be released Monday says deficits over the next decade will average 4.5 percent of the size of the economy, a level that economists say is dangerously high if not addressed.
A congressional official provided the information, which comes from a White House summary document circulating freely on Capitol Hill and among Washington's lobbyists. The official spoke on condition of anonymity because the spending proposal is not supposed to be made public until tomorrow.
Details of the administration's budget headed for Congress include an additional $100 billion to attack painfully high unemployment. The proposed $3.8 trillion budget would provide billions more to pull the country out of the Great Recession while increasing taxes on the wealthy and imposing a spending freeze on many government programs.
Administration projections show the deficit never dropping below $700 billion, even under assumptions that war costs will drop precipitously to just $50 billion in some years instead of more than three times that this year and next.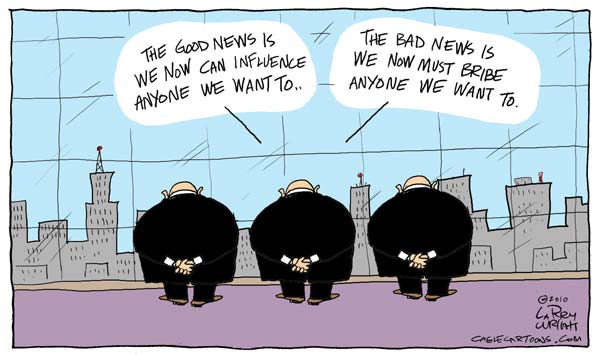 This Weeks Bushism
"There's an old saying in Tennessee — I know it's in Texas, probably in Tennessee — that says, fool me once, shame on — shame on you. Fool me — you can't get fooled again." —Nashville, Tenn., Sept. 17, 2002

US News | Sun, Jan 31, 2010 at 1:14:48 pm PST
One of the problems with building a movement on a base of populist rage is that it tends to attract rage-a-holics who would rather die than compromise on anything at all, the kind of people who will just as easily turn their rage on each other when disagreements pop up.
Today the organizers of the National Tea Party Convention sent out an angry email demonstrating this principle, naming and attacking their critics and revealing some of the ugly infighting going on behind the scenes. Dave Weigel has the email: National Tea Party Convention Organizers Push Back.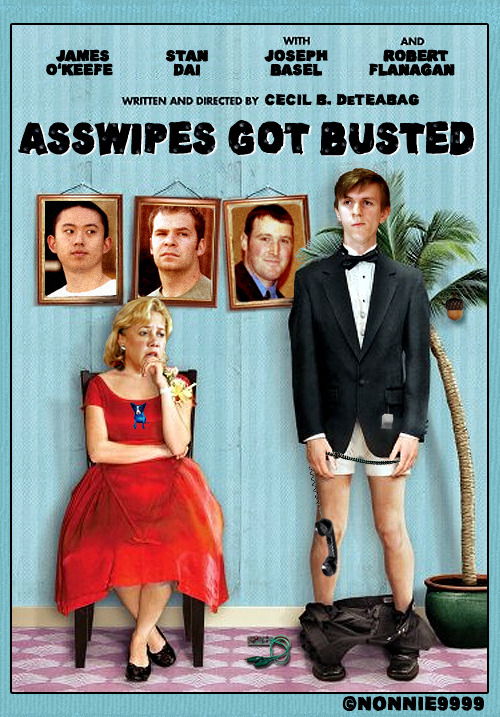 Hidden camera pimp James O'Keefe arrested, tries to bug Senator's phone
By: David Phillips
Las Vegas Democrat Examiner
James O'Keefe, the now infamous pimp with a hidden camera who is best known for his undercover set up of ACORN workers last year, was arrested with three others and were charged with entering federal property under false pretenses with the intent of committing a felony.
In an FBI affidavit James O'Keefe, Joseph Basel, Stan Dai and Robert Flanagan were arrested Monday. Special Agent Steven Rayes said O'Keefe was helping two others, Joseph Basel and Robert Flanagan, who were dressed as employees of a telephone company and attempted to interfere with the office's telephone system, The Times-Picayune of New Orleans reported Tuesday on its Web site.
The FBI claim that the four plotted to wiretap Democratic Sen. Mary Landrieu's office in the Hale Boggs Federal Building in downtown New Orleans.
According to the FBI affidavit, Flanagan and Basel entered the federal building at 500 Poydras Street about 11 a.m. Monday, dressed as telephone company employees, wearing jeans, fluorescent green vests, tool belts, and hard hats. When they arrived at Landrieu's 10th floor office, O'Keefe was already in the office and had told a staffer he was waiting for someone to arrive.
When Flanagan and Basel entered the office, they told the staffer they were there to fix phone problems. At that time, the staffer, referred to only as Witness 1 in the affidavit, observed O'Keefe positioning his cell phone in his hand to videotape the operation. O'Keefe later admitted to agents that he recorded the event.
After being asked, the staffer gave Basel access to the main phone at the reception desk. The staffer told investigators that Basel manipulated the handset. He also tried to call the main office phone using his cell phone, and said the main line wasn't working. Flanagan did the same.
They then told the staffer they needed to perform repair work on the main phone system and asked where the telephone closet was located. The staffer showed the men to the main General Services Administration office on the 10th floor, and both went in. There, a GSA employee asked for the men's credentials, after which they stated they left them in their vehicle.
Federal Marshalls arrested the four soon after.
There is no end to the illegal activities right wingers will go discredit Democrats and now O'Keefe the darling of Fox News and his gang will be facing federal charges.
Visit msnbc.com for breaking news, world news, and news about the economy

THIS WEEKS FEATURED MUSIC VIDEO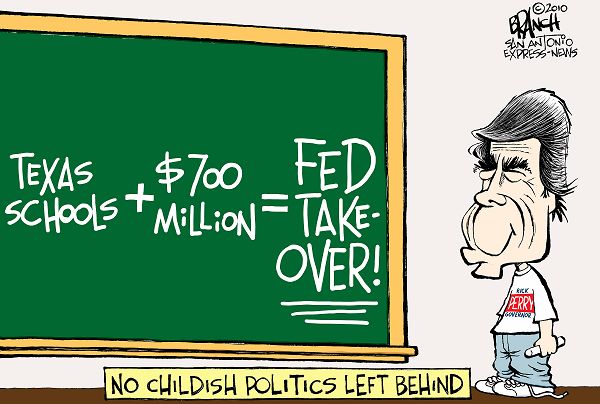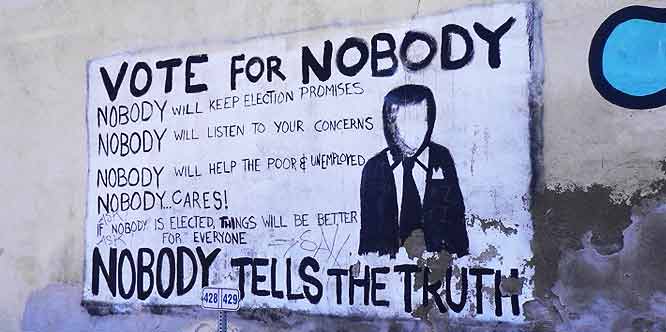 VARIOUS LATE NIGHT QUOTES
"But then after the president spoke, the Republicans gave their rebuttal, during which they pointed out that Obama has repeatedly failed to solve any of the problems they created under President Bush." –Jimmy Kimmel
"Well, tonight in Washington, President Barack Obama gave his State of the Union address before a joint session of Congress. Joint session sounds like more fun than it is." –Jimmy Kimmel
"Neither one of these parties cares as much about the country as they do about being the one who gets to run the country. It's a big waste, and it's a big waste of air time that could be better spent on celebrities ice skating or conveyor belts of love, things like that." –Jimmy Kimmel
"The speech tonight was pretty much the same thing we hear over and over again, asking us for patience and a willingness to sacrifice, things we are totally unwilling to do as Americans." –Jimmy Kimmel

This Week in God!!!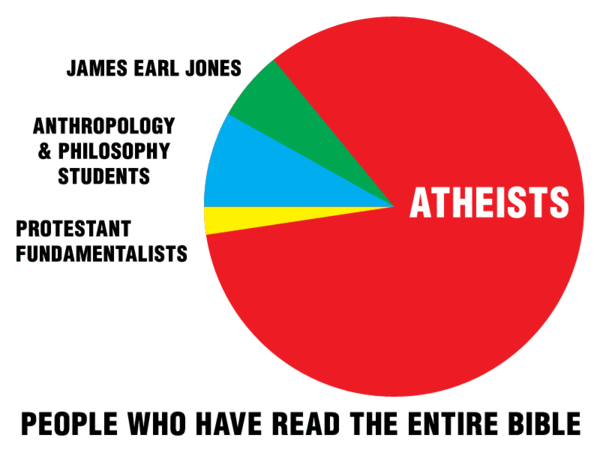 YodasWorld.org is updated each Monday. Some of the items from the previous week are added to the various topic links on the left side of the main page. Links embedded should be good for at least the date posted. After the posting date, link reliability depends on the policy of the linked sites. Some sites require visitors to register before allowing access to articles. Material presented on this page represent the opinion's of YodasWorld.org.
Copyright 2000-2009 YodasWorld.org. All rights reserved on original works. Material copyrighted by others is used either with permission or under a claim of "fair use."