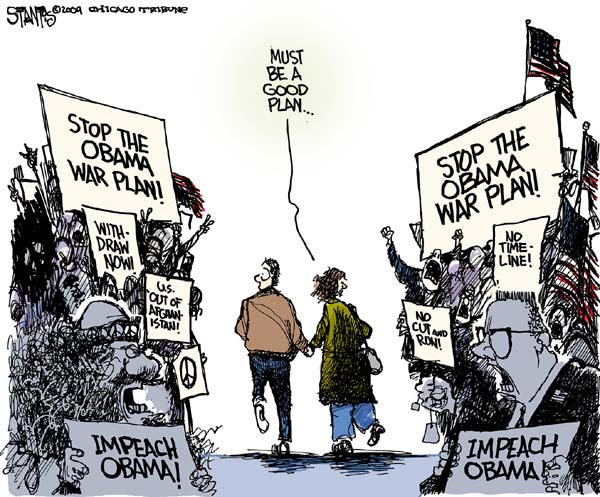 Thingprogress.org
In his Afghanistan policy address last week, President Obama said we would "begin the transfer of our forces out of Afghanistan in July of 2011." In a series of in-depth profiles of the behind-the-scenes conversations that took place in the lead-up to this pronouncement, the Washington Post and New York Times report that the President wanted a strategy to get in and get out.
"The military was told to come up with a plan to send troops quickly and then begin bringing them home quickly," the Times writes. "He had asked for a plan to deploy and pull out troops quickly," writes the Post. Looking at a bell curve that laid out the timetable for the deployment and withdrawal of U.S. troops, Obama reportedly told his advisers: "I want this pushed to the left." The Times writes, "In other words, the troops should be in sooner, then out sooner."
But as administration officials touted the President's Afghanistan strategy this morning on the Sunday political talk shows, they underscored that the U.S. troops may not be coming home in 2011:
Gen. David Petraeus: "There's no timeline, no ramp, nothing like that." [Fox News Sunday]

National Security Adviser James Jones: "It is not a cliff. It is a glide slope. And so certainly, the President has also said we are not leaving Afghanistan." [CNN State of the Union]

Defense Secretary Robert Gates: "Well, first of all, I don't consider this an exit strategy. And I try to avoid using that term. I think this is a transition." [ABC This Week]
On Meet the Press, Secretary of State Hillary Clinton said, "We're not talking about an exit strategy or a drop dead deadline." Gates added, "We will have a significant — we will have 100,000 forces — troops there. And they are not leaving — in July of 2011."
Jones also told the BBC, "In no manner, shape or form is the United States leaving Afghanistan in 2011." Afghan President Hamid Karzai is also making a push to soften the timetable. He told CNN's Christiane Amanpour that "if it takes longer [than 2011], they must be with us."
Notably, Vice President Joe Biden — who was reportedly a skeptic of the escalation strategy — did not appear on political talk shows to tout the new strategy. Biden did sign his name to an e-mail sent to Obama supporters last week saying he believes it is a "focused strategy that can succeed."
Watch Compilation: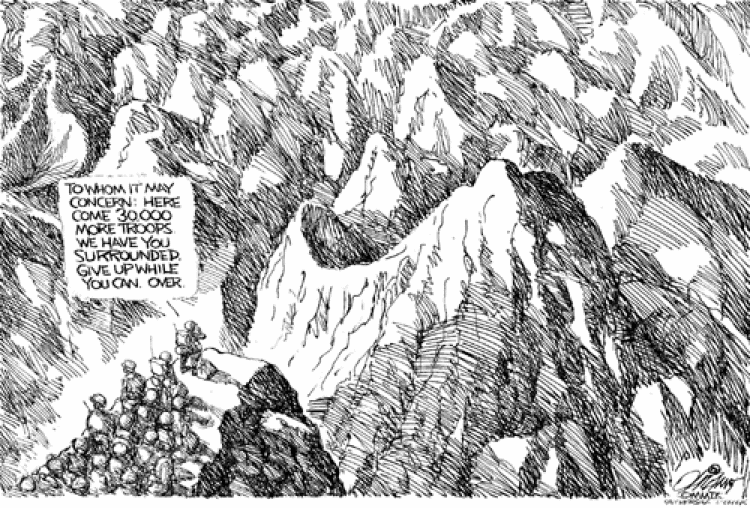 Aetna Forcing 600,000-Plus To Lose Coverage In Effort To Raise Profits
HuffPo
Health insurance giant Aetna is planning to force up to 650,000 clients to drop their coverage next year as it seeks to raise additional revenue to meet profit expectations.
In a third-quarter earnings conference call in late October, officials at Aetna announced that in an effort to improve on a less-than-anticipated profit margin in 2009, they would be raising prices on their consumers in 2010. The insurance giant predicted that the company would subsequently lose between 300,000 and 350,000 members next year from its national account as well as another 300,000 from smaller group accounts.
"The pricing we put in place for 2009 turned out to not really be what we needed to achieve the results and margins that we had historically been delivering," said chairman and CEO Ron Williams. "We view 2010 as a repositioning year, a year that does not fully reflect the earnings potential of our business. Our pricing actions should have a noticeable effect beginning in the first quarter of 2010, with additional financial impact realized during the remaining three quarters of the year."
Aetna's decision to downsize the number of clients in favor of higher premiums is, as one industry analyst told American Medical News, a "pretty candid" admission. It also reflects the major concerns offered by health care reform proponents and supporters of a public option for insurance coverage, who insist that the private health insurance industry is too consumed with the bottom line. A government-run plan would operate solely off its members' premiums.
Aetna actually made a profit in 2009 but not at levels that it anticipated.
"They were surprised by an acceleration in medical costs in 2009 which pressured their earnings," Josh Raskin, an industry analyst for Barclays Capital, told the Huffington Post. "In an effort to get back to a more profitable level, they are raising their prices to match cost trends. When you raise rates, you run the risk of losing your membership. Health insurance is a very competitive marketplace."
As Williams told investors on the call: "The pricing that we put in place for 2009 turned out to not really be what we needed to achieve the results and margins that we had historically been delivering."
Aetna is one of the largest insurers in the private market, covering roughly 17.7 million people according to its 2008 annual report. It is also a major player in the current health care debate and inside Washington D.C. The insurance company has spent more than $2 million on lobbying just in 2009, according to the Center for Responsive Politics.
American Medical News, which first reported the story, noted that this is not the first time the insurance giant has cut the rolls in an effort to boost profit margins. "As chronicled in a 2004 article in Health Affairs by health economist James C. Robinson, MD, PhD, Aetna completely overhauled its business between 2000 and 2003, going from 21 million members in 1999 down to 13 million in 2003, but boosting its profit margin from about 4% to higher than 7%."
A spokesperson at Aetna did not return calls and emails for comment.

Dick Cheney no longer a chickenhawk, now just a chicken
By: David Phillips
Las Vegas Democrat Examiner
Yesterday hours before President Obama spoke to the nation from West Point about his plans to send 30,000 more troops to Afghanistan, former Vice President Dick Cheney had a few words of his own to say about President Obama.
During the
interview
from his home in Mclean, VA the former VP continued to try and lay blame on the problems in Afghanistan onto the Obama administration.

For several months now Cheney has spoken out about President Obama and his policies that American will no longer torture, his closing of Guantanamo Bay and the time it took for President Obama to set his plan of action into play with regards to Afghanistan.

In the interview Cheney was asked if the Bush administration bears any responsibility for the disintegration of Afghanistan because of the attention and resources that were diverted to Iraq and Cheney said, "I basically don't" .

The same Bush administration that started the war which is now in its ninth year. The same Bush administration that had Osama Bin Laden cornered and
"within our grasp"
and then did an about face into Iraq and allowed the man responsible for the attacks on September 11, 2001 to get away.

For eight years the Bush administration conducted the war policy in Afghanistan and allow the Taliban and al-Qaeda to regroup and increase their numbers to the point where
they are stronger
than before the Bush/Cheney invasion.

And now this coward says that the Bush administration no longer bears and responsibility for the mess they created.

Dick Cheney
approved of torture
, he approved of the
indefinite internment of detainees,
he approved of the
suspension of Habeas Corpus
, he
approved of outing a covert CIA agent
out of spite for her husbands findings in Niger and he also ran his
own personal assassination unit
through the CIA.

Cheney is concerned with covering his tracks with his deflection speech's and interviews against President Obama in order to protect his anterior superior spine. He is counting on President Obama and Attorney's General Eric Holder not going after him for his crimes against the United States and humanity.

Dick Cheney has no problems with using American troops as cannon fodder or
throwing his own chief of staff Scooter Libby under the bus
in order to save his own miserable backside.

Cheney who received five deferments to avoid serving in the armed forces of the United States during the Vietnam war is truly un-American and a chicken who should have been tried for treason long ago.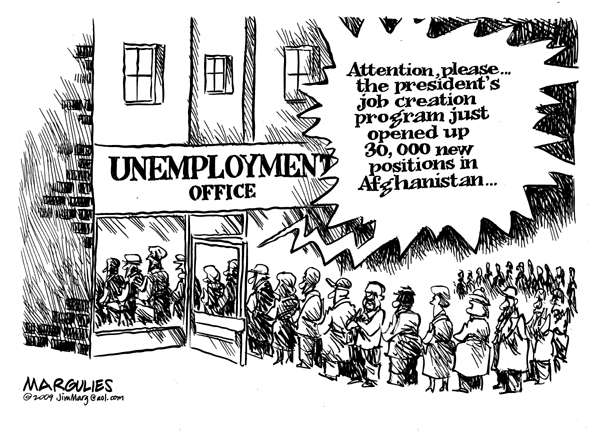 GOPers want Franken to defend them in opposing anti-rape amendment
By Daniel Tencer
GOPers want Franken to defend them in opposing anti rape amendmentSome Republican senators are taking heat for voting against an amendment that would allow employees of military contractors to sue their employers if they are raped at work -- and they want the Democratic senator who wrote the amendment to help them fight off the bad publicity.
In October, 30 Republicans voted against Sen. Al Franken's amendment to a defense appropriations bill that would de-fund contractors who prevent their employees from suing if they are raped by co-workers. Since then, those Republicans have faced outrage for what critics say amounts to support for rape.
A Web site called RepublicansForRape mocks the thirty senators as "legislators who were brave enough to stand up in defense of rape." Louisiana Sen. David Vitter took heat recently for walking away from a woman who was questioning him about his vote against the amendment.
Now, some of those GOP senators want Sen. Franken (D-MN) to come to their rescue.
An article at Politico reports, "Republicans argue that Franken should make it clear that GOP senators don't support assault or rape — especially since the amendment deals only with civil claims, making it possible for alleged rapists to be prosecuted criminally."
"I think it would be helpful for Sen. Franken to come forward and say, 'I'm not suggesting that anybody who votes for my amendment is indifferent to crimes against women or anybody else,'" Politico quoted Sen. Lindsey Graham (R-SC) as saying. "What's going on politically with the amendment Sen. Franken can't control, but I think it would be helpful for him personally to just let the rest of us know that's the views of others — not him."
Sen. John Cornyn (R-TX) accused Franken exploiting the story of Jamie Leigh Jones -- a former KBR employee who says she was locked in a container in Iraq after alleging she was raped by co-workers -- to further his political agenda.
"Trying to tap into the natural sympathy that we have for this victim of this rape, and use that as a justification to frankly misrepresent and embarrass his colleagues, I don't think it's a very constructive thing," Cornyn told Politico.
But Politico notes that Franken's spokespeople have come to his defense, saying that Franken hasn't been exploiting the Republican senators' opposition to the anti-rape amendment.
"Despite attacks on Republicans by liberal commentators like Rachel Maddow and Keith Olbermann and on blogs such as Daily Kos, Franken never appeared on any of the shows or on the blogs to make a partisan argument about the matter, saying that the senator turned down entreaties to do so," Politico reports. "Also, [Franken's aides] point to the 10 Republicans who voted for the amendment as proof that it wasn't a partisan measure."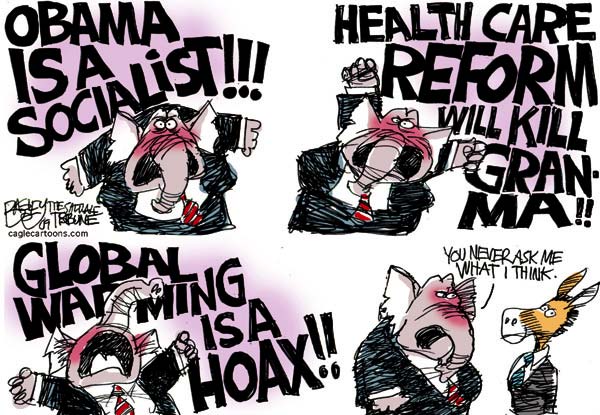 Ensign Sexcapades: Senate Ethics committee issues subpoenas
By: David Phillips
Las Vegas Democrat Examiner
The US Senate Ethics Committee yesterday have started to issue document subpoenas to those involved with or knowledge of the Sex, Lies, and Lobbying that have embroiled Senator John Ensign (R-NV) since his announcement this past June of having an affair with Cindy Hampton who worked for the Senator along with her husband Doug Hampton who was a top aide in Ensign's office as well as a good friend of the Senator fro 20 years.
Several People have said that they have received document subpoenas from the Ethics Committee asking for any records in their possession that may be related to Senator Ensign, and the Hampton's.
The Senator who has admitted that his parents "gifted" $96,000 dollars to the Hampton's and says it was not a payoff or a severance to keep them quiet. If the $96,000 dollar payments were not disclosed as
required by campaign finance law
, Ensign could face felony criminal charges.

Ensign is also being investigated for helping Doug Hampton land a lobby job where he ended up lobbying the Senator which is illegal.

In an
interview
this past week with on KNXT 840 in Las Vegas, NV, Senator Ensign said he did not do anything wrong, "it's a common practice, completely legal I complied with all Senate ethics rules and applicable laws".

Doug Hampton gave an interview last month to
ABC's Nightline
because he wants Senator Ensign held accountable. Hampton said, "Lost my job. Lost my best friend. Nearly lost my wife". Hampton went on to say, "It's hard to comprehend what's still taking place, what's going on this moment, with regards to the unraveling of the choices and the decisions that John's made,"

Hampton told "Nightline" that it was "crystal clear" that the $96,000 was, in fact, severance and not a gift. "Crystal clear," Hampton said. "I took notes. I've shared those notes. They're well documented. They were clearly what he deemed as severance."

The Department of Justice and the Federal Elections Commission have been asked to look into the legality of the $96,000 in severance.

Ensign said he wishes' he could take back the 9 months that he was sleeping with Cindy Hampton he said, "the worst thing he's ever done."

Well, as it turns out his affair with Cindy Hampton now seems to be the least of his worries, landing Doug Hampton the lobby job so Hampton can turn around and lobby Ensign and the $96,000 dollars in severance are both illegal, while his affair was only immoral.

Ensign has stated that he has no intentions of resigning and that he plans on fulfilling his term in office which has three more years. Republicans have already shown that they don't care if adulterers continue caucusing with their party as evident with Senator David Vitter (R-LA) who admitted having sex with prostitutes in July 2007 and is still in the US Senate.

Stay tuned, this will certainly be smoldering for the next several months as Democrats let Ensign's immoral and illegal actions twist in the wind for all to see.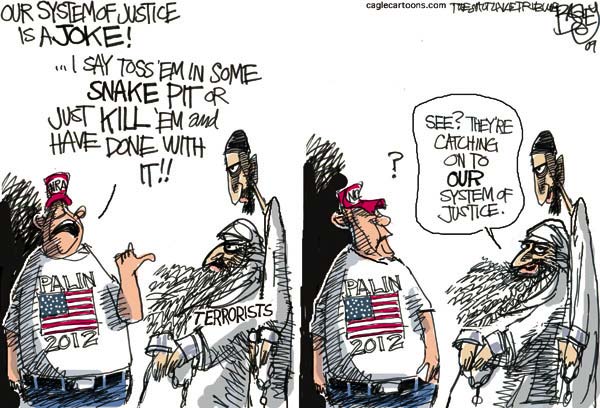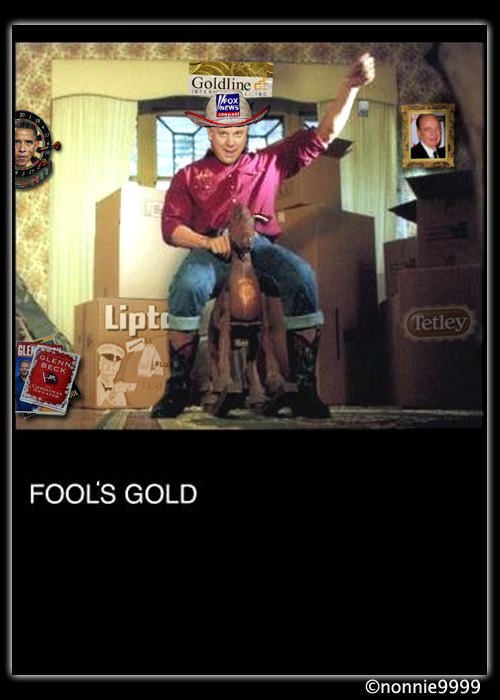 Tenn. mayor claims Obama blocked 'Peanuts' special
ARLINGTON, Tenn. — The mayor of a suburban Memphis city accused President Barack Obama of deliberately timing his speech about the war in Afghanistan this week to block the airing of the "Peanuts" Christmas television special.
According to The Commercial Appeal, Arlington Mayor Russell Wiseman posted the statements on his Facebook page and said the president is Muslim. Obama is Christian.
"We sit the kids down to watch 'The Charlie Brown Christmas Special' and our muslim president is there, what a load.....try to convince me that wasn't done on purpose," he wrote, according to the newspaper.
Wiseman downplayed the posting when contacted by the newspaper Thursday. He did not immediately return phone calls from The Associated Press on Friday.



THIS WEEKS FEATURED MUSIC VIDEO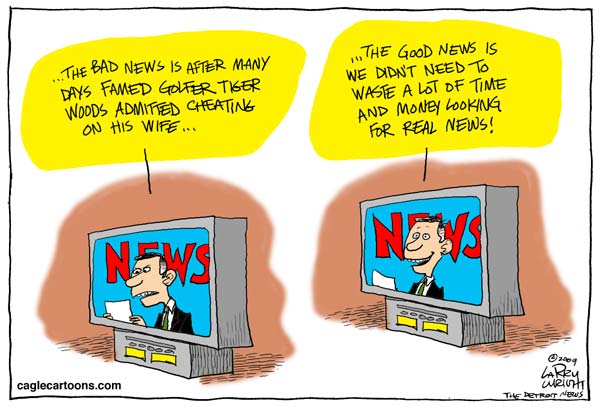 What Is Politics?
A little boy goes to his dad and asks, "What is politics?"
Dad says, "Well son, let me try to explain it this way: I'm the breadwinner of the family, so let's call me capitalism. Your Mom, she's the administrator of the money, so we'll call her the Government. We're here to take care of your needs, so we'll call you the people. The nanny, we'll consider her the Working Class. And your baby brother, we'll call him the Future. Now, think about that and see if that makes sense,"
So the little boy goes off to bed thinking about what dad had said.
Later that night, he hears his baby brother crying, so he gets up to check on him. He finds that the baby has severely soiled his diaper. So the little boy goes to his parents' room and finds his mother sound asleep. Not wanting to wake her, he goes to the nanny's room. Finding the door locked, he peeks in the keyhole and sees his father in bed with the nanny. He gives up and goes back to bed. The next morning, the little boy says to his father, "Dad, I think I understand the concept of politics now."
The father says, "Good son, tell me in your own words what you think politics is all about."
The little boy replies, "Well, while Capitalism is screwing the Working Class, the Government is sound asleep, the People are being ignored and the Future is in deep poo."


VARIOUS LATE NIGHT QUOTES
"I watched Oprah interview Sarah Palin a couple weeks ago. Spent a whole hour talking to her. And I realized, if John McCain had done that, we never would have heard of Sarah Palin." –Jay Leno
"Everybody's talking about President Obama's speech last night. He's sending 30,000 more troops to Afghanistan. Right now, in Scandinavia, the Nobel Committee is really rethinking the whole peace prize." –Craig Ferguson
"Anyway, the good news is the first people Obama sends to Afghanistan are those White House party crashers, so it's not all bad." –Craig Ferguson
"Last night, President Obama gave a speech at West Point. Right in the middle, they cut to a cadet who was sleeping. That cadet was immediately assigned to work security at the next White House state dinner." –Conan O'Brien
"Last night, Fox commentator Bill O'Reilly said that President Obama's speech was 'no Gettysburg address.' When he heard this, Larry King said: 'How would you know? I don't remember seeing you there.'" –Conan O'Brien
"Time magazine plans to announce its 'Person of the Year' next week. And top contenders include President Obama and Steve Jobs. The other top contender? The one guy who still reads Time magazine." –Conan O'Brien
"This is interesting. A list of this year's 15 most commonly used words has been released. And it includes H1N1, deficit and health care. Not making the list this year, Chrysler-mania." –Conan O'Brien

This Week in God!!!
Gohmert opposes estate tax extension because 'Jesus never advocated the government go steal.'
Today, the House voted 225-200 to permanently extend the estate tax at its 2009 level, which is 45 percent for estates valued at more than $3.5 million ($7 million for a couple). Due to a Bush-era accounting gimmick, the estate tax was set to disappear in 2010, and come back in 2011 at a 55 percent rate on estates of $1 million. Rep. Louie Gohmert (R-TX), however, took to the floor to oppose the extension, complaining that his his great aunt once had to pay the 55 percent rate. Gohmert continued by arguing Jesus wouldn't have wanted an estate tax:
Now, after someone dies and someone comes in and steals from them, we consider that in most society reprehensible. … But when the government comes in, because we have the power to pass laws and legalize theft that otherwise would be considered reprehensible, it's okay. But it is not okay. … Jesus never advocated the government go steal. He said 'you do it. Do it with your own money, don't steal it from somebody else.' And that is why this should not pass.
Apparently, Gohmert either doesn't adhere to or hasn't heard of Jesus' admonition: "Blessed are the meek, for they shall inherit the earth." An estate tax at the 2009 level exempts 99.8 percent of estates and affects about 100 small businesses and farms, almost all of which will be able to pay the tax without selling assets. The estate tax debate now moves to the Senate, where Sens. Blanche Lincoln (D-AR) and Jon Kyl (R-AZ) want to enact a cut that would cost $250 billion over ten years and overwhelmingly benefit wealthy families.
Watch it:

YodasWorld.org is updated each Monday. Some of the items from the previous week are added to the various topic links on the left side of the main page. Links embedded should be good for at least the date posted. After the posting date, link reliability depends on the policy of the linked sites. Some sites require visitors to register before allowing access to articles. Material presented on this page represent the opinion's of YodasWorld.org.
Copyright 2000-2009 YodasWorld.org. All rights reserved on original works. Material copyrighted by others is used either with permission or under a claim of "fair use."