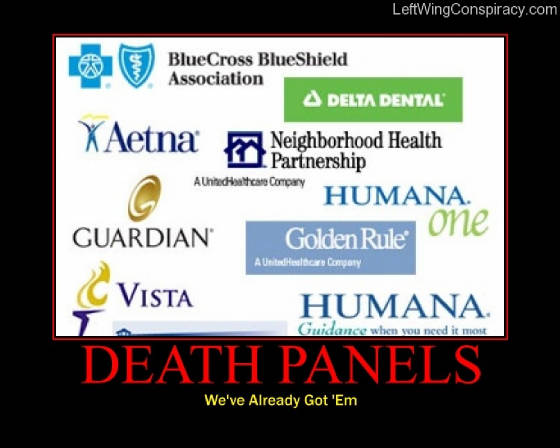 Why We Need The Public Option
John Nichols: Without A Public Option, There Is No Real Reform
When Barack Obama assumed the presidency, there was talk that former Democratic National Committee chair Howard Dean might be his Secretary of Health and Human Services.
That would have made Dean the administration's point person in the fight for healthcare reform.
It also would have increased the likelihood that reform would be real.
But Dean was rejected.
And, now, the prospect of real reform is fading fast.
Dean said last week at the "Netroots Nation" gathering in Pittsburgh that the only thing that made healthreform legislation proposed by House committees (and apparently backed by the administration) worth doing was the public option. In that legislation, the physician and former Vermont governor argued, "the last shred of reform is the public option."
Just days later, however, the administration appeared to be shredding that last shred of reform.
The Associated Press reports that, "President Barack Obama's administration signaled Sunday it is ready to abandon the idea of giving Americans the option of government-run insurance as part of a new health care system."
The woman who got the HHS job reform advocates had hoped would go to Dean certainly seemed Sunday to be jettisoning the idea of creating a government-organized alternative to private health insurance Sunday.
Appearing on CNN's "State of the Union" program, HHS Secretary Kathleen Sebelius dismissed the public option as "not the essential element" of the administration's healthcare agenda.
White House spokesman Robert Gibbs said pretty much the same thing when he appeared Sunday on the CBS News program "Face the Nation."
"What the president has said is in order to inject choice and competition. . . people ought to be able to have some competition in that market," said Gibbs.
Pressed on whether the administration was abandoning the public option, Gibbs would only say that, "The president has thus far sided with the notion that that can best be done with a public option."
Startlingly, the clearest signal that the administration is preparing to jettison the public option came from Obama himself. Speaking at a town hall event in Colorado referred to the public plan as merely a "sliver" of his reform agenda and said: "The public option, whether we have it or we don't have it, is not the entirety of healthcare reform."
On this, Obama is right.
The public option has already been so dumbed-down and neutered that it is little more than a sliver.
The problem is that it may be the only sliver of real reform in his program.
Even with a robust public option, the president's initiative looks a lot like a bailout for the insurance industry --in stark contrast to the a single-payer reform that would replace industry profiteering with a not-for-profit system like Medicare.
Without a public option, there is no real reform.
Dean argued in Pittsburgh that: "The public option is (incremental reform)... But there is no incrementalism without the public option."
In fact, without the public option, the Obama approach -- and that of compromise-prone Democrats in Congress -- looks increasingly like a step in the wrong direction.
That's because the "reforms" currently under consideration threaten to undermine Medicare and Medicaid -- with radical cost-cutting schemes -- while steering hundreds of billions in federal dollars into the accounts of for-profit insurers and the pharmaceutical industry.
This is not "change we can believe in."
This is change that serious reformers will find "very difficult" to support, as Congresswoman Eddie Bernice Johnson, D-Texas, said Sunday on CNN.
Johnson explained that progressives would have a tough time backing legislation that did not include a public option.
"The only way we can be sure that very low-income people and persons who work for companies that don't offer insurance have access to it, is through an option that would give the private insurance companies a little competition," explained Johnson, a former chair of the Congressional Black Caucus who once worked as the chief psychiatric nurse at the Veterans Administration Hospital in Dallas.
Johnson's right.
Without a robust public option, what the Obama administration and compromised Democrats in the House and Senate are talking about is not "healthcare reform."
It's "healthcare deform" that does not begin to address the crisis created by insurance industry profiteering -- and that could well make the "cure" worse than the disease.

By John Nichols:
Grassley Reverses Course: No Death Panels In Bill
Senator Chuck Grassley (R-Iowa) acknowledged on Sunday that the claims he made two weeks ago -- that Democratic health care legislation would allow the government to "pull the plug on grandma" -- did not reflect the language of the bills.
In an appearance on CBS' "Face the Nation," the Iowa Republican admitted that the current legislation being considered by Congress didn't include the infamous death panel provision that would allow the government to determine who should live or die.
"I know the Pelosi bill doesn't intend to do that," said Grassley. "It won't do that," he added later.
Grassley's admission concludes several weeks of speculation as to why the senator, one of three key Republicans negotiating a bipartisan health care bill, would latch on to the infamous myth. The White House insisted that it still wanted to work with Grassley even after he made his remarks. But on Capitol Hill and outside of government, Democrats were furious that the key GOP point person for a bipartisan bill was deploying such toxic rhetoric.
But if Grassley's initial statement seemed bizarre, his explanation for making the remark was equally curious. The Iowa Republican said he was merely trying to quell concerns of constituents who had read about death panels on the internet and grew scared when they heard talk of increased government involvement in the health care system.
"I was responding to a question at my town hall meetings," he told host Bob Schieffer. "I let my constituents set the agenda. A person that asked me that question was reading from language that they got off of the internet. It scared my constituents. And the specific language I used was language that the president had used at Portsmouth. And I thought that if he used the language, then if I responded exactly the same way, that I had an opposite concern about not using end-of-life counseling for saving money, then I was answering and relieving the fears that my constituents had."
"And from that standpoint, remember, you're talking about this issue being connected with a government-run program which a public option would take you with, you would get into the issue of saving money, and put these three things together and you are scaring a lot of people," he added. "I know the Pelosi bill doesn't intend to do that. But that's where it leads people to."
Touching of the bizarreness of the whole segment, earlier in the program it was Grassley who was accusing the White House of damaging health care negotiations by sending mixed messages on its beliefs and preferences.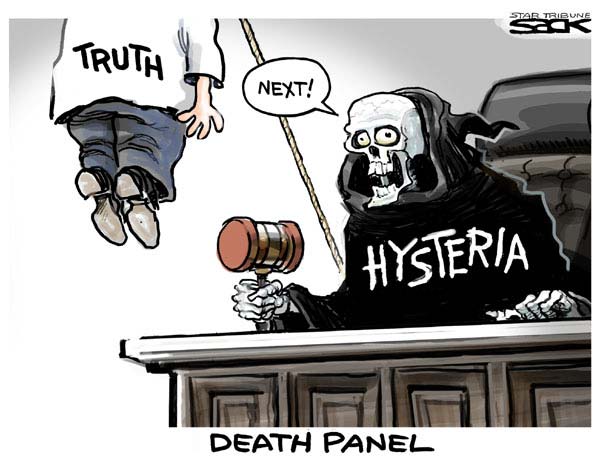 In Move to Appease Critics, Obama Promises to Extend Health Care Coverage to Morons
Appeal to Key Demographic
Facing opposition to his health care reform proposals, President Barack Obama has decided to reach out to a key demographic: morons.
Starting this week, Mr. Obama will host a series of town halls to roll out new features of his health care plan which will extend health care coverage to "all idiotic Americans," in the words of one White House source.
"We clearly underestimated the role that doofuses and dimwits were going to play in this debate," the source said. "We want to send them the message that this plan will give them coverage - but we need to come up with a one-syllable word for 'coverage.'"
But critics of the President's new plan worry that extending coverage to every American who is a few bricks shy of a load could triple the size of the nation's deficit.
"The sheer number of lamebrains in the U.S. is much greater than the Administration estimates," says Davis Logsdon, who studies the demography of idiots at the University of Minnesota. "Just look at Glenn Beck's ratings."
In other news
Michael Vick said he would renounce violence and rejoin the NFL.
America begged Woodstock celebrants to keep their clothes on.
A study shows that most marriages fail because of uncontrollable time-traveling.
Apple unveiled a new iPhone app that lets you talk to people on the phone.
Steven Tyler and Aerosmith released a new single, "Walker This Way."
And former presidential candidate John Edwards said, "There are two Americas, and I have children in each of them."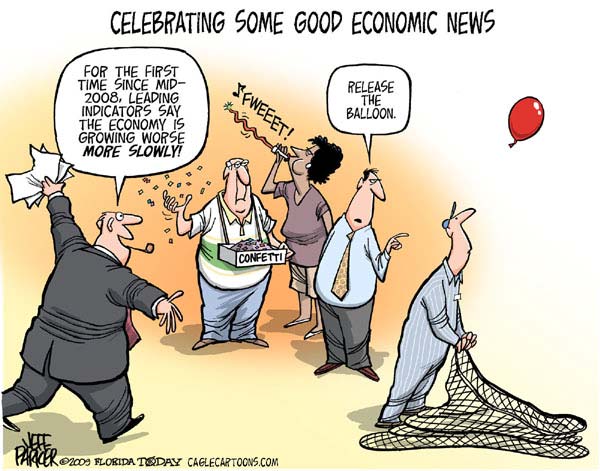 Markets respond well to Fed chairman's economic outlook, but what does it mean for us?
August 22,2009
Birmingham Economy Examiner
Bethany Mullin
Markets around the world rose yesterday on the news that U.S. Federal Reserve chairman, Ben Bernanke, believes that the economy was on the verge of recovery.
Bernanke addressed an international group of central bankers and economists in the annual Federal Reserve conference in Jackson Hole, Wyoming on August 21. His assessment of our economy was the most hopeful assessment that he has given in more than a year. Mr. Bernanke stated that "after contracting sharply over the past year, economic activity appears to be leveling out, both in the United States and abroad, and the prospects for a return to growth in the near term appear good."
Stocked rallied on the cautiously optimistic remarks from the Fed chairman. The Dow Jones Industrial Average gained 155 points, and the S&P 500 climbed almost 19 points to a ten-month high. Britain's FTSE 100 index closed at 4850.89, the highest since last October. Oil prices rose to a record high for 2009. Germany and Japan also reported positive economic growth.
Reasons for the optimism
Recent home sales have been better than expected. The National Association of Realtors said existing home sales increased 7.2% in July, which is the fastest growth rate since 2007. The low mortgage rates and falling house prices were two main reasons for the increase in home sales. An $8,000 tax credit for first-time homebuyers also enticed buyers to the market. The credit expires on November 30, and sales are expected to decline for awhile as a result.
A few words of caution
Bernanke cautioned that our economic recovery still had a long way to go. Housing prices are expected to fall even further this year as more distressed homes come onto the market. Progress has been made in stabilizing financial markets, but consumers and businesses were still having trouble getting the loans they need. Retailers are still experiencing weak sales, and unemployment remains high. On August 20, the Labor Department reported that new unemployment claims increased again.
Economists have expressed their areas of concern over the past few weeks, and Chairman Bernanke echoed those warnings in his closing remarks at the conference on Friday. He predicted that our economic recovery "is likely to be relatively slow at first, with unemployment declining only gradually from high levels."
What this means for us
The positive sales trends in the housing market is good for homeowners because they are beginning to see the value of their homes stabilize or even increase. This is great news for all homeowners but especially for those who were underwater, where they owe the bank more than the homes are worth. This problem will eventually be resolved as home sales increase.
But even consumers who aren't homeowners will benefit from the good news in the housing market. When foreclosure rates begin to decline, consumers will have an easier time getting loans because the banks' assets won't be tied up in bad real estate loans.
However, most economists believe that the credit crunch will continue throughout the rest of the year because more distressed properties are expected to flood the market. People are still having trouble paying their mortgages because they are still losing their jobs.
So while the economy is headed in the right direction, we will continue to feel the effects of the recession as long as unemployment remains high.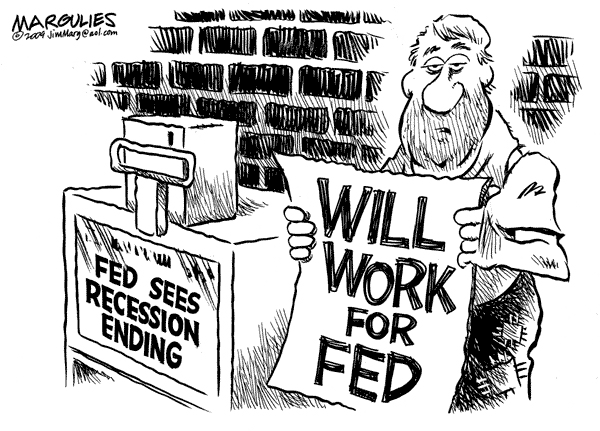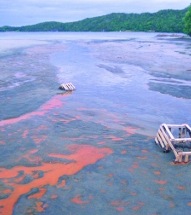 Alaska's Lower Slate Lake to become toxic waste dump
By Stephen C. Webster
The Army Corps of Engineers has approved a permit for Coeur Alaska Inc. to use Lower Slate Lake as a dumping site for millions of tons of toxic waste produced at the nearby Kensington gold mine.
"The project has been the subject of a national environmental fight over whether navigable lakes and rivers can be used as repositories for toxic mine tailings," reported The Los Angeles Times. "The corps last week announced it was extending Coeur Alaska's permit until 2014 and reiterated that the company could construct a tailings storage facility in Lower Slate Lake, below the mine."
Sen. Mark Begich (D-AK), who has been a proponent of the plan to deposit the toxic mine tailings in the lake, said in a prepared statement that once the project is finished, it will provide an "improved fish habitat."
Mine tailings are the useless substances left over after a valuable ore has been extracted from the ground. Tailings are usually suspended in waste water, but can also be made into a paste and stacked in layers on dry land.
In January, lawyers for Coeur Alaska argued before the Supreme Court that even while their dumping would kill all the lake's aquatic life, after 10 years of mining the lake could restocked with live fish.
The Army Corps of Engineers first approved the permit in 2005. However, "[environmentalists] sued to halt the practice, saying dumping the mine tailings in the lake would kill fish," the Associated Press reported. "A federal appeals court blocked the permit, saying the dumping is barred by stringent Environmental Protection Agency requirements under the Clean Water Act of 1972."
It was eventually appealed to the Supreme Court, which upheld the project's legality.
"The Supreme Court case centered around a to-be constructed facility for disposing of mine waste known as tailings, the ground up waste rock left over after metals are removed from ore," reported Jeremy Hsieh with Juneau Empire. "Coeur plans to dump the tailings into Lower Slate Lake and treat the water flowing out to Berners Bay; the environmental groups sought a wetland disposal option that would preserve the lake."
The Empire report adds: "'We still believe the (wetland) plan is best for Berners Bay, but we're glad the Corps of Engineers made its decision quickly,' said Lindsey Ketchel, executive director of the Southeast Alaska Conservation Council, one of the environmental groups involved in the lawsuit."
Coeur Alaska's permit extends through July, 2014.
"This is good news for an ailing southeast Alaska economy, and after 20 years of study and debate, Alaskans can finally go to work," said Sen. Begich. "The mine will create hundreds of good-paying jobs for Alaskans and help expand the mining industry in a responsible way."

Mullen: Afghanistan "Deterioriating"
Chairman of Joint Chiefs Worried About Growing Unpopularity Among Americans As Obama Nears Decision on Troops
(CBS/AP) The situation in Afghanistan is "serious and deteriorating," according to the top U.S. uniformed officer, presenting the Obama administration with a two equally unattractive choices: increase U.S. troops levels to beat back a resilient enemy, or stick with the 68,000 already committed and risk the political fallout if that's not enough.
"Afghanistan is very vulnerable in terms of (the) Taliban and extremists taking over again, and I don't think that threat's going to go away," Adm. Mike Mullen, the chairman of the Joint Chiefs of Staff, said Sunday.
Mullen refused to say whether additional forces would be needed.
Mullen also expressed concern about diminishing support among a war-weary American public as the U.S. and NATO enter their ninth year of combat and reconstruction operations.
Against that backdrop, President Barack Obama's decision on troop levels is just a few weeks away. Gen. Army Stanley McChrystal, the top U.S. commander in Afghanistan, is completing an assessment of what he needs to win the fight there. Already, one leading Republican is suggesting McChrystal will be pressured to ask for lower troop totals than he requires.
"I don't think it's necessarily from the president," said Sen. John McCain, R-Arizona, in an interview broadcast Sunday. "I think it's from the people around him and others that I think don't want to see a significant increase in our troops' presence there."
In joint TV interviews, Mullen and U.S. Ambassador Karl Eikenberry said last week's presidential election in Afghanistan was historic, given the threats of intimidation voters faced as they headed to polling stations. It could be several weeks, however, before it's known whether incumbent Hamid Karzai or one of his challengers won.
"We're not sure exactly what the level of voter turnout was," said Eikenberry, a retired three-star Army general. "Taliban intimidation, especially in southern Afghanistan, certainly limited those numbers."
Charges of fraud in the election are extensive enough to possibly sway the final result, and the number is likely to grow, according to the commission investigating the complaints.
The independent Electoral Complaints Commission has received 225 complaints since the start of Thursday's vote, including 35 allegations that are "material to the election results," said Grant Kippen, the head of the U.N.-backed body.
Full coverage Afghan election
Photo essay: Election Day in Afghanistan

Congress Deadlocked Over How To Not Provide Health Care
The Onion
WASHINGTON—After months of committee meetings and hundreds of hours of heated debate, the United States Congress remained deadlocked this week over the best possible way to deny Americans health care.
"Both parties understand that the current system is broken," House Speaker Nancy Pelosi told reporters Monday. "But what we can't seem to agree upon is how to best keep it broken, while still ensuring that no elected official takes any political risk whatsoever. It's a very complicated issue."
"Ultimately, though, it's our responsibility as lawmakers to put these differences aside and focus on refusing Americans the health care they deserve," Pelosi added.
The legislative stalemate largely stems from competing ideologies deeply rooted along party lines. Democrats want to create a government-run system for not providing health care, while Republicans say coverage is best denied by allowing private insurers to make it unaffordable for as many citizens as possible.
"We have over 40 million people without insurance in this country today, and that is unacceptable," Sen. Orrin Hatch (R-UT) said. "If we would just quit squabbling so much, we could get that number up to 50 or even 100 million. Why, there's no reason we can't work together to deny health care to everyone but the richest 1 percent of the population."
"That's what America is all about," he added.
House Minority Leader John Boehner (R-OH) said on Meet The Press that Republicans would never agree to a plan that doesn't allow citizens the choice to be denied medical care in the private sector.
"Americans don't need some government official telling them they don't have the proper coverage to receive treatment," Boehner said. "What they need is massive insurance companies to become even more rich and powerful by withholding from average citizens the care they so desperately require. We're talking about people's health and the obscene profits associated with that, after all."
Though there remain irreconcilable points, both parties have reached some common ground in recent weeks. Senate leaders Harry Reid (D-NV) and Mitch McConnell (R-KY) point to Congress' failure to pass legislation before a July 31 deadline as proof of just how serious lawmakers are about stringing along the American people and never actually reforming the health care industry in any meaningful way.
"People should know that every day we are working without their best interests in mind," Reid said. "But the goal here is not to push through some watered-down bill that only denies health care to a few Americans here and a few Americans there. The goal is to recognize that all Americans have a God-given right to proper medical attention and then make sure there's no chance in hell that ever happens."
"No matter what we come up with," Reid continued, "rest assured that millions of citizens will remain dangerously uninsured, and the inflated health care industry will continue to bankrupt the country for decades."
Other lawmakers stressed that, while there has been some progress, the window of cooperation was closing.
"When you get into the nuts and bolts of how best not to provide people with care essential to their survival, there are many things to take into consideration," Rep. Michele Bachmann (R-MN) said. "I believe we can create a plan for Americans that allows them to not be able to go to the hospital, not get the treatment they need, and ultimately whither away and die. But we've got to act fast."
For his part, President Barack Obama claimed to be optimistic, even saying he believes that a health care denial bill will pass in both houses of Congress by the end of the year.
"We have an opportunity to do something truly historic in 2009," Obama said to a mostly silent crowd during a town hall meeting in Virginia yesterday. "I promise I will only sign a clear and comprehensive health care bill that fully denies coverage to you, your sick mother, her husband, middle-class Americans, single-parent households, the unemployed, and most importantly, anyone in need of emergency medical attention."
"This administration is committed to not providing health care," Obama added. "Not just for this generation of Americans, but for many generations to come."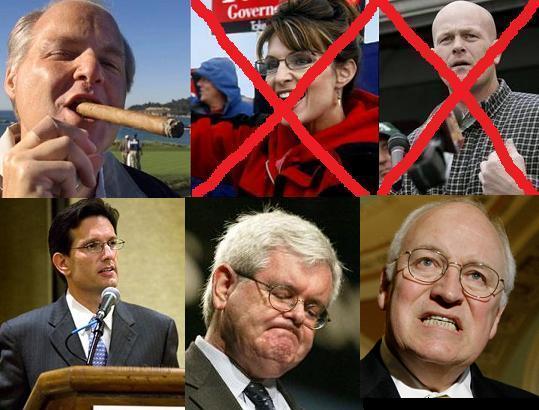 The Leadership of the GOP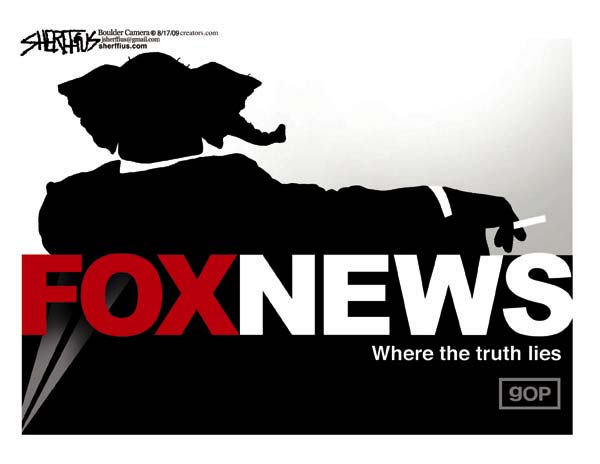 Bachmann: Health Care Reform Is Unconstitutional
Thinkprogess.org
Speaking on Fox News last night, right-wing Congresswoman Michele Bachmann (R-MN) claimed that health care reform is unconstitutional:
It is not within our power as members of Congress, it's not within the enumerated powers of the Constitution, for us to design and create a national takeover of health care. Nor is it within our ability to be able to delegate that responsibility to the executive.
Watch it:
Bachmann, however, is wrong about both the contents of the health care plan and the requirements of the Constitution. There is nothing in any of the health care bills under consideration which resembles a "national takeover of health care." Conservatives like to use this language when referring to the public health option. Like other insurers, the public option would collect premiums from people who choose to buy into it, and then spend those premiums to insure these participants.
Had Bachmann bothered to read Article I of the Constitution before going on Fox, she would have learned that Congress has the power to "lay and collect taxes, duties, imposts and excises" and to "provide for….the general welfare of the United States." Rather than itemizing specific subject matters, such as health care, which Congress is allowed to spend money on, the framers chose instead to give Congress a broad mandate to spend money in ways that promote the "general welfare."
It's unclear what the basis is for Bachmann's claim that the public option is an unconstitutional delegation of power to the Executive. There is a 74 year-old decision — decided by the same right-wing Supreme Court which believed most of the New Deal to be unconstitutional — which holds that Congress could not simply grant President Roosevelt nearly limitless authority to do whatever he wanted in order to prevent "unfair competition." But no one has proposed giving President Obama similarly unchecked authority over health care. Rather, pages 116-128 of the House bill that Bachmann will vote on provide extremely detailed instructions explaining how the Executive Branch must manage a public health plan.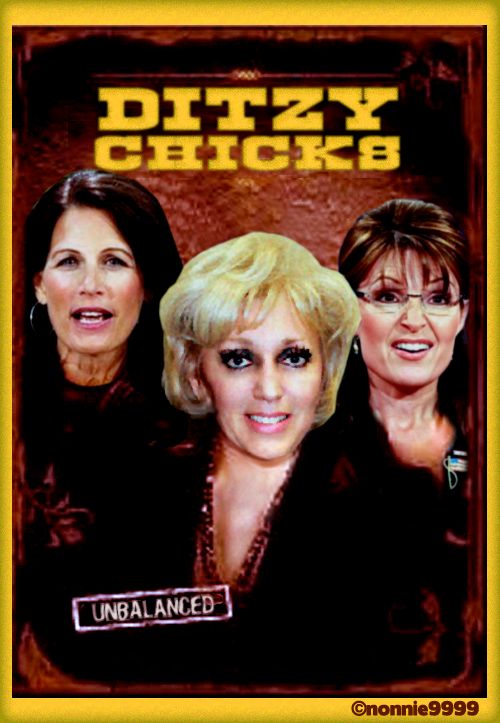 The GOP's spreading big lies
To ensure that our health reform dies:
"The bill will kill gran —
Shorten seniors' life span."
Their goal? Cut Barack down to size.

CNN boots 'noisy,' 'predictable' radio hosts off its shows
Radio talk show hosts offer little more than "noise" and "predictable" opinions -- so they won't be invited to talk on CNN shows anymore, says an exclusive report at MediaBistro's TV Newser blog.
Blogger Chris Arlens reports: "TVNewser has learned, and a CNN spokesperson confirms, that in his morning editorial meeting today, CNN/U.S. president Jon Klein asked his show producers to avoid booking talk radio hosts."
Continues Arlens, "'Complex issues require world class reporting,' Klein is quoted as saying, adding that talk radio hosts too often add to the noise, and that what they say is 'all too predictable.'"
Arlens points out that several of the news network's hosts and regular contributors host radio shows, most notably Lou Dobbs, but "they are presumably not affected by this."
Susie Madrak at Crooks and Liars opines, "Although we didn't get rid of Lou Dobbs, it looks like the stink we raised is having an impact."
Dobbs has recently been the target of media watchdog groups who have raised the alarm about his coverage of the birther controversy, a story that even Dobbs' own boss doesn't want the CNN host covering.
TV Newser names a few of the people it expects will no longer be appearing on CNN thanks to its new policy: liberal talk show host Stephanie Miller and conservative radio hosts Michael Medved and Ben Ferguson are singled out.
-- Daniel Tencer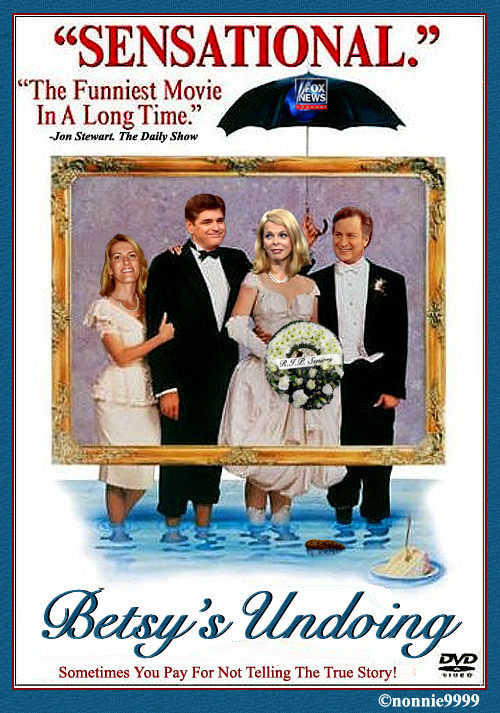 Betsy McCaughey resigns from medical company board over "conflict of interest" concerns
The Washington Independent highlights Betsy McCaughey's resignation from the board of directors of Cantel Medical Corp., a medical products company, to "avoid any appearance of a conflict of interest." McCaughey's resignation coincides with her attempt to revive her false end-of-life counseling smears on The Daily Show.
According to Cantel's press release:
LITTLE FALLS, N.J., Aug 21, 2009 /PRNewswire-FirstCall via COMTEX News Network/ -- CANTEL MEDICAL CORP. (NYSE: CMN) announced that on August 20, 2009 it received a letter of resignation from Ms. Elizabeth McCaughey as a director of the Company. Ms. McCaughey, who had served as a director since 2005, stated that she was resigning to avoid any appearance of a conflict of interest during the national debate over healthcare reform.
McCaughey has been on Cantel's board since 2005, but her apparent conflict of interest hasn't kept CNN and Fox News from repeatedly hosting her to spread false attacks on health care reform.
Watch it...

THIS WEEKS FEATURED MUSIC VIDEO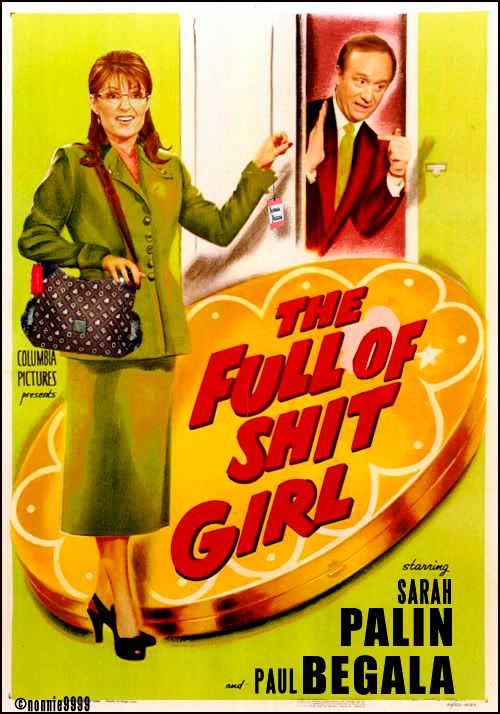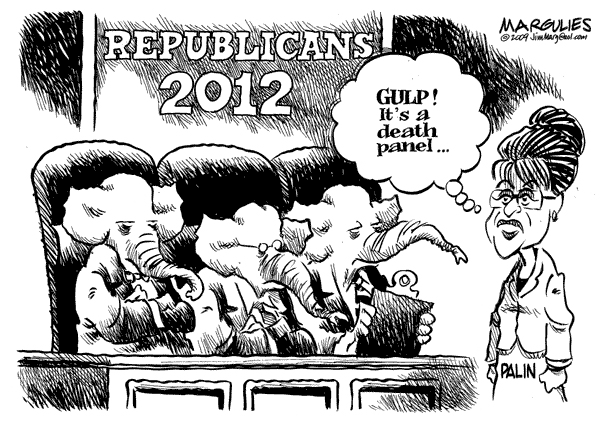 Rants and Raves
By: David Phillips
August 24, 2009
Nut Jobs bringing guns to town hall meetings give by POTUS
The ONE thing that amazes me and scares the sh%t out of me at the same time, is that the right wing fringe and the right wing hate spewing talking heads like Limbaugh, Hannity and Beck see NOTHING WRONG with carrying guns to a political event where the President of the United States is in attendance (hell, it's not like anyone has ever shot a President)...They see absolutely nothing wrong, in fact they encourage it (hoping to see Obama get shot most likely) saying that it's their god given right under the 2nd Amendment (I know God didn't write the 2nd amendment) and as Freedom loving Americans to bring guns wherever they want...
Is Cable News Destroying America?
A question recently asked on a MySpace Political group I participate in
The answer is No...Laziness, Ignorance, Greed and the "Cult of Me" are what's wrong with our country...To many people in our country have stopped caring about people, they only care about themselves and what revolves around their own bubble world...Cable just feeds off of them, they are merely a symptom to a much greater problem that permeates in the "Cult of Me"...
Democrats should go it alone on Health Care (and show some backbone)
I think Democrats should abandon trying to work with Republicans and go it alone...Obama and the democratic leadership should just concentrate on hammering the blue dogs to get a health care bill with some teeth passed for Obama to sign...
Health Care Reform and a public option are vital to our national security, some in DC get it, but the GOP wants this to never see the light of day, they want it to be as Sen. Jim DeMint (R-S.C.) said "Obama's Waterloo"..
The GOP wants Health care reform to fail, they want the economy to stay in the tank...They want to use these failures if that turns out to be the outcome as campaign rhetoric for the mid-terms next year...They want NOTHING to pass on anything...They put their own career's and party ahead of our Country and it's citizen's...
President Obama get's it, he truly wants what's best for our country and its citizens, but the good ole boys in DC have their own agenda's...
The time is now to fix our broken health care system it's as simple as that...
David Phillips is a Published Author, Vietnam Era Veteran, a Democratic Party Activist, and the Publisher and Editor of the online political magazine YodasWorld.org
E-Mail Questions or Comments: oneyoda@aol.com

Translating Sarah
By Madeleine Begun Kane
The media's mean, so I quit:
(That's the message that Palin has writ.)
And you don't need a title
To do something vital.
I'm betting she runs against Mitt.


VARIOUS LATE NIGHT QUOTES
Jon Stewart, answering the question Barney Frank posed to the crazy woman at the town hall asking "on what planet do you spend most of your time?": "Well, apparently, a planet where a mixed-race president and a gay Jew qualify as Nazis."
"It's time for Health Care Town Hall Snaps! You better hope Blue Cross doesn't consider 'ugly' a pre-existing condition! Oh, damn! Your mama's so dumb, she thinks the public option is a port-a-potty! Your mama's so old, we're going to get together a panel and euthanize her. No. Sorry that was too real." --Jon Stewart
"How about this? Brett Favre is coming out of retirement and joining the Minnesota Vikings. He's getting $12 million from Minnesota. Talk about cash for clunkers."
"Are you folks familiar with the Cash for Clunkers program? I'm feeling pretty good about this. I think the government owes me some money because we must have had at least a dozen clunkers on last night's show." --David Letterman
"Happy birthday to former President Bill Clinton -- 63 years old. And you know, when someone famous like that has a birthday, people think, well, should we get him something? Don't worry about Bill. He's fine. He's doing great. His wife is out of the country most of the time. He couldn't be happier." --David Letterman
"Yesterday, Bill Clinton had a separate meeting with Barack Obama, and then Hillary Clinton had a separate meeting with Barack Obama. I mean, something is going on with the Clintons. Obama can't even get them together in the White House for a beer." --David Letterman
"Are you despondent and confused about the healthcare issue in this country? Thank God I don't have to worry about health coverage. I'm with CBS. When I die, I get a guest shot on the 'Ghost Whisperer.'" --David Letterman
"But the one drawback — when I get sick, the only doctor I can see is Dr. Phil." --David Letterman
"I didn't think this day would come. Squeaky Fromme tried to assassinate President General Ford. She's been let out of prison. She was paroled. Is she going to get a job? If you think about it, there aren't many jobs for unstable, gun-toting women, unless she wants to run for governor of Alaska." --David Letterman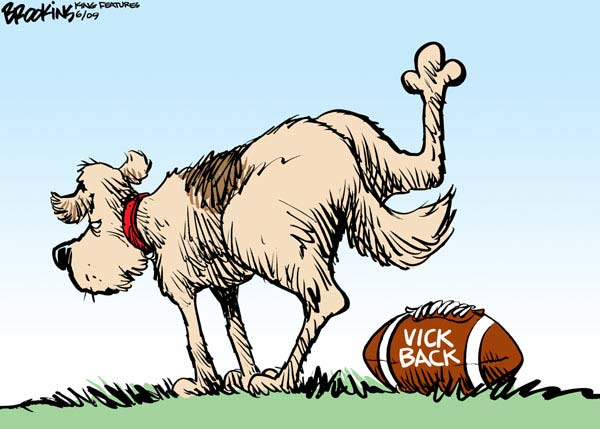 This Week in God!!!
US Senators Tied to Religious Cult...
The powerful and secretive group known as the Fellowship Foundation or the "Family" is quickly gaining notoriety, due to its links to two scandal-plagued Republicans, Senator John Ensign of Nevada and Governor Mark Sanford of South Carolina.
According to the Washington Post, however, the Fellowship Foundation is itself linked to an even more secretive religious organization — Youth With a Mission (YWAM), whose Washington, DC branch owns the "C Street House" where Ensign has lived and where Sanford has participated in Bible study.
A diarist at Daily Kos points out that "YWAM founder leader Loren Cunningham has publicly outlined a vision for Christian world-control," which involves establishing domination over government, education, business, the media, and other areas.


Click here,If you have any Pictures, News articles, or Questions,that you would like to send or ask me.
YodasWorld.org is updated each Monday. Some of the items from the previous week are added to the various topic links on the left side of the main page. Links embedded should be good for at least the date posted. After the posting date, link reliability depends on the policy of the linked sites. Some sites require visitors to register before allowing access to articles. Material presented on this page represent the opinion's of YodasWorld.org.
Copyright 2000-2009 YodasWorld.org. All rights reserved on original works. Material copyrighted by others is used either with permission or under a claim of "fair use."