President Obama's Weekly Address June 13, 2009
Health Care Reform as the Key to Our Fiscal Future
Paying for Healthcare
Posted by Jesse Lee
The President has long noted that skyrocketing health care costs will be disastrous in terms of our long term national debt unless we pass real reform. In this Weekly Address, the President also explains how he will cover the upfront costs of reform by eliminating overpayments from Medicaid and Medicare and driving down costs contributing to government's health care expenditures across the board.

Sebelius says Obama plan would lower health costs
Jun 14, 2009
WASHINGTON – Health and Human Services Secretary Kathleen Sebelius says the government health insurance plan proposed by the Obama administration would increase competition and drive down costs.
Sebelius says President Barack Obama does not want to dismantle privately owned plans and does not want the 180 million people who have employer coverage to lose their insurance. She said he wants to strengthen the marketplace.
She says that in many parts of the U.S., especially rural areas, private insurers have no competition to help keep costs in check.
Supporters of a government plan say it would pressure private insurers to keep premiums reasonable. But opponents say a government plan would lead to a Washington takeover of the health care system.
Sebelius appeared Sunday on CNN's "State of the Union."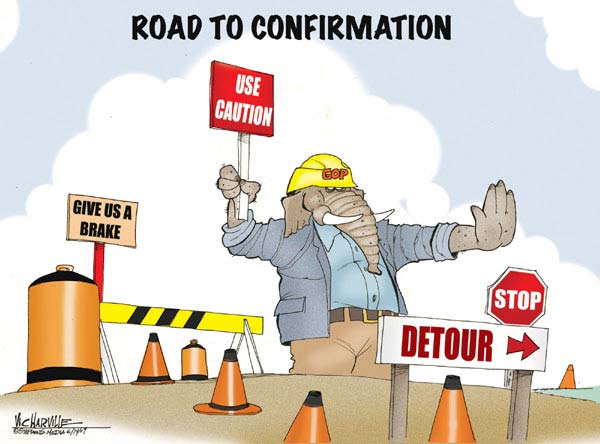 GOP risks loss of further respect if it goes after Sotomayor, poll finds
By MARGARET TALEV
McClatchy Newspapers
Republicans may have a window of opportunity to turn public opinion against President Barack Obama's first Supreme Court nominee, but a new poll finds that such a campaign could hurt their party's already weak standing with Americans, especially Hispanics, the nation's fastest-growing voter group.
Fully 55 percent of Americans said they hadn't yet heard enough about Sonia Sotomayor to have an opinion of her, according to a new McClatchy-Ipsos poll. That could be the opportunity Republicans can exploit by attacking her. Even so, 54 percent said the Senate should confirm her, while only 21 percent said it should not, and one in four Americans isn't yet sure.
However, the poll revealed a danger for Republicans: 37 percent of the general population and 42 percent of Hispanics said they'd feel less favorably toward the Republican Party if Senate Republicans "overwhelmingly oppose" Sotomayor, 54, a Latina federal appellate judge from New York.
A much smaller number - 24 percent of the general population and 20 percent of Hispanics - said that organized GOP opposition would endear Republicans to them.
Obama, a Democrat whose party controls Congress, nominated Sotomayor on May 26. The survey of 1,000 general-population adults was conducted June 4-8 and had an error margin of plus or minus 3.1 percentage points. The poll of 505 Hispanic adults was taken May 28-June 8 and had an error margin of plus or minus 4.36 percentage points.
Some Senate Republicans are weighing whether to mount a filibuster to block Sotomayor's confirmation, and many of them want to delay her confirmation hearings, which are set to start on July 13.
The Senate Judiciary Committee's top Republican, Jeff Sessions of Alabama, and five other senators wrote a letter Wednesday seeking more time to vet her, and additional documents related to her past speeches, club memberships, law school record and work as a judge.
Several Republicans have objected to a recurring line of Sotomayor's in speeches in which she contends that a "wise Latina" would reach better decisions than others from less diverse backgrounds, such as white men. But Republicans toned down their criticism after initial comments from former House Speaker Newt Gingrich and others charged that Sotomayor was racist. Gingrich later retracted the comment.
The juxtaposition of Americans' uncertainty about Sotomayor and their aversion to a GOP opposition campaign suggests that the public either generally supports giving the president his choice for the court or views a campaign to block his nominee through the broader lens of their frustration with Congress.
A separate McClatchy-Ipsos poll of 1,023 adults conducted June 4-8 found that 52 percent of Americans disapprove of how Congress is handling its job, while 64 percent approve of Obama's performance.
Fifty-two percent said the country is heading in the right direction, but just 9 percent think the economy has turned the corner on its crisis. Forty-eight percent said the economic situation has stabilized but isn't yet improving. Another 37 percent predicted that things will get worse.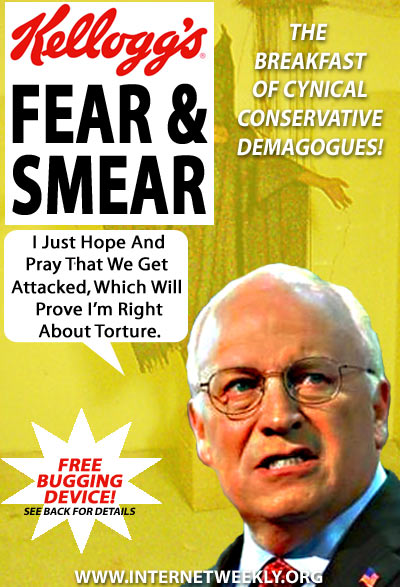 Cheney almost wishing US was attacked, Panetta says
By Daniel Tencer
Dick Cheney's attitude towards the Obama administration's national security policies suggests the former vice president secretly wishes the US was attacked, says Leon Panetta, the U.S. director of central intelligence.
In an interview published in the latest issue of the New Yorker, the head of the CIA expresses frustration at Cheney's speech last month, on the same day that President Obama outlined his national security strategy in a separate speech.
"Dangerous politics"
"It's almost, a little bit, gallows politics," Panetta told the New Yorker. "When you read behind it, it's almost as if he's wishing that this country would be attacked again, in order to make his point. I think that's dangerous politics."
Since Obama's inauguration in January, Cheney has become a far more visible public figure than he was as vice president, repeatedly hammering Obama on national security and the torture controversy. Cheney has said repeatedly he believes Obama's policies are making America less safe.
From the New Yorker:
Since January, the C.I.A. has become the focus of almost daily struggle, as Obama attempts to restore the rule of law in America's fight against terrorism without sacrificing safety or losing the support of conservative Democratic and independent voters. So far, he has insisted on trying to recalibrate the agency's policies without investigating past mistakes or holding anyone responsible for them. Caught in the middle is Panetta, who is seventy years old and has virtually no experience in the intelligence field.
The article goes on to say that an essay Panetta penned during the Bush administration decrying America's descent "from champions of human dignity and individual rights into a nation of armchair torturers" was instrumental in Obama's decision to make him the head of the CIA.
On CNN's State of the Union, Vice President Joe Biden was asked if he agreed with Panetta's assessment of Cheney's motives. The vice-president skirted the issue, saying it's "dangerous" to question anyone's personal motives.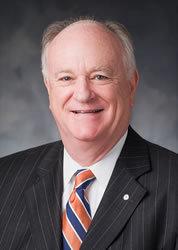 S.C. GOPer: Gorilla 'one of Michelle's ancestors'
By Daniel Tencer
June 14, 2009
A high-ranking South Carolina Republican activist has issued an apology after comparing First Lady Michelle Obama to a gorilla.
Rusty DePass, a former chairman of the Richland County Republican Party, made the comments in a friend's Facebook status update line after a gorilla was reported to have escaped from Columbia's Riverbanks Zoo.
According to FitsNews, the status line read: "I'm sure it's just one of Michelle's ancestors — probably harmless."
DePass told the Associated Press that he made the comment in reference to President Barack Obama's views on evolution.
From FitsNews:
We're all for First Amendment freedoms and politically incorrect remarks around here, but this strikes even our most indelicate of sensibilities as out of bounds.
And while we will defend DePass' right to make such a comment, it's insanely racist - sort of like the anti-Obama flyer found on S.C. Rep. Bill Sandifer's desk last year.
That was in reference to a controversy last year in which a South Carolina state House Representative was caught with a flyer claiming that Obama had promised a job to all black Americans, but that those black Americans were too lazy to actually want the jobs.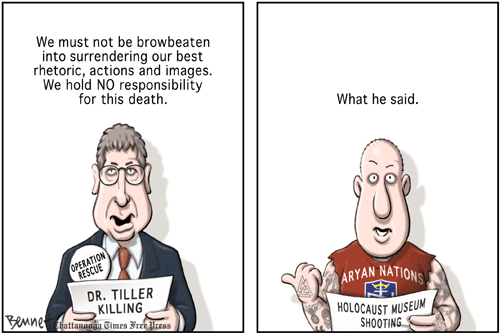 Avlon: 'Wingnuts' spread hate of Obama, Jews
A new survey by the Pew Research Center reaffirms that America is a religious nation, but it also shows that young voters across the political spectrum are turning away from the inter-mixed influence of religion on politics.
This week's wingnuts on the left and right offer examples of why the separation of church and state is making a common sense comeback for this new generation – the Reverend Jeremiah Wright and Pastor Wiley Drake.
Rev. Jeremiah Wright became a staple of campaign '08 with comments that elevated him to all-time Wingnut Hall of Fame. But after he almost sank former parishioner Barack Obama's campaign for the presidency, Rev. Wright mercifully faded into the background.
That was until this week when he reinserted himself into the political debate with an interview to Virginia's Daily Press, in which he said: "Them Jews aren't going to let him [President Obama] talk to me." Read more
This off-hand anti-Semitism brings to mind the reverend's previously infamous sermons. There were his post-9/11 comments that "We have supported state terrorism against the Palestinians and black South Africans and now we are indignant because the stuff we have done overseas is now brought right back to our own front yards. America's chickens are coming home to roost."
There was the accusation that the U.S. government was behind the AIDS virus and the infamous riff that "The government gives them the drugs, builds bigger prisons, passes a three-strike law and then wants us to sing 'God Bless America.' No, no, no, God damn America, that's in the Bible for killing innocent people. God damn America for treating our citizens as less than human. God damn America for as long as she acts like she is God and she is supreme."
In this week's comments, Rev. Wright reaffirmed that he has no regrets for these and other flashes of extremism from his 20 years on the pulpit in Chicago, which were characterized by content as well as controversy. At a time when President Obama is trying to build new bridges to moderates throughout the Middle East, Rev. Wright's comments remain unhelpful in the extreme.
On the right is a less widely-known name. Pastor Wiley Drake served as a second vice president of the Southern Baptist Convention in 2006 and 2007. In 2008, he ran to be vice president of the United States alongside former ambassador and Obama adversary Alan Keyes on a fringe third party ticket. Now he says that he is praying for President Obama's death after his prayers for the death of Kansas abortionist George Tiller were "answered."
Drake's comments were first reported by the Associated Baptist Press. In a follow-up interview with radio show host Alan Colmes, Drake defended his statements by saying, "George Tiller was far greater in his atrocities than Adolf Hitler…so I am happy. I am glad that he is dead." Then he went a good deal farther into the outer-reaches of crazytown by revealing that he has also been offering "imprecatory prayers" against "the usurper that is in the White House…B. Hussein Obama."
When offered repeated chances to clarify or correct his comment, the Orange County-based preacher dug even deeper. "If he does not turn to God and does not turn his life around, I am asking God to enforce imprecatory prayers that are throughout the Scripture that would cause him death, that's correct."
These are not just "extreme prayers" – as some have said – this is the most un-Christian prayer imaginable and Southern Baptist Convention was quick to denounce the comments. Drake himself tries to avoid responsibility by saying simply that whether the prayers are answered is the will of God, he is just a messenger. But his comments do a great disservice to all members of the faith community – many of whom have influenced our politics in positive and profound ways – from Billy Graham to Martin Luther King to Rick Warren.
Wingnuts are sometimes silly, sometimes serious and sometimes downright scary. But in all cases we can best confront their extremism by addressing it directly, because – as the old saying goes – sunlight is the best disinfectant. In this case, no person or political party should act like it owns the Bible and this week's wingnuts prove that both the right and left have voices on the pulpit who try to divide us rather than unite us.
Editor's note: John P. Avlon is the author of Independent Nation: How Centrists Can Change American Politics and writes a weekly column for The Daily Beast. Previously, he served as Chief Speechwriter for New York City Mayor Rudy Giuliani and was a columnist and associate editor for The New York Sun.
The opinions expressed in this commentary are solely those of John Avlon.


The Leadership of the GOP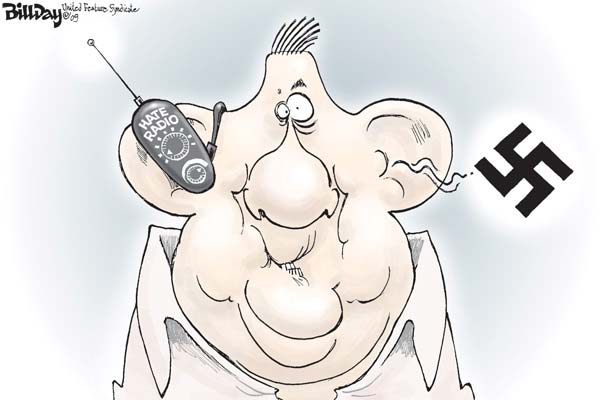 A Golden Oldie Starring Glenn Beck: How "I hate 9/11 victims families for asking questions" and how I learned to love Katrina and Hate New Orleans ...
Poll: Most don't know who speaks for GOP
Who speaks for the GOP?
The question flummoxes most Americans, a USA TODAY/Gallup Poll finds, which is among the reasons for the party's sagging state and uncertain direction.
A 52% majority of those surveyed couldn't come up with a name when asked to specify "the main person" who speaks for Republicans today. Of those who could, the top response was radio talk show host Rush Limbaugh (13%), followed in order by former vice president Dick Cheney, Arizona Sen. John McCain and former House speaker Newt Gingrich. Former president George W. Bush ranked fifth, at 3%.

End Times...The Daily Show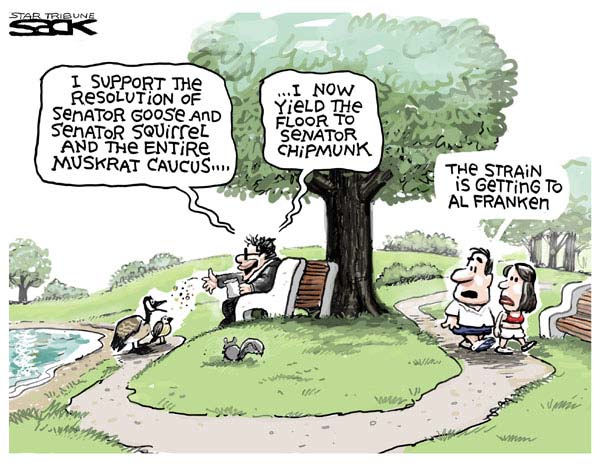 Norm Coleman Ordered To Pay Al Franken $95K By Minnesota Court
ST. PAUL, Minn. — Republican Norm Coleman must pay Democrat Al Franken $94,783 to cover court costs for his appeal of Minnesota Senate election results.
A Ramsey County court administrator entered the judgment Wednesday. It results from the two-month trial that ended with Coleman 312 votes short of Franken.
Minnesota law required Coleman to cover some of Franken's court costs because the race's outcome didn't change. The judgment excludes Franken's attorney fees.
The men have spent $50 million so far on their campaigns and legal fight over the November election. That's more than double the cost of the 2002 race when Coleman captured what had been a Democratic seat.
The Minnesota Supreme Court hasn't said when it will rule on Coleman's appeal.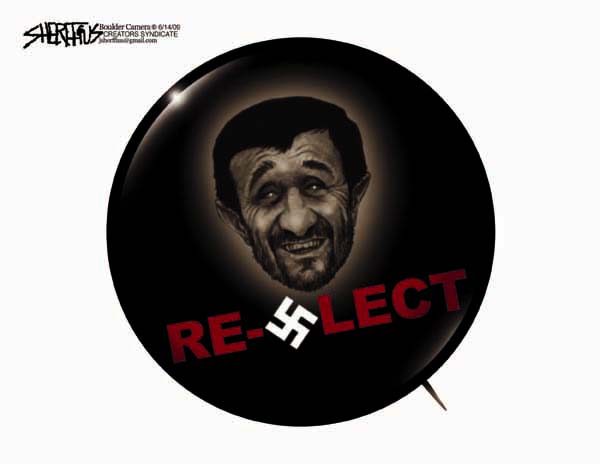 From the Streets to Rooftops the Iranian People Protest Election
TEHRAN, Iran – Protesters battled police over Iran's disputed election and shouted their opposition from the rooftops Sunday, but President Mahmoud Ahmadinejad dismissed the unrest as little more than "passions after a soccer match" and drew his own huge rally of support.
Just after sundown, cries of "death to the dictator" echoed through Tehran as thousands of backers for Ahmadinejad's rival, Mir Hossein Mousavi, heeded a call to bellow from the roofs and balconies. The deeply symbolic act recalled the shouts of "Allahu Akbar," or God is Great, to show opposition to the Western-backed monarchy before the 1979 Islamic Revolution.
The scenes summed up the showdown over the disputed elections: an outwardly confident Ahmadinejad exerted control, while Mousavi showed no sign of backing down and could be staking out a new role as powerful opposition voice.
His charges that Friday's vote was riddled by fraud brought sympathetic statements from Vice President Joe Biden and other leaders. Mousavi made a direct appeal with Iran's ruling clerics to annul the result, but the chances were considered remote.
With his wide network of young and middle-class backers, Mousavi could emerge as a leader for Iran's liberal ranks and bring internal pressure on Ahmadinejad and Iran's theocracy to take less confrontational policies toward the West.
But the struggle Sunday was on the streets in the worst unrest in Tehran since student-led protests 10 years ago.

THIS WEEKS FEATURED MUSIC VIDEO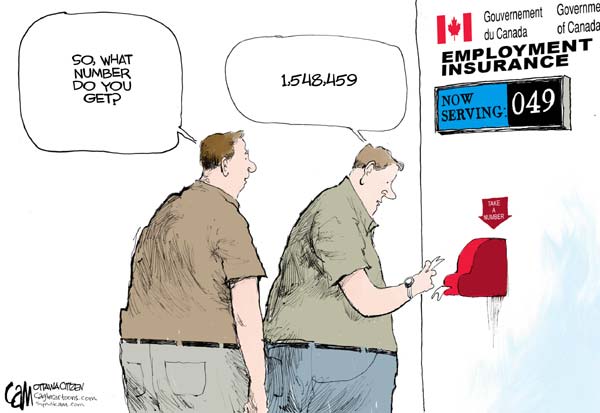 Bleak U.S. Job Picture Brightens a Bit
WSJ
With government jobs continuing to expand, the report, which is based on payroll data for roughly 24 million employees, suggests that Friday's government payroll report will show a loss of 546,000 jobs, close to April's 539,000 jobs lost. January was the steepest month for job losses, with payrolls dropping 741,000.
The job market "is still very weak, but not as weak as before, so hopefully the momentum is shifting," said Jim O'Sullivan, an economist at UBS.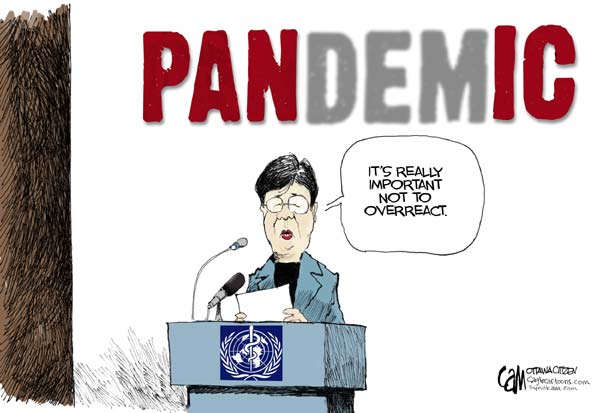 World now at the start of 2009 influenza pandemic
Dr Margaret Chan
Director-General of the World Health Organization
Ladies and gentlemen,
In late April, WHO announced the emergence of a novel influenza A virus.
This particular H1N1 strain has not circulated previously in humans. The virus is entirely new.
The virus is contagious, spreading easily from one person to another, and from one country to another. As of today, nearly 30,000 confirmed cases have been reported in 74 countries.
This is only part of the picture. With few exceptions, countries with large numbers of cases are those with good surveillance and testing procedures in place.
Spread in several countries can no longer be traced to clearly-defined chains of human-to-human transmission. Further spread is considered inevitable.
I have conferred with leading influenza experts, virologists, and public health officials. In line with procedures set out in the International Health Regulations, I have sought guidance and advice from an Emergency Committee established for this purpose.
On the basis of available evidence, and these expert assessments of the evidence, the scientific criteria for an influenza pandemic have been met.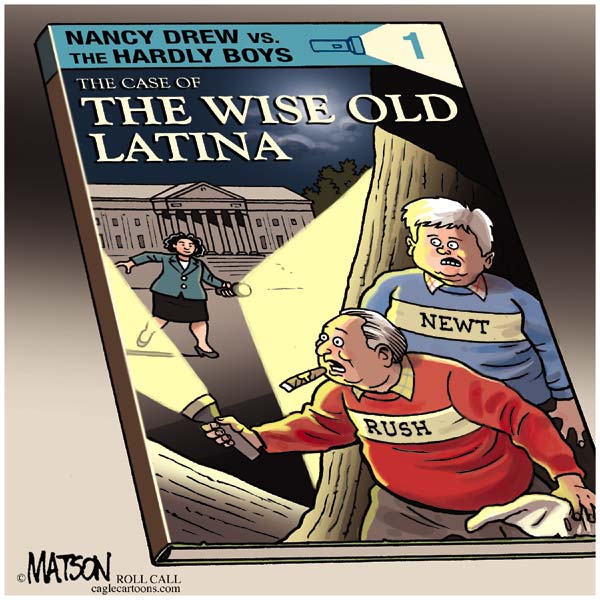 VARIOUS LATE NIGHT QUOTES
"Well, it's been a busy week here on the late show. Earlier in the week, I made some jokes that upset Sarah Palin. And I was telling jokes about her family and stuff. She got really upset. And I think everything's fine now. I think everything's going to be great because she called today and offered to take me hunting." --David Letterman
"Here's big news from the world of TV. And I don't know if you guys are ready for this or not. If you have an old TV, tomorrow, it won't work unless you digitalize it. You've got to get a converter thing and a lot of people are confused about this. For example, earlier today, John McCain wanted to know after the conversion, will his TV dinner still work." --David Letterman
"You folks been following the Iranian elections? Well this guy, President Mahmoud Ahmadinejad, he's running for re-election. Have you seen this guy? This guy looks like the kind of guy that tries to get to you buy a cell phone you don't need. You know what I mean?" --David Letterman
"He looks like one of those guys that would be wearing a Members Only jacket." --David Letterman
"He looks like one of those guys they drag away every week on 'Dateline', you know what I mean?" --David Letterman
"Boy, here's a story that won't go away. Miss California - remember Miss California? Got herself in a lot of trouble, shooting her mouth off. Gee, I wonder what that's like." --David Letterman
"Well, now, Miss California's been fired. Don't worry. President Obama said he will announce a replacement within a week, so that will be good." --David Letterman
"Fiat, which took over Chrysler this week, says it plans to build its cars with American, not Italian workers. Fiat says they got the idea from the Olive Garden." --Conan O'Brien
"A top Republican is angry that Supreme Court nominee Sonia Sotomayor belongs to an elite private group. The top Republican's angry, and so is everyone at his country club." --Conan O'Brien
"Yesterday, the controversial Miss California, Carrie Prejean, who famously opposed gay marriage, was stripped of her title. Not only that, her chances of becoming Miss San Francisco are really looking slim." --Conan O'Brien
"Now, everyone is going to be fine, I want to stress that. But earlier today, the NBC medical director sent out an e-mail saying several NBC employees have been diagnosed with the swine flu. Unfortunately, none of those employees have anything to do with 'I'm a Celebrity ... Get Me Out of Here.'" --Conan O'Brien
"Some controversy today surrounding Miss California, Carrie Prejean. She's the one who said she was against same-sex marriage. Some wanted her to be stripped of her title because of it, but Donald Trump, who owns the pageant, said no, she's entitled to her opinion and she'll remain Miss California. Well, today he fired her, which is what he does, I guess. My money says she's a Fox News anchor by the ... by now. By right now." --Jimmy Kimmel
"Karl Rove called Maureen Dowd of The New York Times a 'bitter, twisted, deranged columnist' and a 'dour, downbeat liberal' and - more - a 'nasty, snarky person.' Hey, get a room." --Jimmy Fallon
"Congress is considering a bill that would force advertisers to lower the volume of their TV commercials. OK, how did my mother get in Congress? When did that happen?" --Jimmy Fallon
"Venezuela has banned the sale of Coke Zero, because of unspecified health risks. Still not banned in Venezuela: actual coke." --Jimmy Fallon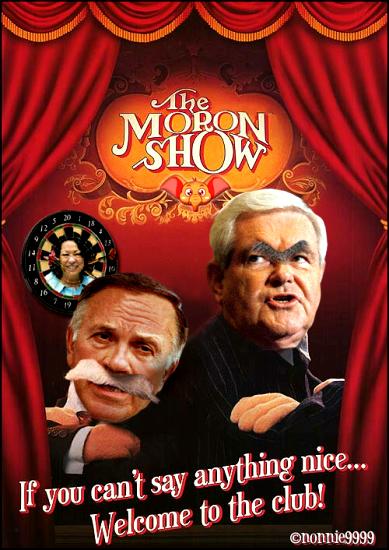 This Week in God!!!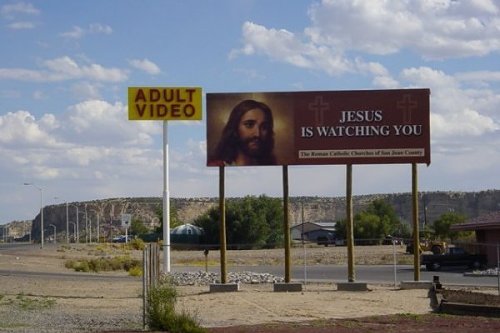 Catholics Are Effective Outdoor Advertisers
FITSNEWS.COM
Nothing gives us greater pleasure than making fun of Catholics, who as far as we can tell need to "lighten up" across the board … although not as much as Episcopalians, obviously.
Because that would make them too light … in the loafers (ba-doom-ching)!
Anyway, in spite of our ongoing beef with the Vatican, we can't fault the Padres in San Jose County for their expert placement of this billboard.
Seriously, if that's not reaching your "target demographic," we don't know what is.
Wait … a couple "Hail Mary's" later all is forgiven, right?

YodasWorld.org is updated each Monday. Some of the items from the previous week are added to the various topic links on the left side of the main page. Links embedded should be good for at least the date posted. After the posting date, link reliability depends on the policy of the linked sites. Some sites require visitors to register before allowing access to articles. Material presented on this page represent the opinion's of YodasWorld.org.
Copyright 2000-2009 YodasWorld.org. All rights reserved on original works. Material copyrighted by others is used either with permission or under a claim of "fair use."