Man arrested, accused of threatening to kill Obama
(CNN) -- A man accused of making threatening statements about killing President Obama has been arrested in Nevada, the Secret Service said Saturday.
Daniel James Murray was arrested Friday night in the parking lot of the Riverside Resort Hotel and Casino in Laughlin, Nevada, said Secret Service spokesman Malcolm Wiley.
Murray recently withdrew $85,000 from a bank in St. George, Utah, in two separate visits and told a teller, "We are on a mission to kill the president of the United States," according to a criminal complaint filed in federal court in Utah.
According to the complaint, Murray opened an account at Zions First National Bank on May 19 with an $85,000 check.
"With all this mess going on under President Obama with banks and the economy, I'm sure if citizens happen to lose their money, they will rise up and we could see killing and deaths," he said, according to the complaint.
On May 27, he returned to the bank and tried to withdraw $12,000, but lacked proper identification.
"Not to be disrespectful, but if I don't get this money, someone is going to die," Murray said, according to the complaint.
A bank manager was summoned and Murray was allowed to withdraw the money without proper identification.
Murray would not accept a check and demanded bills no larger than $50, the complaint says.
"We are 94 million miles from the sun, and are in-between the sun and moon, and the eagle that flies between them and it's a giant step for mankind. ... I have traveled thousands of miles to be here and know things that are going to happen. ... the banking system will fail and people will die. ... there will be chaos in the world," Murray said, according to the complaint.
He then made his threat against the president, the complaint says.
The next day, Murray returned to the bank, withdrew the rest of his money and closed the account, a bank teller told authorities.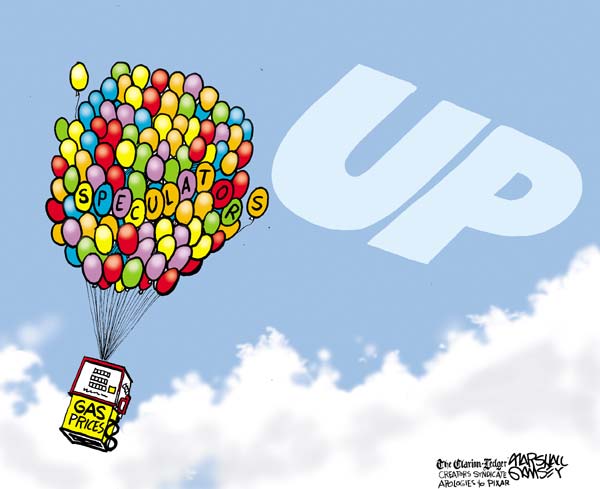 Firms storing oil in anticipation of price increases
By Muriel Kane
The giant US bank JPMorgan Chase has [1] reportedly hired a newly-built supertanker to store heating oil off the Mediterranean island of Malta. Other companies, including BP and a unit of Citigroup, have also hired ships to store either crude oil or oil products.
According to Bloomberg.com, "Traders were already using smaller tankers to store record volumes of jet fuel and heating oil in Europe as on-shore tanks filled up."
This latest move comes amid suggestions that recent increases in oil prices may be the result of speculators looking for a new financial bubble, prompting fears that increases in energy costs could stall any hope of an economic recovery.
[2] According to MSNBC, "Even though most analysts say crude is still overpriced, the market has created its own momentum with an enormous amount of money fleeing equity and currency markets. … With so much money flowing into the market, prices are likely to hold close to where they are, until market fundamentals can take hold."
It has recently been [3] suggested, however, that "prices will fall substantially" once speculators run out of storage.
The practice of storing oil on ships began last winter, when the price went as low as $32 a barrel. Bloomberg [4] reported in January that the world's biggest owner of supertankers, Frontline Ltd., had already hired out about 20 supertankers for oil storage and had requests for up to 10 more. "I've never before seen storage demand on this scale," a shipbroker told Bloomberg.
By February, the Times of London was [5] noting, "Shipping brokers in Tokyo say that Morgan Stanley has joined a growing international scramble to secure an oil supertanker and use it to store millions of barrels of crude in what commodity dealers believe may be the "trade of the year'."
Oil prices are [2] currently running between $65 and $70 a barrel, more than twice what they were four months ago. With ship rental costs being kept low by the slump in global trade, anyone who bought oil last winter could be looking at a substantial profit.
URLs in this post:
[1] reportedly: http://www.bloomberg.com/apps/news?pid=20601087&sid=aZtS4TC9mxJM
[2] According: http://www.msnbc.msn.com/id/12400801/
[3] suggested: http://www.oilandglory.com/2009/05/why-are-oil-prices-rising.html
[4] reported: http://www.bloomberg.com/apps/news?pid=20601087&sid=ax3DSN5JZsBY
[5] noting: http://business.timesonline.co.uk/tol/business/industry_sectors/natural_resources/article5528333.ece

Don't Tase The Great-Grandmother Bro
A traffic stop for speeding in a construction zone led to the tasering of a 72-year old great-grandmother by a Texas deputy. Kathryn Winkfein, 72, of Granite Schoals, Texas was then handcuffed, and taken away to jail for resisting arrest and detention.
The deputy said that when he asked Winkfein to sign the speeding ticket he issued, she refused, used profane language and became violent, at which point he tased her.
The great-grandmother admits to speeding, but denies the rest of the deputy's allegations, and has hired an attorney to represent her, she tells a Fox News reporter:
Winkfein showed FOX 7 her taser scars.
"Here and here. Two places, side by side. It's unreal. It's like an electric shock," she said.
"I wasn't argumentative, I was not combative. This is a lie. All of this is a lie, pulled away from him I did not," she said, reading the arrest affidavit.
Regardless, it's difficult to fathom how a speeding ticket evolved to the point where a trained law enforcement officer felt the need to jolt an elderly woman with a taser.
Fox News has requested a copy of the deputy's dashboard camera video recording of the encounter, but has not yet received a response.
The following Youtube video was taken of the Fox News reporter's interview with Kathryn Winkfein:
UPDATE: POLICE DASH CAM VIDEO RELEASED TODAY JUNE 10, 2009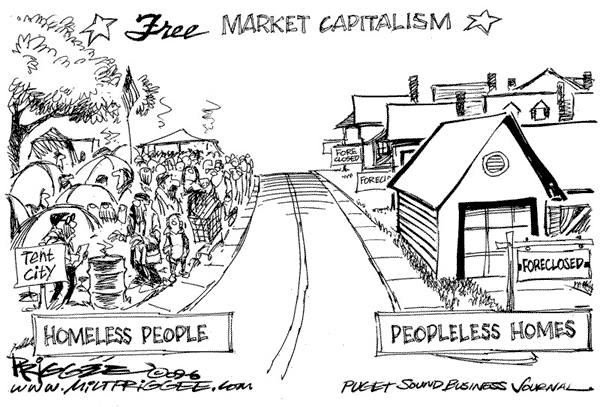 The Top 20 Truths of Ronald Reagan
Freespeechzoneblog.com
1) Treason: As a private citizen, and BEFORE the election, in contravention of both law and tradition, Reagan's minions and handlers illegally negotiated with the Iranians to induce them hold the American Embassy hostages until after the elections,to embarrass President Carer and to prevent his successful negotiation of an "October Surprise." Sent future VP George Bush, Sr., and future CIA chief William Casey to Paris to negotiate the deal.
2) Sent arms, including chemical weapons, to both Iraq and Iran during the decade-long Iran-Iraq war, making those two countries the two biggest US arms trading partners at precisely the time when it was illegal to trade with either due to both US and UN laws.
3) Iran/Contra: Used drug traffickers to transport illegal arms to Nicaragua, ignoring the contraband which was brought back on the return trip, creating a massive and immediate increase in cocaine trade in urban California. Illegally used the CIA to mine harbors and ferry Contra troops in Nicaragua. Eventually, several administration staffers were convicted of crimes ranging from lying to Congress to conspiracy to defraud the U.S. The scandal involved the administration selling arms to Iran and using proceeds from the sales to fund a guerrilla insurgent group in Nicaragua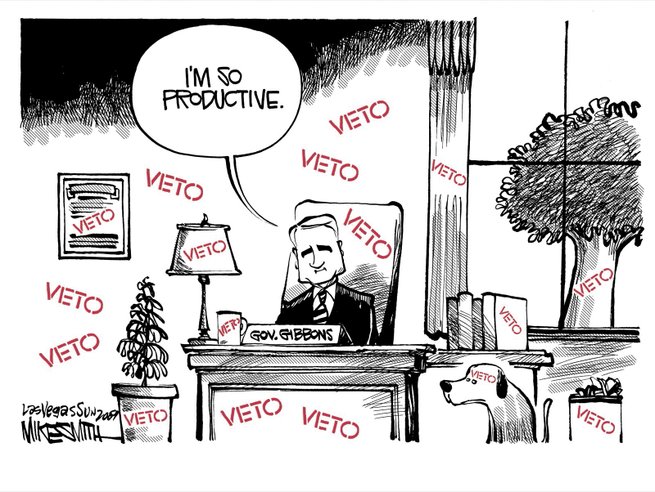 Gov. Jim Gibbons of Nevada Breaks Veto Record Set 140 years ago
By: David Phillips
June 8, 2009
Gov. Jim Gibbons (R-NV) vetoed 31 Bills during the current Legislature session, setting a State record for vetoes in a single legislative session which was set more than 140 years ago.
The previous record of 30 vetoes was set by former Gov. Henry Blasdel in the state's very first legislative session, in 1864-65, according to the Legislative Counsel Bureau.
Gibbons who will be facing a tuff re-election next year even from his own Party who have shown little support for him due to all the scandals that have plagued the Governor during his first term in office, all of which have been played out in public, including his womanizing, his divorce and his federal investigation of pay to play while he was a member of the House of Representatives.
The Nevada GOP has been hinting that they will be supporting former Nevada State Senator Bob Beers.
So far the Nevada Democrats have not announced who they may be backing for the 2010 Governor's race, but the odds on favorite at the moment is Rory Reid, Clark County Commissioner and son of U.S. Senate Majority Leader Harry Reid.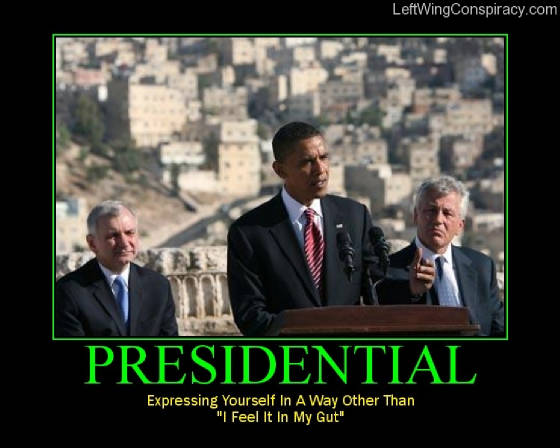 President Barack Obama's Middle East speech in Cairo June 4, 2009. Part 1 through Part 6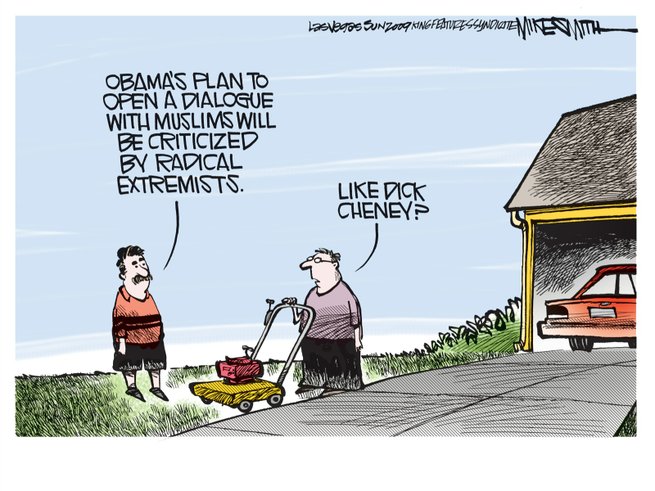 Top Ten Messages on Dick Cheney's Answering Machine
By: David Letterman
10) "Was waterboarding just an excuse for you to see hot, soaking wet dudes?"
9) "You feelin' okay?"
8) "Hey, it's Rumsfeld -- do you think anyone knows about us?"
7) "Is your Tony Awards party still on for Sunday?"
6) "This is Blockbuster. Your copy of 'The Good, The Bad and The Oily' is nine days late"
5) "Loved the window treatments in your secret bunker"
4) "Hi, this is Kevin. How'd you like a heart attack you'll never forget?"
3) "Thanks for condoning same-sex marriage, but could you do it without the sneer?"
2) "Senator Larry Craig here. I knew it..."
1) "Hi, I'm looking for Dick"


The Leadership of the GOP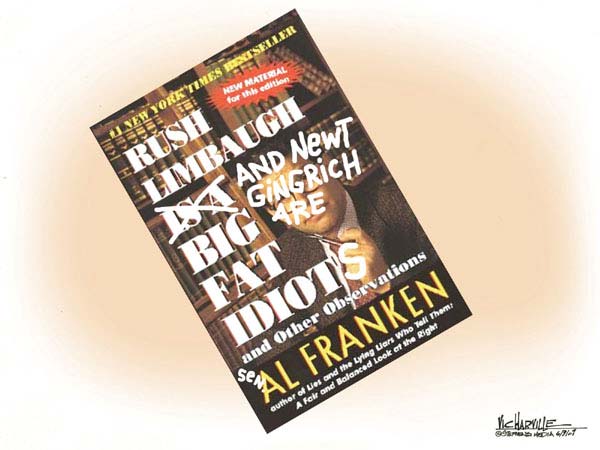 GOP issues with Obama
Posted on Huffington Post
By: Rick Horowitz
They don't like his Broadway shows.
They don't like his standing Os.
They don't like his condiments.
They don't like his elegance.
They don't like his way with words.
They don't like his fawning herds.
They don't like his cushy life.
They don't like his pushy wife.
They don't like his limo rides.
They don't like the way he glides.
They don't like his taste in food.
They don't like his attitude.
They don't like his busy days.
They don't like his spendthrift ways.
They don't like his outside shot.
They don't like the things he's got.
They don't like his reaching out.
They don't like his growing clout.
They don't like that he likes jazz.
They don't like the fun he has.
They don't like his lofty dreams.
They don't like how calm he seems.
They don't like his Teleprompters.
They don't like his helicompters.
They don't like a thing about him.
They'd be better off without him.
They prefer a manly man.
Who rides a horse. (Who gets a tan.)
Who has a ranch. Who's used to plush.
Who clears away the underbrush.
Here's what makes them come undone:
Count the votes. They lost. He won.


Dead Eye Dick and Osama Bin Laden have more in common that each would have thought...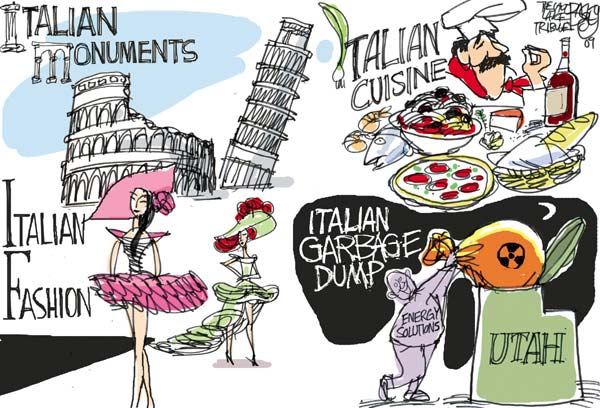 Utah Court Green-Lights Importation of Italian Nuclear Waste
A federal court has determined that Salt Lake City–based EnergySolutions can import 1.600 tons of low-level radioactive waste (LLRW) from Italy to its facility in Clive, Utah, ruling that its efforts fall outside the regulatory jurisdiction of the Northwest Compact, a coalition that includes Utah and seven other states.
The decision (PDF) by U.S. District Judge Ted Stewart for the District of Utah Central Division denies the Northwest Compact's claim that EnergySolutions could only store low-level nuclear waste at its 439-acre facility if it was generated within the compact boundaries of member states. The Italian waste would occupy 4.3 acres of the total disposal area, EnergySolutions had said.
"The Court ... is troubled by the potential for abuse if private LLRW disposal facilities were to be left so completely at the whims of the compacts," Stewart wrote. "Uncertainty thus created may be sufficient to deter private efforts to increase LLRW disposal capacity, and thereby frustrate, in part, the intent of the Acts.
"Furthermore, the potential to regulate a private LLRW facility out of existence is the potential to severely interfere with interstate commerce and is not, in this case, accompanied by an unambiguous expression of Congressional intent to permit such interference."
"We have always felt confident in our legal position and appreciate the thoroughness of Judge Stewart's decision in this case," said Steve Creamer, CEO and chairman of EnergySolutions, in a statement last week. "Our Clive, Utah disposal facility is a private commercial facility that is licensed by the State of Utah under delegated authority by the Nuclear Regulatory Commission. We are pleased that this ruling ends any question on this matter."
The company said that the Clive facility has been safely disposing of low-level material for over 20 years and has been disposing of residuals from internationally generated material for more than eight years. "The Northwest Compact has never voiced an objection to the Clive facility's disposal of this material until recently."
The waste is pending the Nuclear Regulatory Commission's approval of an import-license request submitted by EnergySolutions in September 2007, which it had delayed until the court made its decision.
The Northwest Compact is one of 10 created in 1985 by two separate but interrelated bills: the Low Level Radioactive Policy Amendments Acts and the Omnibus Low Level Radioactive Waste Interstate Compact Consent Act. Both granted congressional consent to all nuclear waste compacts ratified by the states up to that point.
Congress has also recently taken up the issue. Earlier this year, Reps. Bart Gordon (D-Tenn.), Jim Matheson (D-Utah), and Lee Terry (R-Neb.) introduced H.R. 515 (PDF), a bill that would allow foreign radioactive waste to be imported only if it would be returned to a U.S. government facility, originated in the U.S., or is approved by the president to "meet an important national and international policy goal." Sen. Lamar Alexander (R-Tenn.) introduced a companion Senate measure, S.232.
In a related story, Italy's Senate approved a modified version of a bill on Thursday that clears the way for a nuclear energy renaissance in the country. The bill had already been revised and passed by the lower house last November. The Senate's version contains modifications that must be approved by the lower house before it becomes law, Reuters reported.
Electricité de France and Italian power company ENEL have already signed an agreement to build at least four EPR power plants in Italy, starting work by 2013. Apart from selecting nuclear plant sites, the government will have to define rules for nuclear waste storage, introduce a streamlined procedure for new plants' approval, and set up an agency to supervise nuclear safety, Reuters said.

THIS WEEKS FEATURED MUSIC VIDEO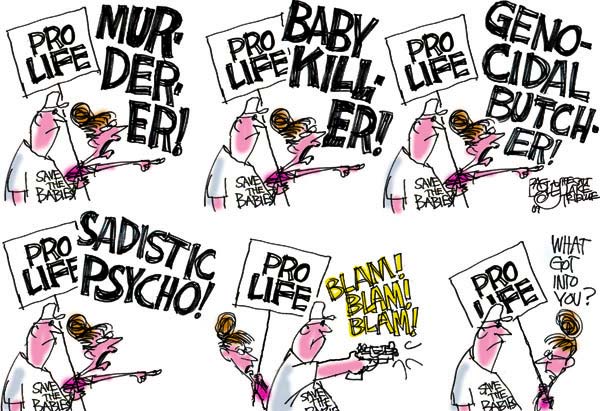 Suspect in abortion doctor death warns of violence
By Roxana Hegeman, Associated Press Writer
Jun 7, 2009

WICHITA, Kan. – The man charged with murdering a high-profile abortion doctor claimed from his jail cell Sunday that similar violence was planned around the nation for as long as the procedure remained legal, a threat that comes days after a federal investigation launched into his possible accomplices.
A Justice Department spokesman said the threat was being taken seriously and additional protection had been ordered for abortion clinics last week. But a leader of the anti-abortion movement derided the accused shooter as "a fruit and a lunatic."
Scott Roeder called The Associated Press from the Sedgwick County jail, where he's being held on charges of first-degree murder and aggravated assault in the shooting of Dr. George Tiller one week ago.
"I know there are many other similar events planned around the country as long as abortion remains legal," Roeder said. He would not elaborate.
Tiller's clinic in Wichita was among only a few in the U.S. that perform third-trimester abortions. He was shot while serving as an usher at the Lutheran church he attended.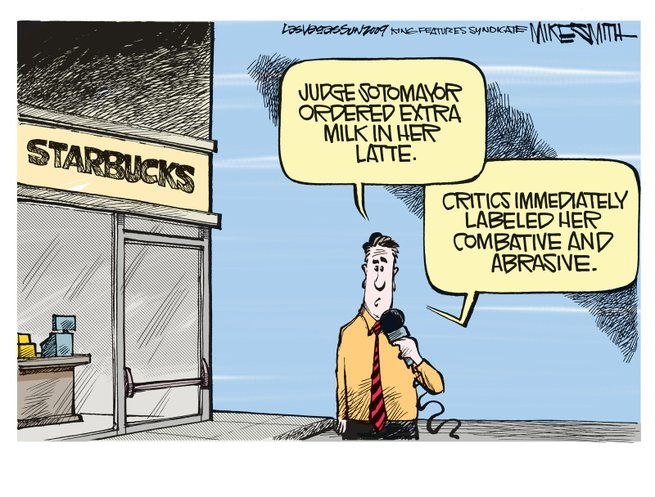 Hispanics And The GOP
By: Liz Halloran
Numbers tell the story of the problems Republicans already face within the nation's Hispanic community.
There are now about 46 million Hispanics in the U.S., dispersed throughout the country — not just in states like California, Texas and New York. Hispanics are the largest minority group in the U.S., at 15 percent of the population, according to the Census Bureau's 2007 American Community Survey. The Hispanic population is projected to nearly triple over the next few decades.
In 2008, 67 percent of Hispanic voters marked their ballot for Obama, and 31 percent voted for GOP nominee Sen. John McCain of Arizona. Two million more Hispanic voters cast ballots in 2008 than in 2004.
And when registered Hispanic voters, who made up 7.4 percent of all voters in 2008, compared with 6 percent in 2004, were asked which party has more concern for them, 55 percent said the Democratic Party; only 6 percent cited the Republican Party, said Mark Hugo Lopez, associate director of the Pew Hispanic Center.
Four years earlier, 43 percent cited the Democratic Party as more concerned about Hispanics, and 11 percent named the Republican Party.
"In the last few years, Democrats have made major gains among Hispanics," Lopez says. "And their share of the electorate will continue to grow because the Hispanic population is growing — driven largely by young people turning 18."
"Unless things change," he said, "the Hispanic population will remain generally supportive of Democrats."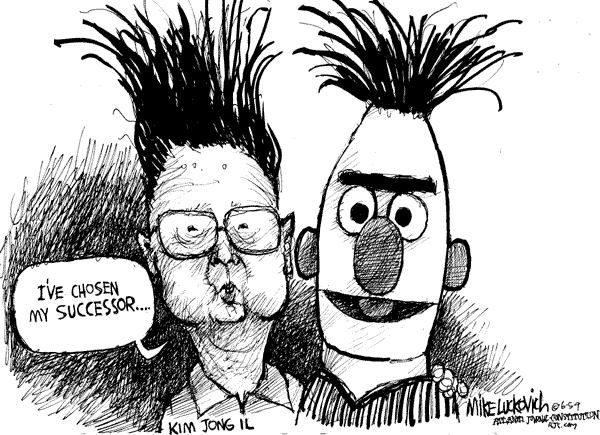 N. Korean leader Kim Jong Il has chosen his 26 year old son Kim Jong Un to be his successor. N. Korean News agencies reported last week that that the 26 year old son can speak English and is a heavy drinker.
I can't quite put my finger on it, but I am having a strong sense of Deja Vu...Where have I heard that before, a world leaders son who can speak English is a heavy drinker and went on to be the leader of his country...
I'll have to get back to you on this one...It's on the tip of my tongue...


VARIOUS LATE NIGHT QUOTES
"Tuesday, NBC's news special, 'Inside the Obama White House,' was watched by 9 million people. Historians say it was the most revealing look behind the scenes at the White House since Bill Clinton set up a secret webcam." --Conan O'Brien
"Rush Limbaugh, you know Rush Limbaugh? The new face of the Republican Party, Rush Limbaugh. He says now, listen to this, he says now that he might support Supreme Court nominee Sonia Sotomayor. Yes, depending on how much OxyContin he can get his hands on." --David Letterman
"Limbaugh is not sure about that endorsement. However, he does wholeheartedly endorse the baby-back ribs at Chili's." --David Letterman
"President Obama is in Germany right now, but he was in the Middle East before that. King Abdullah of Saudi Arabia met with Obama and gave him a large, shiny medallion on a thick, gold chain. Obama said, 'Thank you, but I think you have me confused with Flavor Flav.'" --Jimmy Fallon
"But President Obama was in Egypt today addressing the Muslim world from Cairo University. Reaction to his speech was mixed. After it, some said, 'Death to America,' others said, 'Die, American dogs.'" --Jimmy Kimmel
"This speech is a delicate proposition. The president must balance respect for a region that too often has felt lectured to by American presidents interested only in their resources, while also remembering he has an audience in his home country, mistrustful of the violence and violent anti-American rhetoric that the region also produces, all while trying not to freak out the 20-25% of Americans who believe Obama was born in Kenya, raised in a madrassa and is actually reporting back to his home office. Let's see how he opens [on screen: Obama saying 'Salaam Aleikum']. Noooooo! ... Alright. That's fine. ... A lot of politicians like to open with local flavor. ... What's the follow up? [on screen: video of Obama's speech, during which he praises different aspects of Islam. He also says that it was through 'innovations of Muslim communities that developed algebra']. Oh, yay, Muslim countries, thank you so much for algebra. Oh, so great. Islam invented algebra and mono and braces" --Jon Stewart, on Obama's address to Muslims
"Yesterday president Barack Obama met the king of Saudi Arabia, who kissed Obama twice. Obama says he hasn't gotten this kind of treatment since he met Keith Olbermann." --Conan O'Brien
"Remember John McCain? John McCain, he was running for president against Barack Obama? And Barack Obama right now is in the Middle East trying to settle things there. And by comparison, John McCain is at Applebee's, blowing on his soup." --David Letterman
"The U.S. government accidentally released a confidential list of exact locations of nuclear sites around the country. Authorities have no idea who was responsible -- it was Biden. Okay. It was Joe Biden." --Jimmy Fallon
"It's NBA Finals night. Game one, at long last. The Lakers and Magic did battle tonight at the Staples Center. President Obama is said to be monitoring the situation very closely. He's calling on both sides to show restraint and work towards peace." --Jimmy Kimmel
of it. That means the remaining 3% are for gay rights, they just hate going to weddings." --Jay Leno
"President Obama has picked Federal judge Sonia Sotomayor as the Supreme Court nominee. So that means the Supreme Court will have seven men and two women. Like speed dating night at the Burbank Holiday Inn." --Jay Leno
"Former Presidents Bill Clinton and George W. Bush will appear together in Toronto, on Friday, for a two-hour conversation, where George Bush plans on being the first person ever to lose a conversation." --Jimmy Fallon
"The Illinois Senate passed a bill on Wednesday to legalize medical marijuana. The bill was passed after the state senator said, 'Come on, dude, pass it. Come on.'" --Jimmy Fallon
"You could tell that the senators were determined that afternoon. They passed the same bill five times. They were just like: 'Seriously, pass it again. That's a pretty good bill.'" --Jimmy Fallon
"Burger King is adding a new kids' meal that's lower in fat, sodium and calories. It's called the 'I Don't Want That.'" --Jimmy Fallon


This Week in God!!!
Hookers for Jesus founder, Christian rocker wed in Vegas
(CNN) -- She was a call girl working the streets of Sin City. He's a guitarist in a heavy metal band. They found commonality in their Christian faith and Friday evening, the two were married in a Las Vegas, Nevada, ceremony broadcast live via the Web.
Annie Lobért, who founded Hookers for Jesus, and musician Oz Fox of the Christian band Stryper said their "I do's" at the Church of South Las Vegas in front of an applauding crowd and an audience on the Internet. The wedding had been widely touted on several Christian Web sites.
Lobért, 41, walked up to the stage in a white strapless gown, gloves and veil. Earlier this week, she wrote on her MySpace blog: "I am getting married. It's about time."
She had worked as a prostitute for 11 years, making as much as $500 an hour. She said she hit rock bottom when she overdosed on cocaine and everything went black, according to an ABC interview posted on her Web site. She asked Jesus to help her and became what many jokingly call a "porn-again Christian."
Lobért says her mission now is to save the souls of women who sell their bodies. She often spends time at night on Las Vegas streets handing out Bibles to prostitutes and seeking to convince them there is a better way to make a living.
The Hookers for Jesus Web site describes the organization as "an international, faith-based organization that addresses the realities of human sex trafficking, sexual violence and exploitation linked to pornography and the sex industry."
Before he administered the vows, Pastor Benny Perez said Lobért was a shining example of Christ's love for everyone.
Fox, 47, is a longtime member of Stryper, which stands for Salvation Through Redemption, Yielding Peace, Encouragement and Righteousness. The band's albums include "Reborn: and "In God We Trust."