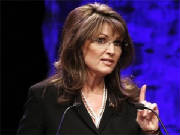 Palin talking points written on her hand
By: David Phillips
Las Vegas Democrat Examiner
The Tea Party held it's first and maybe its last National Tea Party convention in Nashville TN. at the Opryland Hotel. The convention which was held February 4-6 at a cost of $549.00 to attend, featured guest speaker former Alaska governor and rogue, Sarah Palin.

Sarah Palin was paid $115,000 dollars to give the keynote speech yesterday and she did not disappoint the 600 Tea Party teabaggers in attendance. She bashed the President, she bashed the Democrats and she hit on all the key buzz words such as small government and less taxes.

But it was the Q & A session that followed her speech that may overshadow her $115,000 dollar speech.

In the Q & A she used crib notes written on the palm of her hand. Maybe she didn't know the Q & A was being recorded, but as you will see in the two video's she reads from her hand, then she nonchalantly rubs her hand on her leg to remove the notes written on it.

Palin and all the other right wing talking heads love to demean the Presidents ability to give rousing speeches with the use of a teleprompter, and he does use a teleprompter for speeches, but not when he answers questions from an audience at a Town Hall event or when he is answering questions from the press. In fact the ONLY time he uses the teleprompter is for speeches, when he's not giving a speech, he's not using a teleprompter and its all from him..

So, the next time Palin spouts the line that Obama only sounds good because of a teleprompter (which she has used herself, see third video below), she will be reminded of her use of the palm-prompter to answer the pre-approved softball questions.

Here are the two video's of Sarah the Palm reader, you be the judge, the third video is from a Palin speech to the RNC where she is using a teleprompter.
Sarah Palin using a Teleprompter for RNC Speech on September 3rd 2008

David Letterman's Top Ten Things Overheard During Scott Brown's First Day In The Senate
10. "Wanna throw on some pants, Scotty?"
9. "Where's the tanning bed?"
8. "You wanna throw on a shirt now, Scotty?"
7. "Palin's accusing you of being a dope who's skating by on looks"
6. "John Edwards wants to ask if you have any interest in pretending to be a father"
5. "The Senate will now come to . . . Oh my God, he's even hunkier in person"
4. "An underpants model in the Senate — Yeah, that's what the Founding Fathers had in mind"
3. "Barney Frank wants to know if you're available"
2. "Look out! Runaway Toyota!"
1. "No, Senator, we do not want to see your 'situation'"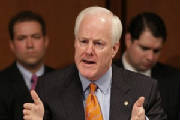 GOP Senator scared off from any televised meetings with Obama
By: David Phillips
Las Vegas Democrat Examiner
After
last months
televised GOP House Issues Conference in Baltimore, MD. where 140 Republicans and their families met with President Obama for some question and answer time,
Sen. John Cornyn
(R-TX) said yesterday that the Republicans in the Senate, will not meet with the President like the Republicans in the House did.

Senator Cornyn was asked by
Politico
if he and the Senate Republicans will accept President Obama's invitation to get together and he said, ; "We're always happy to hear from the president but I don't really feel any compelling need to do it [on camera]."

Who could blame him, those pesky camera's make everyone look ten pounds heavier.

When Politico asked him why, Cornyn said; "For what purpose? Was it for photo op or is it serious? The president can invite Mitch McConnell, John Boehner or anybody he wants for a serious talk about issues."

The dialogue between President Obama and the House GOP last month was a win for the American people who watched it, both sides were able to state their case (the GOP questions were preceded by political talking points) and highlight their major disagreements as well as spotlight (narrow beam) areas that both sides agree on, and it was some of the best political theater in decades.

Senator Cornyn asked "Was it for photo op or is it serious?" regarding the invitation by the President. Anyone and everyone who watched the House meeting with the President will tell you it was the latter. Although there were photo opportunities for the republicans to have their picture taken with the President.

Senator Cornyn has his tale tucked between his legs like a scared little dog. He is afraid to meet with the President of the United States with camera's broadcasting the Q & A live, obviously its to transparent for him..

While Cornyn says no to the Presidents invitation, the
House Republicans on the other hand say they want a rematch
. I give them credit for that, when you get thrown off the horse, the best thing to do is get right back on it.

Rep. Jeb Hensarling (R-TX) said, "I would hope that he would repeat such a thing on a periodic basis," and Rep. Paul Ryan (R-WI) added, "I think it'd be great," and the White House has voiced their interest in doing the Q & A on a regular schedule.

I hope they do make it a regular feature, it would be good for America and it would be even better for America if the Senate republicans were to join in.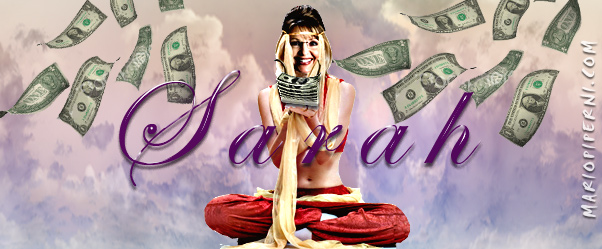 Thinkprogress.org
John Murtha Democratic Rep. John Murtha (PA), who served in Congress since 1974, passed away today. Murtha had been in intensive care after complications arose from his gall bladder surgery a couple of weeks ago. The statement from his office:
Congressman John P. Murtha (PA-12) passed away peacefully this afternoon at 1:18 p.m. at Virginia Hospital Center in Arlington, VA. At his bedside was his family.

Murtha, 77, was Chairman of the House Appropriations Subcommittee on Defense.

First elected to the U.S. House of Representatives in February of 1974, Murtha dedicated his life to serving his country both in the military and in the halls of Congress. A former Marine, he became the first Vietnam War combat Veteran elected to the U.S. Congress.

This past Saturday, February 6, 2010, Murtha became Pennsylvania's longest serving Member of Congress.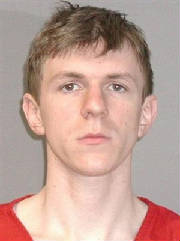 James O'Keefe wiggles and squirms in Hannity interview
By: David Phillips
Las Vegas Democrat Examiner
James O'Keefe
one of the four arrested last week for trying to interfere with the telephone system in Sen. Mary Landrieu's office in the Hale Boggs Federal Building in downtown New Orleans, gave a few 'exclusive' interviews to most of the
Fox opinion channel
talking heads yesterday.

The four men, James O'Keefe, Joseph Basel, Stan Dai and Robert Flanagan are currently charged with "entering federal property under false pretenses with the intent of committing a felony". As the investigation moves forward further charges may be added.

In the interview yesterday with
Sean Hannity
, O'Keefe reasoned that what he and the others did was OK because, "it's the people's office".

Hannity asked O'Keefe if he and the others dressed up as telephone repairmen and misrepresented themselves in her office, and O'Keefe said. "Yea, we did, yes".

So because she is an elected official who has an office in a Federal building its OK to misrepresent yourself and attempt to mess with the phone system for her office and the entire building when seeking the truth because "it's the people's office".

Hannity also asked him if he or the others had any electronic equipment or recording devices and if they were trying to bug the phones, and O'Keefe said, "no".

Then Hannity asked in an indirect way; "You did record the entire incident?" And O'Keefe replied, "yes". But he said he had no electronic equipment or recording devices.

Throughout the interview when Hannity's questions required exact answers from O'Keefe, his reply was "Its an ongoing investigation so I cannot comment".

When Hannity asked him about the report that he and his crew tried to gain access to the buildings main phone line box, O'Keefe used the "I cannot comment" card.

James O'Keefe and his merry band of cavilers are facing some serious jail time, and for O'Keefe to give interviews and to make comments on Twitter about his case, which can and most likely will be used against him, well, lets just say that its not a wise thing to be doing. And the other three men that were arrested are probably wishing that he would just shut up and let the lawyers handle it..

 

You can watch the two part interview with O'Keefe here.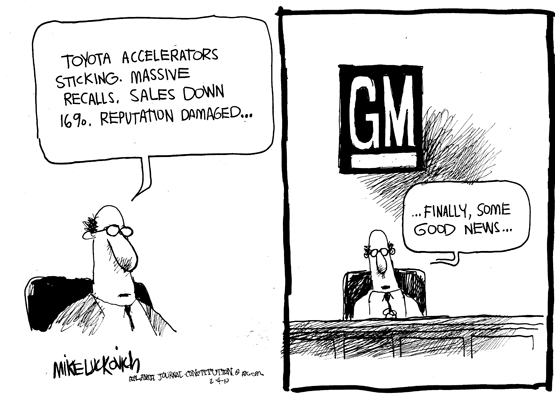 Toyota chief apologizes for massive global recalls
By Yuri Kageyama And Malcolm Foster
Associated Press
TOKYO – Toyota's president emerged from seclusion Friday to apologize and address criticism that the automaker mishandled a crisis over sticking gas pedals. Yet he stopped short of ordering a recall for the company's iconic Prius hybrid for braking problems.
Akio Toyoda, appointed to the top job at Toyota Motor Corp. last June, promised to beef up quality control, saying, "We are facing a crisis."
Toyoda, grandson of the company's founder, said he personally would head a special committee to review checks within the company, go over consumer complaints and listen to outside experts to come up with a fix.
"I apologize from the bottom of my heart for all the concern that we have given to so many customers," said Toyoda, speaking at his first news conference since the Jan. 21 global recall of 4.5 million vehicles.
Toyota's failure to stem its widening safety crisis has stunned consumers and experts who'd come to expect only streamlined efficiency from a company at the pinnacle of the global auto industry.
"Toyota needs to be more assertive in terms of providing consumers comfort that the immediate problem is being addressed ... and that it can deal with these crises," said Sherman Abe, a business professor at Hitotsubashi University in Tokyo.
It took prodding from the U.S. government for Toyota to recall the vehicles, about half of them in North America, for gas pedals that can stick and cause sudden acceleration.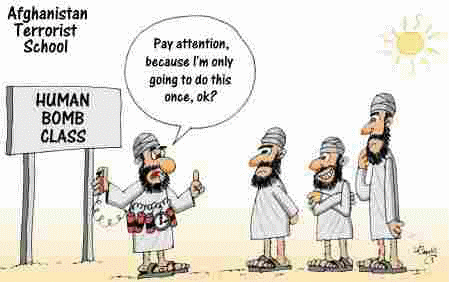 British intel: Breast implants may hide bombs
WASHINGTON, DC -- British intelligence agencies have reportedly monitored terrorist communications bragging that women suicide bombers have already undergone surgery to hide explosive bombs in their breast implants.
"You could certainly put a liquid of any kind in a saline device, and a gel implant theoretically could be opened and replaced with a different type of gel," said Maryland plastic surgeon Dr. Craig Person.
"I believe that any liquid in a breast implant, or any gel with a silicone-type of implant would be hard to detect with a body scanner," Person told 9NewsNow.
Terrorism experts agree.
"The federal government has not put into place any system for detecting explosives at passengers' screening checkpoints," said Larry Johnson, the Managing Director Of Berg Associates.
The flip side is more encouraging.
"What we've seen is, at least, the al Qaeda explosives competence, while they are visionary with their devices, they're not terribly competent with actually being able to get something to detonate," Johnson said.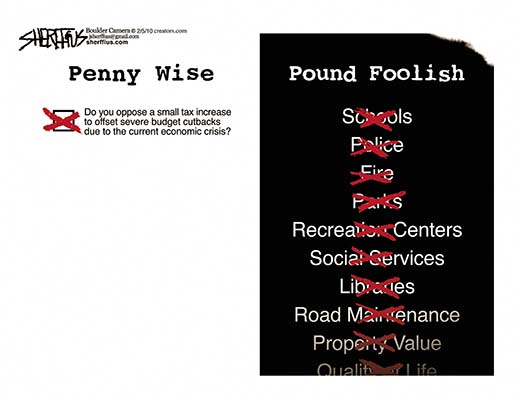 This Weeks Bushism
"I don't particularly like it when people put words in my mouth, either, by the way, unless I say it." --George W. Bush, Crawford, Texas, Nov. 10, 2007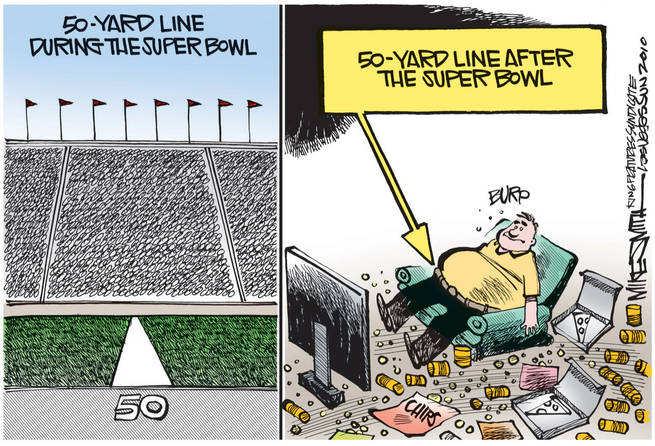 Super Bowl 2010 Nabs The Largest Audience Ever
By: Gillian Reagan
We guess CBS Sports ad sales chief John Bogusz was right.
Nielsen reports that 106.5 million people watched the New Orleans Saints win against the Indianapolis Colts -- the largest audience in TV history for a single Super Bowl broadcast.
According to the Washington Post, M*A*S*H* still holds the record for the most-watched TV broadcast. Its last show aired on Feb. 28, 1983 with 308 million viewers tuning in (with numbers adjusted for market), according to the U.S. Census Bureau.
Still, 106.5 million is a whole lot of people seeing that Google ad.


Bachmann's Plan: To Deal With Debt, We Must 'Wean Everybody' Off Social Security, Medicare
This past weekend, Rep. Michele Bachmann (R-MN) addressed the right-wing Constitutional Coalition's annual conference in St. Louis. She had dropped out of the Tea Party Convention occurring on the same day in Nashville to make the appearance.
Speaking to a small group of conference attendees and ThinkProgress during lunch on Saturday, Bachmann outlined how the Republican Party and its 2012 nominee must address the national debt. Bachmann referenced Glenn Beck, who falsely warned about a $107 trillion in supposed "unfunded liabilities" from Social Security and Medicare. She then called for a "reorganization" of entitlements where people "already in the system" would continue to receive benefits, but "everybody else" would be weaned off:
BACHMANN: Is the country too big to fail? No, the country can fail. We can, we're not invincible. And we're so close now to being at that point because the thing is, as Glenn Beck said last night, it is true. The $107 trillion that he put on the board. We're $14 trillion in debt, but that doesn't include the unfunded massive liabilities. That's $107 trillion, and that's for Social Security and Medicare and all the rest. You add up all those unfunded net liabilities, and all the traps that could go wrong we're on the hook for, and what it means is what we have to do is a reorganization of all of that, Social Security and all. We have to do it simply because we can't let the contract remain as they are because the older people are going to lose. So, what you have to do, is keep faith with the people that are already in the system, that don't have any other options, we have to keep faith with them. But basically what we have to do is wean everybody else off. And wean everybody off because we have to take those unfunded net liabilities off our bank sheet, we can't do it. So we just have to be straight with people. So basically, whoever our nominee is, is going to have to have a Glenn Beck chalkboard and explain to everybody this is the way it is.
Bachmann is echoing a growing chorus in the GOP caucus. Recently, Rep. Paul Ryan (R-WI) introduced an alternative budget plan which would privatize both Medicare and Social Security. As the Wonk Room's Pat Garofalo has noted, the type of private Social Security accounts Ryan proposes would have cost seniors tens of thousands of dollars in the 2008-2009 market plunge. But Bachmann takes Ryan's effort a step farther and seems to be suggesting a full repeal of the retirement safety net.
Bachmann, who has gained influence within Republican leadership circles, was a star at the event. At his speech on Friday, Glenn Beck proclaimed that Bachmann was the only person he trusted in Congress. Other accolades for Bachmann were heard throughout the conference. At one point, Heritage Foundation scholar Matt Spalding, who had been whispering in Bachmann's ear while other panelists spoke, exclaimed, "if there's one person who everyone at Heritage has a crush on, it's Michele Bachmann."

THIS WEEKS FEATURED MUSIC VIDEO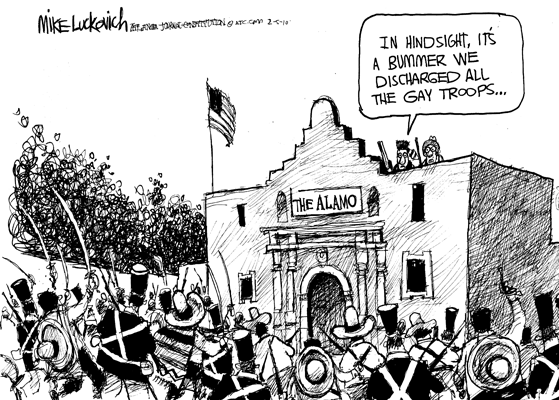 VARIOUS LATE NIGHT QUOTES
"President Obama is having a big Super Bowl party. And you know what he is doing? This guy is shrewd, very savvy politically. He has invited a bunch of senators to come to the White House for the Super Bowl party. What could be more fun than watching a four-hour football game with Joe Lieberman? There you go. Talk about rock 'n' roll." –David Letterman
"There's a new Osama bin Laden video. Gosh, I mean, this guy, what is he doing, working at Blockbuster?" –David Letterman
"There is always a new Osama bin Laden video. And in this one, he's worried about global warming. And he's blaming the United States for global warming. And I just thought to myself, wait a minute, this guy thinks it's warm now, wait till he gets to hell." –David Letterman

"President Obama has decided to skip the Winter Olympics in Vancouver. I think he's still mad they stiffed him in Chicago. But they said it would be very expensive to arrange proper security for Obama, so they're sending Vice President Joe Biden in his place. Because, you know, who cares?" –Jimmy Kimmel
"The president won't be at the Super Bowl either. In fact, in a show of some sort of spirit of cooperation, I guess, he's invited a group of top Republicans to watch the game with him at the White House on Sunday. That should be a lot of fun. Going to need a two-thirds vote before they pass him the Doritos." –Jimmy Kimmel
"This morning, President Obama spoke at the National Prayer Breakfast in Washington, D.C. Obama told the crowd that no one should go broke when they get sick in the richest nation on earth, which, I think, is his way of saying we're going to start exporting sick people to China." –Jimmy Fallon
"Listen to this. On the 'Today' show, this morning, Michelle Obama said she likes having her mother live at the White House because she helps take care of Sasha and Malia. And Barack Obama said he likes having his mother-in-law living at the White House because he has to say that." –Jimmy Fallon
"You guys hear about what's going on with Toyota? This is crazy. It's like, their job is to make cars, right? Well, they had a problem with gas pedals getting stuck — now, they're recalling the Prius because the brakes don't work. And because of this, sales of Ford cars and trucks rose 25 percent in the past month. But Ford says it's because of its new ad slogan, 'Ford, because Toyota is trying to kill you.'" –Jimmy Fallon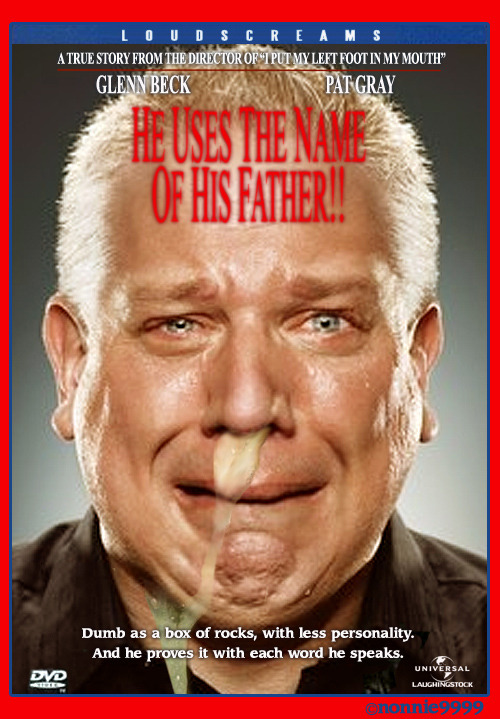 This Week in God!!!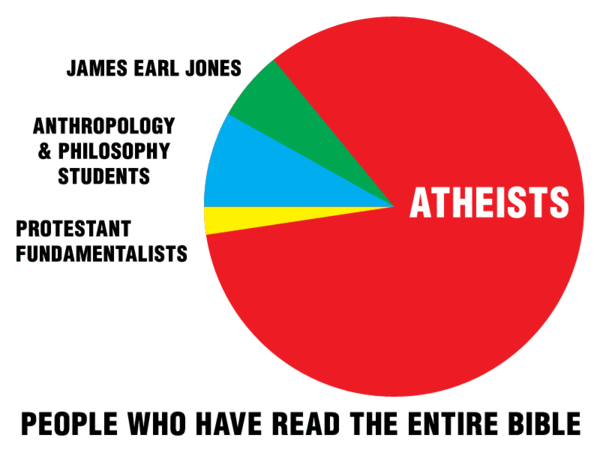 YodasWorld.org is updated each Monday. Some of the items from the previous week are added to the various topic links on the left side of the main page. Links embedded should be good for at least the date posted. After the posting date, link reliability depends on the policy of the linked sites. Some sites require visitors to register before allowing access to articles. Material presented on this page represent the opinion's of YodasWorld.org.
Copyright 2000-2010 YodasWorld.org. All rights reserved on original works. Material copyrighted by others is used either with permission or under a claim of "fair use."