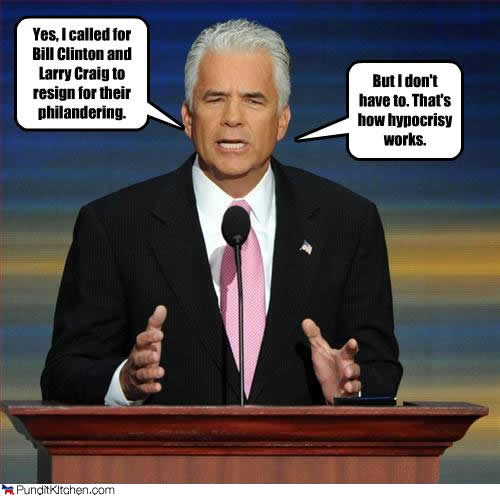 Why won't Senator Ensign resign?
By: David Phillips
Las Vegas Democrat Examiner
You may have heard or seen Senator Ensign's (R-NV) exploits in the newspapers or on TV over the last few months. Ensign has admitted to having an extramarital affair with Cindy Hampton a campaign staffer, Ensign has admitted to his parents paying off his mistress with
$96,000 dollars in hush money
(his lawyer says it was a gift), and we have learned that the husband of his mistress Doug Hampton, also a campaign staffer found other employment with the help of Senator Ensign as a lobbyists who then turned around and
lobbied Senator Ensign
, which is against the law.

When in Washington DC, Senator Ensign lives with a
fundamentalist Christian cult at the "C" street house
, a former monastery which has been converted into a dormitory for politicians. This is the same place Governor Mark Sanford (R-SC) lives while he is in DC.

The
Senate Ethics committee
(an oxymoron) is looking into the matter and the Department of Justice is considering a
criminal investigation
against Senator John Ensign.

Senator Ensign continues to go about his daily business as if nothing is wrong with him or his job, and his possibility of going to prison. In 2006 another republican and former House member by the name of
Bob Ney (R-OH)
plead guilty to similar charges (30 months in prison) that Ensign could face if the Justice Department follows through with an investigation related to the unlawful lobbying done by Doug Hampton, who by the way has admitted he broke this law.

Last week Senator Ensign
voted against an amendment
that would prevent the federal government from funding contractors whose employee contracts prevent workers from pursuing allegations of rape against co-workers.

Nevada Governor Jim Gibbons (R-NV) has opened the door for Ensign to resign by saying that he would not appoint himself to the seat or the current front runner for Governor, Brian Sandoval (R-NV) who plans on running against Jim Gibbons for Governor. A resent
poll
conducted by the Review-Journal show that Sandoval would beat Gibbons by a 2-1 margin.

If Ensign were to resign now or anytime up to the filing period for candidates next March, Gibbons' appointee as well as any other candidates would have to run in next Novembers election which would allow the winner to finish Ensign's term which ends in 2012. If Ensign were to resign after the filing period Gibbons would still name a replacement, but Nevada's republican party would select which names would be placed on next November's ballot to finish out Ensign's term.

From a democratic point of view Ensign will continue to be a weight that pulls down the republican party as long as he is in office just as Governor Mark Sanford, Governor Jim Gibbons and Senator David Vitter (R-LA) will be because they too are admitted adulterers.

Maybe Ensign feels that he's in good company and should not have to resign because no one else in his party has resigned under similar circumstances, or maybe it is his fundamentalist cult that has kept him from resigning because they have told he shouldn't resign and that it's OK for him to cheat and lie.

For the good of Nevada and its citizens the right thing for Senator Ensign to do would be to resign now and for the republican party in Nevada which is in a disarray, they too should urge the Senator to resign as soon as possible for their own sake.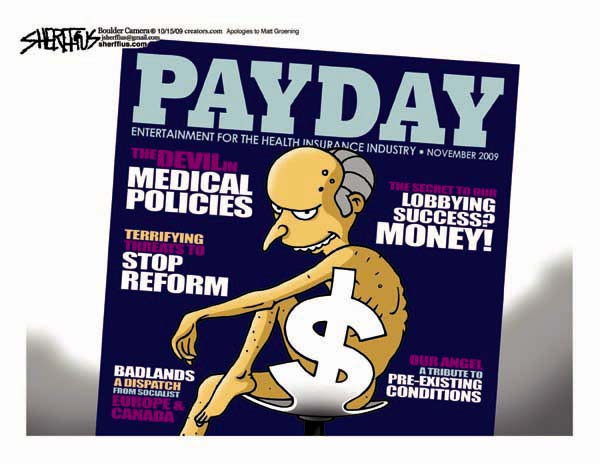 Adviser: Obama awaiting finished health care bill
By Steven R. Hurst
Associated Press Writer
WASHINGTON – The White House will not commit to health care legislation that would cap insurance premiums or tax benefits, taking a wait-and-see approach as congressional negotiators seek a deal, advisers said Sunday.
President Barack Obama will not demand that a final bill include a government-run plan as a way of driving down costs through competition, though that's his preference, they said.
"There will be compromise. There will be legislation, and it will achieve our goals: helping people who have insurance get more security, more accountability for the insurance industry, helping people who don't have insurance get insurance they can afford, and lowering the overall cost of the system," aide David Axelrod said.
Asked on ABC's "This Week" if Obama would sign a bill that ended the antitrust exemption for the insurance industry and allow caps on premiums, Axelrod said, "We'll see what Congress does."
A 1945 law lets states regulate insurers without federal interference.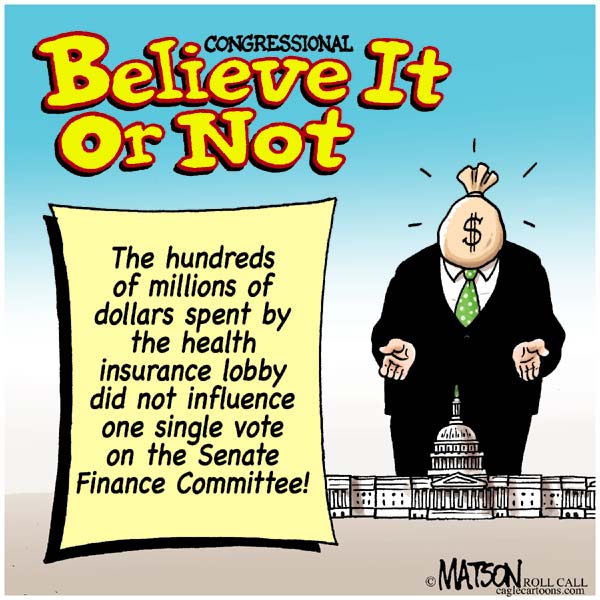 UK far-right party to allow nonwhite members

LONDON – The far-right British National Party agreed Thursday to change its constitution to let nonwhite people become members.
The party opposes immigration and says it fights for "indigenous" Britons.
A government-backed rights body took it to court, claiming the party's constitution is discriminatory.
At a court hearing, a lawyer for the party said leader Nick Griffin would ask members next month to change the constitution so it did not discriminate on the grounds of race or religion.
In an order issued at the Central London County Court, the BNP agreed to use "all reasonable endeavors" to revise its constitution to comply with the Equality Bill, which bans discrimination on the grounds of race, gender or religious belief.
The Equality and Human Rights Commission, which brought the case, said it would be watching to see whether the BNP complied.
"Political parties, like any other organization, are obliged to respect the law and not discriminate against people," said the commission's John Wadham.
There are few indications, however, that nonwhites would like to join.
The BNP has been encouraged by recent electoral success and has sought to shed a thuggish imagine and enter the political mainstream. Earlier this year it won two seats in the European Parliament.
Richard Barnbrook, the party's representative on the London Assembly, said he believed members would vote to change the constitution, because "trying to fight this court case would bankrupt the party and we have more important issues to deal with, including elections."
Rush Limbaugh missed the bus on this one...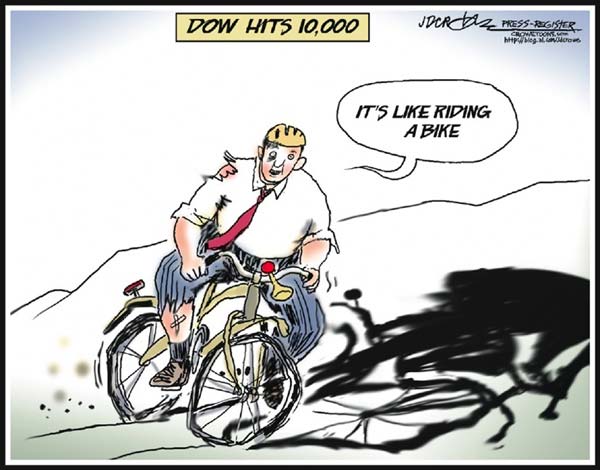 World War II sparked an unprecedented bond buying campaign, spurred on by one of the largest advertising campaigns ever seen — a drive wrapped in dutiful pleas from celebrities, politicians and cartoon characters alike.
Most American families bought at least one bond at the time and many never cashed them in — thanks in part to a 40-year maturity in the bonds. And those same "Series E" war bonds continued to be sold by the federal government until 1980.
More than $16 billion worth of the bonds are unclaimed, either lost or forgotten about with the death of the original purchasers.
The state attorneys general suing the Treasury Department charge that the federal government made no effort to find those people. They want the money given to the states, who have a legal system in place for finding the owners of unclaimed funds.
"It's better for the millions of American who are the rightful owners to have it returned to the states, because the states will make a real effort to find them," said David Bishop, a partner at Kirby McInerney who is representing the states in the suit. "And if after searching for them they can't find them, the money can go to work in the communities where the bonds were purchased."
The Treasury Department counters that it indeed tries to find owners of the unclaimed bonds, and says it has a Web site where people cam simply type in their Social Security number to see if they have one. And it points out that the money is not just laying around somewhere.
"One of the misunderstandings out there is that there is a lot of cash sitting somewhere in a drawer. Money from savings bonds was used to run the daily operating expenses of the government," said Joyce Harris, with the Bureau of the Public Debt. "These are obligations of the federal government, not the states. There is no pot of gold out there just waiting for someone to grab it."
The Treasury also points out that most of the unclaimed bonds are far more recent than the original World War II era bonds. And overall, 99 percent of people claim their bonds.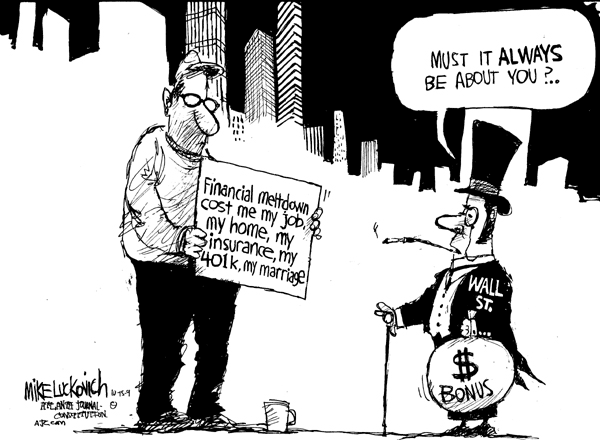 Specter rips GOP: 'A Party of obstructionism.'
Thinkprogress.org
Sen. Arlen Specter (D-PA), who until late April of this year was a lifelong Republican, castigated his former party this morning on Fox News. Specter ripped the GOP for refusing to be a good-faith negotiator in the health care debate:
On the Republican side, it's no, no, no. A party of obstructionism. … You have responsible Republicans who had been in the Senate — like Howard Baker, Bob Dole, or Bill Frist — who say Republicans ought to cooperate. Well, they're not cooperating.
Specter also indicated he would fight hard for the public option. "I'm not prepared to recede at all. I think the public option is gaining momentum," he said. "I am not going to step back a bit. I am going to fight for the best public option."
Watch it: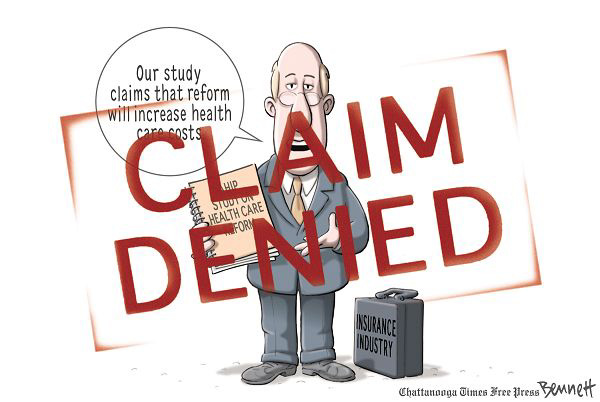 Alan Grayson (D-FL): America Cares, but the GOP does not
Grayson speaks from the House floor:
"America understands that there's one party in this country that's in favor of health care reform, and one party that's against it, and they know why," Grayson told the House.
"They understand that if Barack Obama were somehow able to cure hunger in the world, the Republicans would blame him for overpopulation," Grayson continued. "They understand that if Barack Obama were to somehow bring about world peace, they would blame him for destroying the defense industry. In fact they understand that if Barack Obama had a BLT for lunch tomorrow, they would try to ban bacon."
Watch it: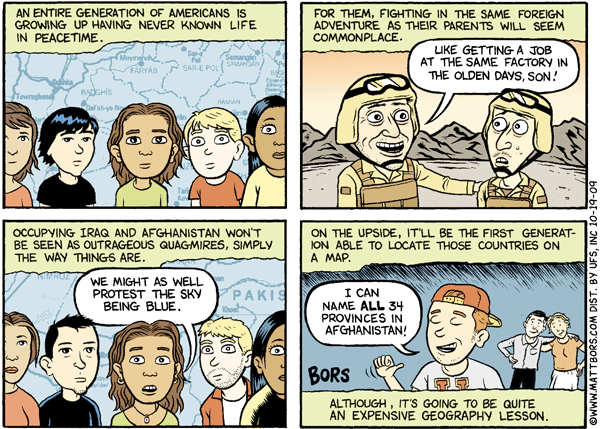 Oil companies cut shipments to Iran
By Andrew Edward
Oil companies are reducing fuel exports to Iran as the Middle Eastern country may face sanctions because of its nuclear program, the Wall Street Journal has said.
BP Plc stopped shipments to Iran at least six months ago. While Total SA have said that it would stop gasoline exports to Iran if the US and other European nations call for a halt on fuel exports.
US President Barack Obama has said that Iran may face serious sanctions if it doesn't halt its nuclear development program. Both the US and European governments say that it is intended to produce atomic weapons.
Representatives of the five permanent members of the United Nations Security Council along with Germany are scheduled to hold talks with Iranian officials 1 October in Geneva.
"I'm not sure if sanctions against fuel imports by Iran will actually be imposed," said Victor Shum, senior principal at US energy consultants Purvin & Gertz Inc. in Singapore. "France has already opposed it and China is sending a quite a bit of gasoline to Iran now. There are still avenues to allow Iran to obtain fuel."
At the moment, Chinese state-owned companies are undermining the US in its efforts to isolate, by supplying 30,000 to 40,000 barrels a day of petrol to Iran.
Companies in China "conduct normal trade relations with Iran" within the scope of the UN resolutions, the FT said, citing a Chinese official in Washington.
The Asian nation exported 5,275 tons, or 160 barrels a day, of oil products, including jet fuel, diesel and fuel oil, to the Islamic country in the first eight months, according to Chinese customs data.
Iran currently imports around 140,000 barrels a day of gasoline and diesel at a cost of US$5 billion to US$7 billion annually to meet domestic demand, according to the Wall Street Journal report.
Iran is already under three sets of UN sanctions for refusing to suspend uranium-enrichment work, a process to isolate an isotope needed to generate fuel for a nuclear power reactor or, in higher concentrations, to make a weapon. Reactors use heavy water to produce weapons-grade plutonium.
Iran denies it's planning to make a bomb and says the program is aimed at generating electricity.
Despite the fact that Iran imports its fuel, its fuel is still on the cheaper end of the scale in the world, per gallon, at US$1.51 If you want the lowest price, you'll have to take a trip to Venezuela, where you'll pay US$0.17 per gallon. You just don't want to visit Sierra Leone, where you have to pay a hefty US$18.40 per gallon.
But then if fuel exports are being cut to Iran, there might be a pretty hefty price rise in the future.

Limbaugh's money can buy him sex and drugs, but not an NFL team
By: David Phillips
Las Vegas Democrat Examiner
10/18/09
I am amazed by the right wing talking heads over at Fox News who are circling the wagons around Rush Limbaugh saying that Liberals, The NFL and the main stream media (MSM) have wronged Limbaugh and it was they who were responsible for Limbaugh being dropped by the venture group led by
Dave Checketts
to buy the St. Louis Rams. And of course they also blame President Barack Obama.

Limbaugh is responsible for Limbaugh being dropped by the venture group, no one else. Limbaugh's words do have consequence's just like everyone else.

Dave Checketts, who is leading the bid to buy the National Football League team said, it had nothing to do with Limbaugh's politics.
Checketts said
, "It has become clear that his involvement in our group has become a complication and a distraction to our intentions; endangering our bid to keep the team in St. Louis," Checketts also said. "As such, we have decided to move forward without him and hope it will eventually lead us to a successful conclusion."

It was the venture group who made a business decision to drop Limbaugh simply because he was bad for business. They don't care what Limbaugh's politics are, they only care about making money, and because they care so much about money, they felt they could do better without Limbaugh, that's it. A simple business decision.

The GOP propaganda channel Fox News, over the last few days have blamed President Obama, the NFL, it's players and MSM. Sean Hannity said yesterday "this is America he [Limbaugh] should be allowed to buy what he wants as long as he has the money.

Sean Hannity thinks that just because he has the money he should be able to do as he pleases and buy what he wants, well, that is not how business works. It's about dead Presidents, green backs, US currency tainted with cocaine, its about money, and it's just business.

For many of the NFL players it's a different story and reasoning for them not wanting Limbaugh to become a part owner of the Rams. To them it is about Limbaugh's past statements of racism. And again it is not about politics.

Rush Limbaugh has made some comments in the past that the NFL and the NFL players just don't like such as:

"NFL all too often looks like a game between the Bloods and the Crips without any weapons"
January 19, 2007
"Sorry to say this, I don't think he's been that good from the get-go," Limbaugh said. "I think what we've had here is a little social concern in the NFL. The media has been very desirous that a black quarterback do well. There is a little hope invested in McNabb, and he got a lot of credit for the performance of this team that he didn't deserve. The defense carried this team.
October 2003
Limbaugh and the rest of the right wing hate spewing talking heads have been just taught the lesson that their words can and do have consequences.
Limbaugh's money:
Money can't buy you love, but it can buy you lots of sex.
Money can't buy you health, but it can buy you better care.
And money can't buy you an NFL team, but it can buy you the biggest flat screen TV on the market and the NFL ticket on Directv.
Here are a couple of video's from the GOP propaganda channel Fox News.


The Leadership of the GOP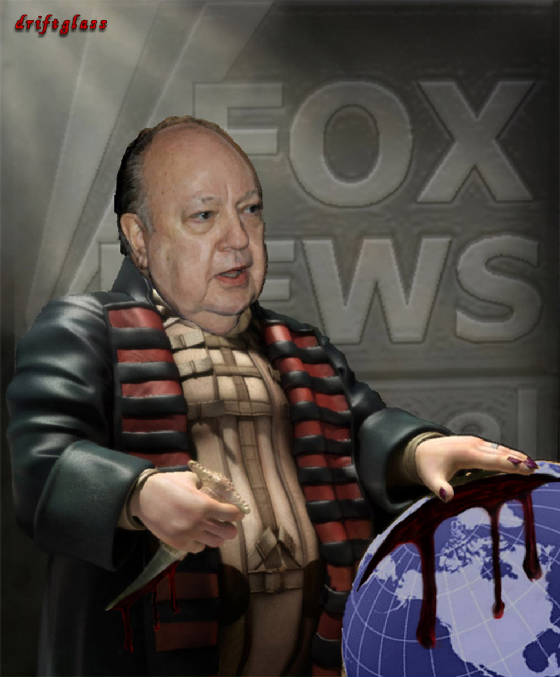 Fox News Quote of the Week
Yoda's World

Last Thursday night at the GOP propaganda channel on Fox News, the show "Hannity" starring Sean Hannity, featured a conversation with two of the dozens of Fox News female "contributors", one of whom is named S.E. Cupp, and she made a brilliant statement that made no sense, but it made Hannity proud.

The conversation moved to one of their illogical conspiracy theories about the fictional job positions in the White house held by advisers to the President which they have been dubbed "Czars". There are no Czars in the White house, there are advisers with long titles, they just call them Czars because they are to lazy to give the real job title or don't know it and it scares the teabaggers when they hear the word Czar, because they first think Russia, then they think "communists are roaming the hallways of the White house "(a direct quote from the Tears of the Clown, Glenn Beck)

S.E. Cupp said:

"they have all these radicals in the shadowy corners doing their Czar stuff" ...

The collective mental prowess shown on the GOP propaganda channel Fox news is truly astounding.

THIS WEEKS FEATURED MUSIC VIDEO

After new disclosures, word of John Ensign investigations emerges
Hampton could also face serious legal jeopardy after his revelations about Ensign's actions
By J. Patrick Coolican ,Lisa Mascaro
Nevada Sen. John Ensign faces the threat of expulsion from the U.S. Senate and possible criminal penalties, according to several legal and ethics experts interviewed by the Sun.
The New York Times reported Friday that the Republican senator faces a preliminary FBI investigation into his actions after an affair with a campaign aide who was married to his best friend, who was a top staff aide. Also, the Senate Ethics Committee is in the midst of a preliminary investigation.
The senator's latest troubles arise from a story published Friday in the Times that detailed the extraordinary lengths Ensign, 51, went to mollify Doug Hampton, his then-co-chief of staff and the husband of the Ensign campaign aide, Cynthia Hampton, with whom the senator had the affair.
As the Sun reported this summer, Ensign enlisted the help of his longtime political aide Mike Slanker, who revived his then-dormant lobbying and consulting firm November Inc., so Hampton would have a job after leaving Ensign's office.
Ensign then called on Nevada power brokers and companies, including Allegiant Air and NV Energy, to become November Inc. clients.
Hampton told the Times that Ensign assured him he would instruct chief of staff John Lopez to assist Hampton by helping the clients Ensign retained for Hampton.
Hampton has acknowledged to the Times failing to register as a lobbyist and ignoring the law banning lobbying for one year after leaving Capitol Hill, which is intended to prevent influence peddling and a revolving door between government and private interests.
Finally, as Ensign acknowledged this summer, Ensign's parents gave the Hamptons $96,000.
Ensign's office did not respond to written questions, though a spokeswoman told the Times that Ensign would cooperate with official inquiries.


VARIOUS LATE NIGHT QUOTES
"Rush Limbaugh, who is trying to buy the St. Louis Rams, has downplayed racial comments that he's made in the past by saying if he was a racist, why would he want to be part of a business that is 70% African American? Well, I don't know. Maybe because you would own them? Think that has anything to do with it?" --Jay Leno
"And over the weekend, they held a big gay rights march in Washington, D.C. Tens of thousand of gay Americans of all political persuasions filled hotel rooms in D.C. Actually, it was just the Democrats in the rooms. The Republicans were still in the closet." --Jay Leno
"Last night, the White House hosted a tribute to Latin music. President Obama wiggled his hips a little on the dance floor at which point a committee in Sweden immediately awarded him a Latin Grammy." --Conan O'Brien
"Some of the celebrities at the White House Latin music event included Gloria Estefan, George Lopez, Eva Longoria, and Jose Feliciano. Apparently it was much more fun than last year's party, which was just President Bush and Dora the Explorer." --Conan O'Brien
"A top adviser to President Obama says that the most important interactions the President has with Joe Biden happen when no one else is around. Obama says that the best interactions with Biden happen when Biden isn't around." --Conan O'Brien
"NASA recently announced they have a photograph from the Hubble Telescope that shows two galaxies colliding. Then they took a closer look and said, 'Wait a second. Those galaxies aren't colliding. They're doing it.'" --Conan O'Brien
"Health care has now passed the Senate Finance Committee. So now here's what the Republicans are going to do to try and kill the health-care bill. They're going to go into filibuster where the guy gets the floor and he just keeps yacking and yacking and yacking and yacking and yacking. And people get tired and go home. Hey, wait, that could happen right now." --David Letterman
"John McCain's going to do the filibustering and he's going to talk about his collection of big band records." --David Letterman
"Obama's doing a great job, in impossible circumstances, by the way. You know he won the Nobel Peace Prize a couple of days ago. And the week before that, he won the daytime Nobel Peace Prize. So he's won them both." --David Letterman
"Sarah Palin's memoir will be out next month. Revelations in the memoir. The last couple of months on the campaign, it was actually Tina Fey." --David Letterman
"They also say that during her debate with Joe Biden -- the vice presidential debate -- she got confused and at one point actually said, 'I'm ready to solve the puzzle, Pat.'" --David Letterman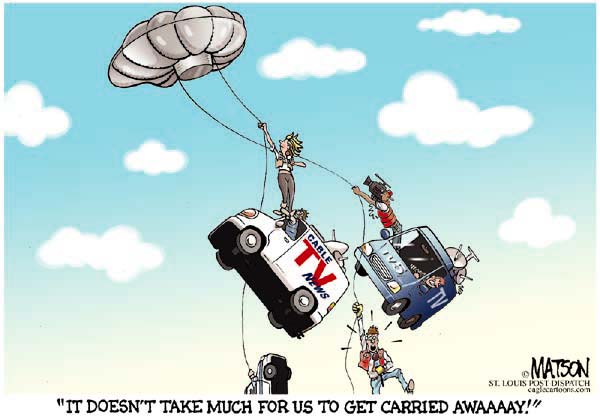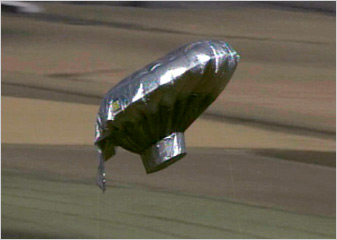 Sheriff: Charges will be filed in balloon saga
By Dan Elliott, Associated Press Writer
FORT COLLINS, Colo. – A sheriff said he was pursuing criminal charges in Colorado's "balloon boy" saga, which first sparked fear for the child, then relief that he was OK and now suspicions of a hoax.
Deputies searched the home of the boy's parents Saturday night, carrying away several boxes and a computer.
The parents, Richard and Mayumi Heene, met with Larimer County investigators for much of Saturday afternoon amid lingering questions about whether he perpetrated a publicity stunt when his 6-year-old son Falcon vanished into the rafters of his garage while the world thought he was zooming through the sky in a flying saucer-like helium balloon.
But Sheriff Jim Alderden didn't say who would be charged or what the charges would be. His deputies later showed up at the Heene's Fort Collins home with a search warrant and at least three of them began a search. Sgt. Ian Stewart declined so say what they were after.
Alderden on Saturday didn't call Thursday's hours-long drama a hoax, but he expressed disappointment that he couldn't level more serious charges in the incident, which sent police and the military scrambling to save young Falcon Heene as millions of worried television viewers watched.
"We were looking at Class 3 misdemeanor, which hardly seems serious enough given the circumstances," Alderden said. "We are talking to the district attorney, federal officials to see if perhaps there aren't additional federal charges that are appropriate in this circumstance."
Suspicion that the balloon saga was a hoax arose almost immediately after Falcon was found hiding in a cardboard box. Heene, a storm chaser and inventor whose family has appeared on the reality show "Wife Swap," and his wife had said one of the boy's older brothers said Falcon was aboard the homemade balloon when it took off.
Alderden initially said there was no reason to believe the incident was a hoax. Authorities questioned the Heenes again after Falcon turned to his dad during a CNN interview Thursday night and said "you said we did this for a show" when asked why he didn't come out of his hiding place.
Falcon got sick during two separate TV interviews Friday when asked again why he hid.
After the sheriff spoke to reporters Saturday, Richard Heene and his wife walked out of his office after meeting with officials for several hours.
As reporters yelled questions, Heene said: "I was talking to the sheriff's department just now." He then walked to his car with his wife and a friend and drove away. It wasn't clear where the family spent Saturday night.
The Heenes have said the balloon was supposed to be tethered to the ground when it lifted off, and no one was supposed to be aboard. A video of the launch shows the family counting down in unison, "3, 2, 1," before Richard Heene pulls a cord, setting the balloon into the air.
"Whoa!" one of the boys exclaims. Then his father says in disbelief, "Oh, my God!" He then says to someone, "You didn't put the (expletive) tether down!" and he kicks the wood frame that had held the balloon.
Falcon's brother said he saw him inside the compartment before it took off and that's why they thought he was in there when it launched. Heene said he had yelled at Falcon before the launch for getting inside.
Over the years, Richard Heene has worked as a storm chaser, a handyman and contractor, and an aspiring reality-TV star.
He and his family appeared on the ABC reality show "Wife Swap," and the show's producer said it had a show in development with the Heenes but the deal is now off. TLC also said Heene had pitched a reality show to the network months ago, but it passed on the offer.

This Week in God!!!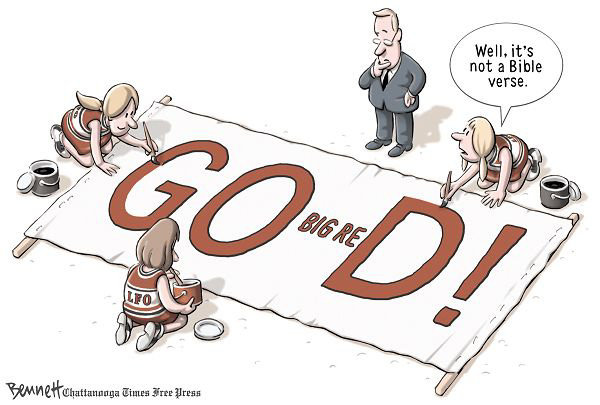 Catoosa school board upholds Bible verse ban
By:Ben Benton
FORT OGLETHORPE, Ga. — The Catoosa County Board of Education on Tuesday upheld the ban on the Lakeview-Fort Oglethorpe High School cheerleaders' Bible verse banners.
The board took a 20-minute recess to consult with its attorney after a pastor, a lawyer, a mother and an activist addressed the board on behalf of the cheerleaders and their banners.
"This is, at heart, a legal issue," board chairman Don Dycus told the crowd of 80 to 100 people when he returned. "We adopted a resolution as a board unanimously at our Oct. 1 meeting acknowledging that (Superintendent Denia) Reese had made a difficult but the right decision."
Since the board was not swayed Tuesday by any legal arguments, "that resolution stands," Mr. Dycus said.
Residents Laurie Ann Laue and Paige Osbourne said they were not surprised but were disappointed.
"I just pray that something else will come of it," Ms. Laue said.
Ms. Osbourne said "fear" is pushing officials to make their decisions and is the same emotion that drives people "to do nothing."
When people "do nothing," they see more invasion of their rights and spiritual health, she said.
Activist Jeremy Jones said several Christian associations have offered free legal representation to the cheerleaders and their families if they decide to pursue the matter.
The dispute arose late last month after Mrs. Reese banned the signs LFO cheerleaders held up on the field for the football team to run through. She took the action after a conversation with LFO parent Donna Jackson about the scriptural references and the possibility they violated federal law.
In the aftermath, school officials held their ground on the ban as Fort Oglethorpe's Christian community rallied around the cheerleaders and news of the dispute grabbed national attention. A rally a few days after the ban drew more than 1,000 people, many of whom signed petitions submitted to the school board last night.
Mrs. Reese told the crowd she recognized a lot of names on the petitions they submitted to the board.
"I really appreciate the support that our LFO cheerleaders have received during this time," she said as she held the petitions.
In a gesture of support, Mrs. Reese also signed a petition, despite the fact it called for a reversal of her ban.
She said she was impressed by the community's response and the cheerleaders' courage.
"It is the 'in' thing for kids to do now," Mrs. Reese said. "It is the 'in' thing for kids to wear their beliefs on their T-shirts and to have signs."
Board attorney Renzo Wiggins said he contacted a number of legal resources for opinions on the school system's actions.
"The Christian Law Association called our position in our press release 'perfect,'" Mr. Wiggins said.
School officials "have not caved in to demands of the minority but instead upheld the principal that protects all religious faiths from entanglement with the government," he said.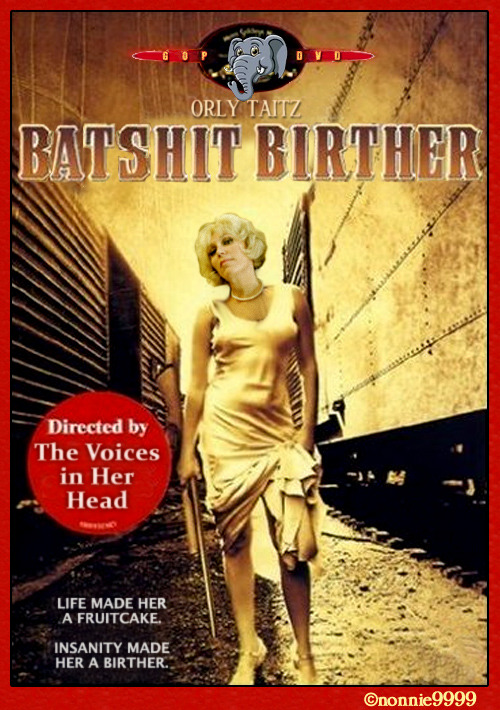 The Orly Bird Catches the Worm…I mean, a Fine
Federal District Judge Clay D. Land [appointed by George W. Bush] has slapped top birther Orly Taitz with a $20,000 fine for wasting the court's time, among other issues, with her constant filings after he, last month, dismissed her lawsuit against President Obama's right as commander-in-chief to deploy the military because he allegedly isn't legally president.
Because he didn't get rid of her the first time, he's hoping she gets the message this time from the barbed language in the 43-page order he issued Tuesday.

YodasWorld.org is updated each Monday. Some of the items from the previous week are added to the various topic links on the left side of the main page. Links embedded should be good for at least the date posted. After the posting date, link reliability depends on the policy of the linked sites. Some sites require visitors to register before allowing access to articles. Material presented on this page represent the opinion's of YodasWorld.org.
Copyright 2000-2009 YodasWorld.org. All rights reserved on original works. Material copyrighted by others is used either with permission or under a claim of "fair use."