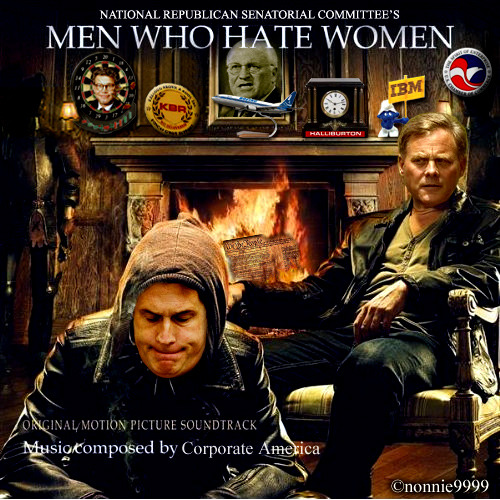 Senator John Ensign votes against helping rape victims
By: David Phillips
Las Vegas Democrat Examiner
Sen. Al Franken (D-MN)
introduced an amendment yesterday (senate amendment 2588 to H.R. 3326) to the Department of Defense Appropriations Act, 2010 that would prevent the federal government from funding contractors whose employee contracts prevent workers from pursuing allegations of rape against co-workers.
The amendment
reads: "To prohibit the use of funds for any Federal contract with Halliburton Company, KBR, Inc., any of their subsidiaries or affiliates, or any other contracting party if such contractor or a subcontractor at any tier under such contract requires that employees or independent contractors sign mandatory arbitration clauses regarding certain claims."

Basically this amendment would strip all government contractors from doing business with the federal government who prevent women form pursuing their rapists in a court of law because of wording in their employment contracts with the contractors.

In a Senate vote the Bill passed with some bipartisan support by a
vote of 68-30
. And all 30 nay votes were from republicans including
Senator John Ensign (R-NV)
.

This all was brought about by a women,
Jamie Leigh Jones
, who was working in Baghdad in 2005 for Kellogg, Brown and Root (KBR) a subsidiary of Halliburton when she was drugged and gang-raped by seven US contractors and held captive by two KBR guards in a shipping container. Ms. Jones is still waiting for her day in court.

Ms. Jones is not the only case, there are several cases of women being raped by fellow employee's of defense contractors and like Ms. Jones they are not allowed to pursue court trials because of some words in their employee contract.

Seems like a slam dunk, right? How could anyone in the Senate stand idly by and allow defense contractors to get away with rape? You would think that the vote would be unanimous, you would think that our government using our tax dollars would know that we the people, would expect this practice to end, now, but Senator John Ensign and 29 other republican senators said no. They said no to stopping the practice of allowing rapists to get away free, they said no to women who have been brutalized, they said no to basic human dignity.

The republican party really likes the word, "no".

Right wing media always giddy when America loses
By: David Phillips
Las Vegas Democrat Examiner
Last week President Obama flew to Copenhagen, Denmark in hopes of securing the 2016 summer Olympics for Chicago, Ill. but the United States came up short and lost to Rio, Brazil.
Four countries were in the hunt to land the most prestigious sporting event on the planet, Spain, Japan, Brazil, and the United States. And when Brazil was announced as the winner, the right wing media in the United States let out a roar of giddiness and pleasure of knowing that the United States lost the Olympics.
These Un-American anti progress, anti anything positive for the United States, do not care if something good would have come to the United States for hosting the Olympics. They didn't care about the
$13.7 billion
that the city of Chicago, the State of Illinois and the United States would gain. The right wing media didn't even care about the 318,000 jobs the Olympics would create here in the United States..
No, the only think that the right wing media cared about was that President Obama went to Copenhagen and lost. When President Obama loses, America loses, and when America loses the right wing media rejoice..
Earlier this year when Rush Limbaugh told Sean Hannity in an interview that he "hopes Obama fails" he also wants America to fail. Limbaugh tried to explain that he only hopes Obama's policies fail, but think about that, President Obama is trying to fix the problems created by the previous administration policies that all of the right wing talking heads backed in the previous eight years.
When Limbaugh says he hopes "Obama Fails" he is also hoping that the United States fails, because he knows that if America wins, if Obama turns things around with the economy, jobs, health care, etc, then the republicans will lose at the polls.
So he and the rest of the right wing hate spewing talking heads having been throwing everything at the President including the kitchen sink, and they don't care what sticks, because they will continue to throw their hate regardless of what happens.
Here are some of the statements on America's loss of the Olympics from the right wing hate loving media.
Glenn Beck
: "Oh, it's so sweet" that Chicago's bid failed; "savor this moment."
Rush Limbaugh:
For those "upset that I sound gleeful -- I am. I don't deny it. I'm happy."
Matt Drudge
: "The ego has landed. World rejects Obama: Chicago out in first round."

The right wing magazine the
Weekly Standard
whose writer's also include many past and present Fox News contributors reaction to the announcement that America would not get the Olympics for 2016, the whole staff let out a
cheers of joy
as the announcement was made.

Right wing talking heads hate President Obama, not for what he may or may not do to help the United States, but because he is a Democrat and because of that hate, they don't care if America goes down as well.

The right wing hate spewing un-American talking heads don't like losing elections, in fact if they could I am sure that they would be pleased to see a republican for Life in the Whitehouse and in Congress.

Here is a short video put together by
BraveNewFilms.org
on their love of hate towards President Obama after the United States lost the Olympic bid for 2016.

Two Minutes of Hate: Conservatives Celebrate America's Defeat

Limbaugh and Beck really do want the United States to Fail
By: David Phillips
Las Vegas Democrat Examiner
10/12/09
It is clear that these two right wing talking heads Limbaugh and Beck along with the majority of their right wing fringe dwelling media were giddy when the United States lost the 2016 Olympics and continue to laugh at the United States when it's President, President Obama wins the Nobel Peace Prize.
Those on the right have taken the stance to be in opposition to the United States at all costs because of a Democratic President and the Democratic Party in control of congress, are un-American, un-patriotic and whiners because they happened to lose some elections, and they just can't handle the fact that they lost. So now they all hate at the expense of the United States and it's citizens.
When Rush Limbaugh said a few months back that he "wants President Obama to fail", he also meant that he wants the United States to fail, because if the President fails, then the United States is failing. And he and the others don't care about the United States, because to them, the ends justify the means.
President Obama did not campaign for this award it was bestowed upon him, so whether you agree he has done enough to warrant such a prestigious award or not is moot, what should matter is that other countries in the world think he is deserving and we as Americans should be proud that it is our President, the President of the United States that won the Nobel Peace Prize.
A few quotes from those that love to hate America.
Taliban spokesman Zabihullah Mujahid told AFP "We have seen no change in his strategy for peace. He has done nothing for peace in Afghanistan,"…"We condemn the award of the Nobel Peace Prize for Obama," he said by telephone.
Rush Limbaugh, "I think that everybody is laughing" he said. "Our president is a worldwide joke. Folks, do you realize something has happened here that we all agree with the Taliban and Iran about and that is he doesn't deserve the award. Now that's hilarious, that I'm on the same side of something with the Taliban, and that we all are on the same side as the Taliban."
Rush doesn't even mind siding with our enemies the Taliban and Iran who hate the United States, just as long as the ends will justify his hate.
And Glenn Beck said, "He has to turn it down -- because it is such a joke -- that he'll turn it down and it's the only way for him make a win out of this," Glenn Beck. "Only his arrogance will stop him from doing it."
If it's bad for the United States, such as losing the Olympics, the right wing talking heads applaud, and if it's good for the United States, right wing talking heads demean what ever the issue may be. God bless America, because if these haters did what they do here in some other countries, they would be shot.
Here are a couple of video's from right wing talking heads showing their love of hate for the United States and it's President..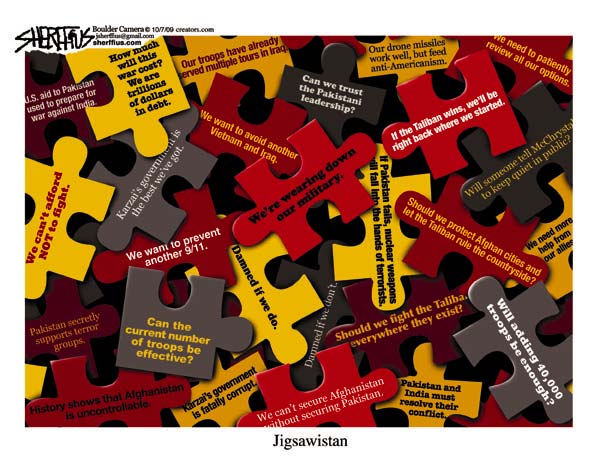 Defense secretary says president will wait for review of operations

Thousands of Marines, Special Forces could go to southern Afghanistan soon

"I think that there is a realization that some decisions have to be made," Gates says

Gates addresses report showing dramatic rise in Army suicides

From Ed Hornick
CNN

WASHINGTON (CNN) -- President Barack Obama will likely make a decision on sending additional troops to Afghanistan "in the course of the next few days," Defense Secretary Robert Gates said Tuesday.
"I think that there is a realization that some decisions have to be made ... before the strategic review is completed," Gates said at a news conference. "He has several options in front of him."
Gates, one of three Republicans appointed to Obama's Cabinet, said the administration will wait until a strategic review of military operations is complete to make decisions on "the strategies going forward."
"I worry a lot about the foreign military footprint in Afghanistan. ... I think and I hope that the strategic review that is under way will sort of point a path forward in terms of what we think the right number, the right size of the foreign military presence in Afghanistan should be," Gates added.
On Sunday, two senior Pentagon officials said decisions about withdrawing troops from Iraq and sending more troops to Afghanistan have been delayed until the Pentagon provides Obama with more detail about the risks and implications of the issues confronting him.

Watch more on the challenges Obama faces in Afghanistan »
Both officials, who asked not to be named because of the sensitivity of the issue, have a direct understanding of the discussion regarding troop withdrawals. They said that the military is not worried about the delays but that there is concern about the deteriorating levels of security in Afghanistan.
It is believed that thousands of ground combat Marines, a marine aviation unit and Army Special Forces could be sent to southern Afghanistan in the weeks ahead. The officials also confirmed that the Pentagon and U.S. Central Command are working on three Iraq combat troop withdrawal options for the president: 16 months, 19 months and 23 months.
Given the current security situation in Iraq, the U.S. can probably reduce troop level from 14 brigades to 12 by the end of the year, the officials said.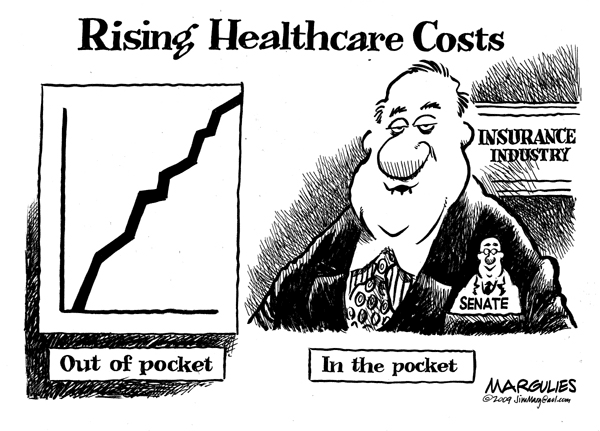 Alan Grayson (D-FL): America Cares, but the GOP does not
Grayson speaks from the House floor:
"America understands that there's one party in this country that's in favor of health care reform, and one party that's against it, and they know why," Grayson told the House.
"They understand that if Barack Obama were somehow able to cure hunger in the world, the Republicans would blame him for overpopulation," Grayson continued. "They understand that if Barack Obama were to somehow bring about world peace, they would blame him for destroying the defense industry. In fact they understand that if Barack Obama had a BLT for lunch tomorrow, they would try to ban bacon."
Watch it: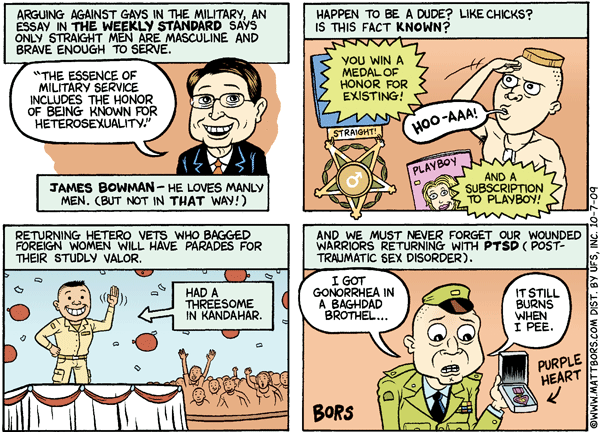 Obama: 'I Will End Don't Ask, Don't Tell'
Ben Frumin
TPM LiveWire
President Obama said Saturday night in a speech to thousands of gay rights supporters at a Human Rights Campaign event in Washington D.C. that he will end the military ban on gays.
"I will end 'don't ask, don't tell,'" the President said. "That's my commitment to you."
"We should not be punishing patriotic Americans who have stepped forward to serve this country. We should be celebrating their willingness to show such courage and selflessness on behalf of their fellow citizens, especially when we're fighting two wars."
The President did not, however, give a timetable for when such a change to the military's ban on gays might be overturned.
The President received several large rounds of applause during his speech, in which he also talked about working toward recognizing same-sex marriage and the House's widening of hate crimes legislation to include anti-gay violence.
Still, Obama said, 'despite the real gains that we've made, there's still laws to change and still hearts to open."
Obama said he had a simple message: "I'm here with you in that fight."
The President also compared the gay rights struggle to the civil rights movement. "It's not for me to tell you to be patient," Obama said, "anymore than it was for others to counsel patience to African Americans petitioning for equal rights a half century ago."
Still, the Obama administration has been criticized by some in the gay community for not moving fast enough to repeal the military ban on gays. And while Obama acknowledged that "progress may be taking longer" than some would like, he insisted that "my commitment to you is unwavering."
"Do not doubt the direction we are heading and the destination we will reach," he said.
Here's the video of Obama's speech:

WH communications director: Fox News operates as 'a wing of the Republican Party.'
thinkprogress.org
White House communications director Anita Dunn defended her recent comment to Time magazine that Fox News is "opinion journalism masquerading as news." Noting the inordinate amount of attention Fox devotes to stirring fake controversies like Bill Ayers and ACORN, Dunn explained:
The reality of it is that Fox News often operates as either the research arm or the communications arm of the Republican Party. And it's not ideological. I mean, obviously there are many commentators who are conservative, liberal, centrist, and everybody understands that. What I think is fair to say about Fox is — and certainly the way we view it — is that it really is more of a wing of the Republican Party. [...]
They're widely viewed as, you know, a part of the Republican Party — take their talking points, put them on the air, take their opposition research, put them on the air, and that's fine. But let's not pretend they're a news network they way CNN is.
Watch it:


The Leadership of the GOP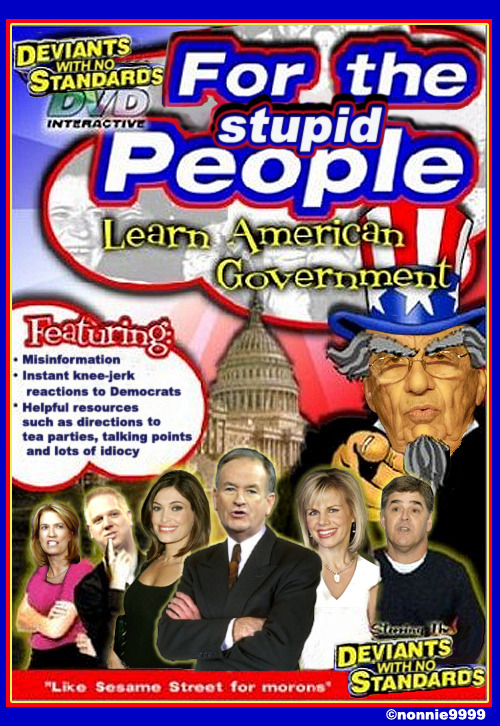 THIS WEEKS FEATURED MUSIC VIDEO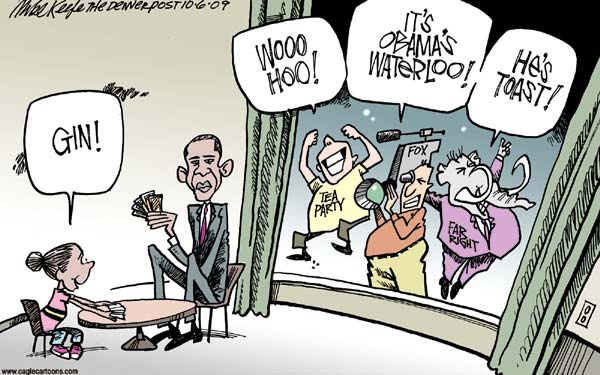 After new disclosures, word of John Ensign investigations emerges
Hampton could also face serious legal jeopardy after his revelations about Ensign's actions
By J. Patrick Coolican ,Lisa Mascaro
Nevada Sen. John Ensign faces the threat of expulsion from the U.S. Senate and possible criminal penalties, according to several legal and ethics experts interviewed by the Sun.
The New York Times reported Friday that the Republican senator faces a preliminary FBI investigation into his actions after an affair with a campaign aide who was married to his best friend, who was a top staff aide. Also, the Senate Ethics Committee is in the midst of a preliminary investigation.
The senator's latest troubles arise from a story published Friday in the Times that detailed the extraordinary lengths Ensign, 51, went to mollify Doug Hampton, his then-co-chief of staff and the husband of the Ensign campaign aide, Cynthia Hampton, with whom the senator had the affair.
As the Sun reported this summer, Ensign enlisted the help of his longtime political aide Mike Slanker, who revived his then-dormant lobbying and consulting firm November Inc., so Hampton would have a job after leaving Ensign's office.
Ensign then called on Nevada power brokers and companies, including Allegiant Air and NV Energy, to become November Inc. clients.
Hampton told the Times that Ensign assured him he would instruct chief of staff John Lopez to assist Hampton by helping the clients Ensign retained for Hampton.
Hampton has acknowledged to the Times failing to register as a lobbyist and ignoring the law banning lobbying for one year after leaving Capitol Hill, which is intended to prevent influence peddling and a revolving door between government and private interests.
Finally, as Ensign acknowledged this summer, Ensign's parents gave the Hamptons $96,000.
Ensign's office did not respond to written questions, though a spokeswoman told the Times that Ensign would cooperate with official inquiries.


VARIOUS LATE NIGHT QUOTES
"President Obama's national security adviser just said that Obama is going to overturn the military's 'Don't Ask, Don't Tell.' As a result, the signal for an enemy attack will change from 'incoming' to 'what's her problem?'" --Conan O'Brien
"There's been some squabbling in the Republican Party. In a recent interview, John McCain's former campaign manager said that if Sarah Palin is the Republican Party's presidential nominee, the results will be catastrophic -- as opposed to when she was the vice presidential nominee and everything went perfectly." --Conan O'Brien
"The other day at a political fundraiser, Speaker of the House Nancy Pelosi got to meet actor Robert Redford. And witnesses say she was flirting with him. There was an awkward moment when Pelosi winked at Redford and $4,000 worth of Botox squirted out." --Conan O'Brien
"In a global survey of the most admired countries, the United States went from number seven to number one. They don't admire us enough to give us the Olympics, but…" --Jay Leno
"And earlier in the week, President Barack Obama met with 150 doctors. He got all kinds of advice from them. This weekend, he's going to try out the tips they gave him on the golf course." --Jay Leno
"And over the weekend, the President and the First Lady celebrated their wedding anniversary. They went out to dinner. There were no gifts exchanged. They didn't exchange any gifts because, as you know, that would be socialism." --Jay Leno
"And President Obama had a very tense 25-minute meeting aboard Air Force One last week with General McChrystal, our top general in Afghanistan. And apparently, McChrystal gave a speech in London last week very critical of Obama's policies in Afghanistan. And Obama was not happy. In fact, he considers it so important, he's thinking about canceling his upcoming appearance on 'Ellen.'" --Jay Leno
"President Obama's national security advisor said the President will overturn the 'Don't Ask, Don't Tell' policy in the military. Well I think that's good. I think gay people should be allowed to serve in the military. It seems ridiculous if they're not. And listen to this. They'll be able to keep the same slogan, an 'Army of One — Singular Sensation.'" --Jay Leno
"No, it is not a joke. I'm not kidding! Right now, a Centaur missile is hurtling through space, headed for the moon's south pole. And I for one would just like to say how awesome that is!" --Craig Ferguson
"We could make a ton of money if they find water on the moon. Can you imagine how much showbiz weasels in L.A. would pay for moon water?" --Craig Ferguson
"Today marked the eighth anniversary of the start of the war in Afghanistan. Dick Cheney celebrated by champagne boarding himself." --Jimmy Fallon
"So what NASA is doing, they're crashing a rocket, which will have the energy of two tons of TNT It's part of NASA's new strategy, 'What would Wile E. Coyote do?'" --Jimmy Fallon

This Week in God!!!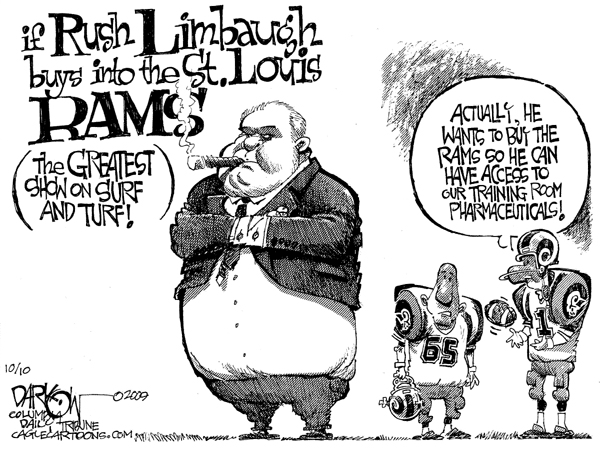 Birthers question Jesus place of birth-demand certificate
Written by b kenneth mcgee
In a stunning announcement that surely will raise an outcry from many mainstream religeous leaders a spokesman for The Birther movement has isuead a statement that maintains that Jesus was not born in Bethlehem in Jerusalem as has been believed for over two thousand years.
"He was NOT born in THAT Bethlehem says the spokesman for the group. He was born in Bethlehem Pennsylvania, he certainly was NOT a JEW, and his father was NOT Joseph, the carpenter, but Joseph the Plumber.
We now know that his real name was Jim McCorkle, he was a blue eyed blonde person who walked the hills of Pensylvania and West Virgina spreading the gospel. He was NOt some dark skinned a-Rab who dressed like a sissy. The Hollywood and New York JEWS, faggots and commies have sold the myth of this here Jesus for too long. Let them show a REAL birth certificate for this guy. We don't think they can......and We say to all REAL Americans.....
It is time to put Jim McCorkle back into Christmas!"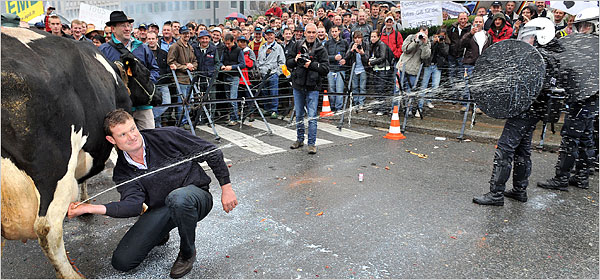 YodasWorld.org is updated each Monday. Some of the items from the previous week are added to the various topic links on the left side of the main page. Links embedded should be good for at least the date posted. After the posting date, link reliability depends on the policy of the linked sites. Some sites require visitors to register before allowing access to articles. Material presented on this page represent the opinion's of YodasWorld.org.
Copyright 2000-2009 YodasWorld.org. All rights reserved on original works. Material copyrighted by others is used either with permission or under a claim of "fair use."