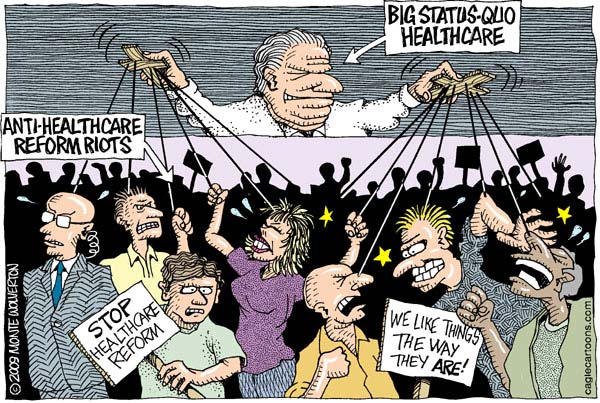 Why We Need Health Care Reform
By BARACK OBAMA
August 19, 2009
NYT
Our nation is now engaged in a great debate about the future of health care in America. And over the past few weeks, much of the media attention has been focused on the loudest voices. What we haven't heard are the voices of the millions upon millions of Americans who quietly struggle every day with a system that often works better for the health-insurance companies than it does for them.
These are people like Lori Hitchcock, whom I met in New Hampshire last week. Lori is currently self-employed and trying to start a business, but because she has hepatitis C, she cannot find an insurance company that will cover her. Another woman testified that an insurance company would not cover illnesses related to her internal organs because of an accident she had when she was 5 years old. A man lost his health coverage in the middle of chemotherapy because the insurance company discovered that he had gallstones, which he hadn't known about when he applied for his policy. Because his treatment was delayed, he died.
I hear more and more stories like these every single day, and it is why we are acting so urgently to pass health-insurance reform this year. I don't have to explain to the nearly 46 million Americans who don't have health insurance how important this is. But it's just as important for Americans who do have health insurance.
There are four main ways the reform we're proposing will provide more stability and security to every American.
First, if you don't have health insurance, you will have a choice of high-quality, affordable coverage for yourself and your family — coverage that will stay with you whether you move, change your job or lose your job.
Second, reform will finally bring skyrocketing health care costs under control, which will mean real savings for families, businesses and our government. We'll cut hundreds of billions of dollars in waste and inefficiency in federal health programs like Medicare and Medicaid and in unwarranted subsidies to insurance companies that do nothing to improve care and everything to improve their profits.
Third, by making Medicare more efficient, we'll be able to ensure that more tax dollars go directly to caring for seniors instead of enriching insurance companies. This will not only help provide today's seniors with the benefits they've been promised; it will also ensure the long-term health of Medicare for tomorrow's seniors. And our reforms will also reduce the amount our seniors pay for their prescription drugs.
Lastly, reform will provide every American with some basic consumer protections that will finally hold insurance companies accountable. A 2007 national survey actually shows that insurance companies discriminated against more than 12 million Americans in the previous three years because they had a pre-existing illness or condition. The companies either refused to cover the person, refused to cover a specific illness or condition or charged a higher premium.
We will put an end to these practices. Our reform will prohibit insurance companies from denying coverage because of your medical history. Nor will they be allowed to drop your coverage if you get sick. They will not be able to water down your coverage when you need it most. They will no longer be able to place some arbitrary cap on the amount of coverage you can receive in a given year or in a lifetime. And we will place a limit on how much you can be charged for out-of-pocket expenses. No one in America should go broke because they get sick.
Most important, we will require insurance companies to cover routine checkups, preventive care and screening tests like mammograms and colonoscopies. There's no reason that we shouldn't be catching diseases like breast cancer and prostate cancer on the front end. It makes sense, it saves lives and it can also save money.
This is what reform is about. If you don't have health insurance, you will finally have quality, affordable options once we pass reform. If you have health insurance, we will make sure that no insurance company or government bureaucrat gets between you and the care you need. If you like your doctor, you can keep your doctor. If you like your health care plan, you can keep your health care plan. You will not be waiting in any lines. This is not about putting the government in charge of your health insurance. I don't believe anyone should be in charge of your health care decisions but you and your doctor — not government bureaucrats, not insurance companies.
The long and vigorous debate about health care that's been taking place over the past few months is a good thing. It's what America's all about.
But let's make sure that we talk with one another, and not over one another. We are bound to disagree, but let's disagree over issues that are real, and not wild misrepresentations that bear no resemblance to anything that anyone has actually proposed. This is a complicated and critical issue, and it deserves a serious debate.
Despite what we've seen on television, I believe that serious debate is taking place at kitchen tables all across America. In the past few years, I've received countless letters and questions about health care. Some people are in favor of reform, and others have concerns. But almost everyone understands that something must be done. Almost everyone knows that we must start holding insurance companies accountable and give Americans a greater sense of stability and security when it comes to their health care.
I am confident that when all is said and done, we can forge the consensus we need to achieve this goal. We are already closer to achieving health-insurance reform than we have ever been. We have the American Nurses Association and the American Medical Association on board, because our nation's nurses and doctors know firsthand how badly we need reform. We have broad agreement in Congress on about 80 percent of what we're trying to do. And we have an agreement from the drug companies to make prescription drugs more affordable for seniors. The AARP supports this policy, and agrees with us that reform must happen this year.
In the coming weeks, the cynics and the naysayers will continue to exploit fear and concerns for political gain. But for all the scare tactics out there, what's truly scary — truly risky — is the prospect of doing nothing. If we maintain the status quo, we will continue to see 14,000 Americans lose their health insurance every day. Premiums will continue to skyrocket. Our deficit will continue to grow. And insurance companies will continue to profit by discriminating against sick people.
That is not a future I want for my children, or for yours. And that is not a future I want for the United States of America.
In the end, this isn't about politics. This is about people's lives and livelihoods. This is about people's businesses. This is about America's future, and whether we will be able to look back years from now and say that this was the moment when we made the changes we needed, and gave our children a better life. I believe we can, and I believe we will.
Six Lobbyists Per Lawmaker Work on Health Overhaul
By Jonathan D. Salant and Lizzie O'Leary
Aug. 14 , 2009
B
loomberg-- If there is any doubt that President
Barack Obama
's plan to overhaul U.S. health care is the hottest topic in Congress, just ask the 3,300 lobbyists who have
lined up
to work on the issue.
That's six lobbyists for each of the 535 members of the House and Senate, according to Senate records, and three times the number of people registered to lobby on defense. More than 1,500 organizations have health-care lobbyists, and about three more are signing up each day. Every one of the 10 biggest lobbying firms by revenue is involved in an effort that could affect 17 percent of the U.S. economy.
These groups spent $263.4 million on lobbying during the first six months of 2009, according to the Center for Responsive Politics, a Washington-based research group, more than any other industry. They spent $241.4 million during the same period of 2008. Drugmakers alone spent $134.5 million, 64 percent more than the next biggest spenders, oil and gas companies.
"Whenever you have a big piece of legislation like this, it's like ringing the dinner bell for K Street," said Bill Allison, a senior fellow at the Sunlight Foundation, a Washington-based watchdog group, referring to the street in the capital where many lobbying firms have offices.
Stephen Hawking both British and not dead
In perhaps the most amusing effort to discredit US President Barack Obama's plan for nationalized health care - if not the most ridiculous - US financial newspaper Investor's Business Daily has said that if Stephen Hawking were British, he would be dead.
"The controlling of medical costs in countries such as Britain through rationing, and the health consequences thereof, are legendary," read a recent editorial from the paper. "The stories of people dying on a waiting list or being denied altogether read like a horror script...
"People such as scientist Stephen Hawking wouldn't have a chance in the UK, where the National Health Service would say the life of this brilliant man, because of his physical handicaps, is essentially worthless."
The paper has since been notified that Hawking is both British and still among the living. And it has edited the editorial, acknowledging that the original version incorrectly represented the whereabouts of perhaps the world's most famous scientific mind. But it has not acknowledged that its mention of Hawking misrepresented the NHS as well.
"I wouldn't be here today if it were not for the NHS," Hawking told The Guardian. "I have received a large amount of high-quality treatment without which I would not have survived."
The best you can say about Investor's Business Daily is that unlike US radio talk host Rush Limbaugh, it has not compared Obama's health care logo to a swastika.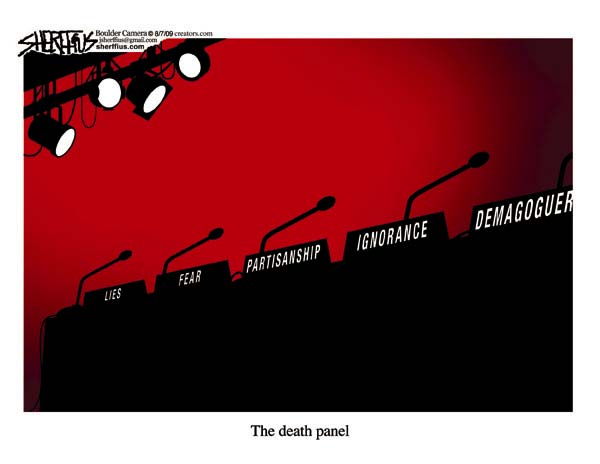 Robert Gibbs this past Sunday on "Face the Nation"
Sunday morning, press secretary Robert Gibbs appeared on "Face the Nation" and stressed that the White House still supports a "public option," to introduce competition to the insurance industry and to lower prices.
When CBS anchor Harry Smith asked Gibbs the same question that King lobbed at Sebelius - "Does the president have to have a government-sponsored or government-run insurance plan in order for him to sign off on this, or is this a deal breaker?" - Gibbs was more emphatic about Obama's support for the public option:
GIBBS: Well, Harry, what the president has always talked about is that we inject some choice and competition into the private insurance market. There are places in this country, unfortunately, where if you don't get insurance through your job and you are seeking it on the private insurance market, you don't have any choice but one health insurance company. What the president has said, in order to inject choice and competition, which will drive down costs and improve quality, that people ought to be able to have some competitor in that market. There ought to be a choice that they have. The president has thus far sided with the notion that that can best be done through a public option.


SMITH: ... a hedge?

GIBBS: No, no, no. What I am saying is the bottom line for this for the president is, what we have to have is choice and competition in the insurance market. Again, if you are in a place in this country where you only get one choice, how in the world are you going to be able to convince anybody that you are driving down costs when you don't have to compete against anything?
WATCH:

White House health care reform spokeswoman Linda Douglass
This past Sunday afternoon, White House health care reform spokeswoman Linda Douglass also emphasized the president's support of the public option, echoing Gibbs' comments and declaring that "nothing has changed."
In an email to Politico, she wrote:
"Nothing has changed," said Linda Douglass, communications director for the White House Office of Health Reform. "The president has always said that what is essential is that health insurance reform must lower costs, ensure that there are affordable options for all Americans and it must increase choice and competition in the health insurance market. He believes the public option is the best way to achieve those goals."
And on Sunday night, The Atlantic's Marc Ambinder wrote that an administration official told him that Sebelius "misspoke" in underplaying the importance of the "public option":
An administration official said tonight that Health and Human Services Secretary Kathleen Sebelius "misspoke" when she told CNN this morning that a government run health insurance option "is not an essential part" of reform. This official asked not to be identified in exchange for providing clarity about the intentions of the President. The official said that the White House did not intend to change its messaging and that Sebelius simply meant to echo the president, who has acknowledged that the public option is a tough sell in the Senate and is, at the same time, a must-pass for House Democrats, and is not, in the president's view, the most important element of the reform package.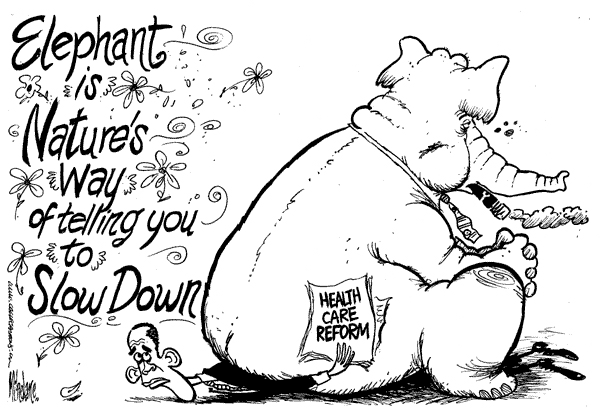 New study: income inequality is at an all-time high.
A recent update to a research paper by University of California, Berkeley economist Emmanuel Saez has found that income inequality is worse than it has ever been in the United States:
As of 2007, the top decile of American earners, Saez writes, pulled in 49.7 percent of total wages, a level that's "higher than any other year since 1917 and even surpasses 1928, the peak of stock market bubble in the 'roaring" 1920s.'"
Beginning in the economic expansion of the early 1990s, Saez argues, the economy began to favor the top tiers American earners, but much of the country missed was left behind. "The top 1 percent incomes captured half of the overall economic growth over the period 1993-2007," Saes writes.
Commenting on the numbers in the updated report, Nobel laureate economist and New York Times Paul Krugman writes, "they're truly amazing."

Do You Want Health Care at affordable costs? Do you Want those Uninsured to have access to affordable Health Care?
If your answer is yes to both of these questions, then send them an E-Mail, or give them a call...
Blue Dog Leadership Team
Rep. Stephanie Herseth Sandlin (SD), Blue Dog Co-Chair for Administration
Rep. Baron Hill (IN-09), Blue Dog Co-Chair for Policy
Rep. Charlie Melancon (LA-03), Blue Dog Co-Chair for Communications
Rep. Heath Shuler (NC-11), Blue Dog Whip
Blue Dog Members
Altmire, Jason (PA-04)
Arcuri, Mike (NY-24)
Baca, Joe (CA-43)
Barrow, John (GA-12)
Berry, Marion (AR-01)
Bishop, Sanford (GA-02)
Boren, Dan (OK-02)
Boswell, Leonard (IA-03)
Boyd, Allen (FL-02)
Bright, Bobby (AL-02)
Cardoza, Dennis (CA-18)
Carney, Christopher (PA-10)
Chandler, Ben (KY-06)
Childers, Travis (MS-01)
Cooper, Jim (TN-05)
Costa, Jim (CA-20)
Cuellar, Henry (TX-28)
Dahlkemper, Kathy (PA-03)
Davis, Lincoln (TN-04)
Donnelly, Joe (IN-02)
Ellsworth, Brad (IN-08)
Giffords, Gabrielle (AZ-08)
Gordon, Bart (TN-06)
Griffith, Parker (AL-05)
Harman, Jane (CA-36)
Herseth Sandlin, Stephanie (SD)
Hill, Baron (IN-09)
Holden, Tim (PA-17)
Kratovil, Jr., Frank (MD-01)
McIntyre, Mike (NC-07)
Marshall, Jim (GA-03)
Matheson, Jim (UT-02)
Melancon, Charlie (LA-03)
Michaud, Mike (ME-02)
Minnick, Walt (ID-01)
Mitchell, Harry (AZ-05)
Moore, Dennis (KS-03)
Murphy, Patrick (PA-08)
Nye, Glenn (VA-02)
Peterson, Collin (MN-07)
Pomeroy, Earl (ND)
Ross, Mike (AR-04)
Salazar, John (CO-03)
Sanchez, Loretta (CA-47)
Schiff, Adam (CA-29)
Scott, David (GA-13)
Shuler, Heath (NC-11)
Space, Zack (OH-18)
Tanner, John (TN-08)
Taylor, Gene (MS-04)
Thompson, Mike (CA-01)
Wilson, Charles (OH-06)
Contact the Blue Dogs:
Kristen Hawn
Communications Director
BlueDog@mail.house.gov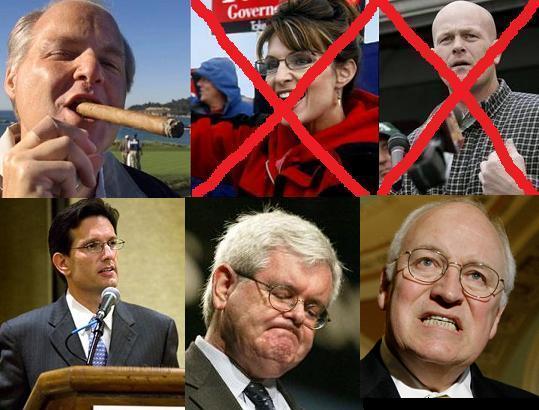 The Leadership of the GOP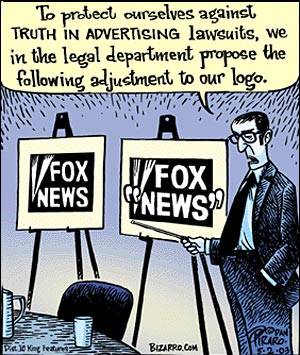 As ThinkProgress has previously noted, Fox News regularly attacks efforts to reform the health care system. Now, a new report by Media Matters shows that "opponents of health care reform outnumber supporters by 6-to-1 margin" on Fox News. The report examined the coverage on August 11 and 12: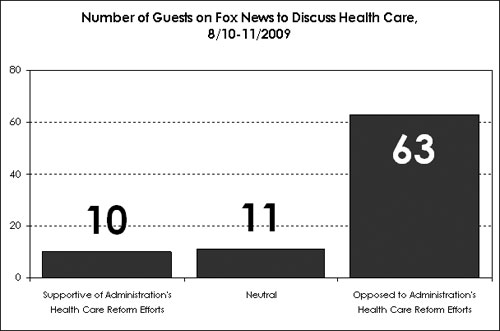 Mediaite's Steve Krakauer noted yesterday that Fox's coverage of congressional town halls during the August recess has been "
clearly unfair
." Krakauer writes that Fox's coverage "is entirely one-sided and has been during this entire summer."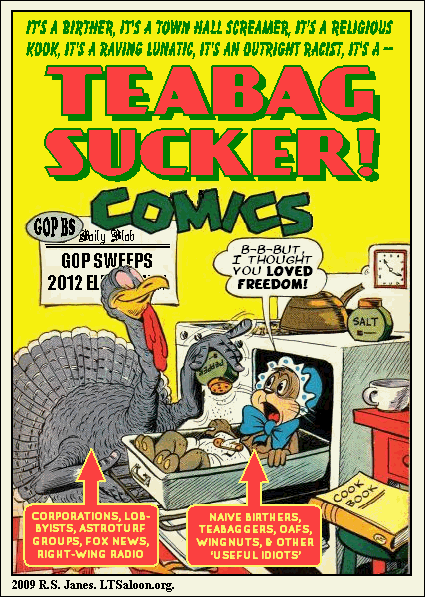 The GOP's spreading big lies
To ensure that our health reform dies:
"The bill will kill gran —
Shorten seniors' life span."
Their goal? Cut Barack down to size.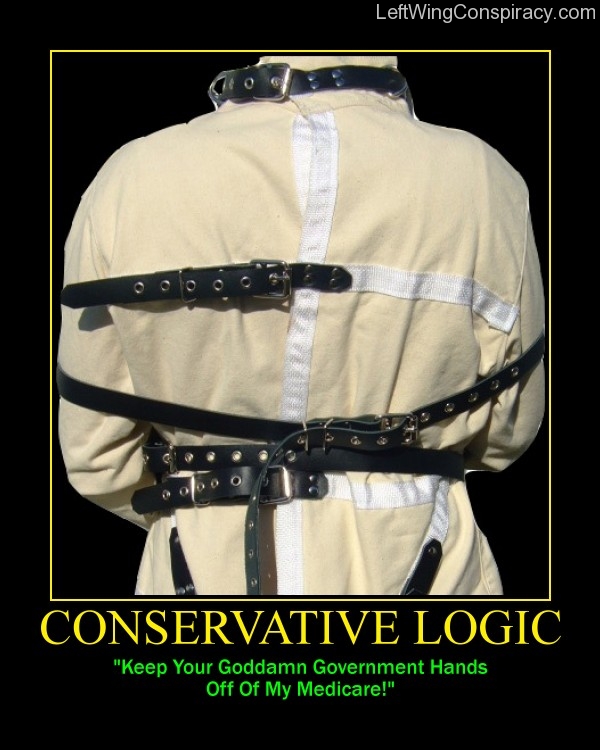 CNN boots 'noisy,' 'predictable' radio hosts off its shows
Radio talk show hosts offer little more than "noise" and "predictable" opinions -- so they won't be invited to talk on CNN shows anymore, says an exclusive report at MediaBistro's TV Newser blog.
Blogger Chris Arlens reports: "TVNewser has learned, and a CNN spokesperson confirms, that in his morning editorial meeting today, CNN/U.S. president Jon Klein asked his show producers to avoid booking talk radio hosts."
Continues Arlens, "'Complex issues require world class reporting,' Klein is quoted as saying, adding that talk radio hosts too often add to the noise, and that what they say is 'all too predictable.'"
Arlens points out that several of the news network's hosts and regular contributors host radio shows, most notably Lou Dobbs, but "they are presumably not affected by this."
Susie Madrak at Crooks and Liars opines, "Although we didn't get rid of Lou Dobbs, it looks like the stink we raised is having an impact."
Dobbs has recently been the target of media watchdog groups who have raised the alarm about his coverage of the birther controversy, a story that even Dobbs' own boss doesn't want the CNN host covering.
TV Newser names a few of the people it expects will no longer be appearing on CNN thanks to its new policy: liberal talk show host Stephanie Miller and conservative radio hosts Michael Medved and Ben Ferguson are singled out.
-- Daniel Tencer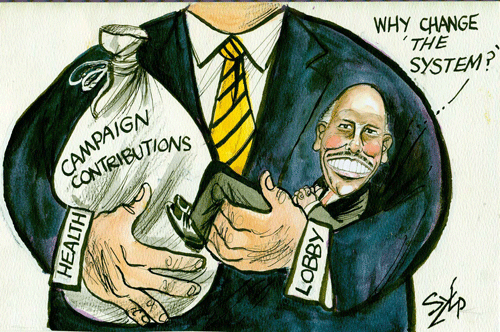 Steele: It was 'proper' for Sarah Palin to fearmonger about 'death panels.'
On Fox News today, RNC Chairman Michael Steele became the latest right-wing figure to endorse former Alaska governor Sarah Palin's ludicrously false claim that health care reform will contain "death panels." "I think that's perfectly appropriate," said Steele:
CAVUTO: Now obviously in this environment a lot of vitriol comes forth. Michael, I just wanted to get your reaction to some of your co-party members, former Alaska governor Palin, who calls these panels that are essentially going to be dispensing care or deciding it, death panels. That sort of thing — is that proper? Is that right?
STEELE: Well, I think it's, I think it's proper because its within the context of what people are seeing in some of the legislation that's floating around out there. When you're talking about panels that are going to be imposed, that will be making life and death decisions, that will be making decisions about whether or not you get health care or don't receive health care. I think that's perfectly appropriate.
Watch it:
GLENN BECKS OPERATION...STEWART

THIS WEEKS FEATURED MUSIC VIDEO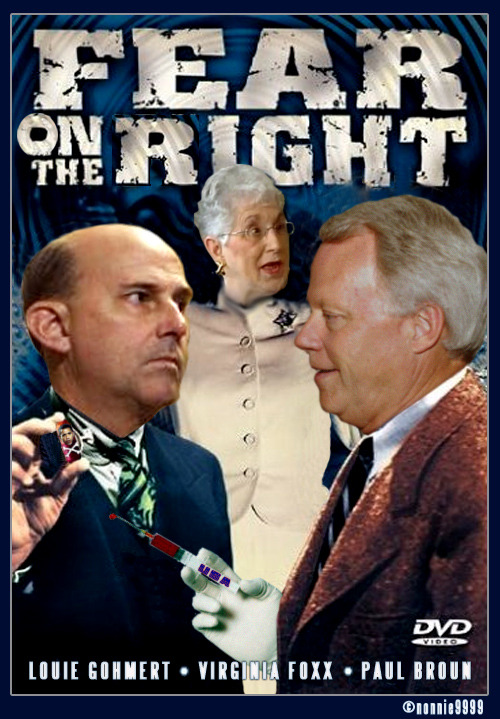 Glenn-Harried Glenn-Lost...COLBERT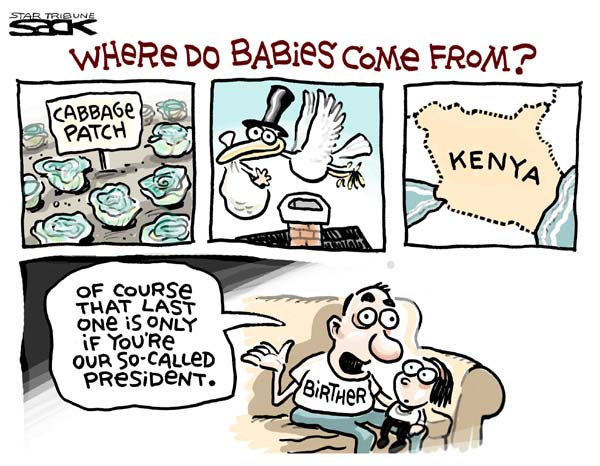 The federal government's new "Cash for Clunkers" program got off to a rousing start over the past two weeks, with some new-car dealers reporting dozens of deals completed in just the first few days.
Officially, the program began July 24 when the government released the final rules. The first flurry of activity kicked in over the first week — when the program came close to running out of money — and is continuing now only because of an infusion of $2 billion more, approved by Congress.
The new money, which raises the total appropriated for the program to $3 billion, should fund the program at least through September, the program's administrators say. The money should be enough for about 750,000 total clunker trades.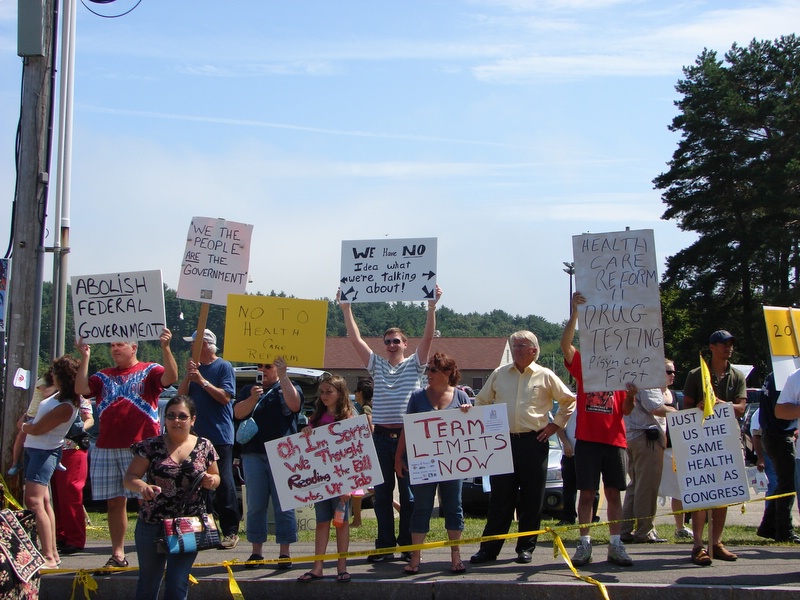 Translating Sarah
By Madeleine Begun Kane
The media's mean, so I quit:
(That's the message that Palin has writ.)
And you don't need a title
To do something vital.
I'm betting she runs against Mitt.


VARIOUS LATE NIGHT QUOTES
"President Obama has been explaining his healthcare plan now to senior citizens. And yesterday, at a town hall meeting, he promised the crowd that he will not, quote, 'pull the plug on Grandma.' Then, there was an awkward moment when Grandpa stood up and booed." --Conan O'Brien
"Yesterday, GM announced they'll be releasing a car that gets 230 miles a gallon. And today, Nissan said their new car's going to get 367 miles a gallon. It's crazy." --Conan O'Brien
"In a related story, Toyota just announced their new car will get 500 miles per gallon, plant rain forests, and give birth to endangered pandas. So, that's the one you want." --Conan O'Brien
"According to a new report that just came out, NASA doesn't have enough money to track all the giant asteroids that could crash into Earth. NASA says we shouldn't worry though because they've given the job to Bruce Willis and Ben Affleck." --Conan O'Brien
"During his town hall meeting in New Hampshire yesterday, President Obama tried to make a point about private companies and the government providing the same services. He said UPS and FedEx are doing just fine; it's the Post Office that's always having problems. That's probably going to anger some postal workers but what's the worst that could happen?" --Jimmy Fallon
"But at the same meeting, he said twice that the AARP supports his healthcare plan, even though the AARP hasn't endorsed it. He's probably thinking of that other senior citizens group. What's the name? Oh, yeah, Congress." --Jimmy Fallon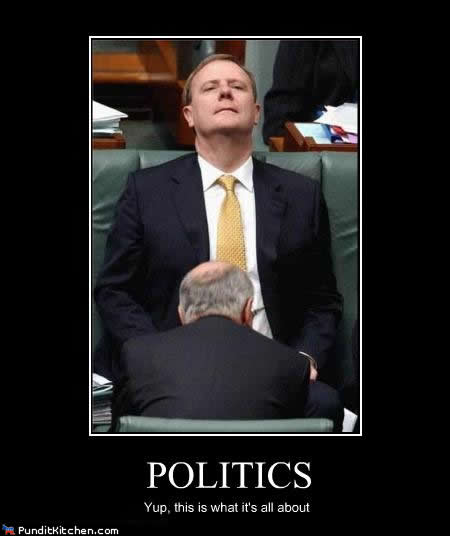 This Week in God!!!
US Senators Tied to Religious Cult...
The powerful and secretive group known as the Fellowship Foundation or the "Family" is quickly gaining notoriety, due to its links to two scandal-plagued Republicans, Senator John Ensign of Nevada and Governor Mark Sanford of South Carolina.
According to the Washington Post, however, the Fellowship Foundation is itself linked to an even more secretive religious organization — Youth With a Mission (YWAM), whose Washington, DC branch owns the "C Street House" where Ensign has lived and where Sanford has participated in Bible study.
A diarist at Daily Kos points out that "YWAM founder leader Loren Cunningham has publicly outlined a vision for Christian world-control," which involves establishing domination over government, education, business, the media, and other areas.


Click here,If you have any Pictures, News articles, or Questions,that you would like to send or ask me.

YodasWorld.org is updated each Monday. Some of the items from the previous week are added to the various topic links on the left side of the main page. Links embedded should be good for at least the date posted. After the posting date, link reliability depends on the policy of the linked sites. Some sites require visitors to register before allowing access to articles. Material presented on this page represent the opinion's of YodasWorld.org.
Copyright 2000-2009 YodasWorld.org. All rights reserved on original works. Material copyrighted by others is used either with permission or under a claim of "fair use."