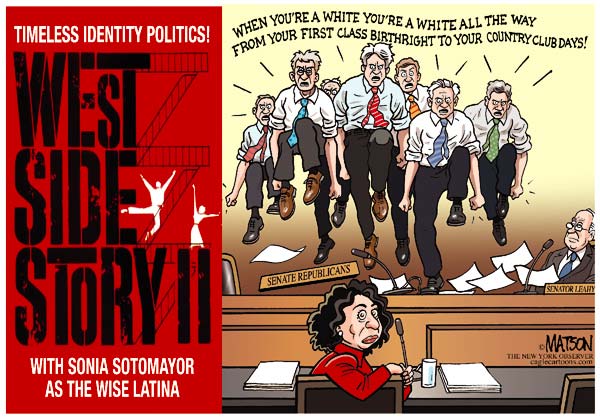 Senate Expected to Confirm Sotomayor this Week
By: David Phillips
August 3, 2009
Last week the Senate Judiciary Committee approved President Obama's Supreme Court nominee Sonia Sotomayor by a 13-6 vote, and this week the full Senate is expected to vote and to confirm her nomination before heading into the August recess.
A handful of Republicans have said that they will vote yes to confirm Sotomayor, but the majority of the Senate Republican's plan to vote no because of their disproval of her "wise Latina women" comment that she made more than ten years ago.
What the Republicans on the judiciary committee had showed during the confirmation hearings was that they themselves are racists. They didn't care that she's the most qualified and experience nominee for the Supreme Court in fifty years, and with more experience than Bush's two nominee's, Chief Justice Roberts and Justice Alito put together, no, all they wanted to talk about was her RACE and that she was a Latina women.
To try and cover their racism they have been screaming "reverse racism", you know, minorities have kept the white man under their thumbs and have prevented white men from advancements in their particular fields for decades.
They were more concerned with her statement then the more than 3000 rulings that she had made while on the Federal bench.
Republicans have been quick to point out that we have a Black man in the White House, a Black man as the Attorney General and now we are going to have a Latina woman on the Supreme Court.
The Supreme Court is currently a right leaning court with five of the nine justices usually voting in favor of conservative positions. Sotomayor who with be replacing Justice David Souter who retired at the end of the last Supreme Court session is expect to be one of the four left leaning justices if she is confirmed.
In the end, not much is expected to change with the issues that currently divide the court. What we have seen and found during the hearings is that Republicans only prefer colors similar to themselves.
Update:
Senate votes to confirm Sotomayor: 68-31
August 6, 2009
By a vote of 68-31, Sonia Sotomayor was confirmed by the US Senate late Thursday afternoon.
With this historic vote, Sotomayor will now become the Supreme Court's 111th justice. She is also the first Hispanic justice, and only the third female justice in the court's history.
She is slated to be sworn in on Friday, and President Obama
said he was "pleased and gratified" with the vote.
"I'm filled with pride in this achievement and with great confidence that Judge Sotomayor will make a great justice," Obama added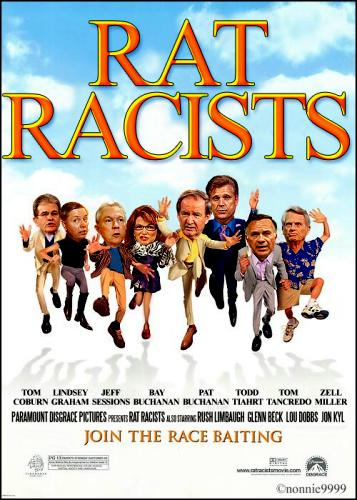 Blue Dog Democrats helping to slow Health Care Reform
Congressional Quarterly Today:
"Democrats in the Blue Dog Coalition might have drawn the ire of party liberals for putting the brakes on the fast-moving health care overhaul, but their political action committee has been raking in contributions from business interests with an eye on reshaping President Obama's signature initiative.
"The Blue Dog Political Action Committee has collected $1.1 million for the 2010 election cycle, more than any other leadership political action committee on Capitol Hill, according to CQ MoneyLine.
"The total includes about $300,000 from health care interests, including $158,000 from doctors and other provider groups; $87,000 from makers of drugs and medical devices; and $50,000 from health insurance interests."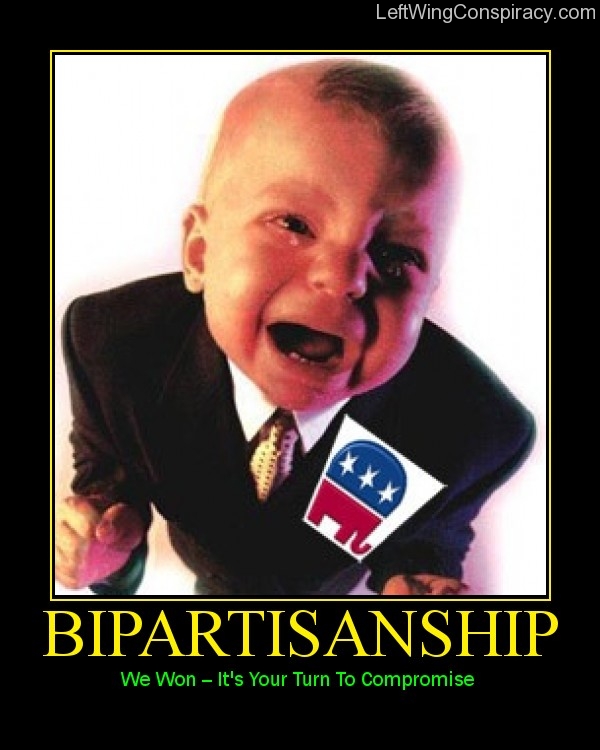 Top Ten Things Overheard At The White House Beer Summit...Dave Letterman
10. "Don't worry, Biden will clean up the empties"
9. "Guys stop me if I try to drunk dial Nancy Pelosi"
8. "Smoking, drinking. Suddenly our president is Artie Lange"
7. "Let's call Limbaugh and take this party to the next level"
6. "I feel dizzy and confused — just like Bush! Hi-yoo!"
5. "I don't want to freak anybody out, but I just saw Nixon walking down the hall"
4. "Tell Geithner to put his shirt on"
3. "Sen. Larry Craig asked if he could have his beer brought to the men's room"
2. "You guys wanna see where Clinton used to get freaky?"
1. "Excuse me while I take a presidential leak"

The Dictator Hugo Chavez contiunes to Silence Critics
By MATT MOFFETT
Venezuelan radio broadcasters vowed to fight a move by President Hugo Chávez to yank the signals of 34 stations in a growing government crackdown on independent media.
The Venezuelan government forced a Caracas radio station, CNB, to go off the air on Saturday. Thirty-three other stations have also been told they must stop transmitting because they failed to comply with licensing regulations. Courtesy of Reuters.
The shutdown of the radio stations, which the government accused of licensing irregularities, came as Mr. Chávez pressed legislation to punish so-called media crimes with prison sentences of up to four years. Human-rights groups criticized the government for trying to strangle dissent as the president moves to impose a socialist economic model.
Nelson Belfort, director of the Venezuelan Radio Broadcasting Chamber and owner of one of the affected stations, said he will appeal the president's move. In the meantime, some of the stations said they will try to continue broadcasting via the Internet.
Mr. Chávez defended the move against the stations and said "the radio broadcasters now belong to the people and not the bourgeoisie." Some 200 other stations are under investigation and face the prospect of losing their licenses.
The action against the radio operators follows Attorney General Luisa Ortega Díaz's introduction Thursday of a measure in the Venezuelan legislature called the Special Law Against Media Crimes. The bill would prescribe up to four years in jail for those using the media to provide "false" information that causes panic or produces "damage to the interests of the state."
Earlier in July, the government announced other restrictive measures, including pulling from the airwaves television and radio advertisements that were critical of the government's legislative proposals and proposing a new law forcing cable television channels to make live broadcasts of Mr. Chávez's speeches.
José Miguel Vivanco, Americas director at Human Rights Watch, called the actions "the most comprehensive assault on free speech in Venezuela since Chávez came to power," in 1999.
The move to close the radio stations came as a jolt to broadcasters such as Caracas station CNB 102.3 FM, run by Mr. Belfort. Early Saturday morning, three regulators from the Venezuelan communications agency showed up with a notification that the station would have to go off the air, CNB officials said. The station manager barely had time to play the national anthem before the signal was yanked. Some residents in the station's neighborhood gathered to protest the move. CNB continued to broadcast over the Internet.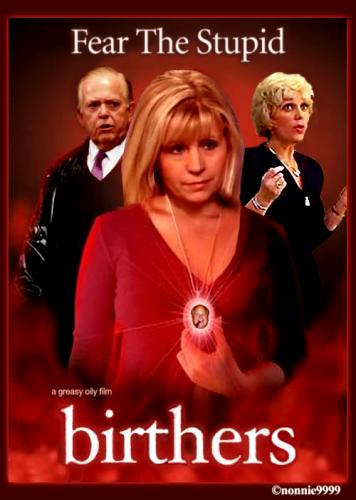 Take back KBR bonuses, senators urge Pentagon
* Story Highlights
* Military contractor has been awarded $83.4 million for its electrical work in Iraq
* Dems ask to reclaim bonuses in light of report blaming KBR in part for death
* Report says KBR failed to ground water pump, leading to soldier's electrocution
* KBR defends its performance, says safety and security is its "top priority"
From Abbie Boudreau and Scott Bronstein
CNN Special Investigations Unit
WASHINGTON (CNN) -- Two Democratic senators called on the Pentagon to take back more than $83 million in bonuses paid to military contractor KBR after a Defense Department report criticized its electrical work on U.S. bases overseas.
"I want them to tell us on what basis can they possibly continue to justify having paid $83 million of the taxpayers' money for shoddy work that resulted in risk to our soldiers," Sen. Byron Dorgan of North Dakota told reporters Friday.
Dorgan said he and Sen. Bob Casey of Pennsylvania are pressing Defense Department officials to reclaim $83.4 million in bonus payments it awarded KBR for its work in Iraq.
Based on the findings of a report issued Monday by the Defense Department's inspector general on the electrocution deaths of U.S. troops in Iraq, Casey said the Pentagon should fine KBR and "make it hurt and make it count."
"These are just absolutely stunning conclusions about failures by KBR as well as failures by our government," Casey said.
The Houston,Texas-based military contractor defended its performance, saying Friday that Dorgan and Casey "are wrong in their assertion that we have been derelict in our duties to protect the troops."
"The safety and security of all employees and those the company serves remains KBR's top priority," KBR spokeswoman Sarah Engdahl said in a statement.
The Pentagon report concluded that the death of Staff Sgt. Ryan Maseth, a decorated Green Beret from Pennsylvania, stemmed from failures both by the U.S. military and by KBR. The company did not properly ground and inspect electrical equipment, the report found, while Maseth's commanders failed to ensure renovations to the building where he was quartered had been properly done and the Army did not set electrical standards for jobs or contractors.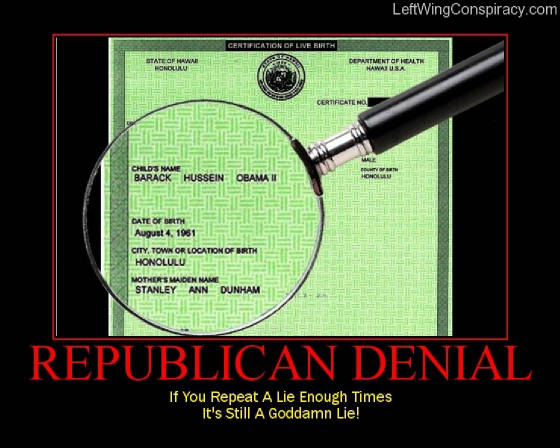 ExxonMobil profit slumps 66 pct to 3.95 bln dlrs

AFP

E

xxonMobil said Thursday its second quarter profit slid 66 percent from a year ago, reflecting a tumble in energy prices from last year's record highs, to 3.95 billion dollars.
The net earnings also reflected special charges linked to damages paid for the 1989 Exxon Valdez oil spill that despoiled the Alaskan coast.
Excluding special items, the profit amounted to 81 cents a share, below analyst forecasts for a profit of 1.02 dollars per share.
Revenues also fell sharply from a year ago, sliding 46 percent to 74.45 billion dollars, but were better than Wall Street forecasts of 71.29 billion.
"Global economic conditions continue to impact the energy industry both in the volatility of commodity prices and reduced demand for products," said chairman Rex Tillerson.
"In spite of these challenges, ExxonMobil achieved solid results. We continued our capital investment program at near record levels while returning over 16 billion dollars to our shareholders during the first half of the year."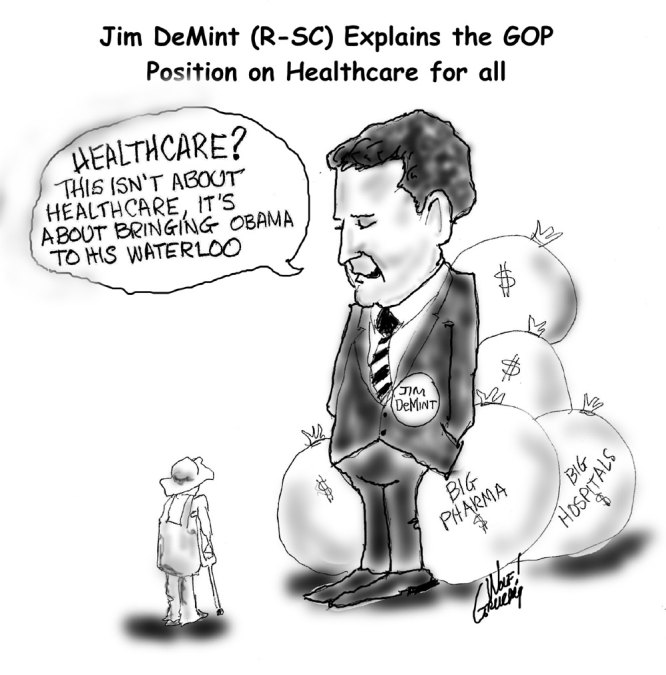 The Free Market is Dead...
Deregulation and Greed there is no real free market, the free market controls the market in most every industry...Energy, food, healthcare, etc, the free market was gobble up and all that are left are behemoth corps in each major industry that collude to control price because the competition has been gobbled up...
Deregulation, the root that is all bad about a TRUE free market, I know that doesn't make sense regulations and FREE markets, but it is clear to everyone that a market left to its own rule will F#%K YOU IN THE ASS...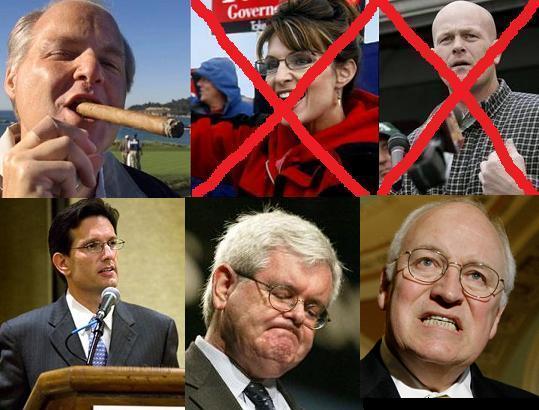 The Leadership of the GOP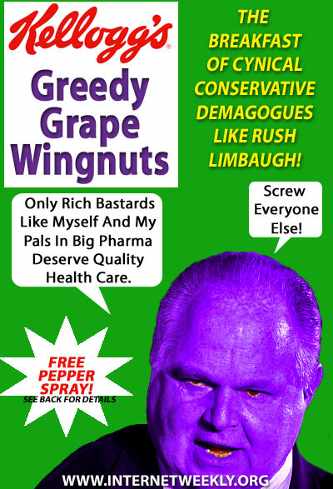 Malkin distorts Michelle Obama biography to attack her and her father as corrupt
In her new book, Culture of Corruption, conservative columnist Michelle Malkin claims that first lady Michelle Obama "was literally born into the Chicago political corruptocracy," suggesting that because her father was a volunteer precinct captain and held a city job, she was a party to cronyism and embraced the practice. In fact, the biography of Michelle Obama that Malkin cites to make this case actually argued that the first lady's experience in the "powerful political machine" of Richard J. Daley made her and her family "extremely cynical about politics and politicians" until they met "Barack [Obama], whose political career was pushed in part by a coalition of people who had grown up in opposition to Daley and whose goal was breaking the Machine."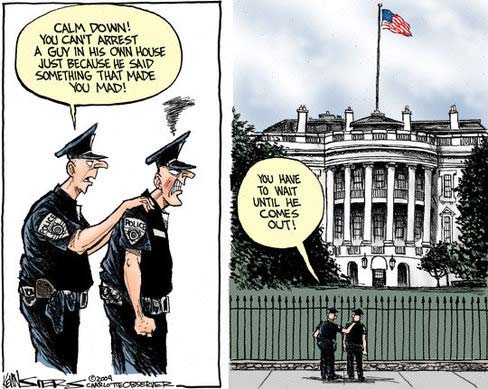 Jon Ralston notes C Street influence may be keeping Ensign quiet
"These men were the ones that said what we need to do is get Doug Hampton's home paid for, and we need to get Doug Hampton some money. We need to get his family to Colorado." --Doug Hampton, former aide to Sen. John Ensign, "Face to Face," 7/8/09
These men, these men of Christ, these men of C Street, these Family men who always preach morality and occasionally practice infidelity told Sen. John Ensign in February 2008 to give his cuckolded aide money and help him relocate.
So Doug Hampton has asserted. And Jeff Sharlet, who knows more about The Family than any outsider, thinks Hampton is telling the truth, and believes this conclave was grooming Ensign for greatness because of his telegenic presence and upward mobility within the Club of 100.
"I have no reason to disbelieve Doug Hampton," Sharlet, author of The Family: The Secret Fundamentalism at the Heart of American Power, said Thursday on "Face to Face." " When you go to a place like C Street, you become a member of what The Family in their internal documents call 'prayer cells,' an outlandish word, but that's their term for it. That's what (Oklahoma Sen. Tom) Coburn and Ensign and (Kansas Sen. Sam) Brownback, all these guys... what it is is a small, private meeting of like-minded men who believe that their prayers are better heard by God if they pray with men of equal status and power."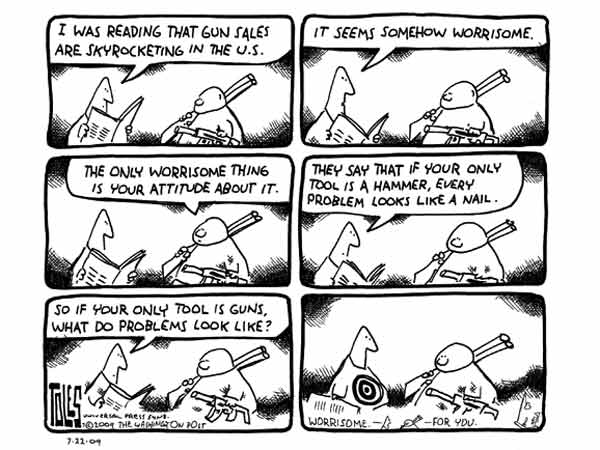 The AP reports that Lou Dobbs has "become a publicity nightmare for CNN, embarrassed his boss and hosted a show that seemed to contradict the network's 'no bias' brand. And on top of all that, his ratings are slipping." Dobbs, who has given favorable coverage to the "birther" conspiracy, is forcing CNN President Jon Klein to offer untenable defenses of his conduct:

Klein said Dobbs does a smart newscast that explores issues that get little in-depth attention elsewhere, such as trade with China, health care funding and the stimulus plan. He suggested Dobbs' CNN work is unfairly lumped in with his unrelated radio show, and that he's judged on the show he did a couple of years ago, when Dobbs became a political target for his campaigning against illegal immigration.

Media Matters notes that Dobbs' "smart newscast" is a regular fount of misinformation. Moreover, Klein's claim that Dobbs' radio show is "unrelated" to his TV show is false. Media Matters also reports that Dobbs frequently promotes his CNN show and hosts his CNN colleagues on his radio show.

THIS WEEKS FEATURED MUSIC VIDEO

This morning, Politico reported that Democratic members of Congress are increasingly being harassed by "angry, sign-carrying mobs and disruptive behavior" at local town halls. For example, in one incident, right-wing protesters surrounded Rep. Tim Bishop (D-NY) and forced police officers to have to escort him to his car for safety.
This growing phenomenon is often marked by violence and absurdity. Recently, right-wing demonstrators hung Rep. Frank Kratovil (D-MD) in effigy outside of his office. Missing from the reporting of these stories is the fact that much of these protests are coordinated by public relations firms and lobbyists who have a stake in opposing President Obama's reforms.
The lobbyist-run groups Americans for Prosperity and FreedomWorks, which orchestrated the anti-Obama tea parties earlier this year, are now pursuing an aggressive strategy to create an image of mass public opposition to health care and clean energy reform. A leaked memo from Bob MacGuffie, a volunteer with the FreedomWorks website Tea Party Patriots, details how members should be infiltrating town halls and harassing Democratic members of Congress:
– Artificially Inflate Your Numbers: "Spread out in the hall and try to be in the front half. The objective is to put the Rep on the defensive with your questions and follow-up. The Rep should be made to feel that a majority, and if not, a significant portion of at least the audience, opposes the socialist agenda of Washington."

– Be Disruptive Early And Often: "You need to rock-the-boat early in the Rep's presentation, Watch for an opportunity to yell out and challenge the Rep's statements early."

– Try To "Rattle Him," Not Have An Intelligent Debate: "The goal is to rattle him, get him off his prepared script and agenda. If he says something outrageous, stand up and shout out and sit right back down. Look for these opportunities before he even takes questions."
The memo above also resembles the talking points being distributed by FreedomWorks for pushing an anti-health reform assault all summer. Patients United, a front group maintained by Americans for Prosperity, is currently busing people all over the country for more protests against Democratic members. Rep. Pete Sessions (R-TX), chairman of the NRCC, has endorsed the strategy, telling the Politico the days of civil town halls are now "over."
Meanwhile, AHIP, the trade group and lobbying juggernaut representing the health insurance industry is sending staffers to monitor town halls and other right-wing front groups are stepping up their ad campaign to smear reform efforts. The strategy for defeating reform — recently outlined by an influential lobbyist to the Hill newspaper as "delay" then "kill" — is becoming apparent. By delaying a vote until after the August recess, lobbyists are now seizing upon recess town halls as opportunities to ambush lawmakers and fool them into believing there is wide opposition to reform.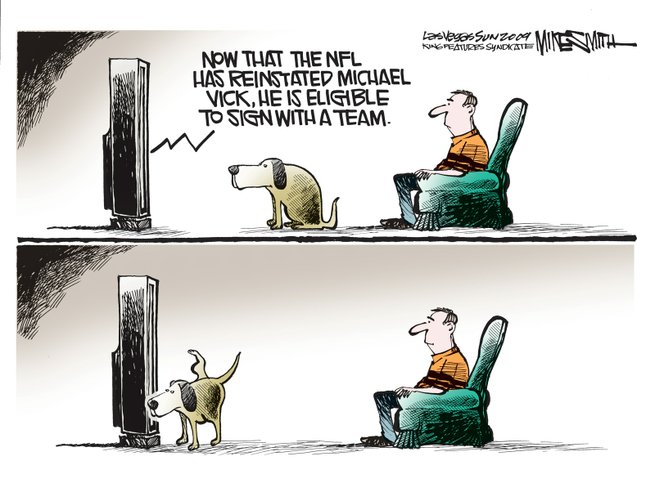 Michael Vick has been reinstated but so far no teams have shown any interest and with the pre-season about to kick off, it seems that Vick who may be out of prison, is still in the dog house...As he should be...
But my guess is that some team out there will find themselves in need of a quaterback sooner rather than later and they will have to decide if the bad press that will come to any team that hires, him will have to make the choice of whether he is worth it...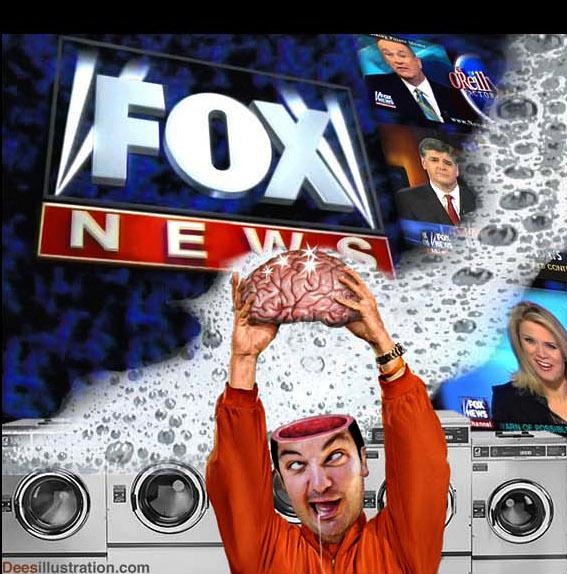 VARIOUS LATE NIGHT QUOTES
"Vice President Biden showed up too. I did not know he was going to be a part of it. I guess they wanted to even things out racially." --Jimmy Kimmel
"But they sat around a table in the Rose Garden, and drank. And I'm starting to think the President cooked this whole thing up because he didn't want to ask Michelle if he could have a poker night or something." --Jimmy Kimmel
"Tomorrow morning will heretofore be known as Racial Harmony Hangover Day." --Jimmy Kimmel
"And I guess next week, Obama is going sit down with Jon and Kate to see if he can't patch that up too." --Jimmy Kimmel
"President Obama held his first beer summit at the White House today. Obama wanted Bud Light, Crowley wanted Blue Moon, Gates wanted a Red Stripe, and Joe Biden wanted whatever fits in his beer helmet." --Jimmy Fallon
"The beer summit was good. But we all know that the best stuff goes down at the after summit." --Jimmy Fallon
"Obama wants to make this a regular thing. He's already invited Ahmadinejad over for Appletinis." --Jimmy Fallon
"Yesterday, Vice President, Joe Biden held a series of closed door meetings. Not because they were secret. He just couldn't figure out how to open the door." --Jimmy Fallon
"But Obama really cut loose at the kegger. He was wearing baggy dad jeans and sipping a Bud Lite." --David Letterman
"Things really went nuts at the kegger and about 8:00, everybody was a little tipsy, and they drunk dialed Ben Bernanke." --David Letterman
"And then things got completely out of hand and everybody took a leak in the Rose Garden." --David Letterman
"Everybody in Washington, DC, helped out to make the big kegger quite a success. And I thought this was nice. To show that there are no hard feelings anywhere, toward the end of the evening, Bill Clinton, former President Bill Clinton, that Bill Clinton, brought over a stripper." --David Letterman
"This week, Fox commenter Glenn Beck said that President Obama 'has a deep-seated hatred for white people and white culture.' Very controversial. In the President's defense, the White House cited the time Obama had John Tesh over to play Scattergories." --Conan O'Brien
"Earlier this week -- this is weird, I just found out about this -- Shaquille O'Neal stopped by the White House unannounced to see President Obama, but a Secret Service agent turned him away. That really happened. The agent told Shaq to make an appointment and to someday make a free throw." --Conan O'Brien
"Interesting announcement just came out. Next month, a 95-year-old Crow Indian chief will receive the Presidential Medal of Freedom. When asked about it, the chief said, 'Great, that should pretty much make up for everything.'" --Conan O'Brien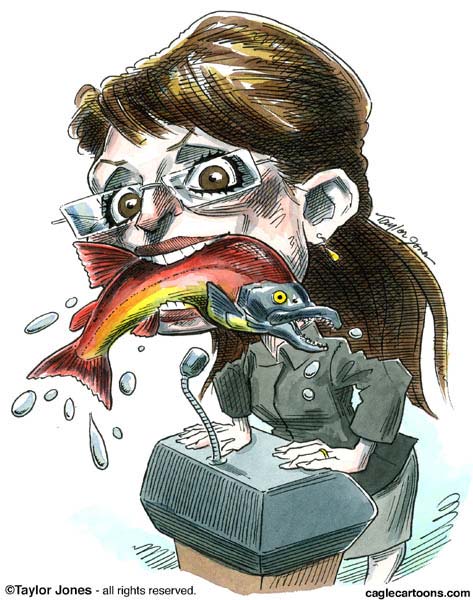 This Week in God!!!
US Senators Tied to Religious Cult...
The powerful and secretive group known as the Fellowship Foundation or the "Family" is quickly gaining notoriety, due to its links to two scandal-plagued Republicans, Senator John Ensign of Nevada and Governor Mark Sanford of South Carolina.
According to the Washington Post, however, the Fellowship Foundation is itself linked to an even more secretive religious organization — Youth With a Mission (YWAM), whose Washington, DC branch owns the "C Street House" where Ensign has lived and where Sanford has participated in Bible study.
A diarist at Daily Kos points out that "YWAM founder leader Loren Cunningham has publicly outlined a vision for Christian world-control," which involves establishing domination over government, education, business, the media, and other areas.


YodasWorld.org is updated each Monday. Some of the items from the previous week are added to the various topic links on the left side of the main page. Links embedded should be good for at least the date posted. After the posting date, link reliability depends on the policy of the linked sites. Some sites require visitors to register before allowing access to articles. Material presented on this page represent the opinion's of YodasWorld.org.
Copyright 2000-2009 YodasWorld.org. All rights reserved on original works. Material copyrighted by others is used either with permission or under a claim of "fair use."