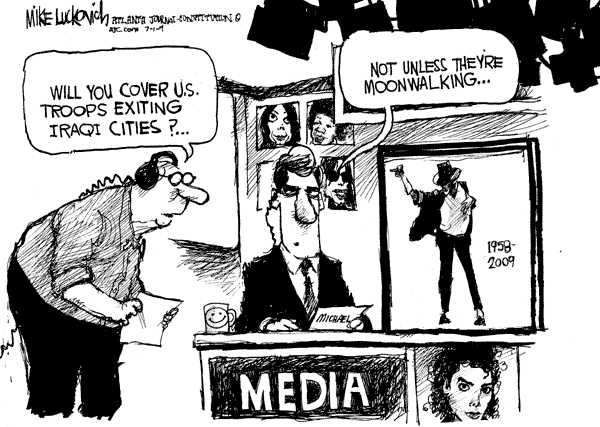 In Afghanistan, 2 U.S. soldiers killed in attack on base
U.S. military officials say several U.S. soldiers also were wounded in the assault on the remote outpost in Paktika province. It's the same area where an American soldier went missing Tuesday.
By M. Karim Faiez and Laura King

July 5, 2009

Reporting from Kabul, Afghanistan, and Istanbul, Turkey -- Insurgents armed with rockets, mortars and a truck bomb staged an unusual frontal attack Saturday on a U.S. base in eastern Afghanistan, killing two American soldiers and forcing the defenders to call in airstrikes to avoid being overrun.

The assault, which came as thousands of American troops were taking part in an anti- Taliban offensive hundreds of miles away in the south of Afghanistan, pointed up the insurgents' ability to take the fight to a location of their choosing -- in this case a remote outpost in Paktika province, which borders Pakistan's tribal areas.

The incident also illustrated militant groups' continuing capability to stage sophisticated, multi-pronged attacks in the eastern border zone, despite the Pakistani army's efforts to rein in insurgents who use the tribal areas in Pakistan as a staging ground for attacks in Afghanistan.

The attack on a small base in Zerok district, which lasted several hours, took place in the same area where a U.S. soldier disappeared Tuesday. The U.S. military said two days later that the missing man was believed to have been captured. A search is under way.

American military officials said several U.S. soldiers were wounded in the base attack, but declined to reveal the number. Military officials said at least 10 insurgents were killed in counterstrikes by U.S. and Afghan troops, including artillery fire and airstrikes by assault helicopters. A spokesman for the governor of Paktika province, however, put the number of militants killed at more than 30.

The attackers fired at least one shell containing white phosphorus, a highly incendiary agent, NATO's International Security Assistance Force said in a statement. Western military officials have accused insurgents of using white phosphorus in several previous attacks.

Hadmidullah Zawak, a spokesman for the provincial governor, said the attackers struck the installation from two sides with rockets, mortar rounds and small-arms fire and attempted to ram an explosives-laden truck through the gates of the base. It detonated, apparently prematurely, after being fired on.

A purported spokesman for the Taliban movement, Zabiullah Mujahid, claimed responsibility for the attack, and said it involved more than 100 insurgents. His statement could not be independently verified. The number of American and Afghan troops inside the base at the time was not disclosed, but the installation is a relatively small one.

The attack brings to 719 the number of U.S. military deaths in Afghanistan since the war began in October 2001, according to the independent website icasualties.org.

With warmer weather and the advent of the traditional summer "fighting season," violence across the country has been creeping upward. Afghanistan's Interior Ministry said seven policemen were killed by a roadside bomb in Kandahar province, in the south, and two Afghan army soldiers died in a roadside blast in Helmand province, also in the south.

Helmand is the scene of a major offensive by U.S. Marines, who aim to establish for the first time a large Western troop presence in the lower Helmand River valley, an insurgent stronghold and a center of the opium trade. The Marines so far have met with little significant resistance; military officials have said the Taliban slipped away rather than engage the attacking force of more than 4,000 Americans and about 600 Afghan troops.

laura.king@latimes.com

Faiez is a special correspondent.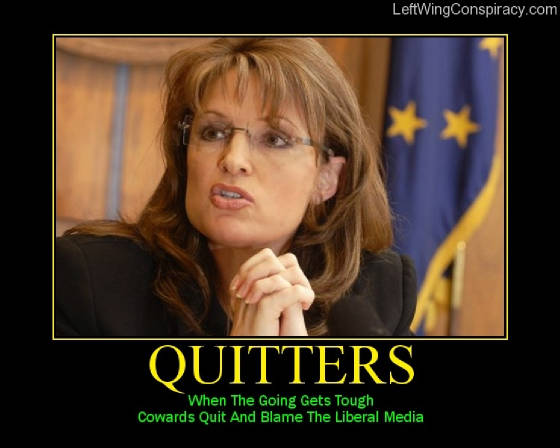 Governor Sarah Palin resigned last Friday while most everyone was preparing for the 4th July weekend ,most likely just day's ahead of annoucments for New Indictments for Embezzlement.
Here is a list compiled by the AP of past known charges (for full list click link here..:)
Ethics complaints filed against Palin
By The Associated Press
A listing of known ethics complaints filed against Alaska Gov. Sarah Palin:
1. July 28, 2008: Alaska lawmakers launched an investigation into whether Gov. Sarah Palin abused her power when she fired Public Safety Commissioner Walt Monegan over his refusal to let go a state trooper involved in a contentious divorce with Palin's sister. Stephen Branchflower, a special counsel leading the investigation, concluded Oct. 10 that Palin violated a state ethics law that prohibits public officials from using their office for personal gain. The firing itself was deemed lawful since Monegan was an at-will employee.
2. Aug. 6, 2008: Complaint filed by outspoken Palin critic Andree McLeod of Anchorage contended Palin and some staff members used their influence to get a Palin supporter a job in state government. Complaint alleged Palin staffers helped Tom Lamal, who once co-hosted a Palin fundraiser, to get a job as a surveyor. Dismissed by state personnel board, although the board's investigator recommended ethics training for one staffer who made questionable comments in e-mails.
3. Aug. 20, 2008: Complaint accused Palin of breaking election law by taking a public position on a mining ballot initiative days before the vote. Filed by Brian Kraft, founder of the Bristol Bay Alliance, a group that opposed the Pebble Mine prospect. Rejected May 8 by the Alaska Public Offices Commission.
Aug. 29, 2008: Palin named as John McCain's running mate. 4. Sept. 2, 2008: Palin filed a "self disclosure" with the state personnel board over the Troopergate affair, saying a state legislative probe had become too political. On Nov. 3 -- the day before the election -- Timothy Petumenos, a lawyer hired by the board, said that Palin violated no ethics laws when she fired Public Safety Commissioner Walt Monegan.
5. Sept. 3, 2008: Complaint by the Public Safety Employees Association alleged Palin or her staff had unauthorized access to and improperly disclosed information from personnel records of Trooper Mike Wooten, Palin's ex-brother-in-law. Complaint was later amended to include an allegation of harassment. The PSEA's allegations were investigated alongside Palin's filing and also dismissed.

Sarah Palin threatens legal action over resignation rumours
Sarah Palin has threatened legal action over allegations about her motive for her shock resignation as Governor of Alaska.
By Alex Spillius
Published: 9:09PM BST 05 Jul 2009
Murdock Owned: UK Telegraph
As speculation swirled that her decision was connected to a pending corruption investigation, Mrs Palin's lawyer issued a four-page letter warning legal action against bloggers and US publications that reprinted the allegations, which she strongly denies.
"To the extent several websites ... are now claiming as 'fact' that Governor Palin resigned because she is 'under federal investigation' for embezzlement or other criminal wrongdoing, we will be exploring legal options this week to address such defamation," said Thomas Van Flein, her lawyer, in a statement.
He also told the Anchorage Daily News that he was unaware of any criminal investigation involving Mrs Palin, an assertion supported by the local office of the FBI.
Mrs Palin's announcement on Friday that she will stand down in Alaska left many convinced that she is considering challenging for the White House in 2012.
At the weekend she indicated on the social networking website Facebook that she would assume a larger, national role after leaving office on July 26, more than a year before her first term as governor would have ended.
"I am now looking ahead and how we can advance this country together with our values of less government intervention, greater energy independence, stronger national security, and much-needed fiscal restraint," she wrote.

Democracy For America
Last week, Governor Dean joined local DFA (Democracy for America) members on stage at one of the largest healthcare rallies in Washington D.C. this decade.
Together, they presented over 400,000 petition signatures calling for the choice of a public healthcare option. Afterwards thousands of Americans -- nurses, doctors, small business owners, people of all walks of life stormed the halls of Congress to advocate for real healthcare reform.
At the same time, DFA members nationwide have already started making local deliveries of signatures to their members of Congress too. This one-two punch of in-district action backed up by thousands of activists storming the capital is having a powerful effect.
We can't stop now. We have the momentum. We need to make sure every single one of America's leaders in Congress gets the message.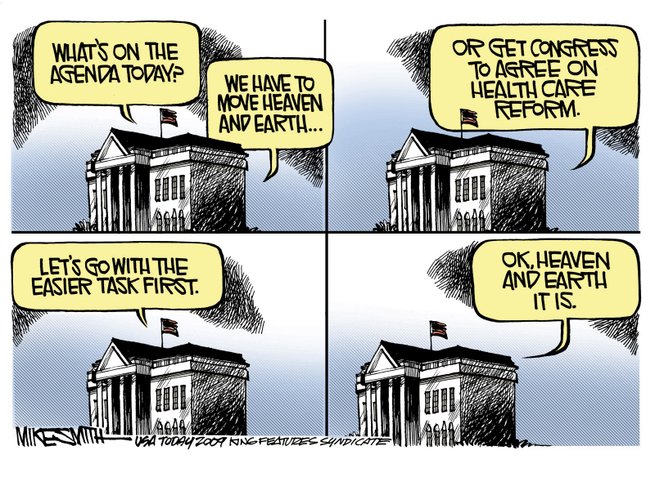 Sea Ice At Lowest Level In 800 Years Near Greenland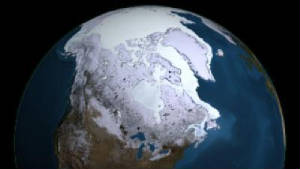 There has never been so little sea ice in the area between Svalbard and Greenland in the last 800 years. (Credit: NASA/GSFC)
ScienceDaily (July 2, 2009) — New research, which reconstructs the extent of ice in the sea between Greenland and Svalbard from the 13th century to the present indicates that there has never been so little sea ice as there is now. The research results from the Niels Bohr Institute, among others, are published in the scientific journal, Climate Dynamics.
There are of course neither satellite images nor instrumental records of the climate all the way back to the 13th century, but nature has its own 'archive' of the climate in both ice cores and the annual growth rings of trees and we humans have made records of a great many things over the years - such as observations in the log books of ships and in harbour records. Piece all of the information together and you get a picture of how much sea ice there has been throughout time.
Modern research and historic records
"We have combined information about the climate found in ice cores from an ice cap on Svalbard and from the annual growth rings of trees in Finland and this gave us a curve of the past climate" explains Aslak Grinsted, geophysicist with the Centre for Ice and Climate at the Niels Bohr Institute at the University of Copenhagen.
In order to determine how much sea ice there has been, the researchers needed to turn to data from the logbooks of ships, which whalers and fisherman kept of their expeditions to the boundary of the sea ice. The ship logbooks are very precise and go all the way back to the 16th century. They relate at which geographical position the ice was found. Another source of information about the ice are records from harbours in Iceland, where the severity of the winters have been recorded since the end of the 18th century.
By combining the curve of the climate with the actual historical records of the distribution of the ice, researchers have been able to reconstruct the extent of the sea ice all the way back to the 13th century. Even though the 13th century was a warm period, the calculations show that there has never been so little sea ice as in the 20th century.
In the middle of the 17th century there was also a sharp decline in sea ice, but it lastet only a very brief period. The greatest cover of sea ice was in a period around 1700-1800, which is also called the 'Little Ice Age'.
"There was a sharp change in the ice cover at the start of the 20th century," explains Aslak Grinsted. He explains, that the ice shrank by 300.000 km2 in the space of ten years from 1910-1920. So you can see that there have been sudden changes throughout time, but here during the last few years we have had some record years with very little ice extent.
"We see that the sea ice is shrinking to a level which has not been seen in more than 800 years", concludes Aslak Grinsted.
Journal reference:
1. Macias Fauria et al. Unprecedented low twentieth century winter sea ice extent in the Western Nordic Seas since A.D. 1200. Climate Dynamics, 2009; DOI: 10.1007/s00382-009-0610-z
Adapted from materials provided by University of Copenhagen.
Email or share this story:
| More
Need to cite this story in your essay, paper, or report? Use one of the following formats:
APA
MLA
University of Copenhagen (2009, July 2). Sea Ice At Lowest Level In 800 Years Near Greenland. ScienceDaily. Retrieved July 2, 2009, from http://www.sciencedaily.com­ /releases/2009/07/090701102900.htm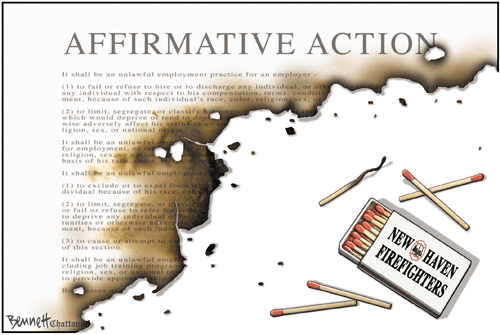 The Supreme Court has ruled that white firefighters were unfairly denied promotions because of their race, reversing a decision that Sonia Sotomayor endorsed as an appeals court judge. Read Full Article »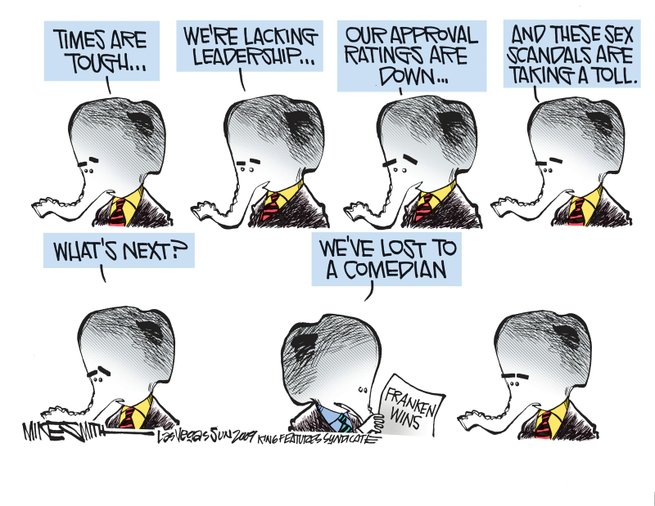 Key Sanford allies now say he should remain in office
WAYNE WASHINGTON | The State
last updated: July 04, 2009 03:02:29 PM
Mark Sanford's quest to hold on to the governorship picked up more steam Friday when a pair of allies offered their support for him to remain in office.
State Sen. Tom Davis, R-Beaufort, released a statement saying he had, on several occasions, asked Sanford to resign after Sanford acknowledged having an extramarital affair with a woman from Argentina. But Davis said the governor and his wife, Jenny Sanford, told him they could work on their marriage while he held on to his position.
"I am not going to second-guess them on that personal matter," said Davis, whose continued support is seen as particularly important because he is Sanford's former chief of staff and he and the governor have been friends for 30 years.
South Carolina Senators and Representatives return to the State House on Tuesday, June 16, 2009 to vote on Gov. Mark Sanford's vetoes.Here, Sen. Tom Davis (R-Beaufort) expresses his position on a proposed port in Jasper County.
Another Sanford ally, state Sen. Greg Ryberg, R-Aiken, also offered his support Friday, arguing that a State Law Enforcement Division review of Sanford's travel, which found the governor had not misused public money, shows "it is time to move forward."
"I continue to support the decision of Governor Sanford to remain at his post, and I encourage the governor and the members of the General Assembly to return their focus to the urgent issues facing South Carolina," Ryberg said.
Sanford's spokesman, Joel Sawyer, said the governor has arrived in Florida, where he is spending the holiday weekend with his wife and her family.
Sawyer said the governor would have no public comment Friday.
Read this storythestate.com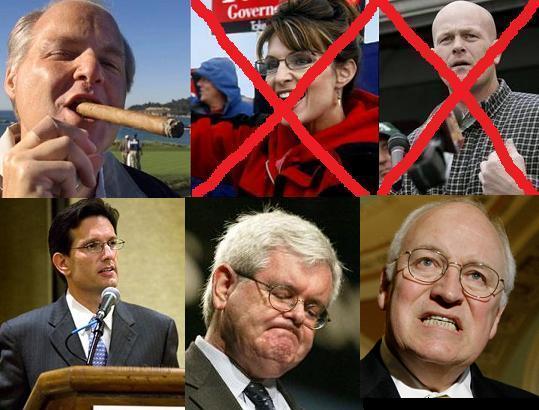 The Leadership of the GOP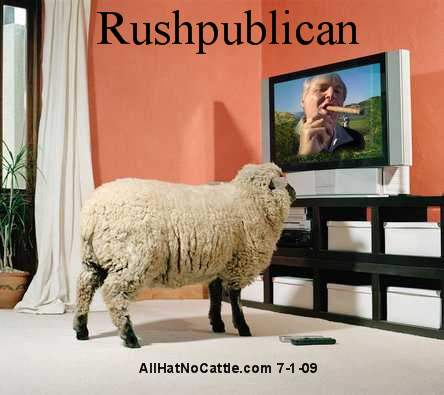 Beck Guest: "Only chance" US has "as a country" is for Bin Laden to "detonate a major weapon"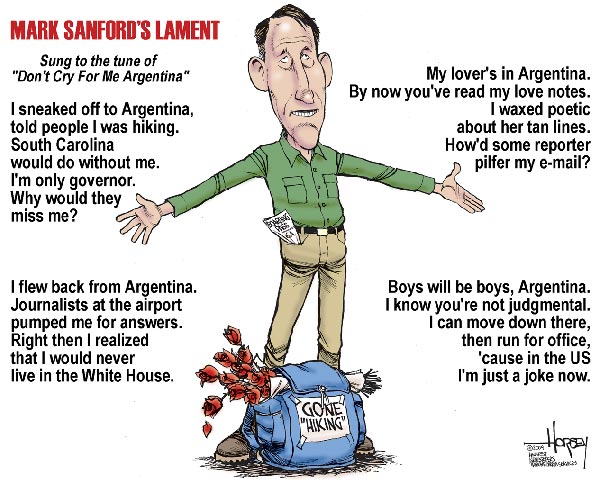 Top Ten Surprising Facts About Governor Mark Sanford

10) Began last "State of the State" address, "Yo, what's happenin', mama?"
9) Promised his wife he'd be faithful within the 48 contiguous states
8) On Facebook, lists his relationship status as "It's complicated"
7) Becoming disgraced governor ruined his dream of becoming disgraced President
6) Hoping scandal will get him out of attending in-laws' Fourth of July cookout
5) Was sick and tired of Eliot Spitzer holding title "Love Gov"
4) Often gets fan mail intended for Redd Foxx
3) His goal in life is to commit adultery on all seven continents
2) Made it safe for me to joke about Republican governors again
1) Entered politics because he enjoyed polling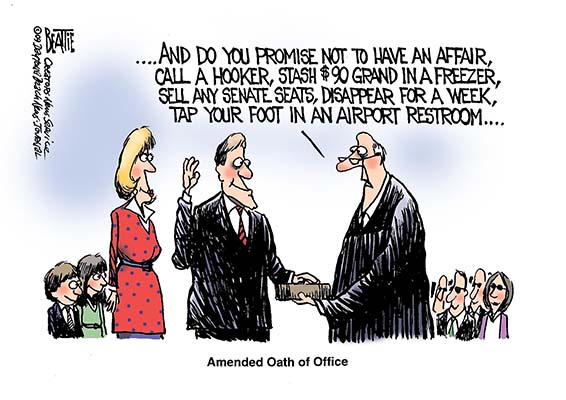 'Saudis would agree to IAF flyovers'
Jul. 5, 2009
JPost.com Staff , THE JERUSALEM POST
Mossad head Meir Dagan assured Prime Minister Binyamin Netanyahu that Saudi Arabia would allow IAF jets to fly over the kingdom during any future raid on Iran's nuclear facilities, The Sunday Times reported.
The British paper reported that Dagan held talks with Saudi officials earlier this year on the topic.
However, the Prime Minister's Office issued an official denial on Sunday morning, saying the report was "completely false and baseless."
The Israeli media has already carried unconfirmed reports that high-ranking officials, including former prime minister Ehud Olmert, held meetings with Saudi officials, but the kingdom has denied the reports. "The Saudis have tacitly agreed to the Israeli air force flying through their airspace on a mission which is supposed to be in the common interests of both Israel and Saudi Arabia," a diplomatic source was quoted in the Times as saying.
While Israel has no formal diplomatic relations with Saudi Arabia, an Israeli source confirmed that the Mossad had "working relations" with the Saudis.
Former US ambassador to the United Nations John Bolton, who recently visited the Gulf, said it was "entirely logical" for the Israelis to use Saudi airspace.
Bolton, who has talked to a number of Arab leaders, added: "None of them would say anything about it publicly, but they would certainly acquiesce in an overflight if the Israelis didn't trumpet it as a big success."
Arab states would publicly condemn a raid when they spoke at the UN, but would be privately relieved to see the threat of an Iranian bomb removed, Bolton said.
Referring to the attack on an alleged Syrian nuclear facility in 2007 that Israel is rumored to have launched, Bolton added: "To this day, the Israelis haven't admitted the specifics but there's one less nuclear facility in Syria . . ."
A former head of research in Israeli intelligence told the Times that "the Saudis are very concerned about an Iranian nuclear bomb, even more than the Israelis."
Taco Bell's New Green Menu Takes No Ingredients From Nature
FDA reduces acetaminophen dose, bans Vicodin, Percocet
The U.S. Food and Drug Administration voted Tuesday to reduce maximum recommended doses of the pain-relieving drug acetaminophen, which is one of the most widely-used drug in the country as the active ingredient in Tylenol and a wide variety of other over-the-counter medicines.
In the same series of votes, the FDA also rejected a move to ban NyQuill and other medicines that mix acetaminophen with other drugs. The panel ecommended phasing out the prescription drugs Vicodin and Percocet.
"[Overdoses] of acetaminophen have been linked to 56,000 emergency room visits, 26,000 hospitalizations and 458 deaths during the 1990s" according to a study cited by the FDA, reported CNN. The government agency said acetaminophen is the leading cause of liver failure, even outpacing alcohol.
By a vote of 21-16, the panel recommended 650 milligrams become the new maximum over-the-counter dose of the drug, curbing the current maximum of 1,000 milligrams.
The vote could mean stronger overdose warnings will be applied to Robitussin Cough Cold & Flu, Tylenol, Theraflu, Vicks 44 and NyQuil, among other medicines that contain acetaminophen.
The FDA is not required to act on the panel's vote, which is considered a recommendation.
-- Stephen C. Webster

THIS WEEKS FEATURED MUSIC VIDEO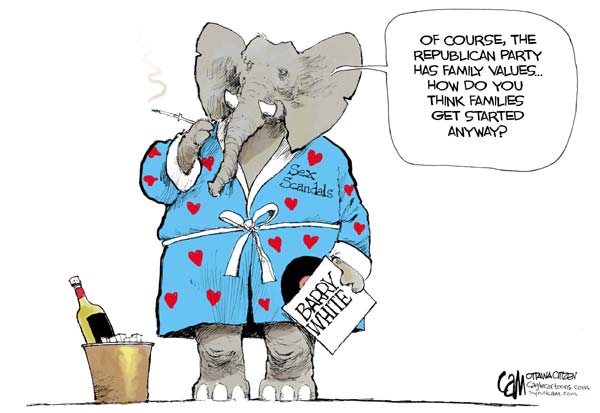 GOP House Trio Urges the Loon Bachmann to Reverse Boycott of Census
By Jackie Kucinich
Roll Call Staff
Three House Republicans on the subcommittee overseeing the 2010 Census are asking Rep. Michele Bachmann (R-Minn.) to reverse her decision to boycott the national population count, fearing others will follow her lead.
"Boycotting the constitutionally mandated Census is illogical, illegal and not in the best interest of our country," Reps. Patrick McHenry (N.C.), Lynn Westmoreland (Ga.) and John Mica (Fla.), members of the Oversight and Government Reform Subcommittee on Information Policy, Census and National Achieves, said in a statement Wednesday.
"[A] boycott opens the door for partisans to statistically adjust Census results," the trio's statement said. "The partisan manipulation of census data would irreparably transform the Census from being the baseline of our entire statistical system into a tool used to wield political power in Washington."
Rep. Jason Chaffetz (Utah), the only other Republican member of the subcommittee, did not sign on to Wednesday's statement.
Sources say the GOP Members approached Bachmann privately over the past few weeks and asked her to stop the boycott. They decided to go public because Bachmann appeared unfazed by their request, according to a GOP aide.
Bachmann has said she would not fill out her 2010 Census form, a violation of federal law, because of the involvement of the Association of Community Organizations for Reform Now. The nonprofit came under fire during the 2008 elections over allegations of voter fraud; Republicans have asked President Barack Obama to prohibit ACORN from helping gather 2010 Census data.
"I'm not encouraging Americans not to fill out the Census," Bachmann told FOX News last month. "I'm saying, for myself and my family, our comfort level is we will comply with the Constitution Article I Section II. We will give the number of people in our home, and that's where we're going to draw the line."
The subcommittee Republicans stressed the importance of filling out census forms and said they are working hard to prohibit ACORN from participating in the process.
"We share Ms. Bachmann's concerns about ACORN's involvement in the 2010 Census and will continue pressuring the Bureau to follow their own guidelines for partnering organizations and dump ACORN," the statement said. "However, we can not emphasize enough how important it is for every individual to fill out their census forms."
Debbee Keller, a spokeswoman for Bachmann, said in an e-mail: "Congresswoman Bachmann can not be reached, but we appreciate their views and hope to be able to work with them to keep ACORN — which has earned public mistrust through its repeated voter registration fraud — out of the Census."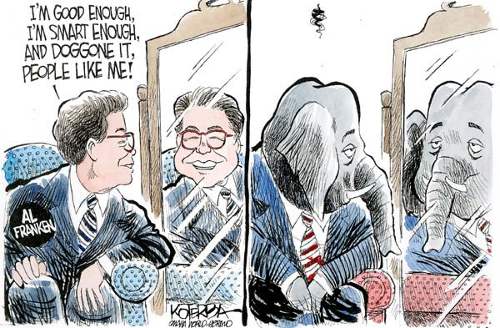 Jeff Goldblum is not Dead, says Jeff Goldblum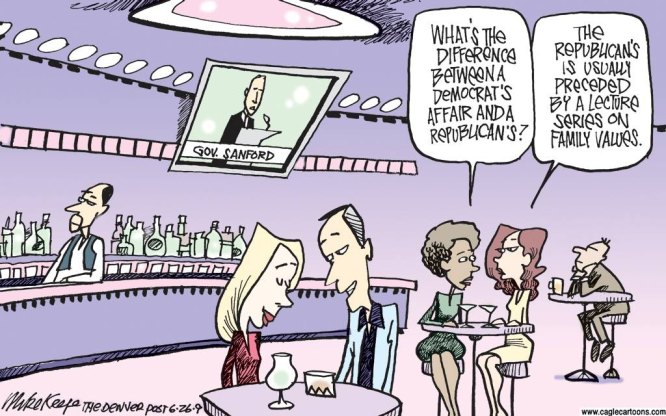 VARIOUS LATE NIGHT QUOTES
"It's been reported that Governor Sanford's mistress was a reporter for an Argentinean news channel. Did you know that? That's true. Yeah, this makes Sanford just the latest Republican to claim he got screwed by the media." --Conan O'Brien
"Earlier today, Sanford apologized to his Cabinet for having the affair with an Argentinean woman. And in response, his cabinet member said, 'An apology is not good enough. We want photos. That sounds hot.'" --Conan O'Brien
"Here's the latest in Iran: Opposition groups have announced that, from now on, they're going to hold their protest rallies online. All their protests will be online, yeah. Protestors say they're going to overthrow the Iranian regime, then they're going after that YouTube cat that plays the piano." --Conan O'Brien
"Yesterday, South Carolina Governor Mark Sanford -- you know this guy? It's the guy that went to, like, on the Appalachian Trail and then he ended up cheating on his wife in Argentina. Anyway, he met with his wife, Jenny, for the first time since admitting his affair with the woman in Argentina yesterday. It did not go very well. The first thing he asked was, 'Did I get any emails while I was away?' ... Then he said, 'Hey, if it's any consolation, I got you a shot glass at the airport.'" --Jimmy Fallon
"Celebrity birthday, Ross Perot, do you remember Ross Perot, ran for president a couple of times? 79 years old today, and still vital, vibrant and going strong. As a matter of fact, he received 9% of the vote in Iran." --David Letterman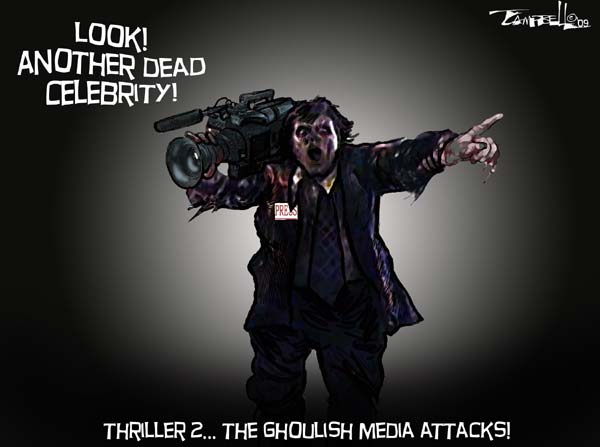 This Week in God!!!
TV gameshow offers atheists 'salvation'
* Story Highlights
* Turkish TV show features imam, Catholic priest, Jewish rabbi, Buddhist monk
* Religious leaders attempt to persuade atheists to "convert" to their faith
* Show has prompted criticism from religious groups who say it is "disrespectful"
(CNN) -- A Turkish television show is offering contestants what it claims is the "biggest prize ever" -- the chance for atheists to convert to one of the world's major religions.
The show, called "Tovbekarlar Yarisiyor," or "Penitents Compete," features a Muslim imam, a Catholic priest, a Jewish rabbi and a Buddhist monk attempting to persuade 10 atheists of the merits of their religion, according to CNN Turk.
If they succeed, the contestants are rewarded with a pilgrimage to one of their chosen faith's most sacred sites -- Mecca for Muslims, Jerusalem for converts to Judaism, a trip to Tibet for Buddhists and the chance to visit Ephesus and the Vatican for Christians.
Ahmet Ozdemir, deputy director of Turkish channel Kanal T, which will air the show from September, said the program aimed to "turn disbelievers on to God."
"People are free to believe anything they want. Our program does not have a say," he said, according to Turkish newspaper Hurriyet.
Contestants will be judged by a panel of eight theologians and religious experts prior to going on the show to make sure their lack of faith is genuine.
But the show has been condemned by Turkish religious leaders. The head of the country's supreme council of religious affairs, Hamza Aktan, told CNN Turk that it was "disrespectful" to place different faiths in competition with each other and accused Kanal T of using religion to boost ratings.
"To do such a thing for the sake of ratings, not only with Islam but with all religions is disrespectful," said Aktan. "Religion should not be the subject of this type of program."
Although Turkey has a predominantly Muslim population and culture, religion is a sensitive subject because of the country's staunchly secular constitution which outlaws most displays of faith in public life.
Last year the Islamist-influenced government of Turkish Prime Minister Recep Tayyip Erdogan clashed with the country's constitutional court when judges overturned the efforts of Erdogan's AK Party to lift a ban on female students wearing headscarves at public universities.

YodasWorld.org is updated each Monday. Some of the items from the previous week are added to the various topic links on the left side of the main page. Links embedded should be good for at least the date posted. After the posting date, link reliability depends on the policy of the linked sites. Some sites require visitors to register before allowing access to articles. Material presented on this page represent the opinion's of YodasWorld.org.
Copyright 2000-2009 YodasWorld.org. All rights reserved on original works. Material copyrighted by others is used either with permission or under a claim of "fair use."