Suspect held in slaying of Kan. abortion doctor
Controversial physician was gunned down Sunday morning at church
Sun., May 31, 2009
WICHITA, Kansas - Dr. George Tiller, who remained one of the nation's few providers of late-term abortions through decades of protests and attacks, was shot and killed Sunday in a church where he was serving as an usher and his wife was in the choir.
The gunman fled, but a 51-year-old suspect was arrested some 170 miles away in suburban Kansas City three hours after the shooting, Wichita Deputy Police Chief Tom Stolz said. Johnson County sheriff's spokesman Tom Erickson identified the man in custody as Scott Roeder, who has not been charged in the slaying.
President Barack Obama said he was shocked and outraged over the killing.
Story continues below ↓advertisement | your ad here
Long a focus of national anti-abortion groups, including a summer-long protest in 1991, Tiller was serving as an usher during Sunday morning services when he was shot in the foyer of Reformation Lutheran Church, Stolz said. Tiller's attorney, Dan Monnat, said Tiller's wife, Jeanne, was in the choir at the time.
Stolz said all indications were that the man acted alone, although authorities were investigating whether he had any connection to anti-abortion groups.
Barack Obama On George Tiller's Death: "Shocked and Outraged"
By Foster Kamer
Sun May 31 2009
Obama's statement on George Tiller's death: "I am shocked and outraged by the murder of Dr. George Tiller as he attended church services this morning. However profound our differences as Americans over difficult issues such as abortion, they cannot be resolved by heinous acts of violence."
US Attorney General Eric Holder is dispatching US Marshals to protect abortion clinic and doctors around the country.
Holder issued the following statement:
"The murder of Doctor George Tiller is an abhorrent act of violence, and his family is in our thoughts and prayers at this tragic moment. Federal law enforcement is coordinating with local law enforcement officials in Kansas on the investigation of this crime, and I have directed the United States Marshals Service to offer protection to other appropriate people and facilities around the nation. The Department of Justice will work to bring the perpetrator of this crime to justice. As a precautionary measure, we will also take appropriate steps to help prevent any related acts of violence from occurring."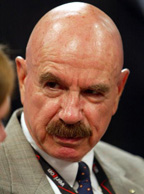 Conservative radio host says he hopes Sotomayor menstruation doesn't affect judgment
A major conservative radio host, G. Gordon Liddy, attacked President Obama's Supreme Court nominee Thursday in perhaps one of the most grotesque politically-oriented tirades in recent times.
"Let's hope that the key conferences aren't when she's menstruating or something, or just before she's going to menstruate," Liddy said. "That would really be bad. Lord knows what we would get then."
Liddy is no stranger to controversy -- in fact, he spent four years in jail for his role in the Nixon-era Watergate burglaries. His radio show is syndicated in 160 markets and on the Sirius Radio network.
Liddy also attacked Sotomayor for her affiliation with La Raza, a Hispanic civil rights group (which was also maligned Thursday by former GOP Rep. Tom Tancredo, who called it the Latino KKK). Liddy referred to the Spanish language as "illegal alien."
"I understand that they found out today that Miss Sotomayor is a member of La Raza, which means in illegal alien, 'the race,'" Liddy quipped. "And that should not surprise anyone because she's already on record with a number of racist comments."
"And everybody is cheering because Hispanics and females have been, quote, underrepresented, unquote," Liddy added later. "And as you pointed out, which I thought was quite insightful, the Supreme Court is not designed to be and should not be a representative body."
The comments were noted by the blog ThinkProgress. Audio of Liddy's comments follow.
The following audio is The G. Gordon Liddy Show , broadcast on May 28, 2009.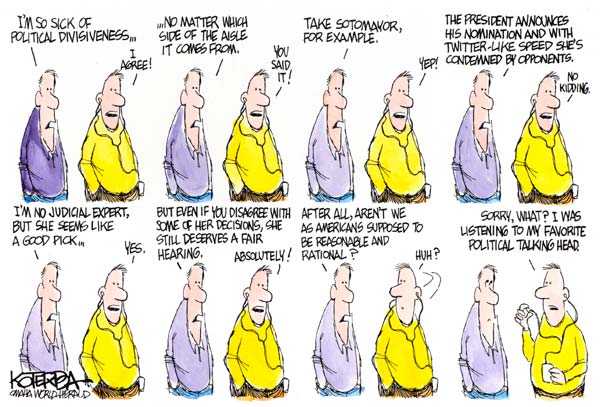 Right Wing Spewers of Hate attacking President Obama's SCOTUS pick of Sonia Sotomayor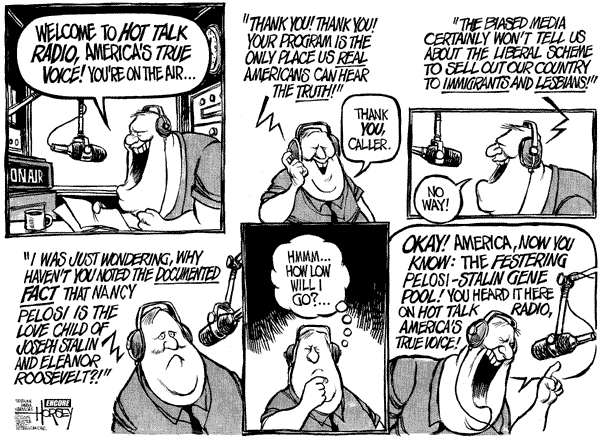 FOX NEWS EMBRACES RIGHT-WING THEORY THAT OBAMA IS FORCING GOP-OWNED CAR DEALERSHIPS TO CLOSE:
Think Progress
Citing a handful of right-wing bloggers Wednesday afternoon, the Washington Examiner reported ominously, "Evidence appears to be mounting that the Obama administration has systematically targeted Chrysler dealers who contributed to Republicans" for closure. Not to be outdone, Fox and Friends hosted conservative blogger Michelle Malkin yesterday morning to play up the conspiracy theory. "Believe me Steve, over the last several years, we've all documented the Obama-Chicago-gangland tactics that certainly make this a possibility," Malkin said. Malkin's speculative hysterics were apparently enough to pique the interest of Fox News White House correspondent Major Garrett. As he's done with other right-wing conspiracy theories, he asked the White House for its response to the charges. "There is some concern in the blogosphere that of the Chrysler dealerships being closed, a disproportionate number appear to be in which the operators contributed to Republicans."
As Press Secretary Robert Gibbs explained to Garrett, it is Chrysler -- not the federal government -- that is in charge of selecting which dealerships will be closed. Further, as Nate Silver explained in a post that was published just hours after the Examiner's initial report yesterday, "There is just one problem with this theory. Nobody has bothered to look up data for the control group: the list of dealerships which aren't being closed." Silver explained, "It turns out that all car dealers are, in fact, overwhelmingly more likely to donate to Republicans than to Democrats -- not just those who are having their doors closed." In all, Silver found that "88 percent of the contributions from car dealers went to Republican candidates and just 12 percent to Democratic candidates," while, the list of Chrysler dealerships being closed "gave 92 percent of their money to Republicans -- not really a significant difference."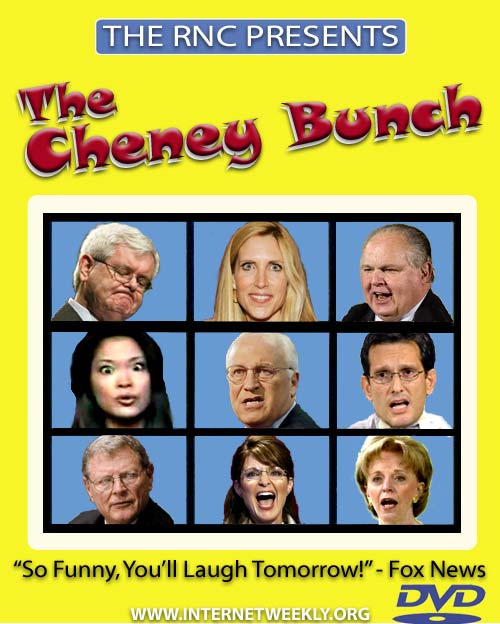 In a speech to the Atlantic Council last week, National Security Advisor Gen. Jim Jones rebutted Vice President Cheney's assertion that the country less safe under President Obama. He said that the current administration has rejected "the false choice between our security and our ideals" and the United States "is not only safe but it will be more secure...because of the president's leadership."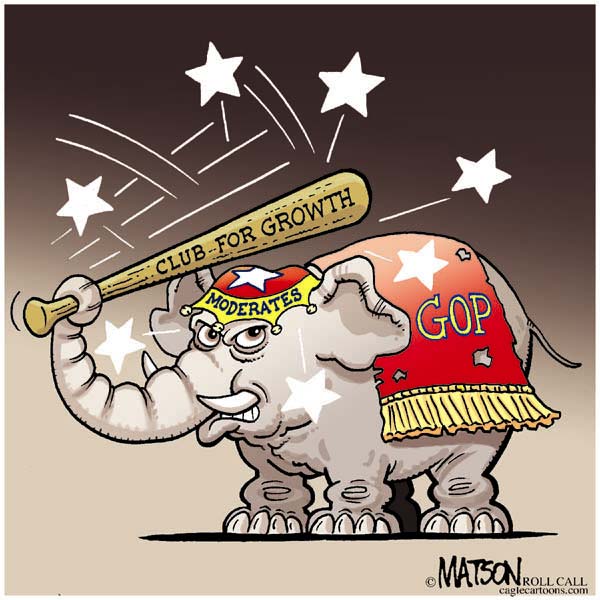 Powell fires back in debate over GOP's future
Douglass K. Daniel
Moderate Republicans to conservative Republicans: Turn down the volume — especially on Rush Limbaugh — and open your minds. The party's future might be at stake.
Such warnings about the GOP's right wing, along with finger wagging about a "shrill" and "judgmental" tone, marked the moderate response in the latest back-and-forth within the Republican Party.
Colin Powell and Tom Ridge argued on television's Sunday talk shows that conservatives are steering the GOP too far to the right and not listening to other views within the party. Newt Gingrich, seen as a potential presidential candidate in 2012, agreed about broadening the base while political guru Karl Rove challenged Powell to lay out his vision and "back it up" by helping elect Republicans.
"I believe we should build on the base because the nation needs two parties, two parties debating each other," said Powell, the nation's top military officer under President George H.W. Bush and secretary of state for President George W. Bush.
"But what we have to do is debate and define who we are and what we are and not just listen to dictates that come down from the right wing of the party," he said.
Former Vice President Dick Cheney and Limbaugh, the king of talk radio, have openly mocked Powell as a Republican in name only, citing his endorsement of Democrat Barack Obama over Republican John McCain in last year's presidential race.
Powell reaffirmed that he is a solid Republican and said the GOP must be more inclusive or risk giving Democrats and independents the chance to scoop up disaffected moderate Republicans. He detailed his presidential voting history — yes to GOP nominees Ronald Reagan through the younger Bush, but yes also to Democrats John F. Kennedy, Lyndon Johnson and Jimmy Carter.
"If we don't reach out more, the party is going to be sitting on a very, very narrow base. You can only do two things with a base. You can sit on it and watch the world go by, or you can build on the base," Powell said.


The Leadership of the GOP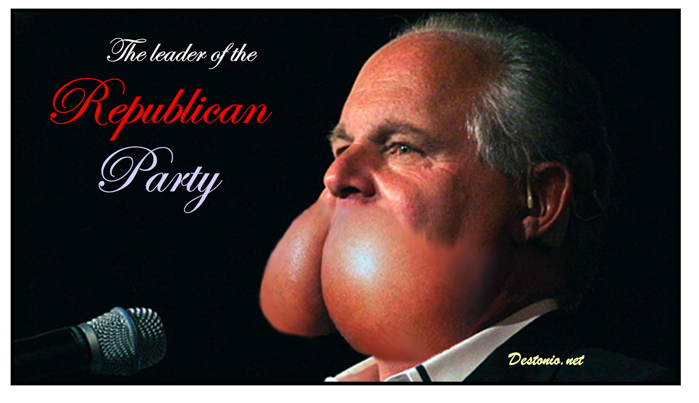 Last month on his Fox News show, Sean Hannity told Charles Grodin that he would agree to be waterboarded "for charity…for the troops' families." MSNBC's Keith Olbermann the next day offered $1,000 to charity for every second Hannity withstood waterboarding. So far Hannity has avoided the subject when asked about his pledge to be waterboarded for charity.
GLENN BECK SCARES ME...THE SONG

GM to head into bankruptcy
Early morning filing planned. Obama will address nation. U.S. to put up $30B more for 60% stake - 'End of an old GM and the beginning of a new one.'
By Chris Isidore
June 1, 2009
NEW YORK (CNNMoney.com) -- General Motors, the nation's largest automaker and for decades an icon of American manufacturing, stood on the brink of a bankruptcy filing and a de facto government takeover on Monday.
A bankruptcy petition will be filed at 8 a.m., according to a source with direct knowledge of the bankruptcy proceedings.
President Obama will address the nation shortly before noon on Monday to explain the rationale for the filing and his hopes that this is the best route for a turnaround, two officials close to the situation told CNN.
"Today will rank as another historic day for the company -- the end of an old General Motors and the beginning of a new one," the administration stated in documents released Sunday.
Chapter 11 bankruptcy will aim to help GM emerge with only its more profitable plants, brands, dealerships and contracts. Unprofitable plants, contracts and other liabilities that the company can no longer afford would be left behind.
The rescue of GM is being led by an unlikely coalition of the U.S. and Canadian governments and the company's employees and creditors.
The Obama administration will commit another $30 billion on top of the $19.4 billion it has already given GM to cover its losses and fund its operations.
The U.S. government will get a 60% equity stake in the new company after restructuring, as well as $8.8 billion in debt and preferred stock.
A trust established to fund health care benefits for retirees of the United Auto Workers union will own 17.5%, and get the right to purchase another 2.5% of the company. The governments of Canada and Ontario will lend $9.5 billion and receive 12% of the equity in the new GM.
Finally, bondholders who lent GM $27 billion will forgo much of what they are owed and instead get a 10% share of the new company plus the right to secure another 15%.
In addition, investors who own 54% of those bonds have agreed to not fight plans for a quick bankruptcy. The deal could make it easier for GM to restructure by neutralizing some of the opposition to a bankruptcy filing.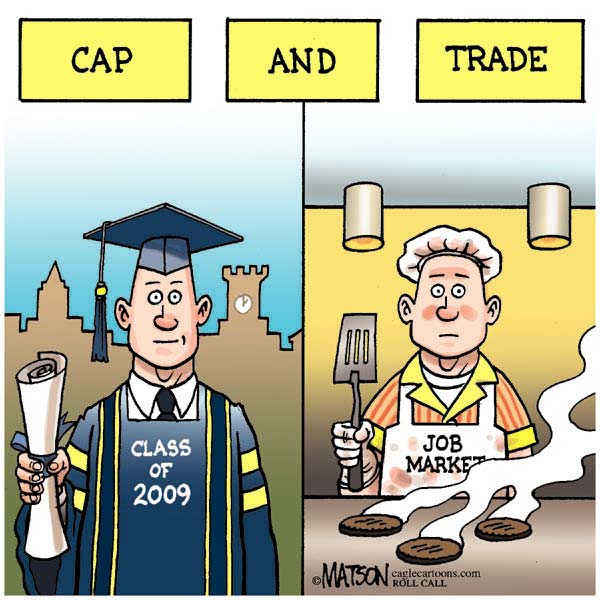 THIS WEEKS FEATURED MUSIC VIDEO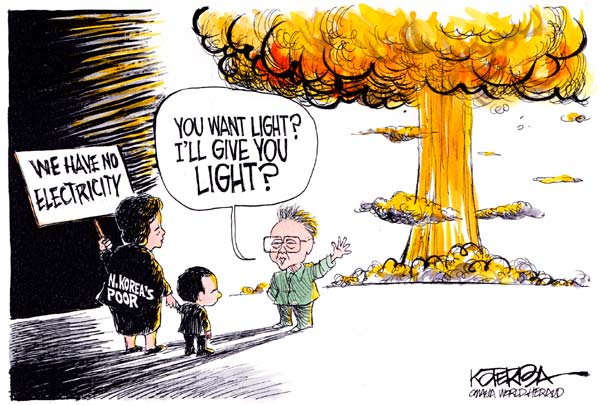 Border calm as tensions rise on Korean peninsula
By Eric Talmadge
Associated Press
PANMUNJOM, Korea – The thin North Korean guard shuffles around in his dull green uniform, a pair of binoculars fixed to his eyes, while a squad of South Koreans in black helmets glare back silently from their positions across the border.
For more than a half century, this divided hamlet has been the front-line of a fragile truce that ended the three-year Korean War. Intimidation has been honed to a fine art here. But while tensions this week rose to their highest level in years, there was an odd sense of calm in the Demilitarized Zone.
Skirmishes have a tendency to escalate quickly in Panmunjom.
An effort by American soldiers to trim a poplar tree led to an ax fight with North Koreans in 1976 that left two dead. An attempt by a Russian to defect across the demarkation line in the 1980s sparked an extended shootout.
But no incidents have been reported here recently, despite North Korea's nuclear test, a week of missile launchings and repeated tirades from Pyongyang that it will no longer abide by the 1953 accord that ended the war.
"We are always at a high level of readiness, but nothing has changed recently," said U.S. Army Sgt. Brant Walker, part of the small contingent of U.S. troops that are based along the heavily fortified border. "You wouldn't think it would be, with North Korea right there, but it's very relaxed."
Outside of the Demilitarized Zone, however, concerns swirled around the North as spy satellites spotted signs that it may be preparing to transport a long-range missile to a test launch site, South Korean officials said Saturday.
U.S. Defense Secretary Robert Gates issued his harshest warning to the North since it carried out an underground nuclear test on Monday.
"We will not stand idly by as North Korea builds the capability to wreak destruction on any target in Asia — or on us," he told a regional defense meeting in Singapore. He said the North's nuclear program was a "harbinger of a dark future," but wasn't yet a direct threat.
North Korea's neighbors have reason to be anxious.
North Korea has 1.2 million troops, and as many as 80,000 commandos trained to infiltrate the South. In April, it launched a rocket that experts say indicates it has the capability of hitting Japan or possibly the United States with conventional warheads. And it has now demonstrated twice that it can detonate a nuclear device.
Memories of the Korean War are also frightening.
At the outset of the war, which began 59 years ago next month, North Korean armor rolled across the border, catching the South by surprise. An emergency U.S. defense effort initially crumbled, and the North's forces almost succeeded in pushing the Americans off the tip of the peninsula.
This time, concerns are focused on a clash at sea.
The North has threatened to retaliate with its military if any of its ships are stopped and searched for banned weapons. Deadly naval skirmishes occurred in 1999 and 2002 off disputed shores along Korea's western coast.
But despite all of its bluster, some experts say Pyongyang is playing a calculated game and is aware of the danger to the survival of its own leadership if it goes too far and provokes a full-on response from the much-stronger militaries that surround it.
"The North won't start a game that it knows it will lose," said Baek Seung-joo, a North Korea expert at Seoul's state-run Korea Institute for Defense Analyses.
He and other experts said North Korea is using the nuclear test to get the international community's attention and to milk for its domestic propaganda value, instilling its populace with pride in their country's military might.
North Korea has said it does not fear sanctions, which are being mulled by the U.N. Security Council, and is so isolated already that it is used to fending for itself, although the cost has been deep poverty.
Provoking a war, however, would involve a different calculus.
"North Korea is so impoverished it has not been able to renew arms that are outdated and degraded," said Atsuhito Isozaki, a North Korean expert at Japan's private Keio University. "Its conventional military is no match for those of Japan, South Korea or the U.S."
Isozaki said the North's shortage of oil has largely incapacitated its conventional military, which he said poses "virtually no threat" to neighboring countries although it is the world's fourth-largest.
If the North were to unleash its military, it would face a much stronger set of opponents than it did in 1950.
South Korea, where military service is mandatory, has roughly 670,000 in its armed forces. The United States has 28,000 troops in Korea, and another 50,000 in Japan.
U.S. fighters can reach North Korean airspace from their Japanese bases in about 30 minutes, and two U.S. navy destroyers are "tethered" to the North, meaning they are either in the Sea of Japan or on call to be there quickly if needed.
The United States also now has a nuclear-powered aircraft carrier permanently based in Japan, and has a squadron of F-22 stealth jets — the most advanced in the Air Force — deployed to the southern island of Okinawa.
Still, North Korea continues to pour what little resources it has on its own troops, described by the authoritative Web site GlobalSecurity.org as "North Korea's largest employer, purchaser, and consumer, the central unifying structure in the country, and the source of power for the regime."
Analysts trying to read Pyongyang's motives believe leader Kim Jong Il may be using the recent show of military brinksmanship as a means of asserting his strength and smoothing the way for a transfer of power to one of his sons, continuing the dynasty that he inherited from his father.
If that is the case, he does not want too much upheaval.
"Going to a war is a political decision," said Cha Du-hyeogn, another researcher at the Korea Institute for Defense Analyses. "In my opinion, the North may only stage limited provocation. It's very difficult for the country to choose to go to war in the current situation."
Cha noted that Kim also is aware that China and Russia — crucial backers in the Korean War — would not assist his army in the event of a new war on the peninsula.


Florida Woman Loses Arms, Legs After Misdiagnosis
Associated Press
DAVIE, Fla. —When the sharp pain shooting through Lisa Strong's back got worse, she thought it was another kidney stone and expected the discomfort to pass. This time was different.
Through a series of mistakes, miscommunications and misdiagnoses, she wound up having her arms and legs amputated. She sued the doctors, who essentially blamed one another for what everyone involved agrees were profound errors.
Everyone except the jury that ruled against Strong.
The verdict came in the face of such overwhelming evidence that in a rare move, the judge tossed out the jury's decision and ordered a new trial.
As she awaits her second chance in court, Strong vividly remembers the day she became ill.
On Sept. 20, 2003, she was at her job at a mall and could barely walk. She went home, and hours later, the pain grew more intense. Her fever spiked at 106 degrees. She decided to go the ER.
"I told the nurse I had a kidney stone. I had a history of kidney stones," said Lisa, now 45.
But the stone was never treated, setting off a downward spiral that triggered a life-threatening infection and septic shock that starved her limbs of blood. Her flesh turned black as a "line of death" crept up her arms and legs. It didn't stop for a month.
"I figured if I exercised, moved around, I could get the circulation back. But it's like frostbite," she said. "My fingers turned black. My toes and the bottoms of my feet turned black. My fingers started to curl. It looked like I had held them in a fire, like they were charred."
A month after she first went to the hospital, doctors amputated her legs below the knees. Three days later, her arms below the elbows.
Two years later, Strong sued the doctors for negligence. Lawyers involved think so many mistakes were made, the jury had a hard time fixing blame.
But Broward County Circuit Judge Charles M. Greene reversed the jury's verdict and concluded the it was "contrary to the law and the manifest weight of the evidence."
Such reversals are extraordinary. According to the National Center for State Courts, judges set aside jury verdicts in only 78 of 18,306 civil trials nationwide in 2005, the most recent year complete statistics are available. That's less than one-half of 1 percent.
The two physicians — emergency room Dr. Laurentina Kocik and attending physician Dr. Jason Strong, no relation to Lisa — have appealed the judge's ruling. Written arguments are due June 1, though another trial could be at least a year from now.
Kocik, a 30-year veteran of ER medicine, insists she told Dr. Strong over the phone that Lisa Strong likely had a kidney stone. Dr. Strong works for a firm contracted by Lisa Strong's insurance company to make medical decisions if her personal doctor isn't available or chooses not to make the call.
But Kocik didn't write "kidney stone" on her diagnosis report. Asked during the trial if she wished she had written it down, Kocik said: "You better believe I wish I did ... a million times."
Dr. Strong remembers talking with Kocik and there was no a mention of a kidney stone. He also was not told she was in septic shock, so he went with a diagnosis of acute cholecystitis, a gallbladder condition unrelated to the kidneys.
Dr. Strong handled everything by phone, which is common in such cases.
"I did not come in this particular case because, No. 1, I felt the patient was reasonably stable. I was not given a history that the patient was in septic shock or that she was crashing and dying," he said.
Kocik insists she stressed the dire condition. She said she expected Dr. Strong to give a few treatment orders and immediately come to the hospital. She also didn't turn the case over to her ER replacement during a shift change because Dr. Strong was calling the shots.
"I needed him to examine and make his own decision," Kocik said. "I wanted for him to come in. I expected him to come in."
But he never did. And Lisa Strong waited hours to undergo unnecessary surgery, which further weakened her. Finally, about 16 hours after she came to the ER, a test revealed the kidney stone that was causing her life-threatening infection. It was removed.
Four months later, Lisa Strong got out of the hospital, a quadruple amputee.
Dr. Anthony Smith, chief of urology at the University of New Mexico medical school, said it is critical people get prompt treatment for kidney stones.
"You can get a massive, overwhelming infection," Smith said. "When we have patients die, it's almost always because they delayed coming into the hospital."
But Lisa Strong didn't delay in getting to the hospital.
Life has been difficult since she was discharged. She struggles to prepare meals with her prosthetic limbs. Her 10-year-old daughter, Chloe, helps her put on makeup. She's in constant pain and owes some $850,000 in medical bills.
Her 10-year marriage fell apart and ended with the couple sharing custody of Chloe and another child, 9-year-old Jesse. She gets by on monthly $1,600 in disability payments.
Lately, she has had misgivings about the new trial.
"I had decided, this is over. I'm moving forward. Now, this whole thing is back on my lap and hanging over my head. The more I thought about it, the worse I felt," she said. "Everybody says you really can't win at these things."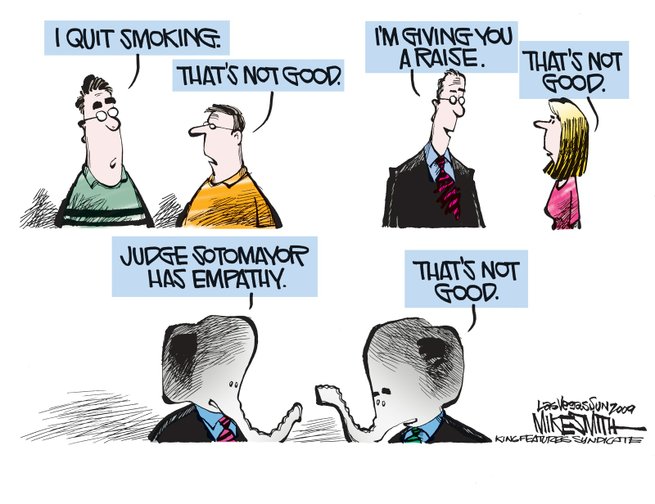 VARIOUS LATE NIGHT QUOTES
"Hey, last night at a fundraiser in Beverly Hills, people paid $30,000 to attend a dinner and a discussion with President Barack Obama. The subject of the discussion? The struggling economy." --Jay Leno
"Let me tell you something, if you spend $30,000 on dinner, aren't you legally a Republican at this point? I think so." --Jay Leno
"There were actually two fundraisers last night -- a higher priced celebrity dinner and a second, cheaper dinner. See, that's what I love about L.A. Even when we all come together as one nation to support our leader and face the most difficult challenges, you never forget that there's always an A-list and a B-list." --Jay Leno
"In fact, you know who was there? Kiefer Sutherland. I saw him down there. His job was to head-butt Joe Biden if he got near a microphone." --Jay Leno
"Actually, there was a performance by Earth, Wind & Fire, which ironically is also the Democratic energy policy -- earth, wind and fire.'" --Jay Leno
"President Obama flew back to Washington this morning. And you can tell even he's feeling the economic pinch. Show him leaving today. Here he is getting on the plane. Can we pull out? Look at the plane. Look, see? It's Southwest." --Jay Leno
"Oh, you see that video online of the wind knocking down Joe Biden's teleprompter at the Air Force graduation? See, that's when you know you're talking to too much -- when even Mother Nature goes, 'Shut up. Okay? Just shut up.'" --Jay Leno
"The big story here in California -- the Supreme Court has decided to uphold the ban on gay marriage. However, gay unions are still legal. See, that shows how little I know about this subject. I didn't even know gay people had their own union." --Jay Leno
"Well, actually, according to a new Gallup poll, 52% of people say they're opposed to gay marriage, 45% of people say they're in favor of it. That means the remaining 3% are for gay rights, they just hate going to weddings." --Jay Leno
"President Obama has picked Federal judge Sonia Sotomayor as the Supreme Court nominee. So that means the Supreme Court will have seven men and two women. Like speed dating night at the Burbank Holiday Inn." --Jay Leno
"Former Presidents Bill Clinton and George W. Bush will appear together in Toronto, on Friday, for a two-hour conversation, where George Bush plans on being the first person ever to lose a conversation." --Jimmy Fallon
"The Illinois Senate passed a bill on Wednesday to legalize medical marijuana. The bill was passed after the state senator said, 'Come on, dude, pass it. Come on.'" --Jimmy Fallon
"You could tell that the senators were determined that afternoon. They passed the same bill five times. They were just like: 'Seriously, pass it again. That's a pretty good bill.'" --Jimmy Fallon
"Burger King is adding a new kids' meal that's lower in fat, sodium and calories. It's called the 'I Don't Want That.'" --Jimmy Fallon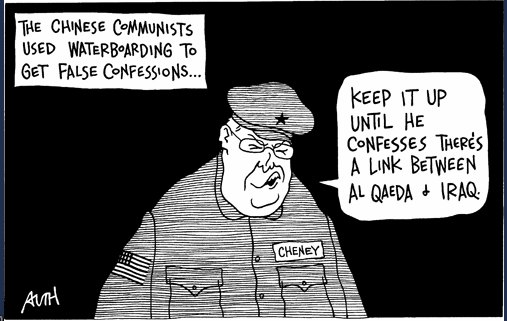 This Week in God!!!
BETTY BOWERS OMG.TV
THE NO-SIN SPIN ZONE