GOP out to Swift Boat Obama's Health Care Plans
David Plouffe
We knew healthcare reform would face fierce opposition -- and it's begun. As we speak, the same people behind the notorious "swiftboat" ads of 2004 are already pumping millions of dollars into deceptive television ads. Their plan is simple: torpedo healthcare reform before it sees the light of day by scaring the public and distorting the President's approach.
The swiftboaters are once again trying to sell the American people short. As during the election, we deserve a serious conversation -- not fear-mongering and deceit. You and I see the importance of healthcare reform every day. We can't miss this once in a lifetime opportunity to face one of America's greatest challenges head on.

Passing real healthcare reform will be the toughest, most important challenge we've faced together since electing Barack Obama President.

But it's also a big reason we fought so hard to get here. I know that by working together, and speaking with one, determined voice, we can prevail over the cynics and defenders of the status quo. America's families are counting on us to do just that.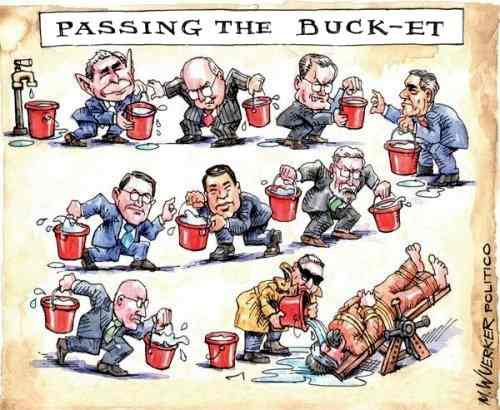 Obama faces calls to delay Guantanamo closure
AFP
Top lawmakers on Sunday urged President Barack Obama to delay his January deadline to shut the Guantanamo Bay prison, arguing more time was needed to resolve complex issues vexing the closure.
"I think we ought to leave Guantanamo open. It's a 200 million dollar state-of-the-art facility. No one has ever escaped from there," argued Republican minority Senate leader Mitch McConnell.
"It has court rooms for the military commissions trials which the president has now correctly, in my view, decided ... maybe that's a good way to try some of these terrorists after all."
Obama has ordered the notorious facility to close by January 22, 2010, and has set up a review of each of cases against the 241 prisoners from 30 countries still held at the remote US naval base in southeastern Cuba.
But on Friday the US leader said he was reviving military commissions to try those people rounded up in the US "war on terror" who still face charges.
The idea of bringing inmates to the United States to face trial has raised hackles here, and McConnell argued on Fox New Sunday that the best place to handle those hearings was at Guantanamo Bay.
"There's no reason in the world to bring these people to the United States. I don't think there's a community in America that's going to be interested in taking them," he said.
His comments where echoed by both Republican Senator Jon Kyl, the Senate's minority whip, and Democratic Senator Jim Webb.
"I think that the people who have been held in Guantanamo are being charged essentially for acts of international terror, for acts of war, and they don't belong in judicial system, and they don't belong in our jails," Webb told ABC's This Week.
"And there are facilities built in Guantanamo right now that are able to do that."

==============================================
Anyone here think Obama will have Gitmo closed by Jan 22, 2010?
I don't...
And I don't understand what the big to do is with placing them in Federal Prisons here in the US...In Colorado they have a "Super Max" prison (there are 3 Super Max prisons), the Governor of Colorado has even said he has no problem with placing them in the prison in his State, in fact there is a section of the prison called bombers row, that hold people just as bad, if not worse...Now if I had my way I would by the properties next to Hannity and Rush and place them there, but that's me...Seriously, what is the big deal...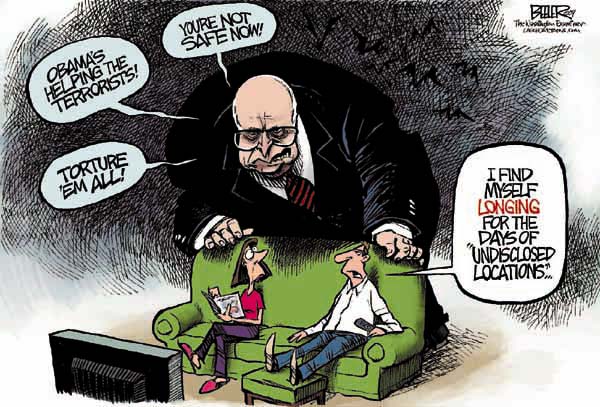 Shining Light On Cheney's Hideaway
Daniel Stone
This just in from Newsweek's Eleanor Clift, a frequent purveyor of political anecdotes. She bring us an enlightening one here regarding the (quote) undisclosed location (unquote) we heard lots about in the days after Sept. 11. Here's Eleanor:
Ever wonder about that secure, undisclosed location where Dick Cheney secreted himself after the 9/11 attacks? Joe Biden reveals the bunker-like room is at the Naval Observatory in Washington, where Cheney lived for eight years and which is now home to Biden. The veep related the story to his head-table dinner mates when he filled in for President Obama at the Gridiron Club earlier this year. He said the young naval officer giving him a tour of the residence showed him the hideaway, which is behind a massive steel door secured by an elaborate lock with a narrow connecting hallway lined with shelves filled with communications equipment.
The officer explained that when Cheney was in lock down, this was where his most trusted aides were stationed, an image that Biden conveyed in a way that suggested we shouldn't be surprised that the policies that emerged were off the wall. Cheney has emerged as the leading critic of the Obama administration on national security, saying the president's policies are making America less safe, and if there's another attack, it will be Obama's fault. This is tough stuff, but as the architect of the Bush administration's policies on war and torture, he has a much bigger legacy to protect than the president he helped steer onto the shoals.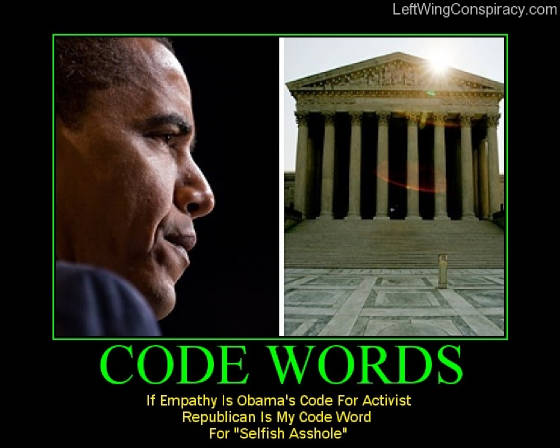 FBI infiltrated Iowa anti-war group before GOP convention

By WILLIAM PETROSKI
Des Moines Register and Tribune Company
An FBI informant and an undercover Minnesota sheriff's deputy spied on political activists in Iowa City last year before the Republican National Convention in St. Paul, Minn.

Confidential FBI documents obtained by The Des Moines Register show an FBI informant was planted among a group described as an "anarchist collective" that met regularly last year in Iowa City. One of the group's goals was to organize street blockades to disrupt the Republican convention, held Sept. 1-4, 2008, where U.S. Sen. John McCain was nominated for president.
The undercover Minnesota deputy who traveled to Iowa City was from the Ramsey County Sheriff's Department, which infiltrated a group known as the "RNC Welcoming Committee" that was coordinating convention protest activities in St. Paul.

The undercover officer accompanied two activists from the Twin Cities who attended the University of Iowa in April 2008 for a Midwest campus anti-war conference.

The Iowa City Police Department was not aware that an FBI informant was monitoring local anti-war activists last year, Police Chief Samuel Hargadine said. But he confirmed to the Register that he was notified by Ramsey County authorities last year that they were sending an undercover officer to Iowa City.
Authorities said about 800 convention protesters were arrested last September in St. Paul, although most charges have since been dismissed.

About 3,700 police officers — many in riot gear and some on horses — used tear gas, pepper spray and other methods to control protesters and quell disturbances. Demonstrators shattered glass windows at retail stores, and some threw feces and urine at police, authorities said.

About 25 members of Iowa City activist groups participated in the St. Paul demonstrations, but Iowa organizers said they were aware of only one Iowa City demonstrator who was arrested. Those charges were subsequently dropped.
A key focus of the protests was anti-war sentiment, but the activists had other causes, such as environmental issues and helping poor people. Most of the Iowa City activists did not attend the Democratic National Convention held in Denver, Colo.

Obama names Republican governor as envoy to China
By Matt Spetalnick And Emily Kaiser
WASHINGTON (Reuters) – U.S. President Barack Obama on Saturday named the Republican governor of Utah to be the next U.S. ambassador to China, a pivotal post in relations between the United States and a major emerging economic power.
Jon Huntsman Jr., 49, a Mandarin-speaking former U.S. trade official with deep personal and family business ties to China, takes on a delicate diplomatic role with a vital trading partner and one of the biggest sources of financing for the growing pile of U.S. government debt.
"This ambassadorship is as important as any in the world because the United States will best be able to deal effectively with the global challenges of the 21st century by working in concert with China," Obama said at a White House ceremony with Huntsman at his side.
But Obama also used his nomination of Huntsman, a former ambassador to Singapore who was co-chairman of Senator John McCain's presidential campaign and has been mentioned as a potential Republican presidential candidate in 2012, to send a message to China's communist leadership.
"Improved relations with China will require candor and open discussion about those issues where we don't always agree, such as human rights and democracy and free speech, and will require that each of our nations play by the rules in open and honest competition," Obama said.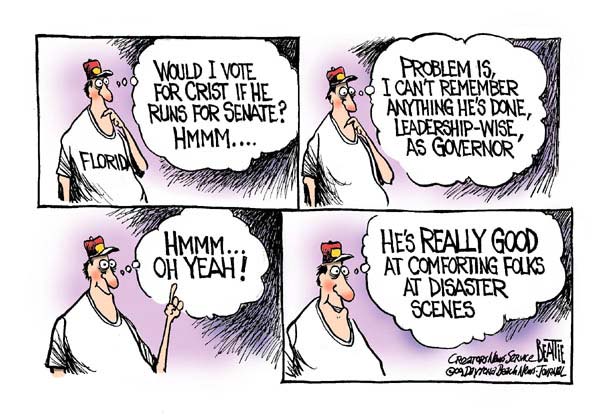 Is History on Crist's Side in the Governor-to-Senator Shuffle?
By Greg Giroux, CQ Staff
Most of the governors who wound up in the Senate of late were forced into it by term limits that caused them to find a new job in politics.
Florida Gov. Charlie Crist is an exception.
The Republican could run again for governor in 2010, but has chosen to make a bid for the Senate, where 12 former governors now are serving.
The recent history of sitting governors who run for the Senate suggests that Crist could face a very competitive campaign for the seat of retiring one-term Republican Sen. Mel Martinez .
Until his Senate campaign in 1992, Republican Judd Gregg had dominated elections in New Hampshire.
A recession in the early 1990s hit New Hampshire particularly hard — and hampered Gregg's Senate effort such that he won only narrowly.
Democratic Sen. John D. Rockefeller IV of West Virginia had the same problem in 1984, when he was only narrowly elected to the Senate in part because the state he had governed for eight years was plagued by a poor economy.
If Democrats are hoping that Crist's 2010 Senate campaign resembles Gregg's in 1992 or Rockefeller's in 1984, Republicans hope that Crist's effort resembles Sen. George V. Voinovich 's easy election to the Senate in 1998 after two well-received terms as Ohio's governor.
As he begins his Senate quest, Crist has significant advantages, including a strong approval rating as governor — a mid-April Quinnipiac Poll pegged it at 64 percent — as well as fundraising heft and near-universal name recognition that come with his already high profile.
Of the four current senators who were first elected as sitting governors — the feat Crist is now attempting — Gregg could have run for another term as governor. The other three — Voinovich, Rockefeller and Democrat Thomas R. Carper of Delaware — were barred by state term-limits laws from running again.


The Leadership of the GOP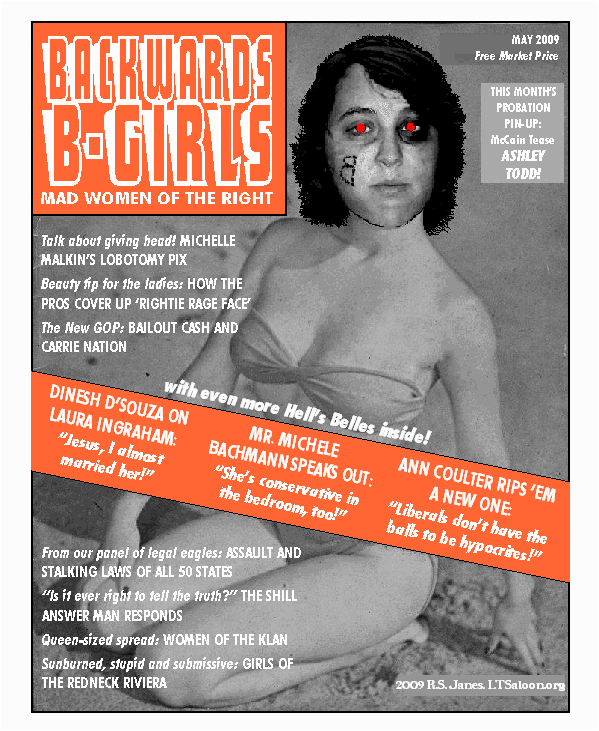 Hackers breach US air traffic control computers
AFP
Hackers broke into US air traffic control computers on several occasions over the past few years and increased reliance on Web applications and commercial software has made networks more vulnerable, according to a government audit.
Among the breaches was an attack on a Federal Aviation Administration (FAA) computer in February 2009 in which hackers gained access to personal information on 48,000 current and former FAA employees, the report said.
In 2006, it said, a viral attack on the Internet spread and forced the FAA to shut down some of its air traffic control (ATC) systems in Alaska.
The audit was conducted by an assistant inspector general in the US Transportation Department and released this week. A copy of the report was obtained by Internet news agency CNET and posted online.
"The need to protect ATC systems from cyber attacks requires enhanced attention because the (FAA) has increasingly turned toward the use of commercial software and Internet Protocol-based technologies to modernize ATC systems," the report said.
It said the use of commercial software and Web applications may increase efficiency but "inevitably poses a higher security risk to ATC systems than when they were developed primarily with proprietary software."
Software vulnerabilities were "especially worrisome at a time when the nation is facing increased threats from sophisticated nation-state sponsored cyber attacks," the report said.
"By exploiting these vulnerabilities, the public could gain unauthorized access to information stored on Web application computers," it said.
"In addition, these vulnerabilities could allow attackers to compromise FAA user computers by injecting malicious code onto the computers," it said.
The report said a security test identified 763 "high-risk" vulnerabilities which could provide an attacker with immediate access into a computer system and allow them, for example, to execute remote commands.
The Wall Street Journal said an FAA spokeswoman, Laura Brown, had rejected some of the report's conclusions, including the extent of the 2006 breach that led to the partial ATC shutdown in Alaska.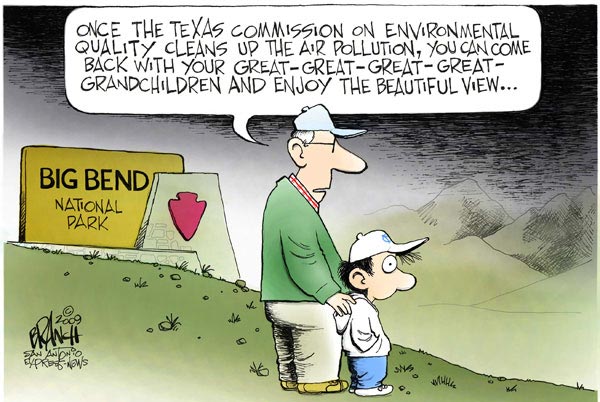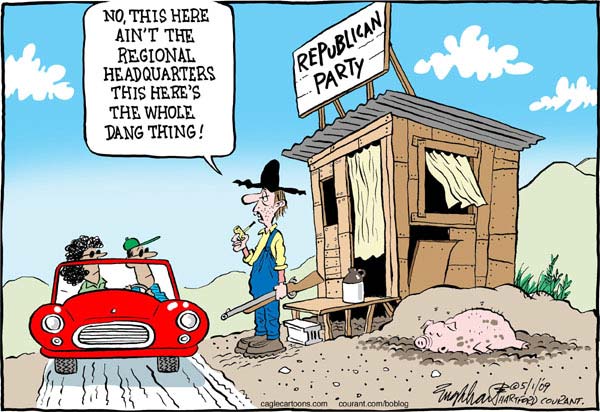 In Their Own Words: Why Dem Senators Screwed Homeowners
Only 45 Senate Democrats voted Thursday to oppose the banking industry and pass legislation aimed at stemming foreclosures. The bill would have allowed bankruptcy judges to allow homeowners who met strict conditions to renegotiate mortgages -- a process known as cramdown. It would have only applied to mortgages entered into before 2009.
Earlier in the week, the measure's lead proponent, Sen. Dick Durbin (D-Ill.), concluded that banks "frankly own the place."
Of course, the 12 Democrats who voted "no" have a more charitable view of their own motivations. So we asked them what their reasoning was. In their own words, here is how (those we could find) explained their vote:
Byron Dorgan (D-N.D.): "A number of things. I thought the 31 percent is an arbitrary number. I think there are a whole lot of folks, are likely folks, out there who have little debt outside their home who could -- I just thought it was an arbitrary number and I didn't like the way it was constructed."
Dorgan is referring to the percentage of a person's income that a judge could determine should be dedicated to paying the monthly mortgage. The figure is roughly in line with what financial analysts agree is appropriate.
Is Durbin right? Do banks own the Senate?
"I don't know who he's speaking about," said Dorgan. "He worked on this for a long, long time. And I wish they would have found a way to reach an agreement that would have allowed the legislation to get through...I don't know the context of which he said that."
Is the bill totally finished? "I don't know. I think I wish they had found some middle ground by which they could have moved a piece of legislation. They didn't do that. And you know, this legislation went well beyond subprime, as you know."


Obama taps aide to guide nominee for Supreme Court
By Philip Elliott
Associated Press
WASHINGTON – A seasoned Democratic political operative will guide President Barack Obama's eventual Supreme Court nominee on Capitol Hill, where the Senate's top Republican on Sunday refused to rule out a filibuster.
Stephanie Cutter is expected to leave her job as an adviser to Treasury Secretary Geithner and move next door to the White House, an administration official said. The official spoke on the condition of anonymity to discuss personnel decisions and strategy.
Cutter, a veteran of presidential campaigns and Senate politics, is expected to coordinate the announcement and confirmation hearings for Obama's pick to replace Justice David Souter, who is retiring. Democrats control the Senate, although the White House does not expect an automatic confirmation for the lifetime appointment.
Republicans are keeping all paths open. Sen. Mitch McConnell of Kentucky said he would not rule out a filibuster. During confirmation hearings for Justices Samuel Alito and John Roberts, McConnell opposed using the procedural move, which could indefinitely delay votes on a nominee.
"Under the rules of the Senate, all things are possible," McConnell told "Fox News Sunday."
McConnell added that he did not know how his party would respond, given Obama has yet to announce a pick.
The GOP has only 40 senators, giving them little chance of blocking the nominee. That hasn't stopped conservative groups from urging senators to sharply question the judicial philosophies of the president and his nominee.
Cutter will shape the White House's message during the high-volume debate on the Hill and in the media. She knows the turf well; she coordinated the Democrats' opposition to President George W. Bush's Supreme Court nominees and was a frequent Democratic spokeswoman.
A former senior adviser to Sen. Edward M. Kennedy, D-Mass., she was Sen. John Kerry's top spokeswoman when he sought the White House in 2004. Last year, she joined Obama's campaign as an adviser and became Michelle Obama's top aide.
After Obama's election, Cutter moved to the Treasury Department, where she has advised Geithner as he has overseen a troubled economy and bailed out banks and auto companies.
The White House hasn't said when it will announce its nominee, although officials familiar with Obama's deliberations say the president is expected to name a choice by the end of May, or shortly after. Obama heads to Egypt, German and France the first week of June; insiders expect a nominee before he leaves June 2.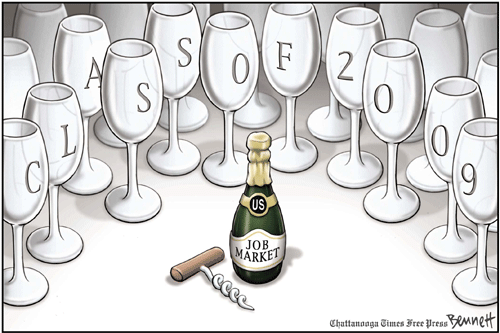 At Notre Dame, Obama delves into abortion debate
By Julie Pace
Associated Press
SOUTH BEND, Ind. – Facing protests and controversy, President Barack Obama stepped head-on into the debate over abortion, one of the nation's most divisive issues.
At the University of Notre Dame, the country's foremost Catholic university, Obama told graduates on Sunday that while the two sides may never agree on the issue, there is some common ground.
"We can still agree that this is a heart-wrenching decision for any woman to make, with both moral and spiritual dimensions," Obama told the university's 2,900 graduates.
The president's stance on abortion — he supports abortion rights but says the procedure should be rare — sparked outrage among Catholics when Notre Dame invited Obama to deliver the commencement speech and receive an honorary degree.
The Catholic Church and many other Christian denominations believe that abortion and the use of embryos for stem-cell research amount to the destruction of human life, are morally wrong and should be banned.
At the university police said 37 people were arrested Sunday on trespassing charges while protesting Obama's speech. Two others face both trespassing and resisting arrest charges.
Among those arrested was Norma McCorvey, the plaintiff identified as "Roe" in the Roe v. Wade Supreme Court decision that legalized abortion. She now opposes abortion and joined more than 300 anti-abortion demonstrators at the university's front gate.
Obama entered the graduation ceremony to thunderous applause and a standing ovation from many in the crowd of 12,000. But as the president began his commencement address, at least three protesters interrupted his speech. One yelled, "Stop killing our children."
The president ceded no ground on the abortion issue, but asked those on both sides of the debate to "work together to reduce the number of women seeking abortions by reducing unintended pregnancies, and making adoption more available, and providing care and support for women who do carry their child to term."
The abortion issue is again at the forefront as Obama considers potential nominees to fill the Supreme Court vacancy left by the retirement of Justice David Souter. Abortion opponents are determined to see Roe v. Wade overturned, but only four court justices out of nine have backed that position. Souter has opposed arguments for overturning the ruling.
Before returning to Washington, the president stopped in Indianapolis for two fundraisers. About 40 people attended a $15,000 per couple Democratic National Committee event, which raised between $300,000 and $400,000.
About 650 people attended a second fundraiser for four Indiana Democratic congressmen. Tickets ranged between $250 and $5,000 per person.
Indiana is a traditionally conservative state that Obama carried in the presidential election.


VARIOUS LATE NIGHT QUOTES
"Barack Obama said that his Administration will not release the photographs of detainee abuse. Not because they don't want to, but because they can't get the password for Dick Cheney's camera phone." --Jimmy Fallon
"A Canadian scientist was arrested for smuggling vials of Ebola into the U.S. And I'm telling you, this wouldn't happen if the government would just legalize Ebola. You know? Been saying this for years." --Jimmy Fallon
"At the White House the other night, President Obama and First Lady Michelle Obama hosted a night of poetry and music featuring musicians, authors and poets, to which President Bush said, 'Now, that's torture.'" --Jay Leno
"Oh, and speaking of torture, I love this. House Speaker Nancy Pelosi now says the CIA and President Bush misled her on waterboarding. Yeah. Apparently she was misled by the Bush Administration. So she spends eight years telling everybody how dumb President Bush is, and the minute they're in trouble, 'He fooled me! I had no idea! He tricked me!'" --Jay Leno
"Well, in a sudden reversal, President Obama now is fighting the release of dozens of new photos showing U.S. personnel allegedly abusing prisoners. The matter has not been decided yet. I understand the photos are now under review from Donald Trump. He's reviewing them to see if they're tasteful enough." --Jay Leno
"Well, let me ask you, have you noticed since this whole stupid topless Miss California thing started, we haven't heard anything about the swine flu? Weren't we all supposed to be dead by now?" --Jay Leno
"Does this name ring a bell -- evil Dick Cheney? He's in New York City. He's on another one of his stops on his 'Don't Say I Didn't Warn You Tour.' And he is in New York City. And he has one of those crazy, embarrassing New York City moments. He's driving in a cab. And it turns out the cabdriver is somebody Cheney had waterboarded. It was crazy." --David Letterman
"The NASA people have their own T.V. channel and you can watch what they are doing. So today, they flew up there in the space shuttle and changed cameras on the Hubble Telescope, the most powerful telescope in the history of the world. And yet, even the Hubble Telescope can still not see how Larry King stays on the air." --David Letterman
"To raise money for California, Governor Schwarzenegger says he's willing to sell some of the state's aging landmarks, like San Quentin Prison. So far, the only bid has come from Dick Cheney. Apparently, he wants to use it as a vacation home in the summer. 'I can just relax in the atmosphere.'" --Craig Ferguson
"John McCain's mother was on TV last night saying she doesn't like Rush Limbaugh. I think I speak for all: John McCain's mother is still alive?" --Craig Ferguson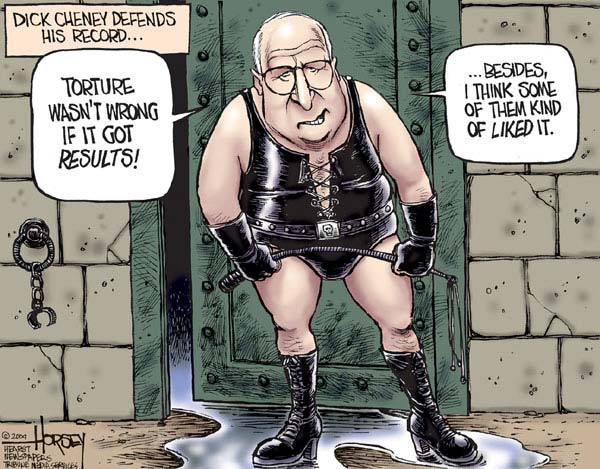 This Week in God!!!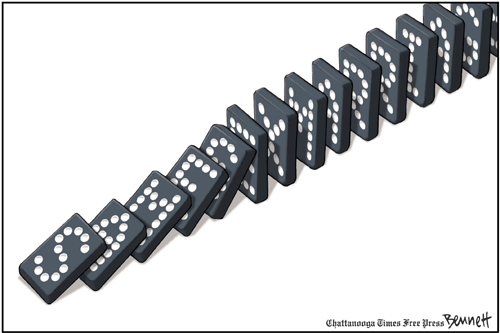 62 percent of white evangelical Protestants believed that torture can sometimes or often be justified
The AP cites a Pew Forum on Religion and Public Life survey released April 29 which showed that 62 percent of white evangelical Protestants believed that torture can sometimes or often be justified. For the general US public, it was just under half, at 49 percent.
"Those who attend religious services at least once a week were more likely than those who rarely or never attend to say torture is sometimes or often justified in that scenario — 54 percent to 42 percent," the AP notes.
More from the AP article:
Gary Bauer, a former Republican presidential candidate affiliated with several Christian right groups over the years, said the discussion should not come down to "Would Jesus torture?"
"There are a lot of things Jesus wouldn't do because he's the son of God," he said. "I can't imagine Jesus being a Marine or a policeman or a bank president, for that matter. The more appropriate question is, 'What is a follower of Jesus permitted to do?'"
Bauer said the answer is "it depends" — but the moral equation changes when the suspect is not a soldier captured on a battlefield but a terrorist who may have knowledge of an impending attack. He said he does not consider water-boarding — a form of interrogation that simulates drowning — to be torture.
"I think if we believe the person we have can give us information to stop thousands of Americans from being killed, it would be morally suspect to not use harsh tactics to get that information," Bauer said.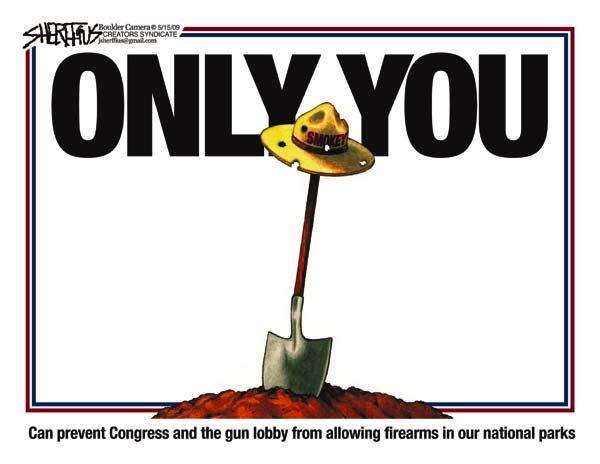 Poodwaddle.com
YodasWorld.org is updated each Monday. Some of the items from the previous week are added to the various topic links on the left side of the main page. Links embedded should be good for at least the date posted. After the posting date, link reliability depends on the policy of the linked sites. Some sites require visitors to register before allowing access to articles. Material presented on this page represent the opinion's of YodasWorld.org.
Copyright 2000-2009 YodasWorld.org. All rights reserved on original works. Material copyrighted by others is used either with permission or under a claim of "fair use."