Yoda's World is a Weekly Publication a New Issue Each Monday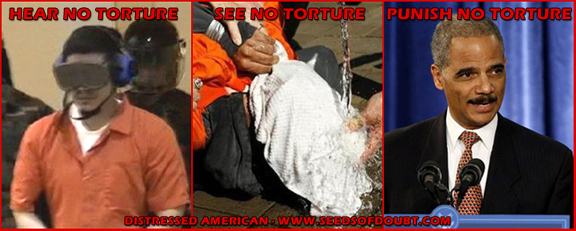 A White House State of Mind
By: David Phillips
April 20, 2009
Yoda's World
Three cheers for the Red, White and Blue, President Barack Obama and the Attorneys General Eric Holder both have said that they will not seek to prosecute those that circumvented American laws, the Geneva convention against torture, or the United Nations agreement against torture both of which the United States are signees, even though both Obama and Holder are on record saying that they would pursue crimes by the previous administration.
President Obama had said that "no one is above the law" while campaigning for the job he is currently holding, it seems that that is only true if the laws broken did not emanate from the Oval office.
Back in April of 2008 then Senator Obama said, "If crimes have been committed, they should be investigated" referring to the Bush administration, but he also said that "I would not want my first term consumed by what was perceived on the part of Republicans as a partisan witch hunt, because I think we've got too many problems we've got to solve."
President Obama keeps telling us that he is quite capable of doing more than one thing at a time, and he has shown that he is able to do that. So why in the world won't he go after those that committed crimes at the same time? I do not buy his argument that it would appear as a "partisan witch hunt" it sounds more like politics as usual.
Attorneys General Eric Holder back in November 2008 said, "Our government authorized the use of torture, approved of secret electronic surveillance against American citizens, secretly detained American citizens without due process of law, denied the writ of habeas corpus to hundreds of accused enemy combatants and authorized the use of procedures that violate both international law and the United States Constitution.... We owe the American people a reckoning."
Obama last week authorized the release of a series of memos detailing the methods approved under President George W. Bush, and in an accompanying statement, Obama said "it is our intention to assure those who carried out their duties relying in good faith upon legal advice from the Department of Justice that they will not be subject to prosecution." He did not specifically address the policymakers at that time, but has since by saying that he will not prosecute those that authorized torture.
The Bush administration torture Memos released last week by President Obama go into detail how the Bush administration approved various forms of torture from "Waterboarding" (simulated drowning) to 'Walling" slamming a detainees head into a wall along with several other forms of torture techniques where the CIA asked how far they can stretch the envelope with torture.
But with all this evidence President Obama says he will NOT seek to indict anyone who had a hand in either approving torture or those that did the torture.
Politics as usual and no change we can believe in, A White House State of Mind.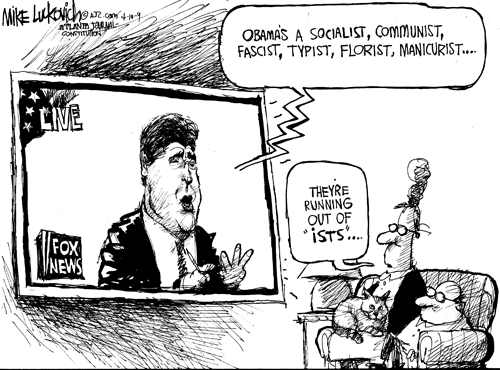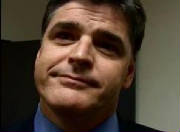 Obama a socialist? Not quite
By Scot Lehigh
Globe Columnist
Of all the inane accusations about President Obama, the silliest has to be this: The president is a socialist.
Obama's plans are "one big down payment on a new American socialist experiment," asserts House minority leader John Boehner. He's "the world's best salesman of socialism," says Republican Senator Jim DeMint.
"Lenin and Stalin would love this stuff," declares Mike Huckabee. Sean Hannity derides his agenda as "socialism you can believe in." Obama is "a radical communist," warns kooky Alan Keyes.
"Epithets are substituting for thinking," observes Marc Landy, professor of political science at Boston College.
Are they ever.
That has long been the case across vast realms of conservative talk radio, of course. I recently heard one of our local luminaries who regularly accuses Obama of Marxism offering a similar sort of indispensable insight on another critical issue: Michelle Obama's appearance during her husband's speech to Congress. The first lady's face resembled that of a camel, while her body looked like the Liberty Bell wrapped in purple, said WTKK's Jay Severin, who, hilariously, fancies himself a political polymath leading a rarefied radio discussion. (Severin imagines any number of things about himself that are at considerable variance with the truth.)
So let's examine the matter. One defining aspect of socialism is state ownership, control, or direction of the economy. Think of Hugo Chavez nationalizing steel, cement, power, and telecommunications firms in Venezuela, and assuming control over foreign oil projects. Or of Francois Mitterrand nationalizing six of France's largest industrial conglomerates, plus dozens of the country's largest banks and investment houses, during his presidency.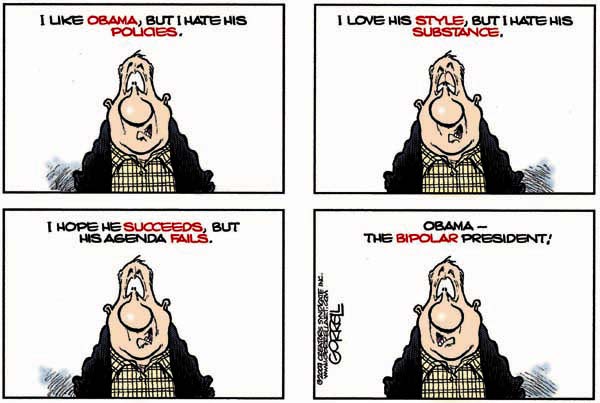 Think Progress
Last week, the Department of Homeland Security released a report finding that right-wing extremist groups inside the United States may be gaining new recruits and that they are targeting veterans from Iraq and Afghanistan. Since then, conservative critics — led by Fox News — have been up in arms, with some claiming that the report shows that the Obama administration is waging a "war on veterans." Today on CNN, DHS Secretary Janet Napolitano said that she regrets the politicization of the report that has ensued, but stands by its conclusion:
NAPOLITANO: Here is the important point. The report is not saying that veterans are extremists. Far from it. What it is saying is returning veterans are targets of right-wing extremist groups that are trying to recruit those to commit violent acts within the country. We want to do all we can to prevent that.
Watch it: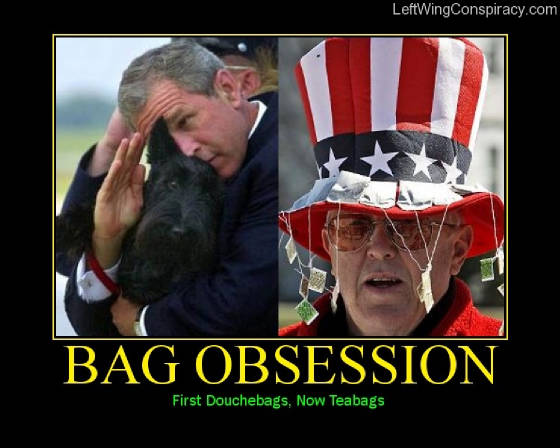 Axelrod: Tea Party Anger is Misdirected
Obama senior adviser says frustration over spending and taxes is "unhealthy."
Sunday, April 19, 2009
Washington (AP)-- Damn the tea bags. A top adviser to President Barack Obama takes a dim view of last week's anti-tax "tea parties," promoted by organizers in the spirit of the Boston Tea Party.
"The thing that bewilders me is this president just cut taxes for 95 percent of the American people. So I think the tea bags should be directed elsewhere because he certainly understands the burden that people face," David Axelrod said Sunday.
The rallies coincided with the deadline to file income taxes, and gave people a chance also to voice frustrations about government spending and corporate bailouts.
The tea parties were promoted by FreedomWorks, a conservative nonprofit advocacy group based in Washington and led by former Republican House Majority Leader Dick Armey of Texas, who is now a lobbyist.
Axelrod was asked on CBS' "Face the Nation" for his opinion on what the show's host described as "this spreading and very public disaffection with not only the government, but especially the Obama administration."
Axelrod replied: "I think any time that you have severe economic conditions, there is always an element of disaffection that can mutate into something that's unhealthy."
"Unhealthy?" the moderator repeated.
"This is a country where we value our liberties and our ability to express ourselves. And so far these are expressions," Axelrod answered.
John Oliver Speaks to Tea Baggers...

Conservative Talking Heads Spew Hate at President Obama
Media Matters
In recent months, the violent, doomsday, and anti-intellectual rhetoric that has long been a staple of conservative media has taken a notable turn in at least three significant ways: previously confined to the right-wing media fringe, the rhetoric is now a constant across the full spectrum of conservative media; it is louder and meaner, with conservative media figures appealing overtly to feelings of anger and paranoia in their audience; and it is focused, tied to the specific political aim of undermining the Obama administration and the Congress.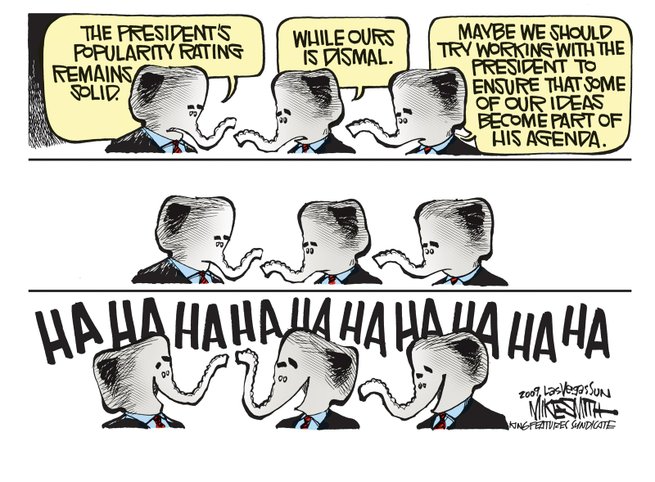 White House: GOP is 'party of no'
Douglass K. Daniel
ASSOCIATED PRESS
President Obama wants Republicans to return to Congress this week from their spring recess with a more constructive attitude toward health care, energy and other administration initiatives. Republican lawmakers say they have ideas, just not the ones the president may want.
"When you're the party of no, when you're the party of never; when you're the party of no new ideas, that's not constructive," White House Chief of Staff Rahm Emanuel said Sunday. "The challenge will be, will the Republicans come to the table with constructive ideas?"
Mr. Emanuel predicted progress by congressional committees on changing the health care system, particularly on proposals for controlling costs and providing incentives for healthy lifestyles. Mr. Obama will not consider proposals to tax employer benefits before those and other problems are addressed, Mr. Emanuel said, and perhaps not even then.
House Minority Leader John Boehner, Ohio Republican, agreed that Democrats and Republicans want Americans to have access to high-quality, affordable health insurance and that lawmakers differ on how to reach that goal.
"We're working on a plan that preserves the doctor-patient relationship, rewards quality and rewards innovation," Mr. Boehner said. "We're not for a plan that puts the government in charge of our health care, decides what doctors ought to be paid or what treatments ought to be prescribed."
On energy, Mr. Boehner said Republicans continue to favor a comprehensive strategy, including more nuclear energy and more domestic oil drilling, that they pushed last year.
Although the Environmental Protection Agency announced Friday that carbon dioxide and five other greenhouse gases pose a major health hazard, Mr. Boehner dismissed concerns about carbon dioxide as "almost comical." He questioned the role humans have played in climate change and what should be done about global warming.


The Leadership of the GOP
Palin's state Senate pick ends standoff with Dems
By Anne Sutton, Associated Press
JUNEAU, Alaska – A weekslong standoff between Gov. Sarah Palin and Alaska Democrats over a vacant Senate seat has ended with her appointment of former Juneau Mayor Dennis Egan to the job.
The governor's office announced Egan's appointment Sunday afternoon about six hours before the deadline for adjournment of the 2009 legislative session. The 62-year-old Egan was sworn in by Senate President Gary Stevens shortly before the Senate adjourned.
Palin and Senate Democrats, who were required to approve her pick, have locked horns over the selection since former Sen. Kim Elton resigned in early March to take a job with the Obama administration.
Egan is a longtime Alaska broadcaster and the son of Bill Egan, the state's first governor.
Current Juneau Mayor Bruce Botelho proposed Egan a week ago as a compromise candidate.

Attention Hackers: Feds are Hiring

In an effort to bolster US computer security, General Dynamics' IT department placed a want ad upon request by the department of Homeland Security. Applicants need to be able to "Think Like the bad guy", and understand how a hacker operates.
The Pentagon plans to increase it's cyberexpert staff from 80 to 250 by the year 2011. It is widely believed that the US is not prepared for major cyber attacks, this has sparked an effort by the Obama administration to better protect the nation.
A group of tech giants, including IBM, General Dynamics, Lockheed Martin and HP have urged the White House to elect a primary official to supervise and maintain the nation's vast array of information networks.

al-Qaeda Kids Gang Arrested

Four children believed to be al-Qaeda recruits trained to carry out suicide missions around the Iraqi city of Kirkuk have been arrested by Iraqi security forces. All the children were aged 14 and under and called themselves Birds of Paradise.
General Abdelmir al-Zaidi has stated "The group relies on children and is connected to al-Qaeda. It works to recruit children and young people to carry out suicide attacks and to aid the terrorist groups in detonating roadside bombs."
Their name comes from the traditional belief that when children die they become birds in paradise. Iraqi officers believe that al-Qaeda is losing ground by stooping to these tactics.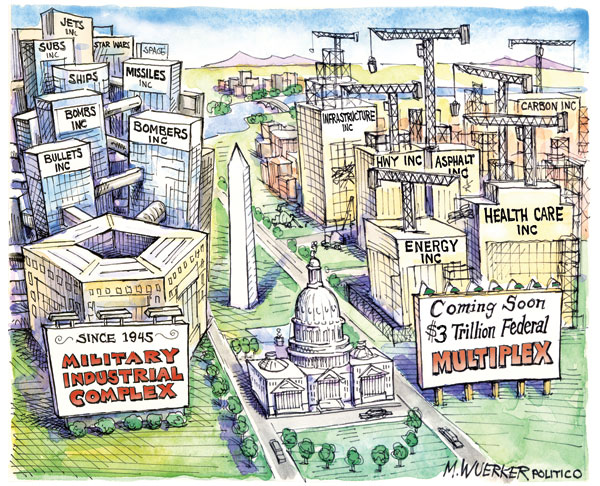 Fake News Titan Staggers: Medialink Worldwide, the largest producer of fake news products such as video news releases (VNRs) and audio news releases (ANRs), is teetering on the brink of collapse. In its latest annual report, the company reports that it had an operating loss of over $8.2 million in 2008 and "expects to incur operating losses in 2009 as revenues continue to decline in the current economic climate." The company states that it will continue cost-cutting measures and that is "is looking for "additional financing or investment from potentially interested third-party investors or buyers." However, it warns that unless it can raise additional funding it "may not be able to continue as a going concern."
The term fake news has become synonymous with government and corporate sponsored pre-packaged news provided as video news releases (VNRs) and audio news releases (ANRs) to news outlets.

THIS WEEKS FEATURED MUSIC VIDEO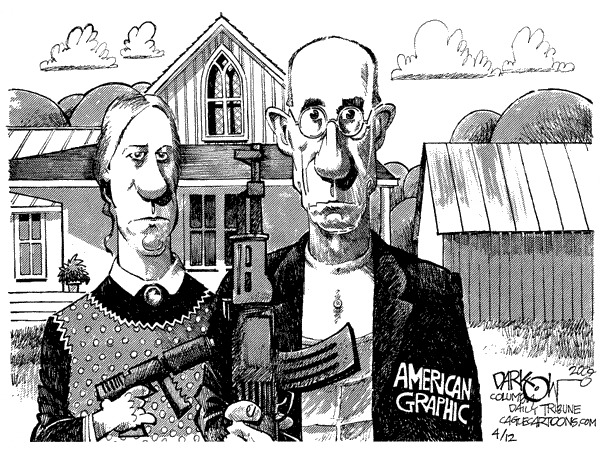 News Release
Obama Administration Agrees
To Halt Rule Allowing Guns In National Parks
For Immediate Release:
04-17-2009

Contact Communications:
(202) 898-0792
Washington, DC – In response to lawsuits filed by the Brady Campaign to Prevent Gun Violence and conservation groups, the Obama Administration today agreed to halt a rule implemented days before President Bush left office that allowed loaded, concealed guns in national parks and wildlife refuges. The Obama administration had initially defended the rule in court, before the Brady Campaign prevailed in its motion for a preliminary injunction of the rule.

U.S. District Court Judge Colleen Kollar-Kotelly had temporarily blocked the Bush rule last month and ordered the government to state its plans concerning the rule, finding that the Bush Administration issued the rule in an "astoundingly flawed process" without any environmental analysis as required by federal law. Concealed guns will continue to be barred in the parks and refuges while the government undertakes a full analysis of the severe dangers posed by concealed weapons, to determine whether the Bush rule should be reinstated or permanently withdrawn.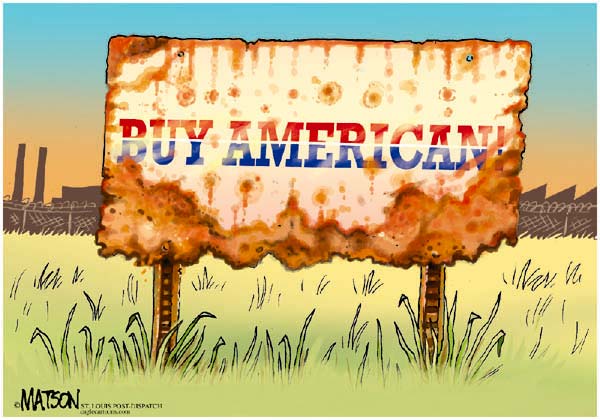 In China, "Buy American" Still Resonates
CBS Evening News: Growing Chinese Sales A Bright Spot For Struggling U.S. Automakers
Think the wheels are coming off the global car business? Think again.
U.S. automakers sold about 858,000 new cars in March, according to market research firm Autodata - another dismal month for the Big Three, which saw North American sales drop nearly 40 percent from a year ago.
But General Motors says it sold a 137,000 cars and trucks in China in March, up nearly 25 percent from a year earlier and a new company record for the month, as CBS News correspondent Barry Petersen reports.
The China Association of Automobile Manufacturers reports that the country's auto sales hit a monthly record of 1.11 million vehicles in March. China's soaring sales coupled with falling U.S. demand make China, for the moment, the world's largest car market.
China sales are booming thanks in part to a government economic stimulus plan keeping showrooms hopping by paying out rebates for purchasing small cars.
And what's hot in this hot market?
"I love American cars for their performance," said one Chinese customer.
Turn on the TV and the market leaders are American. Both Ford and GM. build cars in China for China, and part of their success is what's in a name. In China, a Ford or Chevrolet is considered a high-end import.
"China is a face-oriented culture," said Bill Russo, an expert on the Chinese automobile market. "People buy an imported car in order to demonstrate an achievement of a particular social status."
And when is the last time you heard a GM executive say that "our factories are running flat out to meet that demand," as GM China president Kevin Wale recently did?
One key to success - designing cars just for this market, like a Buick model favored by Chinese executives and high-level bureaucrats.
"They tend to have a driver which means you have to put more attention to the rear seat passenger," Russo said. "The person who paid the money for that car is sitting in the back."
So the carmakers are making those back seats luxurious, with controls for air conditioning and stereo and lots of legroom for that back-seat VIP.
And the Chinese profits are sent back to Detroit, which means U.S. car companies are getting a badly needed boost back home from a country far away where customers still love to buy American.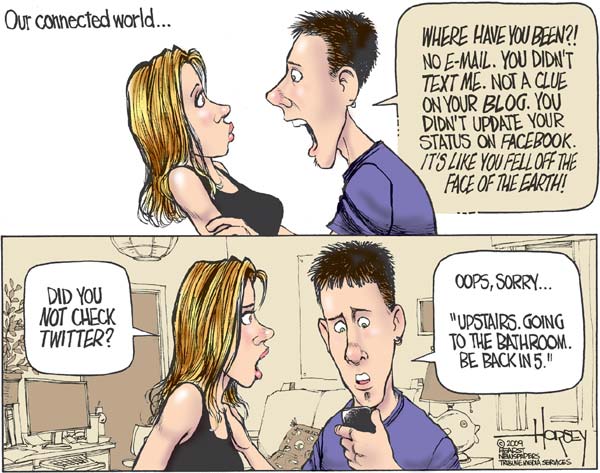 David Letterman's Top Ten Signs the Government Is Spying On You

10. Your kitty has a satellite dish on his head.
9. At restaurant waiter urges, "Speak directly into the dinner rolls."
8. Your car's GPS unit has an awful lot of questions.
7. "Girl Scout" delivering your thin mints is 6'4, 270.
6. Keep finding underpants labeled "Agent Morales."
5. Mailman warns you, "This conversation may be recorded for quality control purposes."
4. NSA sends over sexy lingerie they'd like your wife to wear.
3. You sing in the shower, a mysterious voice responds, "A little pitchy."
2. There's a Navy Seal hiding in your fish tank.
1. Several times a week, you get chloroformed, stuffed in a trunk and dumped in Mexico


VARIOUS LATE NIGHT QUOTES
"And New York Governor David Paterson announced that he will support legalizing gay marriage in New York. Well, you can understand why New York politicians are for this. Let's look at the problems. I mean, David Paterson and his affair, Eliot Spitzer with the hookers, Hillary and Bill. Straight marriages obviously don't work in New York. Let's try the gay thing." --Jay Leno
"George W. Bush has reportedly landed a $7 million book deal. The book will be about his years as president and is tentatively called 'Decision Point,' because every time Bush had to make a decision, he would point to Cheney." --Jay Leno
"A lot of folks from out of town visiting New York City. Be careful, word of caution, word of caution. Never hail a cab, now I'm serious about this, never hail a cab that is flying a Somalian skull and bones." --David Letterman
"Have you had a cab driver using a cell phone? I'm in the cab this morning coming to work and I said, 'Look, look, look. Look, do me a favor, stop talking on your cell phone.' And the driver said, 'I'm not talking on my cell phone, I'm on Google Earth trying to track down an oil tanker off the Horn of Africa.'" --David Letterman
"Did you hear what Nicolas Sarkozy, the French president, said about Obama yesterday? He called his new policies 'unsubstantial and overrated.' Then Hillary Clinton said, 'That's exactly what I've been saying.'" --Jimmy Fallon
"To pay off her campaign debt, Hillary Clinton is auctioning off a day with Bill Clinton. She is. Bill says he's thrilled to do it, as long as Hillary isn't allowed to enter the auction." --Jimmy Fallon
"President Obama is in Mexico right now. So if you want to break any laws or anything, this is the time to do it." --Jimmy Kimmel
"Secretary of State Hillary Clinton is still paying off her $6 million debt for her unsuccessful presidential campaign. And they're doing it by auctioning off a number of things, including a chance to spend a day with former President Bill Clinton in New York City, which I think technically makes Hillary a pimp, doesn't it?" --Jimmy Kimmel
"Yesterday, the governor of Texas, Rick Perry, said Texans are fed up with Washington. He said they might secede from the rest of America. If Texas forms their own country, they could be invaded by Mexico. They'll have to change their name to Texico." --Craig Ferguson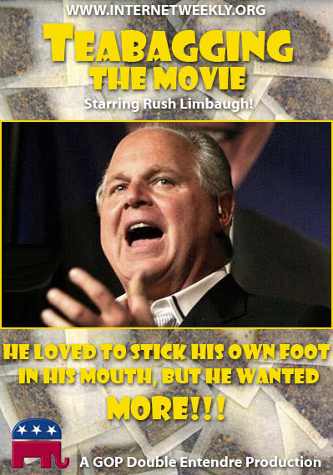 This Week in God!!!