Limbaugh Attacks, Steele Kowtows
Yoda's World
March 2, 2009
Rush Limbaugh the right wing fringe talking head and the New face of the GOP leadership, just got done attacking Michael Steele the RNC Chairman on his radio show for his remarks over the weekend on the DL Hughley show....Steele said Limbaugh was "Incendiary" and nothing but an "Entertainer"...Well Limbaugh did not like either comments about him and chewed out Steele and all other Conservatives who disagree with him...
Limbaugh tells Steele to do your job and shut up, you do not represent the GOP...
Now the real question is:
How long before Steele calls Limbaugh to kiss his butt and apologize?
a) 48 hrs
b) 24 hrs
c) 12 hrs
d) Steele will NOT apologize because he is a conservative republican with integrity

Update: Turns out the answer was 5 hours
Keith Olberman talks about Limbaugh and Steele on his show today.
Watch:

The Biggest Obstacle in Obama's Path: Congress (who else?)
David Lightman | McClatchy Newspapers
Washington — President Barack Obama's ambitious plans will face immediate political difficulty in a wary — and often parochial — Congress that's long resisted such fast, radical change.
It's not only lawmakers who tend to resist overturning the status quo. An army of lobbyists, grassroots interests, campaign contributors and others who make up insider Washington await, all eager to express their views on why Obama's plans need to be amended, if not defeated.
"He's going to get it from all sides," said Maya MacGuineas, president of the Committee for a Responsible Federal Budget, a Washington budget watchdog group.
Obama effectively said "bring it on" in his Saturday address on radio and the Internet.
"The system we have now might work for the powerful and well-connected interests that have run Washington for far too long. But I don't. I work for the American people," the president said. "I know these steps won't sit well with the special interests and lobbyists who are invested in the old way of doing business, and I know they're gearing up for a fight. My message to them is this: So am I."
Some of Obama's troubles are purely political. All 435 seats in the House of Representatives as well as 36 Senate seats are up for election in 2010, and most lawmakers want something tangible to take home, such as money for a highway or a new school, rather than promises to cut the federal deficit in half four years from now.
Unusual Suspects...The Daily Show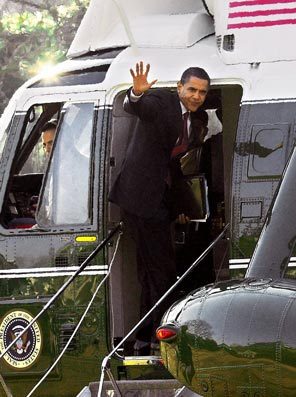 Marine One Blueprints and Avionics Leaked to Iran Through Peer-to-Peer Network
Filed by RAW STORY
Thanks to a defense contractor's errant use of a peer-to-peer file-sharing network, President Obama's helicopter may not be as safe as it looks.
A Pittsburgh-area company that monitors peer-to-peer networks accessed with file-sharing software like LimeWire and Napster says it has identified a potentially serious security breach involving Marine One and an IP address in Tehran, Iran.
The company found a file detailing the helicopter's blueprints and avionics package, which it then traced to its original source, Tiversa CEO Bob Boback told NBC affiliate WPXI, which reported the story Saturday.
"What appears to be a defense contractor in Bethesda, MD had a file sharing program on one of their systems that also contained highly sensitive blueprints for Marine One," Boback said. Tiversa also found information detailing the cost of Marine One.
He said that what probably happened is someone at the defense company began using a file-sharing program without realizing it could leak sensitive and classified documents because the programs can allow others to access your hard drive.
Tiversa notified the U.S. government immediately so that the security breach and its potential effect on President Obama could be dealt with.
Retired Gen. Wesley Clark, an adviser to Tiversa, said he knows exactly which U.S. computer leaked the Marine One information, and that that person may soon be unemployed, according to WPXI.
"I'm sure that person is embarrassed and may even lose their job, but we know where it came from and we know where it went," Clark said, adding that other military information has been found online in the past.
Iran isn't the only country considered unfriendly to the United States that appears to be accessing sensitive information via the Internet.
"We've noticed it out of Pakistan, Yemen, Qatar, and China," Boback said. "They are actively searching for information that is disclosed in this fashion because it is a great source of intelligence."
Rep. Jason Altmire (D-Pa.) said he would ask Congress to investigate how to prevent inadvertent peer-to-peer file leaks from happening again.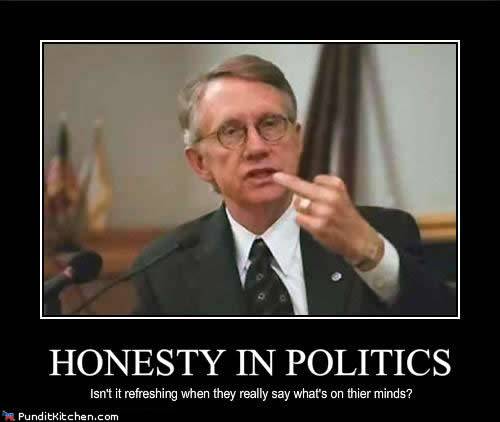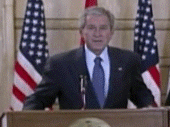 Shoe-Throwing Reporter Explains His Anti-Bush Anger to an Iraqi Judge
"I observed Bush smiling and talking to the prime minister. His smile was icy - and without blood or soul. In that moment, I felt that this person was the number one killer of my people. And being part of this people, I responded in this small way." —Iraqi journalist and shoe-thrower, Muntadar al-Zeidi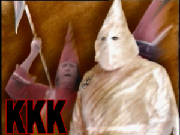 Growing Hate Groups Blame Obama, Economy
Report: the number of hate groups grew by 54 percent since 2000

Obama's election win fueled some to join hate groups, study found

The FBI's uniform crime report found 7,624 hate crime incidents in 2007

Obama is a "visual aid" that helps lure new members, says neo-Nazi


The United States of Incarceration

Employee Free Choice Act
What is the Employee Free Choice Act?
The Employee Free Choice Act, supported in 2007 by a in Congress, would enable working people to bargain for better benefits, wages and working conditions by restoring workers' freedom to choose for themselves whether to join a union. It would:
Establish stronger penalties for violation of employee rights when workers seek to form a union and during first-contract negotiations.
Provide mediation and arbitration for first-contract disputes (PDF).
Allow employees to form unions by signing cards authorizing union representation.
Here's Why We Need the Employee Free Choice Act
It's time to restore the freedom to form unions and bargain for a better life.
You can Learn more about the Employee Free Choice Act here at the web site of the AFL-CIO



The Leadership of the GOP
RNC Chairman Michael Steele Threatens Party Members
In a interview with Fox News' Neil Cavuto, Republican National Committee Chair Michael Steele said he was open to primary challenges to the three Republican senators who voted in favor of the federal stimulus package --Arlen Spector of Pennsylvania and the two senators from Maine, Susan Collins and Olympia Snowe. Spector is up for re-election in 2010.
"My retribution is the retribution of the voters in their state. They're going to have to go through a primary in their state," Steele said, adding that the RNC would follow the lead of the state parties in choosing which Republicans to back with campaign money. "When the state party says we're going to endorse a candidate, the RNC is behind them. When the state party says we have a problem with them, so does the RNC."
Some state parties are already punishing members who have crossed the aisle in recent weeks. The California Republican Party voted to withhold party funding in the 2010 election from the six GOP state legislators who voted in favor of Gov. Arnold Schwarzenegger's compromise budget two weeks ago. The budget included the largest tax increase in the state's history to balance a $42 billion shortfall.
"The measure was "approved swiftly and without debate Sunday as the party's twice-annual convention wrapped up in Sacramento. An earlier version of the measure contained stronger language, calling for a censure," writes the Associated Press. "Supporters said Sunday's resolution sends a strong message to politicians that there will be consequences for breaking their no-tax pledge."
The Leader of the Pack...Rush "The Drug Addict" Limbaugh

Ending Big Oil Giveaways
Friends of the Earth has worked for years to fight huge giveaways to Big Oil. Last July, we released an analysis showing that the oil and gas industries stood to reap nearly $33 billion in tax breaks and subsidies. And it looks like President Obama heard us! The Obama administration's budget proposal released last week slashes taxpayer giveaways to the oil and gas industries by tens of billions of dollars, including a tax on oil and gas companies that are failing to pay oil royalties on Gulf of Mexico leases.
The Wall Street Journal's "Environmental Capital" blog reported that the president's budget would increase taxes and fees on the oil and gas industries by more than $30 billion.
Get Clean, Coal Clean! (NEW Air Freshener)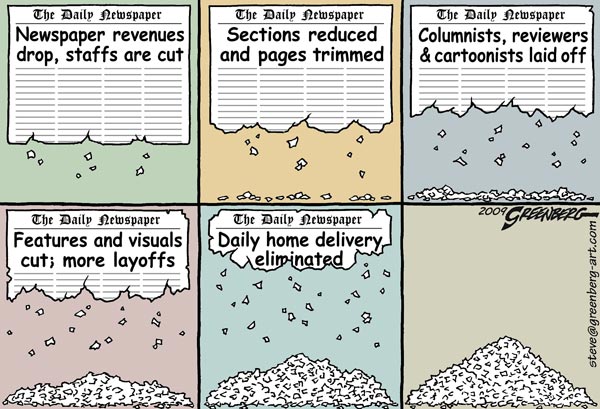 Another Newspaper goes out of Business
David Phillips
Yoda's World
The Rocky Mountain News, a Denver institution for 150 years, publish its last issue this past week.
A three-month long effort to sell the property proved futile and only bore one prospect, and the potential buyer backed away quickly after learning that it would cost about $100 million "just to stay in the game," said Rich Boehne, chief executive officer of E.W. Scripps Co. "The industry is in serious, serious trouble," he told staffers assembled in the Rocky's newsroom.
Dozens of Newspapers have gone out of business recently as they see their readership and ad revenue drop. The advent of computers and the internet and other portable electronic devices that can go on line and read the news from around the world for free has put a cloud over the Newspaper business that they may never recover from.
The San Francisco Chronicle is on life support, the NT Times and the LA Times may soon be in the same boat.
The writing is now on the wall and in cyberspace, and someday soon, Newspapers may be a thing of the past. And I will miss my morning paper with my coffee when that day comes.
Several publications have been contemplating charging people to view their online content, in fact Newsday has announced that they are going to start charging those who want to read their publication online.
If online charging turns out to be successful, others publications are sure to follow Newsday's lead.

Stephan Colbert Challenges Michael Steele to a Rap Off...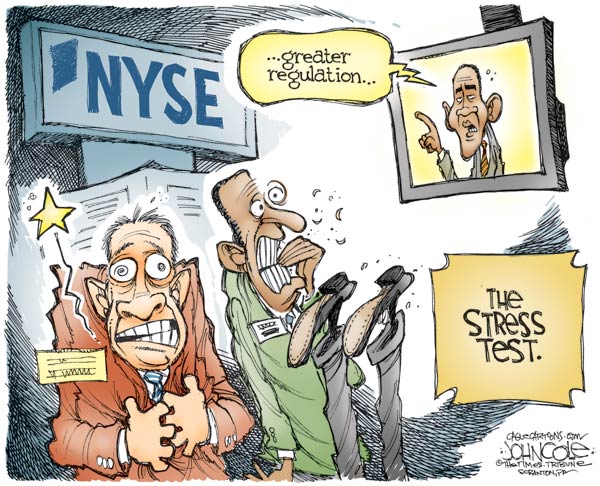 Obama's Next Big Battle: Affordable Health Care
The President Gets Ready to Rock the Boat as He Tackles Health Care Reform
By David Muir
March 1, 2009
President Obama plans to move ahead this week with an ambitious plan to overhaul the country's health care system.
It is likely to be a messy and costly political battle.
The latest ABC News poll shows that 53 percent of Americans are concerned about being able to afford necessary health care, and 33 percent are "very concerned."
During the presidential campaign, both sides called for repairs to the ailing system. Now the question is: how?
Franklin Roosevelt couldn't do it; nor could Truman, Kennedy, Johnson or Clinton. Both Clintons, in fact.
But President Obama will try again.
There are 46 million Americans without insurance and that number is quickly growing, as the ranks of the unemployed balloon in this economy.
"The cost of our health care has weighed down our economy and the conscience of our nation long enough. So let there be no doubt: health care reform cannot wait, it must not wait, and it will not wait another year," Obama told Congress Feb. 24.
Obama is asking for $634 billion in his new budget to be put aside over the next 10 years as a sort of health care fund. He says some of the money will come from taxing the wealthy and through trimming the fat in current government programs like Medicare and Medicaid.
The budget calls for also taking, over 10 years, $175 billion in fees that the government now pays insurance companies to cover more than 10 million people in private Medicare. The administration has said that that such private plans cost 14 percent more than traditional Medicare.
In his weekly video address Saturday, Obama acknowledged that "the insurance industry won't like the idea that they'll have to bid competitively to continue offering Medicare coverage, but that's how we'll help preserve and protect Medicare and lower health care costs for American families."
Others that might suffer under his budget include hospitals, drug makers and home health services. All have powerful lobbying groups.
The ambitious plan comes during the worst economic crisis this country has seen in a generation. Health care reform wasn't achievable in even the best of times. Now, it could be that much harder.
Just today, the White House again offered an ambitious timeline.
"Look, we want to get health care reform done this year, and we want to do it in a way that doesn't add to the deficit and that also helps bend the curve over the long term," said Peter R. Orszag, Obama's Director of the Office of Management and Budget, said this morning on "This Week."
Orszag said that heath care "is the key to our fiscal future."
The health care debate is likely to pick up steam as the week moves on. Tomorrow, Obama is expected to nominate Kansas Governor Kathleen Sebelius as Secretary of Health and Human Services and Thursday, he'll host a nonpartisan health care summit at the White House.

THIS WEEKS FEATURED MUSIC VIDEO
Louis Armstrong - La Vie En Rose

Mad Thought Of The Day
By: Madeleine Begun Kane
Are Republicans insane? Their bombastic rants and stimulus bill obstructionism could easily lead to that conclusion.
But I think there's a more basic explanation. Republicans are simply being consistent with their long-held GOP credo:
If at first you don't succeed, make sure your successors don't either.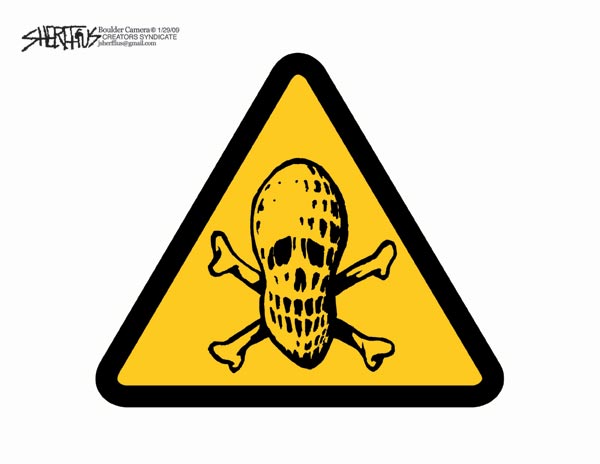 FDA Product Recall List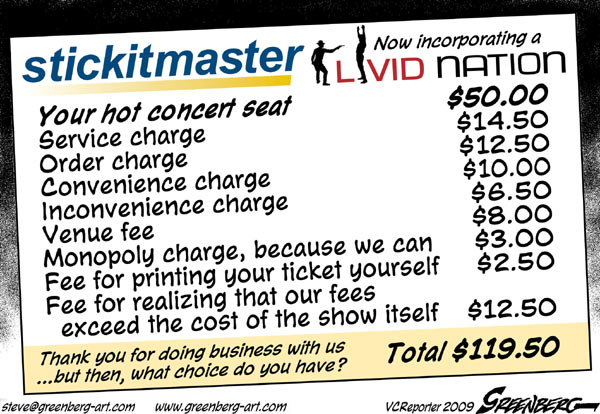 Ticketmaster/Live Nation Merger: National Association of Ticket Brokers Irate
By Alfred Branch Jr.
Angered over negative comments made this week by Ticketmaster Entertainment CEO Irving Azoff and Live Nation President and CEO Michael Rapino about the secondary ticket market, the National Association of Ticket Brokers (NATB) is calling for an emergency meeting of its members next month to decide a course of action.
During separate hearings before U.S. Senate and House subcommittees to discuss their companies' proposed merger, Azoff twice, and Rapino at least once, blasted the secondary ticket market for being a problem, wishing aloud that it should be outlawed.
"The secondary market is a mess," Azoff told the House subcommittee, and calling for it to be abolished, Rapino told the Senate subcommittee, "We spend $2 billion each year on promoting and producing artists for a 4 percent margin on ticket sales, but we don't see a dime from the secondary market."
Both companies have reportedly called on well-connected lobbying firms to try to gain government support for the merger, which is currently being reviewed by the U.S. Justice Department on possible antitrust grounds.
"Opposition is beginning to increase against this merger in the secondary market," said Don Vaccaro, founder and CEO of TicketNetwork, parent company of TicketNews. "Brokers are very upset at the lack of credibility with Michael Rapino's statements that Live Nation doesn't participate in the secondary market, which brokers believe is simply not true."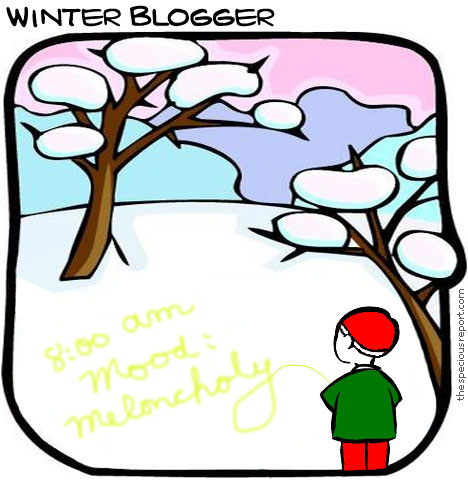 Senate Passes D.C. Voting Rights Bill, 61-37
By Kate Phillips
By a vote of 61-37, the Senate passed a bill providing full voting representation for the nation's capital in the House of Representatives, nearly ensuring that the measure will become law this time around. While advocates were declaring victory already, a court fight almost definitely looms over the constitutionality of giving the District of Columbia voting privileges in the House that are akin to those of the 50 states.
The measure, if it became law, would increase the size of the House of Representatives to 437 from 435, adding not only a seat from the District of Columbia but also one from Utah. The Western seat was added in a compromise deal a few years back, to help attract Republican support and because officials contended that the state was deprived of an additional congressional district through an undercount in the 2000 Census. (Also Utah's Republican lean would also help balance out the normally Democratic tilt of the district.)
The House has yet to take up the measure this session, but is certain to repeat its passage of the bill in previous years. (Representative Steny Hoyer, the House majority leader, indicated that his chamber would take up a similar measure next week.) And President Obama has indicated his support for giving the district representation.
The Senate bill plainly states that the measure does not give the district representation in the Senate, but Republican opponents have argued that this legislation could allow that to happen at some point later on.



VARIOUS LATE NIGHT QUOTES
"Let's begin with the big story. Last night, President Barack Obama's not State of the Union address. His first speech to Congress is not technically a State of the Union address, which is nice, because this is one year you probably do not want to complete the sentence, 'The state of the union is...'" --Jon Stewart
"Nation, last night, once again, the political stage was set on fire by a brilliant orator, a man whose charisma even I have to admit can only be rivaled by a giant Brad Pitt made out of puppies. I'm speaking of, of course, of Bobby Jindal." --Stephen Colbert
"Although Obama was greeted warmly, the night's speech was no small task. Obama's challenge would be to convey to the American public the sobering realities of our current situation, while maintaining an optimistic tone for the future, all while desperately, desperately, desperately trying not to turn around for a quick game of wack-a-mole [on screen: video clips of Speaker Nancy Pelosi continuously jumping up to clap during Obama's speech]. Interesting fact about Nancy Pelosi: she is one-eighth gopher, on her father's side." --Jon Stewart
"Now, it's clear the Republican party has a new rock star -- in that Jindal appears to have the body fat of Iggy Pop on free heroin day. Now, Jindal took it straight to the Democrat's porkulus plan, like this waste of money [on screen: Jindal going after the $140 million set aside for volcano monitoring]. Ridiculous! Monitoring volcanoes totally ruins the surprise. Republicans know all we need to control volcanoes is to sacrifice a virgin. That is why they support abstinence education." --Stephen Colbert
"Of course, seismology wasn't the only boondoggle Jindal went after [on screen: Jindal talking about the $8 billion to be set aside for a high-speed rail project between Las Vegas and Disneyland]. A magnetic levitation train from Vegas to Disneyland? Actually, that sounds pretty cool. You leave the kids with Cinderella, two hours later you're blowing their college fund on Pai Gow poker, getting bottle service from a 'hostess,' also dressed like Cinderella." --Stephen Colbert
"I say Jindal's speech was a homerun. Jimmy, let's look at the rest of the highlights. Oh, there are none? Okay. All right, well, then, folks, I guess I am forced to talk about the Democratic pre-sponse. No, I didn't hear any of it. I mute all of Obama's speeches, because I like to hear myself yell." --Stephen Colbert
"Last night, our president delivered his first State of the Union address. It was very well received. In fact, they're saying it was the best State of the Union address ever delivered by an African-American president." --Jimmy Kimmel
"Obama said that we can overcome this crisis if we're all willing to work hard and make sacrifices. In other words, we're screwed, because those are two things we're not good at around here." --Jimmy Kimmel
"The State of the Union addresses, they're a funny thing. It's very formal, but the president comes in the room like a boxer. He comes in, he makes his way through the crowd in little satin shorts, and then he takes off his robe and he goes up on the stage." --Jimmy Kimmel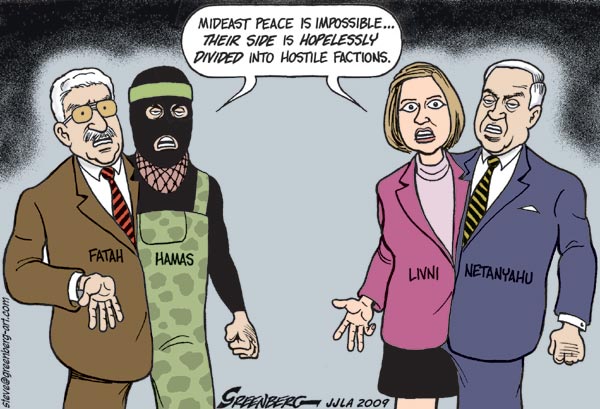 This Week in God!!!
How Comes The Obama Gets To Be A Presidents?
Dear Pastor,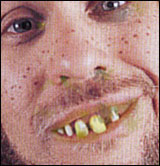 The other day after family prayerings in our living room, Pa turned on the TV as usual and we started in on watching the Mr. Hannity's Show. Mr. Hannity was talking about our Lord Jesus as usuals and then brought him up a picture of the gang city rapper he called, "Obama." Pa turned as red as an Injun's butt and threw the Bible right in the TV! He turn it off and says we needed to pray again. "Why Pa? Why?" I says. And Pa turns up in me any says, "That THING is going to be the Presidents of these here United States!" So Pastor, How comes the Obama Gets to be a Presidents?
Johnny Eastfall
Age 27
Landover Baptist Rural Institute for the Continuing Education of Home Schoolers
Dear Johnny,
Don't feel like you are alone with this question. You are a sweet Christian child and you must know that millions of Real Americans™ are asking the same thing. And your Pa ain't alone in his anger and rage. The answer about why the Obama was electated is that we are living in the last days, Johnny. The Lord Jesus is gonna be hot-footin' back to Earth within the next four years to torture and kill everyone who doesn't love Him. Praise His Holy Name!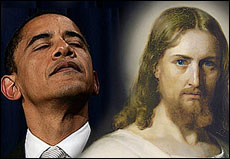 Johnny, the word, "Obama" in ancient Baptist Hebrewish is pronounced, "Aboma." Your Pa knows that. Jesus warned us about "the Obama-nation" or as Republicans and Christians like us have come to call it, "the Abomination" in Matthew 24:15-16:
"When ye therefore shall see the abomination of desolation (The Obama), spoken of by Daniel the prophet, stand in the holy place (The White House) - Then let them which be in Judaea (Washington, DC) flee into the mountains (Freehold, Iowa)."
So my boy, you needn't worry about why sinners flippantly cast their votes and souls into the Lake of Fire. Some of those folks just did it cause they felt sorry for Negroes. The good Lord cast folks' lot in life for a reason, and your Pa is angered because he thinks them coloreds is getting uppity. God's fiendish final solution for baby-killers, homo-lovers, liberals, and everyone who doesn't belong to this church was put in play long before any of us drew our first breath. A-men?
Johnny, you just need to sit tight. Keep praying like you do, honor your pa and keep at watching Mr. Hannity. He'll tell you what's what and what's for, just leave the rest to the Lord and trust in Jesus.
I do think it is time you let your parents and school chums know they should keep their barn doors open for visitors. Folks will be leaving the big cities real soon, searching for a vestige of hope and faith here in Freehold, Iowa. For you see, the Obama will begin making decisions on day one about the economy, war, foreign affairs and more. These so-called, "conscious decisions" which will act as little ticking time-bombs put in place to slowly erode America's place in the world and ruin every aspect of American life as we know it today. But you are too young to understand the adult Republican mind, boy. Just keep reading the Bible, and you'll understand it all when you're old and smart enough.
In Jesus' Name,
Pastor Deacon Fred