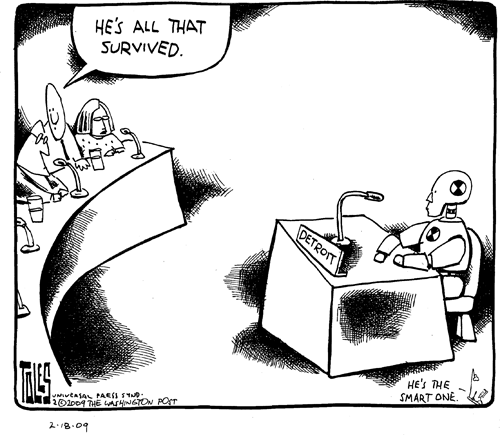 Official: Investigator to Lead Stimulus Oversight

By: Philip Elliott, Associated Press
WASHINGTON – President Barack Obama plans to announce Monday a former Secret Service agent who helped expose lobbyists' corruption at the Interior Department as his pick to oversee the $787 billion economic stimulus plan.
Obama is set to name Earl Devaney as chairman of the new Recovery Act Transparency and Accountability Board, an administration official said Sunday. Vice President Joe Biden also will be given a role coordinating oversight of stimulus spending.

From Keith Olbermann at MSNBC
Two House Republicans have now issued press releases taking credit for spending measures in the bill, the bill they did not vote for and claimed their party had no input into.
Congressman John Mica and Don Young of Alaska. Mr. Mica put out a press release trumpeting stimulus money to be spent on railroads. "I applaud President Obama's recognition that high speed rail should be part of America's future." Mr. Young put out one too, boasting that in the stimulus he had, quote, "won a victory for the Alaska Native Contracting Program, and other Alaska small business owners in HR-1, the American Recovery and Reinvestment Act."
Mr. Mica and Mr. Young both voted against that act, the stimulus, and then promptly took part credit for it. Honestly, what is better than hypocrisy?
OLBERMANN: As we mentioned, more than a third of the $787 billion stim comprised of tax cuts in various forms. Some $282 billion worth. In comparison, the bill devotes $100 billion to public works, $50 billion to transportation projects. So of the more detailed items in the stim, more than $87 billion to help states with their Medicaid costs, education and job training $69.2 billion, extending unemployment benefits, $35.8 billion, health coverage for the unemployed under COBRA, just over $25 billion, food assistance nearly $21 billion. Incentives to modernize health records, as President Obama has talked about in his speeches, $17.2 billion.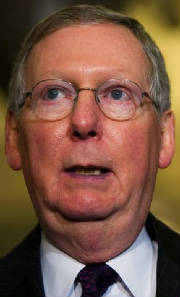 McConnell: GOP are Becoming a 'Regional Party'
Senate Minority Leader Mitch "Just say No" McConnell issued a blunt warning to Republicans: Their party must regain lost supporters plus blacks, Hispanics and voters on both coasts — or risk becoming a permanent minority party with a limited power base.
"We're all concerned about the fact that the very wealthy and the very poor, the most and least educated, and a majority of minority voters, seem to have more or less stopped paying attention to us," McConnell said in a speech at the Republican National Committee's winter meeting. "And we should be concerned that, as a result of all this, the Republican Party seems to be slipping into a position of being more of a regional party than a national one."
In stark terms, the Kentucky Republican added: "In politics, there's a name for a regional party: It's called a minority party.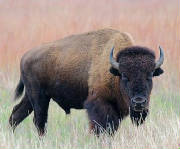 North Dakota House Passes Abortion Ban
North Dakota's House of Representatives has passed a bill effectively outlawing abortion.
The House voted 51-41 this afternoon to declare that a fertilized egg has all the rights of any person.
That means a fetus could not be legally aborted without the procedure being considered murder.
Minot Republican Dan Ruby has sponsored other bills banning abortion in previous legislative sessions - all of which failed.
He also sponsored today's bill and says it is compatable with Roe versus Wade - the Supreme Court decision which legalized abortion.
(Rep. Dan Ruby, -R- Minot) "This is the exact language that's required by Roe vs. Wade. It stipulated that before a challenge can be made, we have to identify when life begins, and that's what this does." VO CONTINUES But Minot Democrat Kari Conrad says the bill will land North Dakota in court, trying to defend the constitutionality of a law that goes against the Supreme Court decision that legalized abortion.
(Rep. Kari Conrad, -D- Minot) "People who presented this bill, were very clear that they intended to challenge Roe versus Wade. So they intend to put the state of North Dakota into court defending Roe vs. Wade"
The bill now goes to the North Dakota Senate.

Close Gitmo and Help Reclaim Democracy


The Leadership of the GOP
Missed it by That Much...New RNC Chairman Michael Steele Under Investigation
Michael S. Steele, the newly elected chairman of the Republican National Committee, arranged for his 2006 Senate campaign to pay a defunct company run by his
sister for services that were never performed, his finance chairman from that campaign has told federal prosecutors.
Federal agents in recent days contacted Steele's sister, a spokesman for Steele said yesterday.
The claim about the payment, one of several allegations by Alan B. Fabian, is outlined in a confidential court document. Fabian offered the information last March
as he was seeking leniency for himself during plea negotiations on unrelated fraud charges. It is unclear how extensively his claims have been pursued.
Prosecutors gave him no credit for cooperation when he was sentenced in October.
And Steele was so close...But luck next time.
The only realy question left is this a big enough deal for the GOP to dump him...They had such hig hopes for Steele, he was the twofer (minority GOPer) they have
longed for. Maybe Alan Keyes should get a chance, after all he much more acidic than Steele ever was, and he is also a twofer.

Obama: Governors Understand Economic Troubles
Feb 22, 2009
Washington – President Barack Obama says his administration wants to make it easier for the nation's governors to lead their states out of their economic woes.
Obama said Sunday the governors understand the troubles facing the U.S. economy better than most. He said it's important that all governors, despite party affiliation, work with Washington to help repair the economy.
Obama hosted the governors at the White House in his administration's first formal dinner. They are in Washington for meetings of the National Governors Association.
Many governors are dealing with budget crises that have followed staggering unemployment, rising foreclosures and plummeting tax revenue.
Jimmy Kimmel in The Curious Case of Benjamin Batman

When President Obama signed the Economic Recovery and Reinvestment Act last week, it included three different provisions to benefit unemployed workers. The first provided funding to states that allowed for a $25 per week increase in benefits. The second extended the Emergency Unemployment Compensation (EUC) program which gives 20 weeks of federally-funded unemployment benefits to individuals "who had already collected all regular state benefits," while the third provision widened the pool of people eligible to receive unemployment benefits.
Today, however, Louisiana Governor Bobby Jindal announced his intention to oppose changing state law to allow his Lousiana citizens to qualify for the second two unemployment provisions. Jindal said the state would only be accepting money to increase the unemployment insurance payments for those who currently qualify for unemployment insurance.
In all, Jindal turned away nearly $100 million in federal aid for his state's unemployed residents. Further, as the National Employment Law Project projected on Febuary 13, EUC extension alone would have benefited 24,981 Louisiana residents. Jindal justified his decision by claiming that expanding unemployment benefits would result in tax increases for businesses. In a press release, the governor's office explained:
The Governor said the state will not use a portion of the stimulus package that requires the state to change its law to expand unemployment insurance (UI) coverage to qualify for up to $32.8 million of the federal stimulus funding because it ultimately would result in a tax increase on Louisiana businesses.
But it is not clear why participating in the expanded unemployment insurance program would result in tax increases for business. By Jindal's own estimate, the recovery package would have funded his state's unemployment expansion for three years, at which point the state could — if it chose to do so — phase out the program.
As New Orleans Mayor Ray Nagin suggested earlier today, perhaps Jindal's presidential ambitions are "clouding" his judgement. "I think he's been tapped as the up-and-coming Republican to petition a run for president the next time it goes around. So he has a certain vernacular, and a certain way he needs to talk right now," Nagin said.
Headzup: Bobby Jindal Rejects Money For State's Unemployed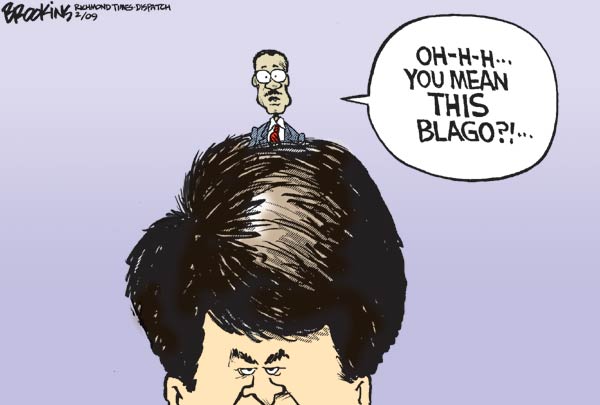 Burris Admits Blago Fundraising Effort
By: Andy Barr

In another damaging drib-drab admission, Sen. Roland Burris (D-Ill.) acknowledged Monday that he did, in fact, try to raise money for then-Gov. Rod Blagojevich (D-Ill.) at the request of the governor's brother – and that he did so while trying to get Blagojevich to appoint him to Barack Obama's Senate seat.
In remarks to reporters in Peoria Monday night – posted by the Chicago Tribune Tuesday — Burris reiterated his admission that Blagojevich's brother, Rob, had asked him about fundraising for the governor shortly before Obama was elected president.
According to Burris, the governor's brother told him: "We need to raise some funds. We hope that you could probably get some of your friends together."

Who Needs Big Government?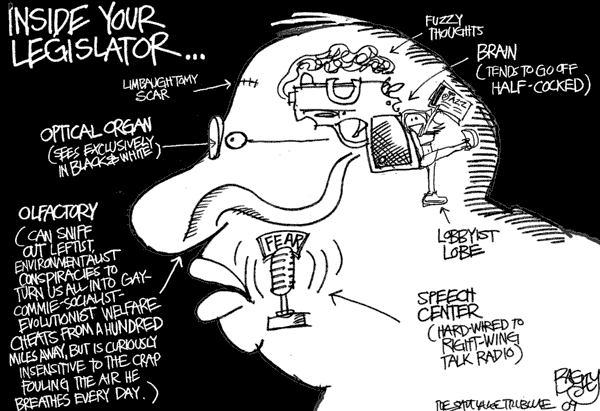 Delivering a speech before the Young Republican National Federation yesterday, George P. Bush — the son of former Florida Gov. Jeb Bush — ripped current Florida Gov. Charlie Crist (R) for being a "D light" (Democrat light). "There's some in our party that want to assume that government is the answer to all of our problems," Bush said. "I'm not going to name any names," he added, but told the crowd, "You know who I'm talking about." He clarified later:
Afterward, Bush said he doesn't think Crist is a fiscal conservative and that he may have hurt himself with some Republicans for his appearance with Obama and his support of the stimulus plan.

"That will be on his track record and people are going to remember that," Bush said, adding that Crist is running the risk of falling in the "D light" category of the party.
What does the young George P. Bush think of his uncle's "track record"? President George W. Bush presided over the greatest expansion of government spending since World War II. "As a result of all this spending, the country has gone from a $128 billion budget surplus when Mr. Bush took office" to a deficit exploding over $1 trillion when he left office.
George P., who currently lives in Texas and works as a partner in a real estate investment firm, said he's not ruling out a future run for elected office. "I want to obtain success in my own right. I want people to look at a record of accomplishment that I've put together in my own right and not based on family name," Bush said. "I haven't achieved my personal goals. Definitely down the road I'd love to reassess but as of right now it's not for me."

THIS WEEKS FEATURED MUSIC VIDEO
Green Day...American Idiot...Live from Berlin...

US Claims 52,000 Accounts Hidden by UBS
By Adrian Cox in London, Frances Williams in Bern and Joanna Chung in New York
As many as 52,000 American customers hid UBS accounts from the authorities in violation of tax laws, a US government lawsuit against the Swiss bank alleged on Thursday.
The Department of Justice filed a suit seeking to force UBS to disclose the holders of accounts with about $14.8bn in assets.
It alleged UBS, Switzerland's biggest bank, engaged in cross-border securities transactions in the US that it knew violated security laws and helped US taxpayers set up dummy offshore companies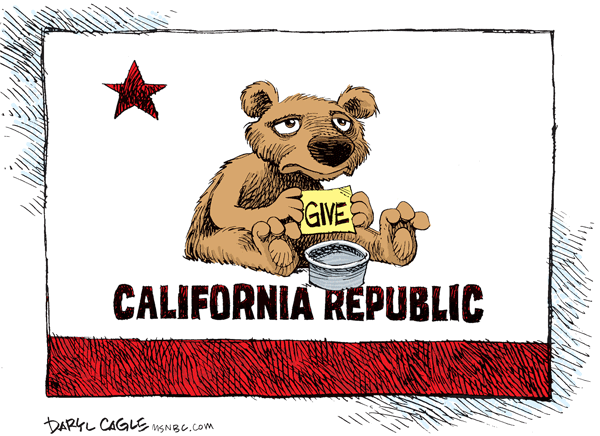 California legislature passes budget with the Help of One Republican
By Jennifer Steinhauer
Los Angeles: After five days of intense, nearly nonstop negotiations over how to close a $41 billion gap, California state senators agreed early Thursday morning on a budget that raises taxes, cuts deeply into services and borrows far into the future, leaving nearly every person in the state scathed in some way.
The leadership of the state, including Governor Arnold Schwarzenegger, agreed several weeks ago to a plan to address the state's severe budget issues, but the plan failed to gain the two-thirds majority approval required by California state law to pass through the legislature. This left Democrats trying to woo a single Republican vote out of the state senate, where Republicans were staunchly against new taxes.
Finally, in the witching hours of Thursday morning, lawmakers caved to some of the demands of State Senator Abel Maldonado of Santa Maria, a Republican who wanted state constitutional amendments banning legislative pay increases during deficit years, and the elimination of a 12-cent increase in gasoline taxes from the plan.
Maldonado also won legislative approval for an amendment that would make California political primaries open and nonpartisan, a measure that many Democrats resisted to the bitter end.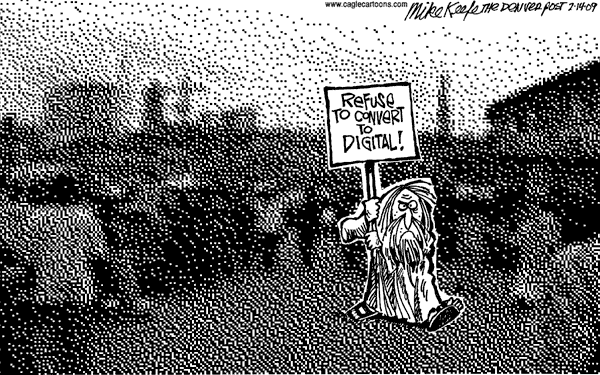 USDA to Meat Industry: Give Shoppers More Details
By Mary Clare Jalonick
Associated Press Writer

Washington – The Obama administration has asked the meat industry to voluntarily give the public more information about where their food comes from.
Agriculture Secretary Tom Vilsack told consumer groups, farm groups and meat industry leaders earlier this week that the administration would call for stricter labels on fresh meat and other foods that would show where an animal was born, raised and slaughtered.
The action comes after President Barack Obama returned from Canada, which has joined Mexico in protesting the so-called "country of origin" labels in a complaint to the World Trade Organization. The Agriculture Department abruptly canceled a scheduled announcement of the decision Wednesday morning, with little explanation, a day before Obama's trip.
The department announced the changes Friday afternoon, after Obama's return, and Vilsack sent a letter to the meat industry detailing the requests.
"The Department of Agriculture will be closely reviewing industry compliance," Vilsack said in the letter, dated Friday.
In calling for the stricter guidelines, the Obama administration is breaking from rules announced by the department shortly before President George W. Bush left office. The labeling law was enacted in a wide-ranging farm bill last year, but much of it was left up to interpretation by the Department of Agriculture.
Supporters of the labeling law were not happy with the Bush administration's version of the rules, which they said allowed meat companies to be vague about where an animal was born, raised and slaughtered.
The Bush administration rule, which won praise from Canada, still takes effect next month. Vilsack told stakeholders the administration will write new rules if the meat industry does not comply with the voluntary standards.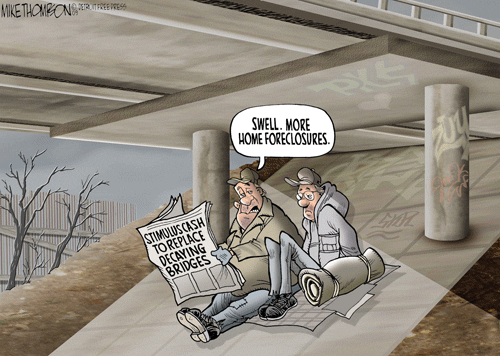 If you are a homeless veteran or a veteran at risk of becoming homeless, these pages provide information that you can use to seek help. They include addresses, phone numbers and websites to find out about services, programs and other help that is available. Keep in mind that these pages do not include all services offered. What is available in one area may be different from what is available in another, so be sure to check with local agencies to learn about services in your area.
Click on the links below to read about first steps you should take, information about resources available to address specific needs, how to replace personal records, information about seeking VA benefits, and a printable summary of phone numbers and websites that you can keep with you. Begin by reading "Getting Started."
RESOURCES FOR HOMELESS VETERANS
Products and services available to help homeless veterans and those at risk of becoming homeless.

If you experience difficulties getting results or locating services in your local area, call the National Coalition for Homeless Veterans, 1-800-VET-HELP.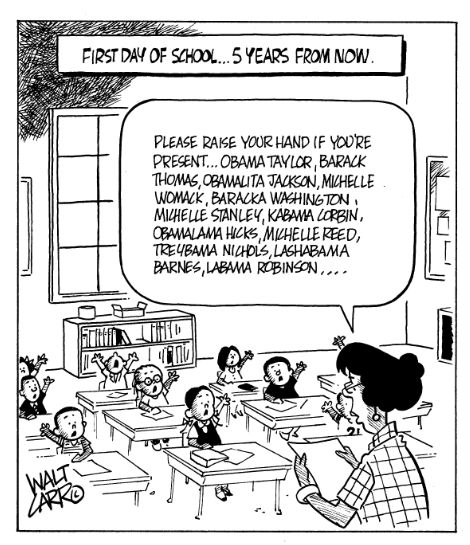 Top Ten Messages Left on Alex Rodriguez's Answering Machine By: Dave Letterman


10) "Hey, it's Mark McGwire. Want to get together this week and not talk about the past?"

9) "Joe Torre here -- thanks for helping book sales"
8) "Could you find a steroid that keeps you from choking in the playoffs?"

7) "Are you worried this will taint all the championships you didn't win?"
6) "It's Bernie Madoff. Nice try but I'm still the most hated man in New York"

5) "Michael Phelps here. Got any snacks?"

4) "This is Sammy Sosa. Just pretend you don't speak English"

3) "Michael Phelps again. Did I call you or did you call me?"

2) "Hey, it's Rod Blagojevich -- I'll say you're innocent, if you say I am"

1) "It's Madonna. You got a phone number for Jeter?"


VARIOUS LATE NIGHT QUOTES
"The New York Times is reporting that, in his last days in office, Vice President Dick Cheney repeatedly went to President Bush to try to get him to pardon Scooter Libby, and he was furious that Bush wouldn't do it. They say Cheney is now bitter. Yeah, as opposed to the happy go lucky zippity-do-da Cheney." --Jay Leno
"In a new ranking of U.S. presidents by 65 historians, President Bush came in fifth from the bottom. And here's the bad part -- the margin of error was five." --Jay Leno
"In an interview with Fox News, Gov. Sarah Palin's daughter, 18-year-old Bristol Palin -- remember Bristol Palin, who had the baby? Well, she talked in the interview. She said, 'A year ago, I never would have thought I would become a mom or that my mom was going to be chosen to be a vice presidential candidate.' Oddly enough, both things happened because some guy failed to take the proper precautions." --Jay Leno
"And Secretary of State Hillary Clinton is in Asia. She is in Japan, or as Bill was heard telling a woman in a bar last night, 'We're separated.'" --Jay Leno
"America's auto makers have asked the government -- remember when America's auto makers flew into Washington in their private jets and said, 'We're busted. We'd like several hundred billion dollars.' Well, they're coming back again. They're asking for $22 billion in additional taxpayer money. I mean, these guys are like the world's most expensive brother-in-law, you know?" --David Letterman
"Hillary Clinton is on her first world trip around the world as secretary of state. She's on tour in Asia. Hillary's in Asia. Bill's in heaven." --David Letterman
"Right now, Hillary is visiting China. She's trying to stop the proliferation of doorknob menus." --David Letterman
"President Obama was in Arizona today, talking about his plan to help ease the home mortgage crisis. It seemed like a strange place to announce his plan, since most of the homes in Arizona are owned by John McCain." --Jimmy Kimmel
"Obama has now addressed two of the three major issues that he said would have to be addressed in order to avert a financial disaster. The first was getting the stimulus package passed. The second was addressing the housing crisis and the third is to get all of us to eat our pets. And I've got a cage full of hamsters that are starting to look absolutely delicious." --Jimmy Kimmel
"A lot of individual states are having budget problems right now. California in particular is a mess. Governor Schwarzenegger can't get fellow Republicans to vote for his compromise plan because it includes a big tax increase. And he's already done everything he can possibly do to convince them. He told them he'll 'be back,' he said, 'Hasta la vista, baby.' He even threatened to terminate them, several times, to no avail." --Jimmy Kimmel
"As part of a plan to close his state's budget deficit, New York Governor David Paterson is proposing a tax on Internet pornography. You see, this is why we can't have blind governors. I mean, no offense, but of course he's going to tax pornography. If he can't enjoy it, nobody can. What's next, a tax on rainbows?" --Jimmy Kimmel
"Good news and bad news for Sarah Palin. The bad news is that the IRS says she owes thousands of dollars in back taxes. The good news is that she now qualifies to be in Obama's Cabinet." --Craig Ferguson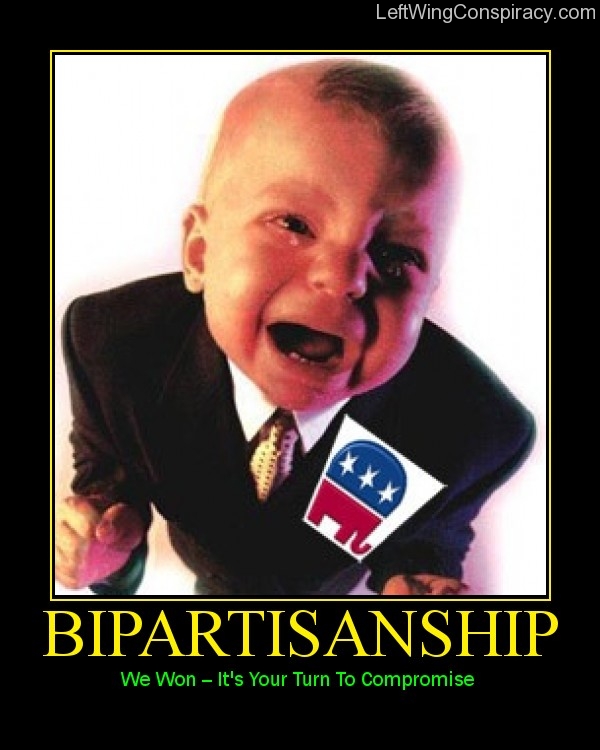 This Week in God!!!
Where is Jesus Blowing Your Stimulus Tithe?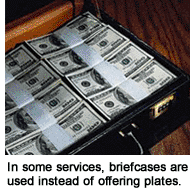 The Lord Sees What's In Your Wallet, It Has His Daddy's Name "God," on it. It belongs to Him, and He Wants it Back. - Pastor Deacon Fred
By law, we are required to disclose where the Lord Jesus Christ is spending the money you drop into His offering plate each week in the form of Biblical "tithes." You already know, the more you tithe, the better your seat on Sunday morning, but did you know how frugal the Lord is with all that money? In these harsh economic times the unsaved public should have a beacon of hope and a sense of comfort that the True Christians™ who make most of their decisions are being careful with our finances!
As Real American Christians™ we know that our cash offerings not only bring us closer to Jesus and Pastor Deacon Fred, but they also help our glorious church in Iowa shine as a living testimony to God's holy righteousness and sacred shopping preferences.
Please view the handy tithing level charts below for details. This satisfies Chapter XIV, Section C.4.2.3b of our IRS form letter of public duty. This matter is hereby closed.
Platinum Tithers
Sunday Contributions reaching
$5 Million Per Family

Jesus Uses Your Platinum Tithe In the Following Ways:

- First Class Travel Upgrades/Deacons
- Wexler Offshore Holdings, LLC.
- Pastor's Quintannual Vacation Fund
- Pastor's Mercedes Collection Ministry
- Jet Fuel Fund for Private Ministry Jets
- Pastor's Annual Bonus
- Major Donor Annual Gala
- Creation Science (Iowa State Lobby)
- Legal Fees - N'Sync Lawsuit
- Pastor's Mansion Mortgage
- Mrs. Deacon Fred's Tea For Tithe
Elite Christian Social Club Ministry
- Creation Science Museum, Giant
Demon Bone Reconstruction


Gold Tithers
Sunday Contributions reaching
$1 Million Per Family

Jesus Uses Your Gold Tithe In the Following Ways:

- Cemetery Relocation Ministry
- Wexler Offshore Holdings, LLC.
- Landover Ladies Annual Tahiti
Retreat
- Goose Feather Pew Pad Upkeep
- Landover Golf Course Maintenance
- Imported Italian Stained Glass
- Red Sea World (Christian
Amusement Park) Renovations
- All Purpose Multi-Fund for Pastor
- Homosexual Reparative
- Church Utilities Bills
- Brother Hardwick's Gambling Debts
- Weekly Church Floral Arrangements


Silver Tithers
Sunday Contributions reaching
$500K Per Family

Jesus Uses Your Silver Tithe In the Following Ways:

- Landover Christian Mall Renovations
- Wexler Offshore Holdings, LLC.
- Deacon's Salary Fund
- Junior High Bible Gun Camp Ministry
- Creation Science Research Center
- PlayStation 2's and Phones for Web
Based Salvation Offers
- Pastor Deacon Fred Drug
Prescription Fund


Bronze Tithers
Sunday Contributions reaching
$100K Per Family

Jesus Uses Your Bronze Tithe In the Following Ways:

- Construction of Noah's Water Park
- Wexler Offshore Holdings, LLC.
- Church Secretary Salary Fund
- Minority Workers Hush Fund
- Pastor's Networking Luncheon Fund
- Landover Baptist Police
Department Guns and Ammunition
- Landover Academy Football
Equipment

The above financial disclosures do hereby satisfy IRS Chapter XIV, Section C.4.2.3b of the form letter of public duty submitted to Landover Baptist by the Secular Government under the administration of Barack Hussein Obama, on February 16th, 2009.