Yoda's World is a Weekly Publication a New Issue Each Monday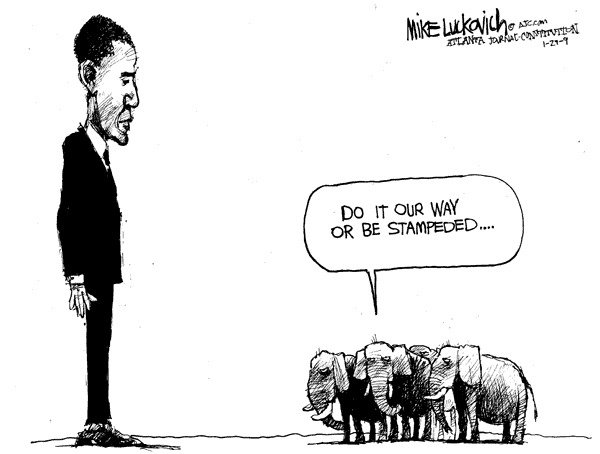 Will Obama Learn from his Mistakes with His Stimulus Plan?
By: David Phillips
February 16, 2009
Yoda's World
The American Recovery and Reinvestment Act (ARRA) would provide immediate assistance to help vulnerable families and prevent millions of middle-class Americans from falling into poverty. It would also stimulate the economy and create jobs, helping many additional families avoid poverty
All of the Republicans in the House and all but three Republicans in the Senate voted "No" on the American Recovery and Reinvestment Act, but it still passed both Houses and will be signed into Law by President Barack Obama tomorrow.
Republican Meeting Open: The minority on The Hill has big ideas...SNL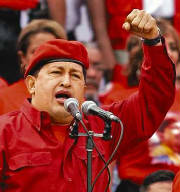 The Venezuelan Dictator Hugo Chavez will now be Dictator for Life
By: Christopher Toothaker
Associated Press
CARACAS, Venezuela – President Hugo Chavez says a referendum victory that removed limits on his re-election is a mandate to intensify his socialist agenda for decades to come. Opponents warn of an impending dictatorship.
Both sides had called the outcome of Sunday's vote key to the future of this South American country, split down the middle between those who worship the president for redistributing Venezuela's oil riches and those who see him as a power-hungry autocrat.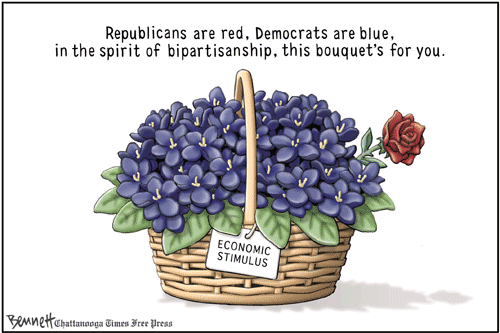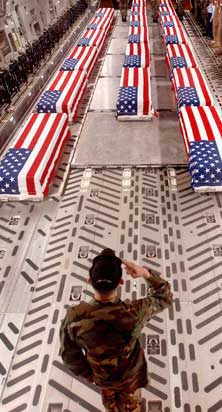 Gates Orders Review of Policy on Soldiers' Coffins

Defense Secretary Robert Gates indicated that he was open to allowing the media to photograph the flag-draped coffins of fallen soldiers as their bodies and remains are returned to the United States.
"If the needs of the families can be met and the privacy concerns can be addressed, the more honor we can accord these fallen heroes, the better," Mr. Gates told reporters.
He said he was ordering a review of the military policy that bars photographers from taking pictures of the return of the coffins, most of which go through Dover Air Force Base in Delaware, and set a "short deadline" for a decision.
The military has said the policy is meant to protect the privacy of the families of the dead soldiers and maintain dignity. But skeptics, who include some families as well as opponents of the war in Iraq, say that the bodies in the returning coffins are not publicly identified, so privacy is not an issue, and that barring photographers is a political maneuver meant to sanitize the war.
The policy was put into place in 1991 during the first Gulf war and was renewed by the Bush administration as recently as a year ago when, Mr. Gates said, he raised the possibility of changing it. He said he was told -- he did not say by whom -- that allowing photographers would put undue pressure on families to go to Dover themselves and that in some cases that would be a hardship.
"I think that looking at it again makes all kinds of sense," Mr. Gates said today, adding that he was "pretty open to whatever the results of this review may be."
His comments followed those of President Obama, who said at his news conference Monday night that "we are in the process of reviewing those policies in conversations with the Department of Defense."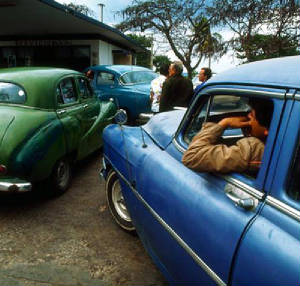 US Lawmakers Introduce Bill to Ease Cuba Travel
AFP
Lawmakers in the US House of Representatives have introduced a bill to permit US citizens unrestricted travel to Cuba, according to the Library of Congress website.
The "Freedom To Travel to Cuba Act," which would overturn the 46-year-old US policy strictly limiting travel to the Caribbean island, will be subject to debate after being referred to the Committee on Foreign Affairs.
The bill, introduced by Massachusetts Democrat Bill Delahunt and backed by eight other lawmakers, states that "the President may not regulate or prohibit, directly or indirectly, travel to or from Cuba by United States citizens or legal residents."
Currently US nationals are supposed to request Treasury Department permission to visit Cuba. They are not routinely allowed to spend money in Cuba -- the Americas' only one-party communist state -- creating an effective travel ban.
US President Barack Obama has said he would speak with all foreign leaders in sharp contrast to successive US administrations which have sought to isolate Havana.
But he has offered few details on how far he might be willing to go in reaching out to Cuba.
During his campaign for the presidency, Obama said the Cuba embargo had not helped bring democracy to the island, led by President Raul Castro, 77.
But so far he has said only that he would end some sanctions on Cuban-Americans traveling to the island, and eliminate limits on their remittances to relatives in Cuba.
The neighboring countries do not have full diplomatic relations, and the United States has an economic embargo on Cuba.

Look at Your Gut, just like Glen Beck...Stephen Colbert...Not for the Squeamish

Hey Republicans, Go Filibuster Yourselves!
By Madeleine Begun Kane
Dear Republicans, stop all your bluster—
Your obstructionist taunt: "Filibuster!"
Just go through with your threat.
Dems, please make these guys sweat,
And we'll see what support they can muster.
I am betting they don't have the numbers,
That they're bluffing. (Dems let them — the bumblers.)
But majority rules When they don't act like fools.
Dems, we need a good bill. Don't be fumblers!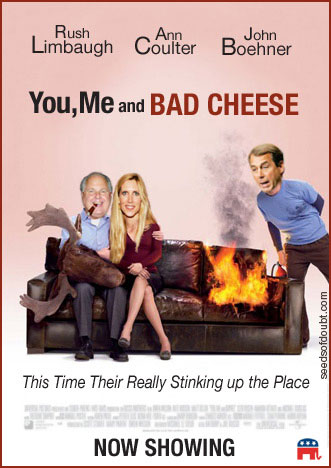 Climate Warming Gases Rising Faster Than Expected
By: Randolph E. Schmid
AP Science Writer
Sat Feb 14
CHICAGO – Despite widespread concern over global warming, humans are adding carbon to the atmosphere even faster than in the 1990s, researchers warned Saturday.
Carbon dioxide and other gases added to the air by industrial and other activities have been blamed for rising temperatures, increasing worries about possible major changes in weather and climate.
Carbon emissions have been growing at 3.5 percent per year since 2000, up sharply from the 0.9 percent per year in the 1990s, Christopher Field of the Carnegie Institution for Science told the annual meeting of the American Association for the Advancement of Science.
"It is now outside the entire envelope of possibilities" considered in the 2007 report of the International Panel on Climate Change, he said. The IPCC and former vice president Al Gore received the Nobel Prize for drawing attention to the dangers of climate change.
Coal is the Cleanest Thing Ever!...Mark Fiore

Female FBI Officer 'Tortured Mumbai Terror Attacks Suspect with Sex'
A female FBI officer tortured a suspect in the Mumbai terrorist attacks by performing a sex act on him during interrogation, it has been claimed.
By Ben Leach
Fahim Ansari is accused of helping to plan the attacks in which 173 people were killed in November.
His lawyer, Ejaz Naqvi, has filed legal papers with Mumbai magistrate's court, claiming the "white woman" removed all his clothes and showed him pornographic films.
In the papers, he claims that three foreigners, including the woman, sexually abused him, causing him "severe itching and wounds" on his body, including his genitals.
Mr Ansari, a devout Muslim, claims this amounts to torture because it is against his religion, The Sun newspaper has reported.
A court in the Indian city ordered medical checks on "wounds on his private parts and all over his body."
Mr Ansari was arrested with five other suspects last year.
Police have said that he is a trained member of Lashkar-e-Taiba, the terrorist organisation responsible for the Mumbai attacks.
He was detained in February last year in connection with an attack on a police camp in Rampur that left seven paramilitaries and one civilian dead.
Police have said Mr Ansari had hand-drawn maps of key Mumbai landmarks, some of which were hit in the attacks that started on 26 November.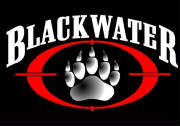 Blackwater Dumps Tarnished Brand Name...New Name, Xe
MIKE BAKER
AP News
Blackwater Worldwide is abandoning its tarnished brand name as it tries to shake a reputation battered by oft-criticized work in Iraq, renaming its family of two dozen businesses under the name Xe.
The parent company's new name is pronounced like the letter "z." Blackwater Lodge & Training Center — the subsidiary that conducts much of the company's overseas operations and domestic training — has been renamed U.S. Training Center Inc., the company said Friday.
The decision comes as part of an ongoing rebranding effort that grew more urgent following a September 2007 shooting in Iraq that left at least a dozen civilians dead. Blackwater president Gary Jackson said in a memo to employees the new name reflects the change in company focus away from the business of providing private security.
"The volume of changes over the past half-year have taken the company to an exciting place and we are now ready for two of the final, and most obvious changes," Jackson said in the note.
In his memo, Jackson indicated the company was not interested in actively pursuing new private security contracts. Jackson and other Blackwater executives told The Associated Press last year it was shifting its focus away from such work to focus on training and providing logistics.
"This company will continue to provide personnel protective services for high-threat environments when needed by the U.S. government, but its primary mission will be operating our training facilities around the world, including the flagship campus in North Carolina," Jackson said.
The company has operated under the Blackwater name since 1997, when chief executive Erik Prince and some of his former Navy SEAL colleagues launched it in northeastern North Carolina, naming their new endeavor for the area swamp streams that run black with murky water. But the name change underscores how badly the Moyock-based company's brand was damaged by its work in Iraq.

Bill O'Reilly's Right to Privacy...The Daily Show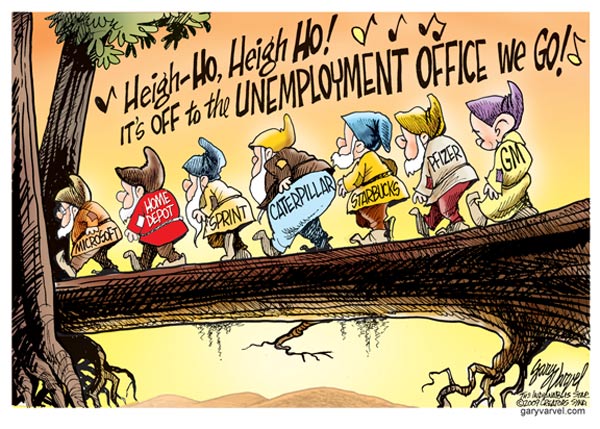 Undeterred, Conyers Subpoenas Rove a Third Time
By John Byrne
Rove lawyer out of office until deposition date
House Judiciary Chairman John Conyers, Jr. D-MI) has subpoenaed Karl Rove a third time, asking him to appear Monday, Feb. 23 for a deposition to testify about his knowledge about the US Attorney firings and the alleged political prosecution of former Alabama Gov. Don Siegelman.
"Pursuant to my letter to you of Jan. 29, 2009, and your agreement to accept service on behalf of Karl Rove, I am enclosing a subpoena for Mr. Rove to appear and provide testimony by deposition on Feb. 23, 2009, at 10:00am in room 2138 of the Rayburn House Office Building," Conyers wrote Robert Luskin, Rove's D.C. Attorney.
An email message to Luskin from Raw Story was returned with an auto-reply.
"I will be out of the office and unable to check emails or voicemails until February 23, 2009," the reply said. "If you need immediate assistance, please contact my assistant."
An email to Luskin's assistant was also returned, saying she would return on Tuesday.
Luskin recently told Raw Story that he hoped to reach an amicable agreement with the committee, and as recently as this week, negotiations for the terms of Rove's appearance before Congress were still ongoing.
Conyers subpoenaed Rove in January; Rove did not appear. Rove has previously said he will not testify to Congress. He's also refused subpoenas from the Senate Judiciary Committee, which called on him to testify in 2007.
In the letter accompanying the subpoena, Conyers said Luskin had requested a delay.
"I cannot agree to these requests," the Michigan Democrat wrote.
He also refused Luskin's requests for testifying solely about the Alabama governor.
"I do not believe it is acceptable for the Committee to allow witnesses to unilaterally determine what they can and cannot testify concerning," he wrote.
Luskin said in January that Bush advisers had said Rove wasn't required to testify on the US Attorneys matter because he was protected by executive immunity.
"It's generally agreed that former presidents retain executive privilege as to matters occurring during their term," Luskin said. "We'll solicit the views of the new White House counsel and, if there is a disagreement, assume that the matter will be resolved among the courts, the president and the former president."
Conyers doesn't agree.
"I have said many times that I will carry this investigation forward to its conclusion, whether in Congress or in court, and today's action is an important step along the way," Conyers said in January. "Change has come to Washington, and I hope Karl Rove is ready for it. After two years of stonewalling, it's time for him to talk."

THIS WEEKS FEATURED MUSIC VIDEO
The Grateful Dead - Little Red Rooster

Opinion: Holy Bipartisanship! GOP Governor Hugs Obama
Beth Reinhard | The Miami Herald
MIAMI _ Holy bipartisanship! A Democratic president wearing a blue tie and a Republican governor in a red one locked arms in a man-hug that gave GOP hard-liners a conniption.
"This is about helping our country," Gov. Charlie Crist said, endorsing an economic turnaround plan his party leaders in Washington have denounced as a government boondoggle. "This is not about partisan politics."
Oh yeah? Tell that to Congress, where not a single Republican in the House and only three in the Senate voted for the $800 billion package. Sen. Mel Martinez of Florida went so far as to say: "I don't know that my governor understands all the details."
Details, shmeetails. I'd be surprised if Crist has read the fine print. Even some Democratic members of Congress seem bewildered. What the governor "understands" better than anyone is how to read a poll. And every single survey shows that recession-weary voters want the stimulus package.
Crist is rarely on the wrong side of a poll, even if it conflicts with Republican orthodoxy. He kept quiet while fellow Republicans tried to stop the husband of brain-damaged Terri Schiavo from ending her life. He extended early voting hours in the 2008 election, even though most people in line didn't favor his party's nominee. He's consistently backed a national insurance fund that could help Florida residents in the event of a devastating hurricane.


Farmers Feeling Recession's Squeeze
Marti Maguire | The (Raleigh) News & Observer
Even in hard economic times, it might seem the state's farmers could take refuge in the simple fact that laid-off workers and nervous 401(K) watchers still need to eat.
But the global economic downturn has reached farmers of all stripes in a state where farm-related businesses generate $70 billion a year, more than any other economic sector.
Nurseries have found few new homes ripe for planted flowers and sod. Poultry barns sit empty as struggling national companies cancel contracts. Those who raise livestock – which makes up nearly two-thirds of farm receipts statewide – face prices lowered by reduced demand.
For many North Carolina farmers, consumer belt-tightening is aggravating troubles that began before the recession, when drought ravaged crops and the gas price spike pushed up the cost of petroleum-based fertilizers, animal feed and the diesel fuel that runs tractors and other equipment.
Ricky Britt, who raises chickens and cows near Ahoskie, says his income last year was down $100,000. "That hurts," he said.
He has only four chicken houses, down from six, because of cuts in his contract with eastern poultry giant Perdue. Another national company, Pilgrim's Pride, shut down a Chatham County poultry plant last year.
Britt said he is keeping his beef cattle longer, hoping prices go up, and he's thinking of planting vegetables, too. While he was eyeing farm equipment at the State Fairgrounds last week, he said he won't be invest tens of thousands of dollars in a new tractor or hay baler.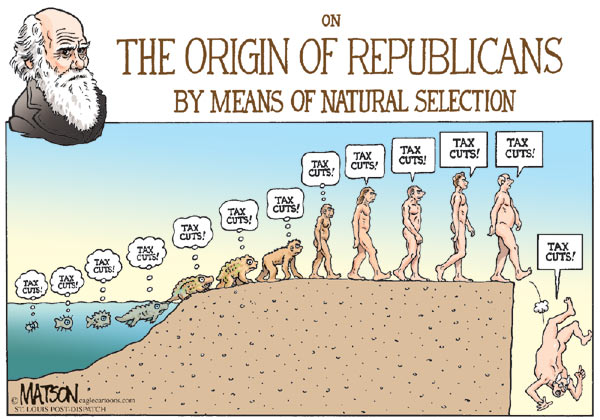 Total Scores/Overall Ranking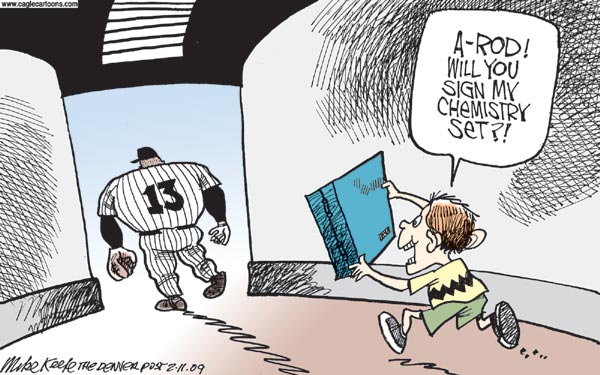 The Republican Bipartisan Myth
By: John Ridley
Shangri-la and Brigadoon and Bipartisan. Three mythical places. One of which few Republicans have seemingly ever heard. Because if there is one thing we can take from the first weeks of the "New" Washington, it's that the (liberal) Democrats are incompetent (old news, really) and the Republicans are disingenuous when it comes to bipartisanship. Oh, sure, they talk up the swellness of President Obama every chance they get. And will continue to do so as long as his approval numbers are above fifty percent. But most GOPers tend to become like children who dance hysterically in a sandbox when it comes time to play with others.
Despite all the sit-downs Obama had with the Republicans -- apparently too many for Speaker Pelosi's tastes -- and despite the fact that the House version of the Stimulus Bill contained specific tax breaks for which the Republicans had asked -- though not to the degree they wished -- not a single GOPer would break ranks, step up and vote for the bill. A surprisingly "my way or the highway" attitude for the minority party whose eight years of good cogitating was a major factor in whipping America into the stellar fiscal shape we find ourselves.
When three Republican Senators voted for the Senate version of the bill -- Sen. Arlen Specter of Pennsylvania, and Maine Sens. Olympia J. Snowe and Susan M. Collins, who in particular worked tirelessly with moderate Dem Sen. Ben Nelson to try and reach a true bipartisan compromise -- they were immediately put on a "hit" list by the conservative National Republican Trust PAC. The PAC's executive director Scott Wheeler stated: "We just want to send a message that we're going to have a long institutional memory, and we're going to remind your constituents of what you did."
What they did? What'd they do? Vote for a bill that might ultimately not be big enough to get the country out of the worst economic mess most Americans have ever lived through? Wouldn't it be punishment enough to dis-invite them to some soirée held at South Carolina GOP chairman Katon Dawson's whites-only country club? To be fair, Dawson resigned his membership to the Forest Lake Country Club in Columbia, SC last September. That was just a gratuitous dig I had to throw in because... I wouldn't have been allowed into the club to hand it to him personally. But to the point of Trust PAC's tactics; sure, it's not unusual for one political party to target another political party over a vote. But for a party to head hunt their own...?
And then, of course, there's Judd Gregg. Never mind that Gregg himself lobbied for the job of commerce secretary, never mind New Hampshire Gov. John Lynch making a deal to appoint Republican J. Bonnie Newman to Gregg's seat. When it came time to engage in the greater good, Gregg, in his own words, realized he could not be a "team player." Worse, working with the president he "couldn't be Judd Gregg." Political solipsism if ever there was. Gregg being something like the T.O. to the Senate.
Regardless of the Republicans' centrist deceptions, I would hope that Obama continues to rise above and reach out. Hopefully there will be others such as Specter, Snowe and Collins who put the people's work above myopic party ideology. But if nothing else, as the economy improves, President Obama's actions will serve to shame the lip servers of bipartisanship into taking up true residence.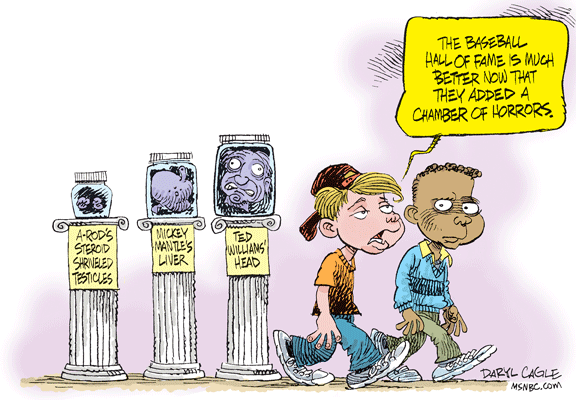 TIME FOR CHENEY TO LEAVE THE COUNTRY...SPECIAL COMMENTS BY KEITH OLBERMANN


VARIOUS LATE NIGHT QUOTES
"I hate to be critical this early into the new administration, but I don't know if this Timothy Geithner is the guy for the job. He may not be up to it. Turns out, he thought the Treasury Secretary was in charge of buried treasure." --David Letterman

"How about this? It's a good example of how strange things are and how time flies. On this date in 2006, then-Vice President Dick Cheney shot his buddy in the face. Tell me again why he's not in jail? How did that work?" --David Letterman

"How about this? A celebrity birthday. Today is Alaska Gov. Sarah Palin's birthday. I'm not saying how old is, but from her house, she can see 50." --David Letterman

"Sarah Palin is actually 45 years old today, and just to tell you a little something about me -- Sarah Palin, I think, is the first vice presidential candidate that I have pictured naked. Well, since Lloyd Bentsen." --David Letterman

"But Sarah Palin had a big birthday celebration up there in Alaska. She celebrated by shooting wolf cubs from a helicopter. Later, she shot the cake." --David Letterman

"Prosecutors have asked a Federal judge to send Marion Barry, the former mayor of Washington, D.C., to jail for failing to file tax returns for the eighth time in nine years. Hasn't paid taxes for eight years straight. So for Barry, it's either jail or a cabinet position in the Obama administration. Either one." --Jay Leno

"Happy birthday, Governor Sarah Palin, who turned 45 years old today. Hey, I thought this was nice. She got a lovely card in it with $5 from John McCain. After Palin opened her card, she did some shots - two moose and a caribou." --Jay Leno

"And as you know, pro baseball player Alex Rodriguez, or A-Rod, has admitted to using steroids. He said he feels bad because he was stupid for three years, to which former President George W. Bush said, 'Hey, try it for eight years.'" --Jay Leno

"Well, today, the heads of the eight largest banks testified before Congress. Bank C.E.O.'s in a room full of politicians -- they had to flip a coin to see who's going to tell the first lie." --Jay Leno
"The president has been busy with his stimulus plan, selling it. He was in Fort Myers, Florida, he had a big town-hall event where he took questions. And I think it's safe to say that the people at this event were not so-called, 'screened' [on screen: a college student and McDonald's employee, shouting haltingly and incoherently asks Obama about his jobs proposals]. Security! Somebody had too many McFlurries for breakfast. Little-known fact: Obama carried the spastic fast-food-worker vote by a margin of five-to-one. But you have to hand it to the president. He stayed with it and actually had follow-up questions for the guy [on screen: Obama asks the student about his studies and then compliments his communication skills]. Yeah. Isn't that cute? His first public lie." --Jimmy Kimmel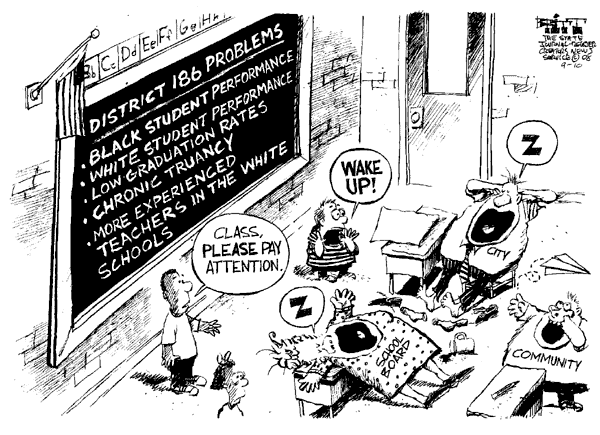 This Week in God!!!
Where is Jesus Blowing Your Stimulus Tithe?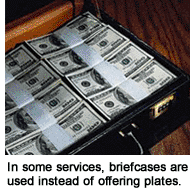 The Lord Sees What's In Your Wallet, It Has His Daddy's Name "God," on it. It belongs to Him, and He Wants it Back. - Pastor Deacon Fred
By law, we are required to disclose where the Lord Jesus Christ is spending the money you drop into His offering plate each week in the form of Biblical "tithes." You already know, the more you tithe, the better your seat on Sunday morning, but did you know how frugal the Lord is with all that money? In these harsh economic times the unsaved public should have a beacon of hope and a sense of comfort that the True Christians™ who make most of their decisions are being careful with our finances!
As Real American Christians™ we know that our cash offerings not only bring us closer to Jesus and Pastor Deacon Fred, but they also help our glorious church in Iowa shine as a living testimony to God's holy righteousness and sacred shopping preferences.
Please view the handy tithing level charts below for details. This satisfies Chapter XIV, Section C.4.2.3b of our IRS form letter of public duty. This matter is hereby closed.
Platinum Tithers
Sunday Contributions reaching
$5 Million Per Family

Jesus Uses Your Platinum Tithe In the Following Ways:

- First Class Travel Upgrades/Deacons
- Wexler Offshore Holdings, LLC.
- Pastor's Quintannual Vacation Fund
- Pastor's Mercedes Collection Ministry
- Jet Fuel Fund for Private Ministry Jets
- Pastor's Annual Bonus
- Major Donor Annual Gala
- Creation Science (Iowa State Lobby)
- Legal Fees - N'Sync Lawsuit
- Pastor's Mansion Mortgage
- Mrs. Deacon Fred's Tea For Tithe
Elite Christian Social Club Ministry
- Creation Science Museum, Giant
Demon Bone Reconstruction


Gold Tithers
Sunday Contributions reaching
$1 Million Per Family

Jesus Uses Your Gold Tithe In the Following Ways:

- Cemetery Relocation Ministry
- Wexler Offshore Holdings, LLC.
- Landover Ladies Annual Tahiti
Retreat
- Goose Feather Pew Pad Upkeep
- Landover Golf Course Maintenance
- Imported Italian Stained Glass
- Red Sea World (Christian
Amusement Park) Renovations
- All Purpose Multi-Fund for Pastor
- Homosexual Reparative
- Church Utilities Bills
- Brother Hardwick's Gambling Debts
- Weekly Church Floral Arrangements


Silver Tithers
Sunday Contributions reaching
$500K Per Family

Jesus Uses Your Silver Tithe In the Following Ways:

- Landover Christian Mall Renovations
- Wexler Offshore Holdings, LLC.
- Deacon's Salary Fund
- Junior High Bible Gun Camp Ministry
- Creation Science Research Center
- PlayStation 2's and Phones for Web
Based Salvation Offers
- Pastor Deacon Fred Drug
Prescription Fund


Bronze Tithers
Sunday Contributions reaching
$100K Per Family

Jesus Uses Your Bronze Tithe In the Following Ways:

- Construction of Noah's Water Park
- Wexler Offshore Holdings, LLC.
- Church Secretary Salary Fund
- Minority Workers Hush Fund
- Pastor's Networking Luncheon Fund
- Landover Baptist Police
Department Guns and Ammunition
- Landover Academy Football
Equipment

The above financial disclosures do hereby satisfy IRS Chapter XIV, Section C.4.2.3b of the form letter of public duty submitted to Landover Baptist by the Secular Government under the administration of Barack Hussein Obama, on February 16th, 2009.

YodasWorld.org is updated each Monday. Some of the items from the previous week are added to the various topic links on the left side of the main page. Links embedded should be good for at least the date posted. After the posting date, link reliability depends on the policy of the linked sites. Some sites require visitors to register before allowing access to articles. Material presented on this page represent the opinion's of YodasWorld.org.
Copyright 2000-2009 YodasWorld.org. All rights reserved on original works. Material copyrighted by others is used either with permission or under a claim of "fair use."