Yoda's World is a Weekly Publication a New Issue Each Monday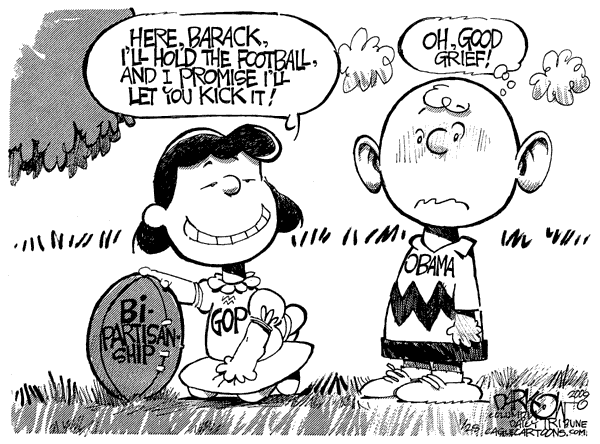 The GOP Puts Party First, America Last
By: David Phillips
February 2, 2009
Yoda's World
It is obvious that the Republican Party wants the stimulus plan to fail, their vote speaks for itself (all No votes from the House GOP) and it's the same as wanting America to fail. Because if the stimulus and America fails, then the Republicans can say "see I told you so, now vote GOP" in the next election.
And let me be the first to say as a Democrat, Obama is messing up this Bill. There is not enough of the money going towards infrastructure repair which would not only create scores of jobs, but when the jobs are done, there is something to show for our tax dollars that everyone benefits from. A recent PEW poll showed that the majority of Americans also think that our Infrastructure is the best way to add new jobs and stimulate the economy.
Obama tried to be accommodating to the Republicans, he reached out with an open hand, and the House GOP bit it. Obama include almost 300 billion in tax cuts and removed a lot of the pork projects, but still the House GOP caucus told the President they are not interested in bipartisanship when each and every one of them, voted NO.
Congressional DittoHeads...

"Ooh, it's getting nasty now between President Obama and Rush Limbaugh. In fact, Limbaugh told his radio audience he's not going to 'bend over' and grab his ankles just because Barack Obama is black. Well, you know, let's take race out of it for a minute. Now, honestly, regardless of who's president, do you think there's any chance in hell Rush Limbaugh could bend over and grab his ankles?" --Jay Leno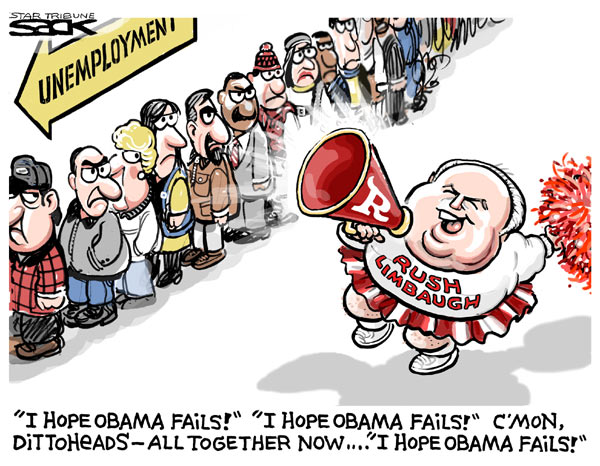 Job Claims Hit 42-Year High
Continuing jobless claims rose to 4.78 million, the highest levels in 42 years, as the U.S. labor market continues to worsen MarketWatch reported. Meanwhile, the four-week average of new claims rose by 24,250 to 542,500. The four-week average draws the attention of economists and investors because it smoothes out distortions caused by bad weather, strikes or the timing of holidays. Compared with the same week a year ago, first-time jobless claims are up about 63%, while continuing claims are up 71%.

Should I be worried that Cheney is not moving back to Wyoming, he and his wife bought a place in McLean, Virginia, not to far from the CIA HQ and other undisclosed Cheney black ops projects?...Yoda's World

Rush Limbaugh say's "HE" should be Allowed to Decide Half of Obama's Stimulus Plan

"In Washington, in response to President Obama's stimulus package, Rush Limbaugh proposed his own stimulus package. That's true. You see, that's what this country needs. What we need is a stimulus package proposed by a fat DJ. That's what's going to set the country back on track." --Craig Ferguson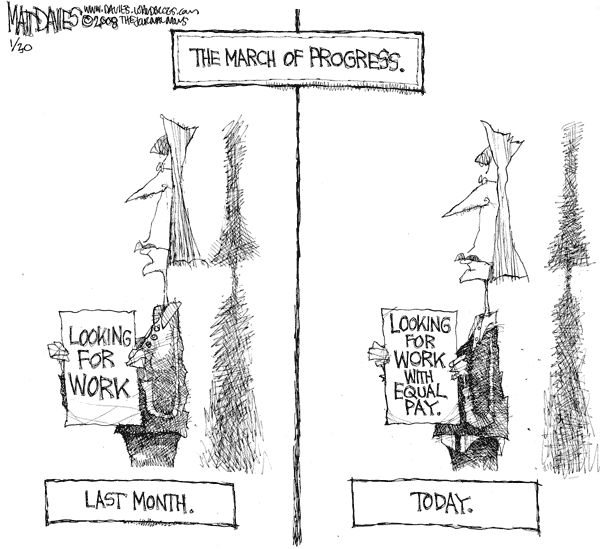 Obama Signs Pay Equity Law
By David Alexander
WASHINGTON (Reuters) – President Barack Obama signed his first bill into law on last Thursday, handing his labor and women's rights backers a victory by reversing a 2007 Supreme Court decision that made it harder to sue for pay discrimination.
With the woman for whom the law was named at his side, Obama signed the Lilly Ledbetter Fair Pay Act at a White House ceremony. The Democratic-led Congress passed the measure this week and many leaders attended the signing.
"Signing this bill today is to send a clear message: that making our economy work means making sure it works for everybody, that there are no second-class citizens in our workplaces," said the Democratic president.
Pay equity was a sensitive issue during the presidential election campaign last year, especially among labor unions and women voters. On average, U.S. women are paid 23 percent less than men, while minority women receive even less.
First lady Michelle Obama, at one of her highest-profile events since the inauguration last week, hosted a reception for Ledbetter and others who worked for passage of the law.
"She knew unfairness when she saw it and was willing to do something about it because it was the right thing to do, plain and simple," the first lady said of Ledbetter.
Ledbetter is an Alabama woman who discovered after 19 years on the job at Goodyear Tire & Rubber Co that she was the lowest-paid supervisor at her plant despite having more experience than several male co-workers.
A jury found she was the victim of discrimination. But during the Bush administration, the Supreme Court in a 5-4 decision reversed what critics described as decades of legal precedent by declaring that discrimination claims must be filed within 180 days of the first offense.
The court rejected the U.S. Equal Employment Opportunity Commission's contention that each new discriminatory paycheck triggers a new 180-day statute of limitations.
The law signed by Obama amended the 1964 Civil Rights Act to put the old EEOC standard into law, and covers pay discrimination based on gender, race, national origin, religion, age and disabilities.
Some Republicans and business leaders have expressed concern the measure could trigger an explosion of lawsuits based on old claims, discourage employers from hiring women and undermine efforts to stem the recession.
"Goodyear will never have to pay me what it cheated me out of," Ledbetter said at the White House reception. "I will never see a cent from my case. But with the passage (of the law) and president's signature today, I have an even richer reward. I know that my daughters and granddaughters and your daughters and your granddaughters will have a better deal."
The Daily Show: Moment of Zen...Obama Roasts Rahm Emanuel

Top Ten Signs Obama's Getting Nervous By: David Lettermen

10) New slogan: "Yes we can... or maybe not, it's hard to say"
9) In moment of confusion, requested a $300 billion bailout from the bailout industry
8) He's up to not smoking three packs a day
7) Friends say he's looking frail, shaky and...no, that's McCain
6) He's so stressed, doctors say he's developing a Sanjay in his Gupta
5) Been walking around muttering, "What the hell have I gotten myself into?"
4) Offered Governor of Illinois, Rod Blagojevich, $100,000 to buy his old Senate seat back
3) Standing on White House roof screaming, "Save us, Superman!"
2) Sweating like Bill Clinton when Hillary comes home early
1) He demanded a recount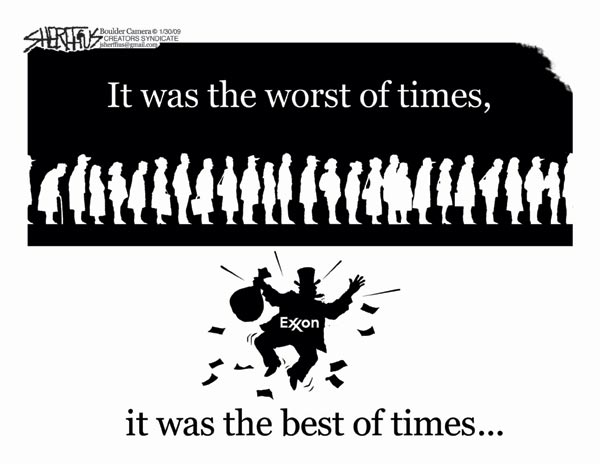 Exxon Mobil Sets Record with $45.2 Billion Profit
Houston – Exxon Mobil Corp. on Friday reported a profit of $45.2 billion for 2008, breaking its own record for a U.S. company, even as its fourth-quarter earnings fell 33 percent from a year ago.
The previous record for annual profit was $40.6 billion, which the world's largest publicly traded oil company set in 2007.

The Word: The Audacity of Nope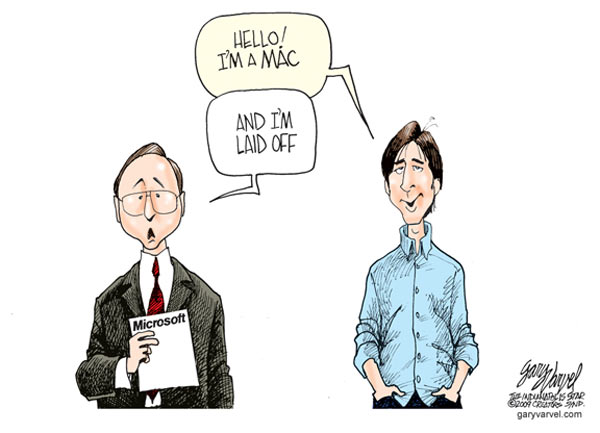 Low Turnout in Iraq's Election Reflects a Disillusioned Nation
Leila Fadel | McClatchy Newspapers
February 01, 2009
BAGHDAD — Voter turnout in Iraq's provincial elections Saturday was the lowest in the nation's short history as a new democracy despite a relative calm across the nation. Only about 7.5 million of more than 14 million registered voters went to the polls.
Interviews suggest that the low voter turnout also is an indication of Iraqi disenchantment with a democracy that, so far, has brought them very little.
Since the U.S.-led invasion in 2003 and the fall of a brutal dictator, Iraqis witnessed unprecedented violence in their nation and what they believe is humiliation under a foreign occupation. Even on Saturday, U.S. tanks could be spotted across Baghdad on largely empty roads.

THIS WEEKS FEATURED MUSIC VIDEO
COLDPLAY: Viva La Vida and 42...Live at the BBC

Report: General Named US Envoy to Kabul
NEW YORK – A career military officer who is set to retire soon from the Army has been tapped to become the next U.S. ambassador to Afghanistan, The New York Times reported Friday.
Lt. Gen. Karl W. Eikenberry has served in Afghanistan twice, including an 18-month tour that ended in 2007, and knows the issues facing the troubled country and the players well.
An Obama administration official spoke to the Times on the condition of anonymity because Eikenberry's appointment had not been made public.
According to the Times, the general has consistently spotted problems in Afghanistan early and issued some of the first warnings about a resurgent Taliban.
He also championed building a strong Afghan army to combat the Taliban, a top priority for the White House.
Eikenberry has also warned repeatedly that the U.S. cannot win in Afghanistan and defeat global terrorism without doing something about al-Qaida fighters holed up in neighboring Pakistan.
The Times said it's highly unusual for a president to tap a military officer who is soon to retire to fill such a sensitive diplomatic post.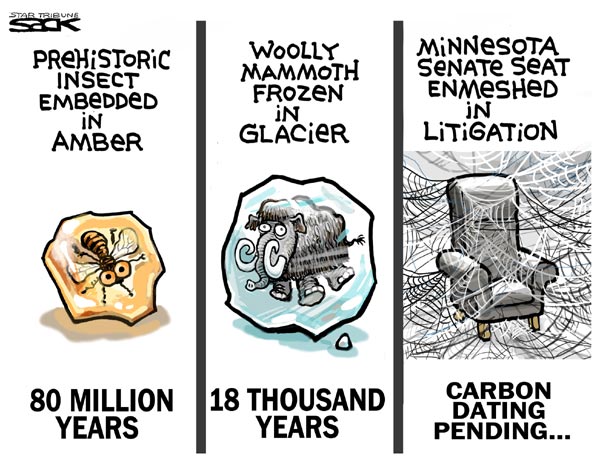 Dem 'Supermajority' Still Possible?
Judd Gregg: Commerce Secretary?
There is a strong possibility that Barack Obama will ask Sen. Judd Gregg (R-NH) to serve as his Secretary of Commerce, Democratic Senate aides tell the Huffington Post.
The move would fill a vacancy that has lingered since Gov. Bill Richardson withdrew his nomination. And provided that Al Franken emerges victorious in the Minnesota recount, it would give Democrats in the Senate a 60th caucusing member, as New Hampshire's Democratic governor John Lynch would appoint Gregg's replacement.
Asked for a response, White House spokesman, Bill Burton, in an email to the Huffington Post, said the "president hasn't made a pick yet."
The potential of Gregg leaving the Senate will almost certainly set off an intense lobbying effort from his fellow Republican senators to persuade him to turn down the Commerce post. Already, a GOP operative writes in to say: "No way that Gregg takes it."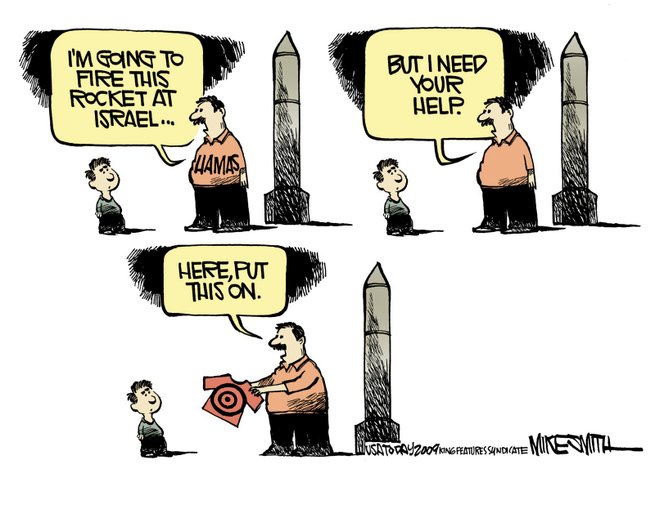 Gazans Tell Israeli Investigators of Hamas Abuses
Feb. 1, 2009
Yaakov Katz , THE JERUSALEM POST
Nuaf Atar spoke about the use of Gazan schools to shoot rockets at Israel. Zabhi Atar revealed that Hamas used food coupons to entice Palestinians to join its ranks and Hamad Zalah said Hamas took control of UNRWA food supplies transferred to Gaza and refused to distribute them to people affiliated with Fatah.
These are three examples of testimony from Hamas and Islamic Jihad men who were captured by the IDF during Operation Cast Lead. Details of their interrogations have been released for publication by the Shin Bet (Israel Security Agency).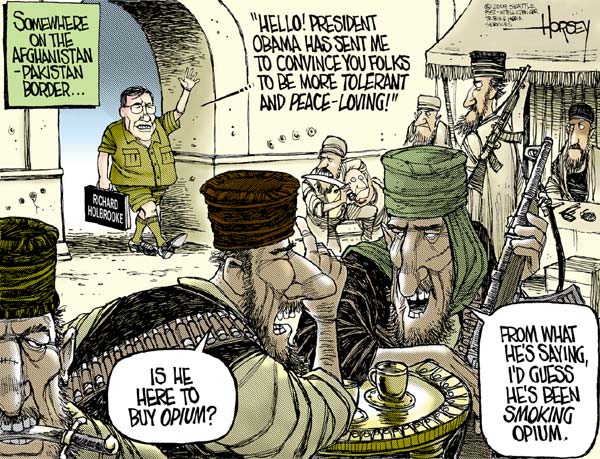 US Special Envoy Richard Holbrooke to Visit India
US special envoy Richard Holbrooke is expected to undertake a visit to India in the near future, providing the latter the first opportunity to share with the Obama administration evidence regarding Mumbai attacks.
Holbrooke, who has been appointed as envoy for Pakistan and Afghanistan by President Barack Obama, will be travelling to these countries, sources said.
Dates for the visit, which will mark the Obama administration's first contact with India, are not known yet but it is expected in the near future.
The sources said the Indian side will utilise the opportunity to share with him evidence regarding the Mumbai attacks which has links in Pakistan.
Through Holbrooke, India is expected to impress upon the new US government the need for suspending military aid to Pakistan in view of its lack of cooperation in curbing terrorism emanating from there.
The conversations India had with Obama's transition team had been positive and encouraging and New Delhi intends to build on this during Holbrooke's visit to India.
There will be no talk on Kashmir with Holbrooke, the sources said.
Holbrooke, who knows India and rest of the region well, is visiting Afghanistan and Pakistan to study the latest situation to enable the Obama government to shape its policy towards these two countries.
India hopes the new US government will adopt the "right" policy towards Afghanistan and Pakistan.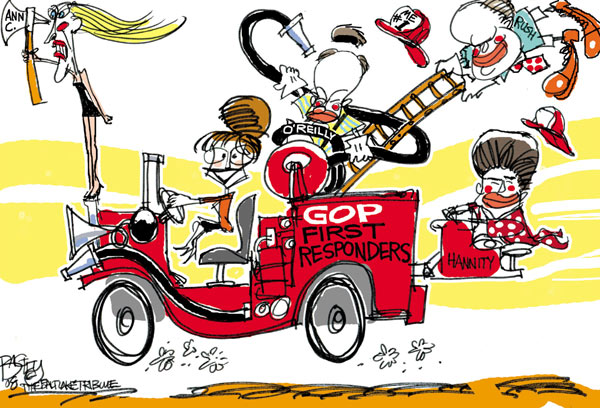 The Daily Show Moment of Zen...Obama Roasts Rahm Emanuel


VARIOUS LATE NIGHT QUOTES
Have you taken a good look at this Rod Blagojevich? I mean, he looks like the producer of an adult entertainment awards show. ... Blagojevich looks like your wife's ex-husband. ... Blagojevich looks like the guy at the high school reunion who knows everything about you and you have no idea who he is. ... Blagojevich looks like the guy that goes to a family barbeque and criticizes how you arrange the charcoal. ... Blagojevich looks like a guy who claims to know Jon Lovitz." --David Letterman
This is kind of an awkward time for President Bush. He's too young to retire, yet still too old to destroy the moral and economic infrastructure of another country.- Jay Leno
Did you know this? We have a brand-new Miss America, Katie Stam, from Indiana. They choose Miss America based on personality, how the young woman looks in a swimsuit, and how she looks in evening gowns. That is the competition. It's the same way that John McCain chooses a running mate. - David Letterman
"I was thinking about the inauguration. It was pretty amazing. There were two million people crammed into that mall this week. Two million people. Not one arrest. Not one crime was committed in Washington. Of course, that will all change now that Congress is back." --Jay Leno
"The White House also has three kitchens and the only president to use each and every one of them was Bill Clinton." --David Letterman
"Actually, it's a special BlackBerry, built just for him. They're calling it a 'BarackBerry.' This is true. It doesn't even have a battery. Runs entirely on hope." --Jay Leno
Hey, earlier this week, all the e-mail service in the White House completely collapsed. No e-mails coming in, no e-mails going out. Everything had to be written down on paper by hand. It was like if John McCain had been elected president. - Jay leno

Job Claims Hit 42-Year High
Continuing jobless claims rose to 4.78 million, the highest levels in 42 years, as the U.S. labor market continues to worsen MarketWatch reported. Meanwhile, the four-week average of new claims rose by 24,250 to 542,500. The four-week average draws the attention of economists and investors because it smoothes out distortions caused by bad weather, strikes or the timing of holidays. Compared with the same week a year ago, first-time jobless claims are up about 63%, while continuing claims are up 71%.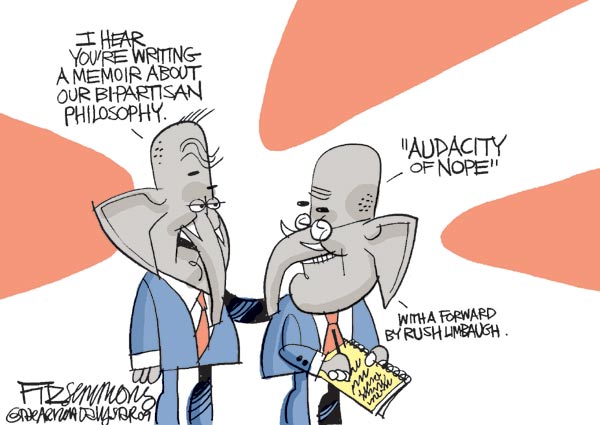 This Week in God!!!
The Satanic Origins of St. Valentine's Day
Where: Landover Baptist University ~ Department of Elementary Home School Education

From:
Advanced Home School Teaching 452 (Satanic Holidays and Secular Festivals)

Who: Artist, Home School Enthusiast and Visiting University Professor, Rev. William (Billy) Stanley

Use: This item is fully approved by the Christian Home Schooling Association of Iowa and should be provided as a mandatory educational tool for all Baptist Children, ages 6-11.
*All historical documentation and references (300 AD - Present) regarding the True History of Valentine's Day are available to Platinum Tithing Members of the Landover Baptist Church Community at no cost. If you are a Christian scholar and need references for a project, research paper or other, please send our Church Historian a 5-page synopsis (of which we will have the copyright to publish) along with a self-addressed stamped envelope and a check for $479.99. God Bless!